Hi everyone =)
If you've been following me for awhile now, you may have noticed that I've never food blogged on Korean cuisine before. I can count the number of times I've had Korean food on one hand! It's not that I hate Korean food, but it's not really convenient for me to try good Korean restaurants, nor do I know which ones are good.
But, here is my first Korean post and my first time trying a Korean set lunch! Please read this review with a grain of salt… this is probably my third or fourth time eating Korean so I'm not the most knowledgeable in how it tastes, or what authentic Korean tastes like.
Last month, I had plans to eat a Korean set lunch with some old coworkers but unfortunately, I couldn't make it last minute =( I heard that it was really good and really filling, so I suggested that we try this place out to my friend a few weeks later.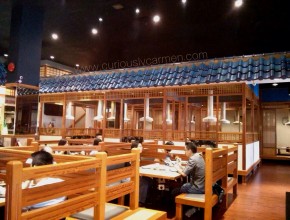 Walking in, I absolutely loved the decor and interior of this place! It felt like I was in an olden day movie set. The restaurant was very spacious and clean as well. You could tell that it was weaning towards being an old restaurant, but they put every effort in making sure everything was clean and robust.
I asked for a private booth, where we had to take our shoes off before entering. You could slide the doors closed if you wanted to as well. I haven't eaten in one of these private booths for awhile, but I do enjoy dining like this =)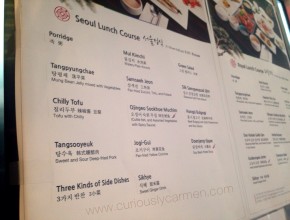 For the set lunch meals, there are two that you can pick from. After looking at the pictures and description, we decided to go with the $15 menu because we wanted to try the grilled fish, and it wasn't offered in the $20 menu.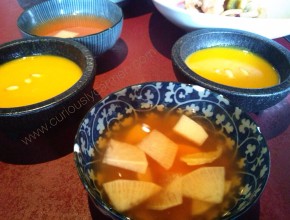 Mul kimchi – This was described on the menu as "watery plain kimchi". Couldn't have described it better than that! The kimchi flavour was really diluted due to the water, but the veggies were still very fresh and crunchy.
Porridge – I imagined the porridge to be different, perhaps like a congee? This was a sweet potato/pumpkin porridge. It was delicious, very sweet and had a thick consistency to it.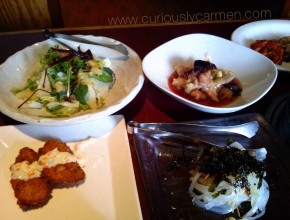 Clockwise from top right:
Tangsooyeuk – This was my first time trying Korean style sweet and sour pork, I'm more accustomed to the Chinese style. When comparing the two, the Korean style one was crispier, since the pork pieces weren't entirely covered in the wet sauce. Talking about sweet and sour, this one was more sour and tangy.
Tangyungchae – Chilled mung bean jelly mixed with vegetables. It had a thick, crunchy texture – kind of like eating cartilage. This dish was nice, light, and refreshing.
Jogi-gui – I didn't even know this it was fish on the plate until my friend pointed it out, it looked like some sort of yam tempura to me. I absolutely loved this dish! The fish flaked perfectly off, and it had some sort of delicious marinated mayo on the top. I wished we had more of this!
Green salad – Honestly, I didn't touch the green salad until the end because I wanted to try all the new foods in front of me. I was actually so glad that we saved this, because the crunchy vegetables were really refreshing and helped with cool down the spicy foods afterwards. All the veggies were really fresh and came with a vinaigrette sauce.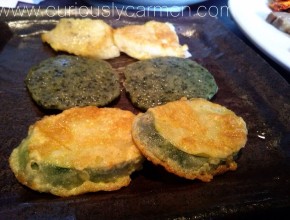 Three kinds of mini pancakes – Nothing too special about the taste here, but they weren't bad, either.  The one in the back was a fish pancake, followed by seaweed and zucchini. The fish and seaweed one were more doughy and wet, while the zucchini one resembled tempura.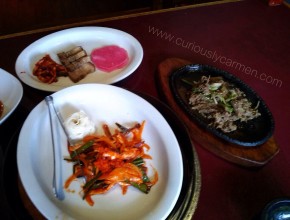 So Bulgogi – The beef bulgogi was very sweet and full of flavour. There was a generous amount of beef and we loved how juicy the meat was.
Cuttlefish with veggies in spicy sauce – I am a big fan of seafood, so naturally, I loved this dish as well! The cuttlefish was fresh and crunchy, and served with veggies in what tasted like a kimchi sauce base. This dish was also served cold.
Steamed soft pork bacon – The pork was amazingly tender. It was cooked so well – simple, yet delicious. We savoured each bite of this dish, which had a hint of smokiness to it.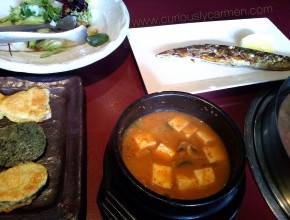 Soy bean paste soup – Okay, the name of this dish doesn't sound too enticing in English, but it was delicious. Perfect on a rainy day when you want a nice warm bowl of spicy soup. Not for the faint of heart, this bowl packed a generous amount of spice so proceed with caution! We ate this with a bowl of steamed rice and cold salad (see above) to keep ourselves from getting too hot.
I loved the soup so much that the next day, I told the boyfriend and we made a spicy soup stew at home because I couldn't stop thinking about it!
Jogi gui – We chose to order the $15 menu because of this pan fried fish, the $20 did not offer it. I love fish, but unfortunately this dish was a tad disappointing. We expected two pieces since that's what the picture in the menu showed =(
It had a very strong fishy taste to it – yes, I know that a fish is supposed to have a fishy taste, but this was too strong. In Cantonese, we call that taste "sang". There also wasn't much meat and a lot of sharp bones to unpick, which took a lot of effort!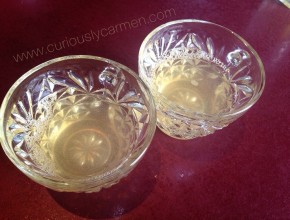 Nearing the end of our meal, our service was a lot slower as they were just starting to clean up from the lunch rush (we were done around 1:30-2 pm). Since my friend and I weren't in a rush, we just sat and talked for a bit, letting our food digest.
After about twenty minutes, we agreed that they had forgotten our dessert drink. We rang the bell on the table and the waitress seemed confused because she thought we got it already.
The dessert ginger drink was very sweet and served chilled. It literally just tasted like ginger with a lot of sugar. I know that ginger is really good for digestion, which is probably why it's served. Since I don't really like super sweet drinks, I only drank 1/4 of mine because I still wanted to try it out =)
All in all, I really enjoyed my first Korean set lunch experience! The food was great, friendly service, and I loved the decor of the place. I'm glad that I got the chance to try a lot of new dishes that day!
What are some good Korean places in Vancouver? Let me know in the comments down below!
Thanks for reading!
-Carmen