I've heard of Salty's Lobster for awhile now and have been a bit interested to try it. However, it seems like reviews were pretty mixed so I was hesitant. When Takoyaki told me she loved it, I took it as a good sign because I trust her taste buds! The fiance and I placed a delivery order a few days later.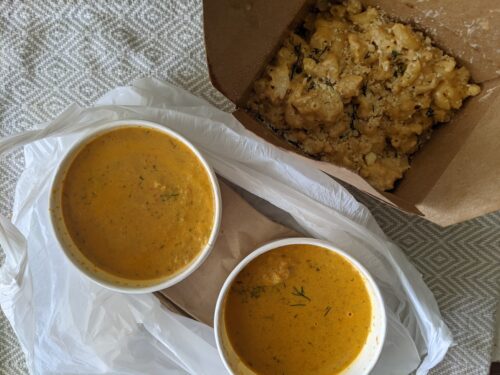 Salty's Lobster is a food truck, going to many locations throughout Greater Vancouver. They must have a permanent cart location somewhere near us though, because I always see them on UberEats.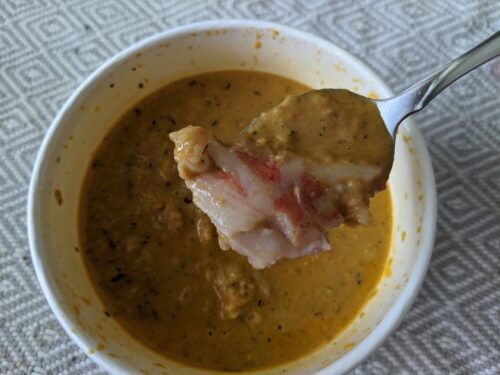 Lobster bisque: The lobster bisque is usually sold as a BOGO on UberEats. I've seen this deal for many months now. This is one of their most popular items so we decided to try it.
The lobster bisque was ok. I would describe it more as a carrot and tomato puree soup with a couple pieces of lobster. I could see why there are mixed reviews on Salty's if people only ordered this. The fiance and I both agreed that without a BOGO, this definitely wouldn't be worth the price! Even with the BOGO, we probably wouldn't order it again.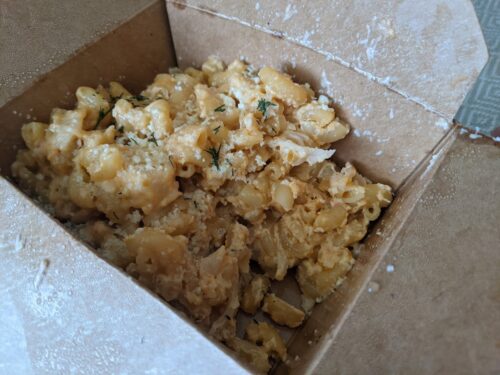 Lobster Mac and cheese: This was so delicious! We both enjoyed the mac and cheese so much, and it made up for the mediocre lobster bisque.
The cheese that they used had a sharper taste and was sooo cheesy. The addition of dill elevated the dish even more! *chef's kiss* There was more lobster in here than the bisque too. If I am craving a solid mac and cheese, I am definitely ordering from here.
Overall, we enjoyed our meal from Salty's Lobster. We wouldn't get the BOGO lobster again, but would definitely get the mac and cheese, plus try the other menu items.