Say Hello Sweets is an ice cream shop that has been on my list to try for awhile now! I didn't realize that Avocado wanted to try it as well until recently, so we decided to go check it out together.
Say Hello Sweets is located on the outskirts of Chinatown, beside Andy Livingstone Park by Tinseltown. You may recognize their name because they started out as a food truck. The shop is only open on Saturdays and Sundays, with the rest of the days focusing on the food truck.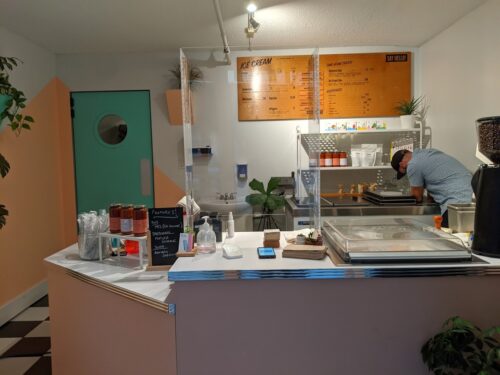 The shop itself is very small, with room for perhaps 2-3 people max to sit inside. Due to the pandemic, there were no tables for us to sit inside because I imagine that they only allow a maximum of 3 people or so in the shop. They had a few tables outside so we ordered and had our desserts outside.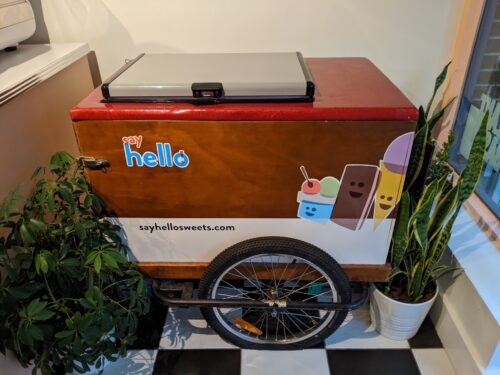 Everything offered at Say Hello Sweets is entirely dairy free and vegan! That was the reason it was on my list, since I shouldn't be having much dairy due to my stomach problems.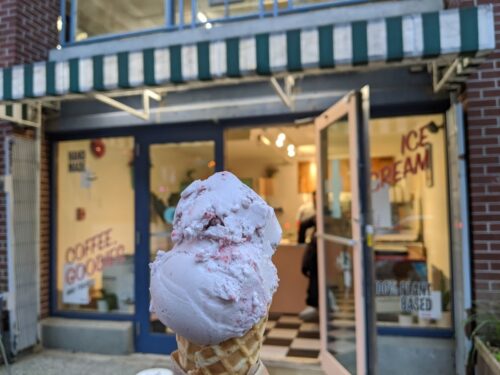 Vegan strawberry ice cream: Originally, we came for the ice cream sandwiches, but I saw that they had a strawberry flavour ice cream and I couldn't pass up the chance to try it.
The strawberry ice cream was absolutely phenomenal. The ice cream was rich and had some real strawberry pieces inside too. Most vegan ice creams are made with coconut milk because of how rich it is. Usually, I find that the coconut milk taste is quite strong but in this case, I couldn't taste much of the coconut at all.
Instead, it was just a rich strawberry taste like dairy ice cream. Although I can eat dairy currently without issues (HAH, watch this sentence curse me), I would still come back here for their strawberry ice cream.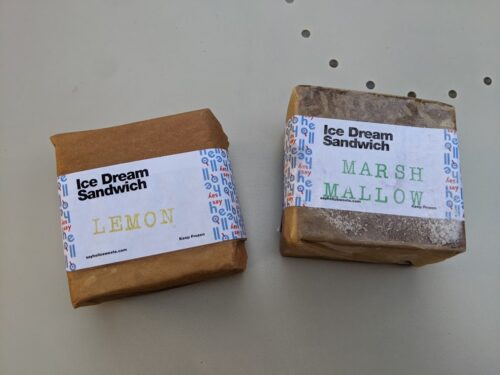 Marshmallow ice dream sandwich: The marshmallow is their most popular ice dream sandwich flavour, so naturally we had to try it. I forgot to take a photo until after we split it in half to share and Avocado had eaten hers already, so this is just my portion. Oops!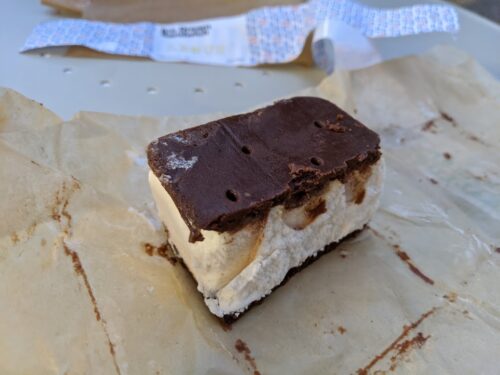 Just like the strawberry ice cream, this did not disappoint as well! It reminded me of a melted marshmallow in a smore, but featured in a a cold, ice cream addition. Very good and a must try here!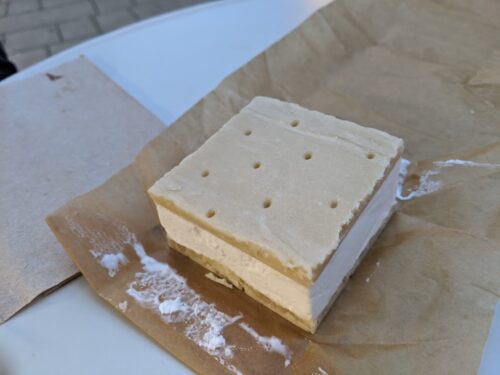 Lemon ice dream sandwich: Compared to the marshmallow ice dream sandwich, we found this one to be alright. The lemon sandwich wasn't as creamy, and reminded me more of a sorbet.
Matcha sesame: Avocado also got the matcha sesame sandwich to go. This is one of their seasonal features I believe.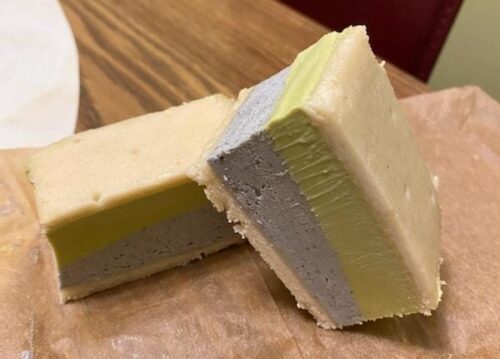 They usually have a matcha and sesame bar sold separately, but they have merged the two flavours into one bar. She also enjoyed the matcha sesame, but her top pick was still the marshmallow.
I'd highly recommend stopping by to "Say Hello" on the weekends (because they're closed weekdays). Whether you're lactose intolerant/vegan/have other dietary restrictions or not, Say Hello was enjoyable and I'm glad that I finally had the chance to try it. It's a great and delicious alternative to dairy ice cream and I'm happy that I have this option to go to now as well!