Seiza Japanese Restaurant is a relatively new Japanese restaurant that quietly opened in early 2019. Previously, this space was occupied by Zipang Provisions, also a Japanese restaurant, for 10+ years.
Maki and I were doing some bridal dress shopping and I found Seiza close by to one of the shops we were going to. Neither of us heard about Seiza but the atmosphere and food looked good, so we stopped by for lunch before our appointment.
This area of Main Street is quite busy, with many restaurants and shops. We were lucky to find street parking quite easy that day though.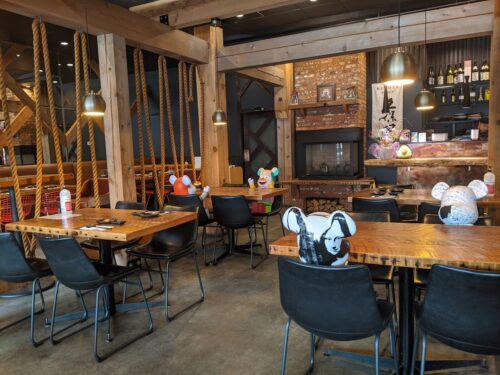 Walking in, the restaurant was tastefully decorated with a modern but warm vibe. We immediately noticed these dolls that they had in certain tables. It was a very clever and fun way to show which tables were closed due to the pandemic!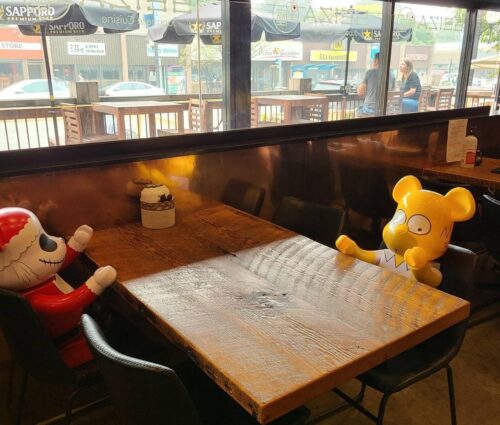 Each open table also had it's own large bottle of hand sanitizer which we appreciated as well.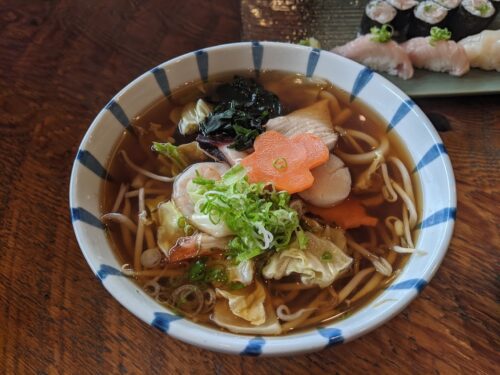 Seafood udon: The seafood udon came with a decent portion of shrimp, salmon, scallop, and other seafood that I forgot. The star of the show was definitely the broth though.
The broth had a robust umami flavour to it, but there was also a well rounded sweetness to it too. It was a combination of savoury with a hint of sweetness. I enjoyed it and couldn't stop sipping on it. It was a satisfying bowl of udon with a delicious and unique broth.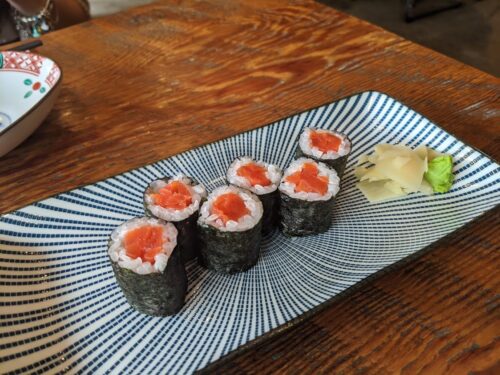 Salmon roll: The salmon roll was pretty meh. I found the salmon to be on the dry side, but I think that's because they use wild salmon which tends to be leaner. The roll came apart easily too. I would skip this roll next time.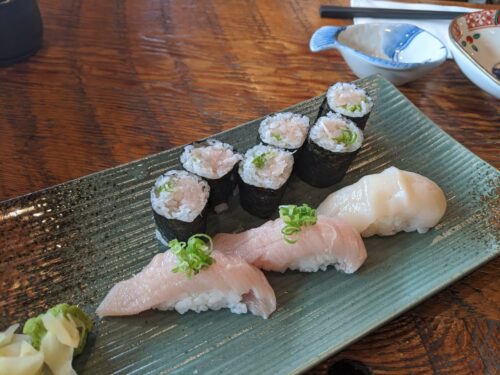 Negitoro roll: While perusing the menu prior to coming here, my eyeballs were shocked to see that their negitoro roll was almost $8! (Pricing as of 2020). Normally, negitoro rolls go for about $4-$8 so it was double the price here.
Maki was curious as to why the negitoro roll here was so much pricier, so she decided to order it. It turned out to be a disappointing choice because there was nothing special in the roll. The negitoro roll wasn't extra fatty or melted in our mouth either so the price was not justified. We've both had way better elsewhere.
Toro nigiri: On the other hand, the toro nigiri was delicious! The toro tasted fresh, was very fatty and melted in our mouth.
Scallop nigiri: Maki enjoyed her scallop nigiri as well. She said it was fresh and delicious.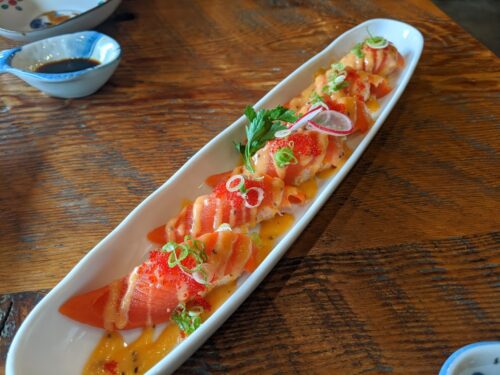 Sexy salmon roll: The sexy salmon roll description on the menu does not match what we ordered, but I remembered Maki ordering a sexy salmon because I joked about it being "sexy" haha. So, I'm not sure if they updated it or what.
The sexy salmon roll was delicious! Essentially, the roll was a salmon nigiri but with some real crab meat underneath, a delicious citrus sauce, and tobiko.
The sweet citrus sauce and the salty tobiko added more dimension to the roll. Meanwhile, the soft crab meat and the crunchy tobiko elevated the textural element too. The salmon was also fresh and delicious. Overall, a really good roll with a mix of different flavours and textures complementing each other well.
---
Our visit to Seiza was enjoyable and I wouldn't mind coming back. I just wouldn't recommend getting their simple rolls because our salmon roll and negitoro roll were disappointing.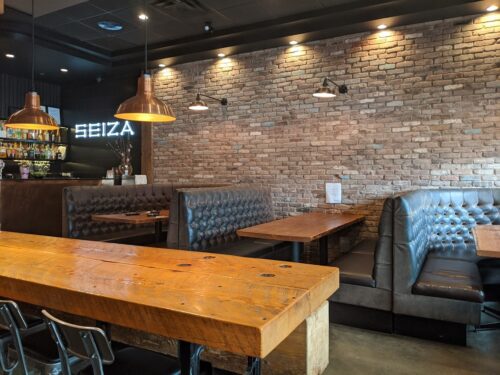 Instead, I would recommend getting their nigiri or special rolls. Seiza is pretty quiet, I don't hear or see much about it on social media and there was only 1 other table during our visit on a weekend during prime lunch hours. But, it's worth visiting among our huge selection of Japanese restaurants in Vancouver!