I have been hearing good things about Sopra Sotto for awhile now! There are currently two locations – the original location on Commercial Drive, and a second location in North Burnaby. Martini and I went to the location on Commercial Drive.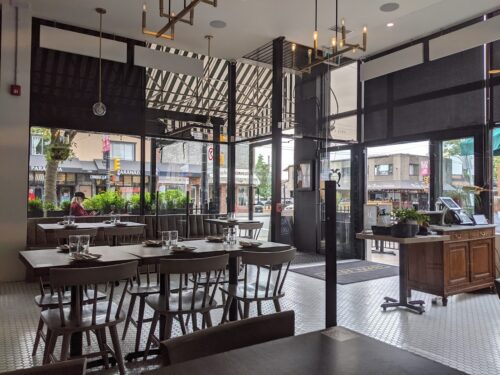 Walking in, I was not expecting the restaurant to be this nice! I really liked the decor inside, and how spacious and airy it felt.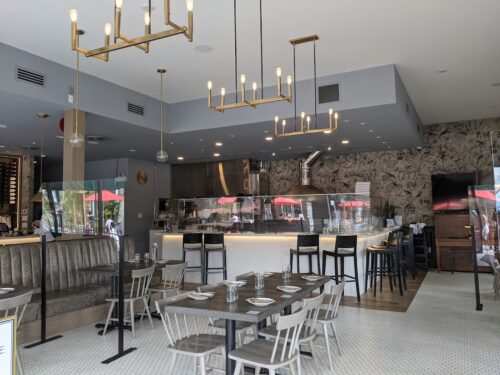 We came on a nice summer evening, so the entire front of the restaurant opened up into a spacious patio. I wish I took a photo of the patio!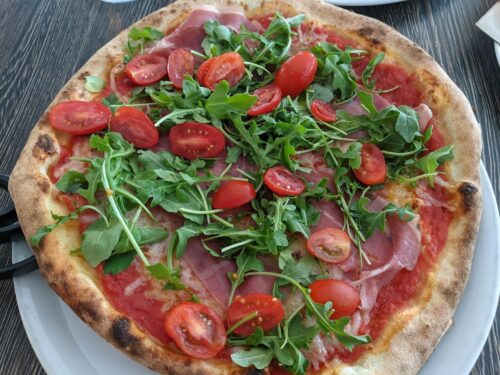 Rucola e prosciutto: After making sure they had dairy free options for the pizza, I ordered the prosciutto and arugula pizza. Our server couldn't guarantee that the usual sauce for this pizza was dairy free, so she suggested I change it to a tomato sauce, which was fine with me. The pizza was delicious and came packed with prosciutto and arugula.
My only complaint was that this pizza was overpriced. As I'm currently writing this, the price was $22 (maybe my blog will still be around in 10 years and this is considered a reasonable price lol but in 2021 this is high). The vegan cheese was an additional $2.00 which I don't understand because I assume the mozzarella and grana cheese normally used is the same, but whatever, many places charge an additional for vegan.
As mentioned above, the server suggested replacing the sauce with a tomato sauce. She did not say that there was also an additional charge, so I was surprised to see it on the bill. If I knew, I probably would have just asked for no sauce. I wished that she would have told me before putting the order in, I didn't think that tomato sauce would be extra.
After tip and tax, this pizza was $30+!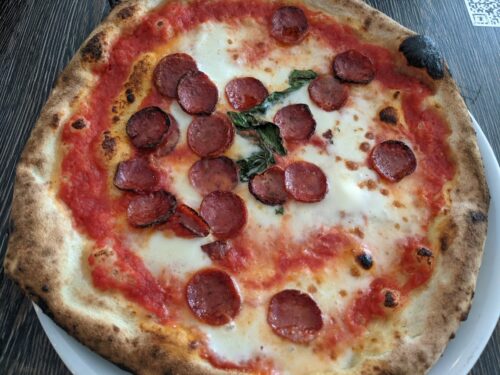 Diavola: Martini ordered the diavola pizza, which came with tomato sauce, mozzarella, spicy Italian salami, and basil. Compared to my pizza, it looked pretty measly and could have used more toppings. She found it to be okay but thought there could be more toppings.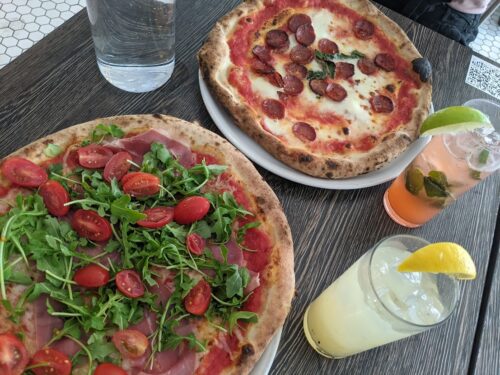 We also ordered a couple of drinks, but I forgot what they were now since we came in July.
Overall, I enjoyed the vibe of Sopra Sotto, although we found it to be overpriced. Our server was nice, but I wish she would have gave a heads up about the extra cost for tomato sauce (Normally tomato sauce on pizza is not extra?). I would still come back occasionally mostly only for the ambiance, especially in the summer with their patio.