I have heard the buzz surrounding SunTea for awhile now. SunTea is located in Kensington Plaza in Burnaby. We were in the area and since I saw so many good things about SunTea, we decided to try it out.
However, we were disappointed with our visit and it left much to be desired.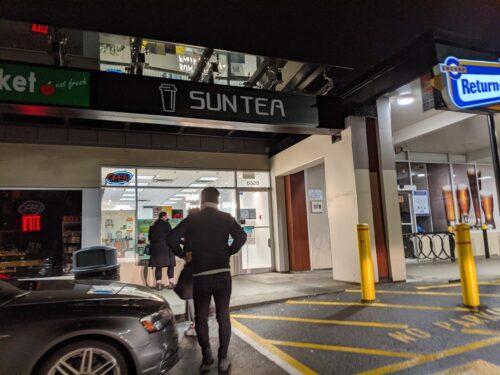 It was dark when we went, and originally had some trouble looking for the shop inside the plaza. They are located close to the Kensington Ave entrance on the side, by the Shoppers. Lots of free plaza parking was available.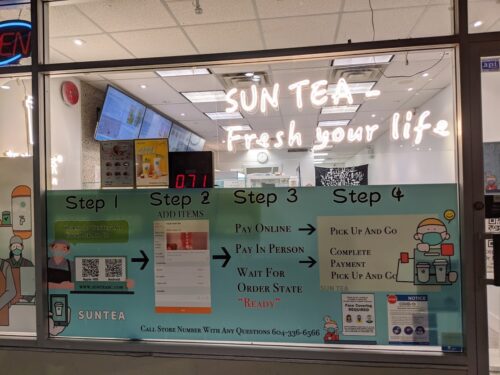 Due to the pandemic, the cafe was closed for dine in and they offered pick up only. They don't even let customers order at the counter – you have to download their app and place your order there. There is a number sign on the window letting you know when your order is ready.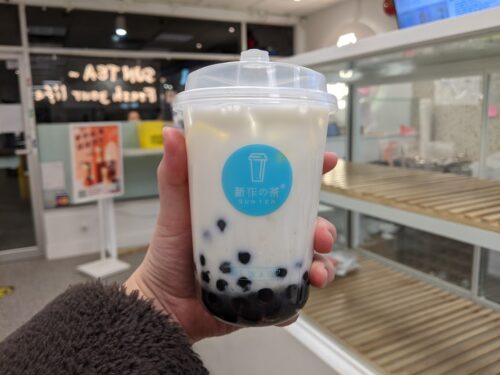 Brown sugar milk: The fiance ordered the oreo brown sugar milk and thought it was disappointing. I had a few sips and agreed as well. There are way better brown sugar drinks out there.
The drink didn't have much flavour and you can already tell just by looking at the drink how plain it was. Usually you can see the brown sugar coated on the cup.
The drink also advertised oreo chunks but there were none to be found.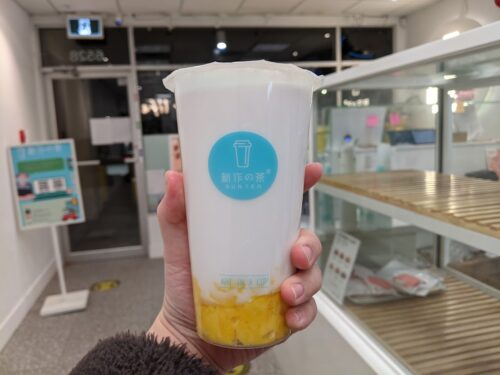 Coconut pudding mango coconut milk: This sounded amazing but this was not drinkable. I ended up throwing it away after a few sips because of how bad it was.
The coconut milk was very watery and not rich. There was a small amount of mango inside (unlike the advertised photo), and what mango there was, was sour and hard.
Now that I'm looking up the menu for the review, it also says that the drink included coconut pudding but there wasn't any in the drink??? This was an extremely disappointing drink.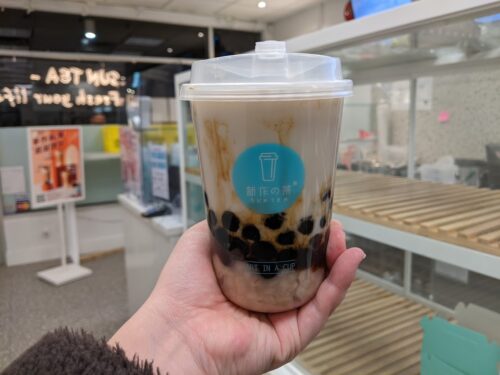 Taro with oat milk: The taro with oat milk was the only decent drink, but even then it was a fail. Why? Because the drink was also supposed to come with oats, but they were sold out. They ended giving us extra pearls to make up for it, but it was still disappointing because the drink was supposed to have oats.
It has been awhile since we had bubble tea THAT bad…. I don't remember the last time we had such disappointing bubble tea.
At least one topping was missing from every drink – the oreos in the brown sugar milk, coconut pudding in the mango coconut drink, and oats in the taro oat milk drink. 2/3 drinks were also watery and not good.
With so many bubble tea shops everywhere these days, SunTea is at the bottom of my list and I do not want to come back.