A couple of days prior to my wedding in August, Cola and I spent an evening downtown getting our nails done for the big day and going for dinner after. Cola suggested Sushi California because she knew I was eating lighter food prior to the wedding to avoid any stomach distress on the day.
I didn't know that there was a Sushi California in downtown, but it is near Burrard Station and opened a bit prior to COVID in Feb 2020. The restaurant is quite spacious and looks more upscale than the other Sushi California locations. They are usually busy during the day. When we went in the evening, it was pretty quiet.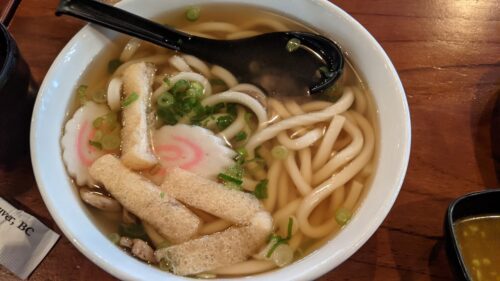 Plain udon: I was craving udon that day, and this did not disappoint. I love dashi broth and this was perfect. It was delicious, yet clear and light. Usually I order this with beef or chicken, but since we split a salmon sashimi, I decided to go with a plain one.
Salmon sashimi: I love Sushi California's sashimi because of how fresh it is, and how big the portion is. The downtown location was no different!
Salmon aburi: Cola ordered a salmon aburi, unfortunately I don't remember the exact name. She had no complaints about it.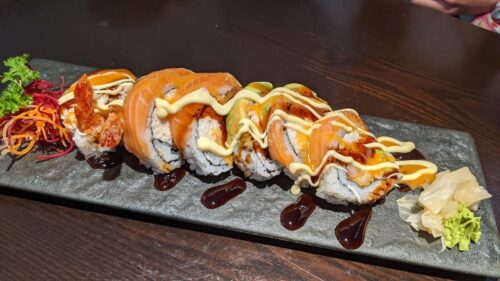 Special roll: Unfortunately, I don't remember the name of this roll that Cola ordered! I took a look on the website, but there are so many different varieties of special rolls that I gave up looking. The inside had imitation crab meat and prawn tempura, topped with salmon sashimi.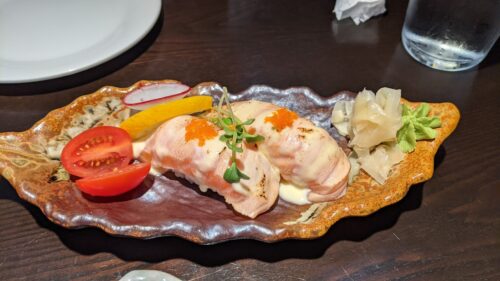 Salmon nigiri: Omg, I don't know or remember what the name of this special salmon nigiri Cola ordered was called either. Why am I writing this post?! Lol. Anyway, a picture will do.
Despite my failure in remembering the dishes that Cola ordered, we both enjoyed our dinner at Sushi California. August was a crazy month, and it was nice to go out for dinner and try a place I haven't been to. I'd definitely come back to this location again if I was in the area.