I came to Sushiville with Cocoa a bit over two years ago and wrote a review on it here. We were looking for a place to have lunch so I suggested coming back here since it's been awhile.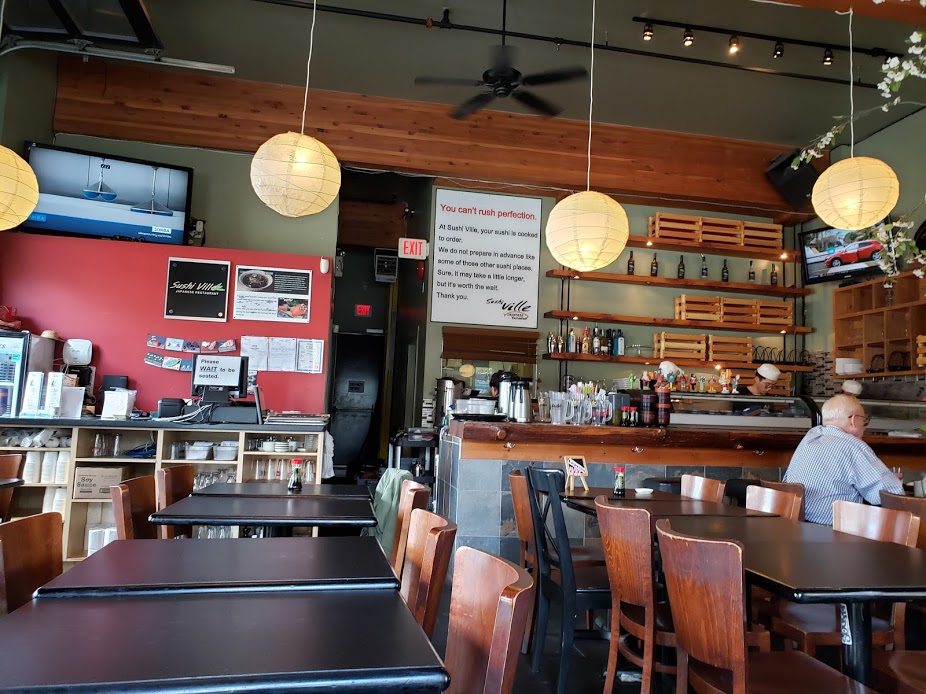 Something odd about Sushiville is that they have a very big sign on the wall warning customers of the wait. They say that they do not "prepare in advance like other sushi places do", which doesn't make sense to me because why wouldn't you want your ingredients chopped up beforehand? But since we already knew about the long waits here, we were prepared.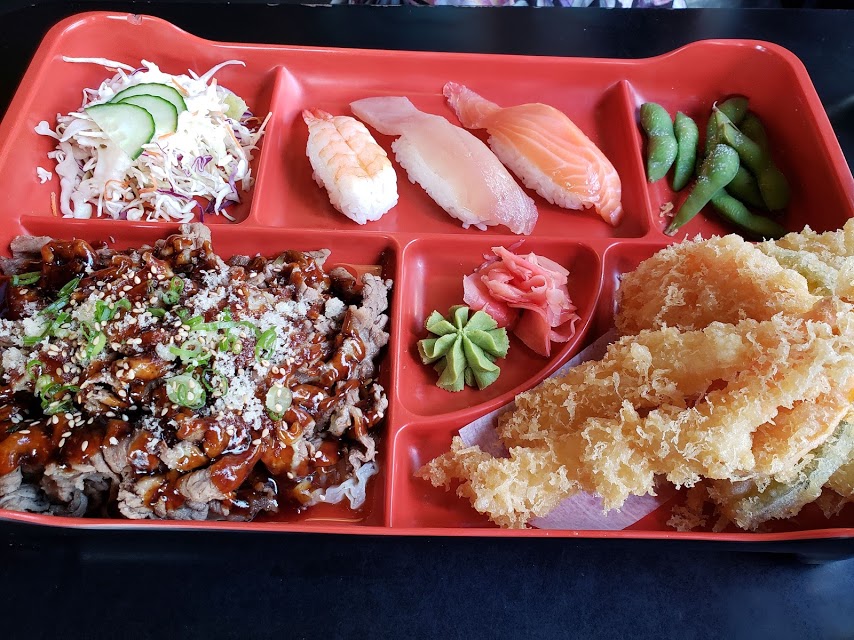 Tuna and salmon combo bento box: Cocoa's bento box was a really good deal for the price. She comes here more often and said they used to have gyozas instead of edamame beans.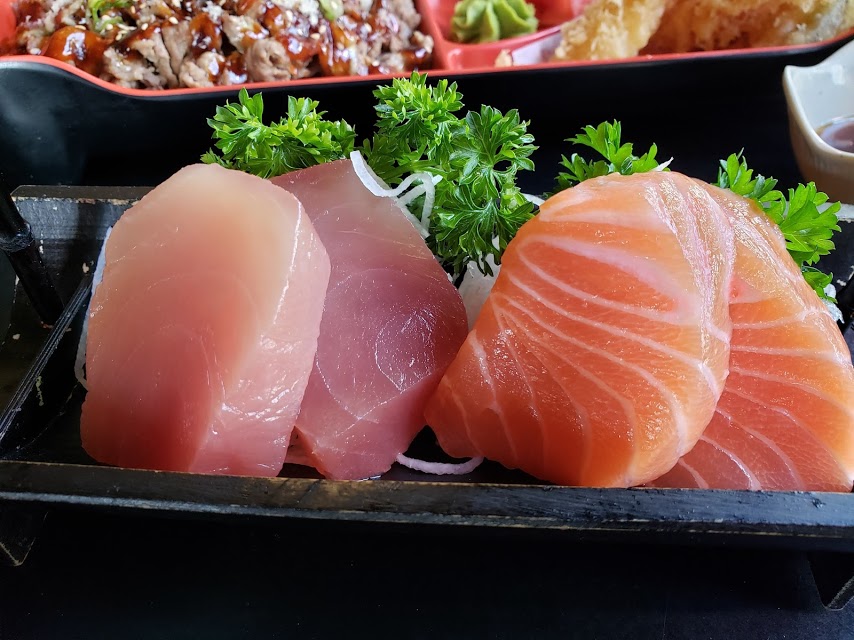 Anyways, the bento box came with 4 pieces sashimi, 3 nigiri pieces, edamame, tempura, beef teriyaki with veggies (no rice), and salad. The beef teriyaki reminded us more of a Korean style, with sweet galbi sauce instead of teriyaki.
Cocoa enjoyed the bento box with no complaints. It was too much for one meal so she ended up packing some back. But a very good deal for the price, I wish I ordered this too!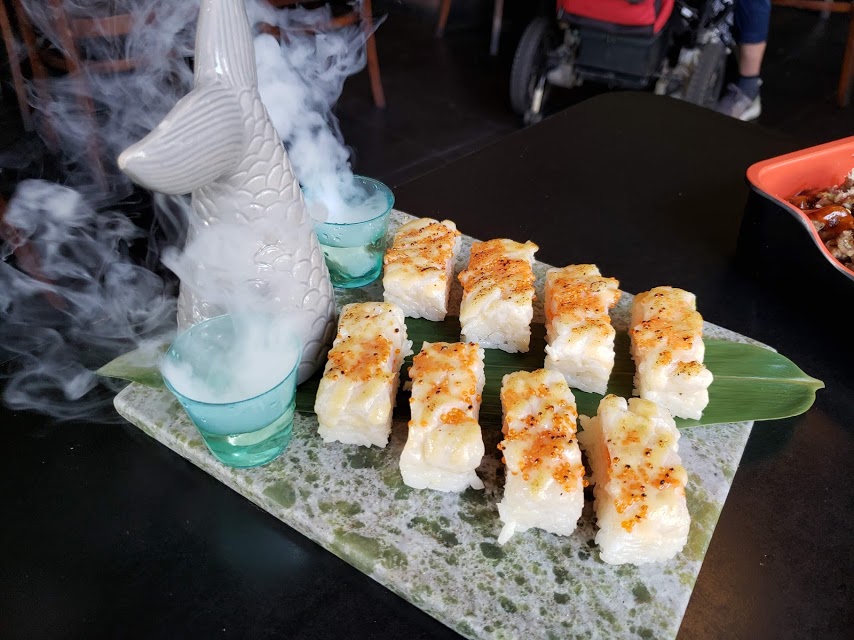 Scallop oshi: This isn't something I would normally order, but Cocoa wanted it so we shared. It was quite pricey at $16 for the roll, hence why we split it!
Although pricey, it was delicious. The scallop was fresh and tasted delicious when seared. The tobiko was crunchy and added a nice snap to it. The dry ice is a fun touch in the beginning and lasts about 7 minutes before it goes out!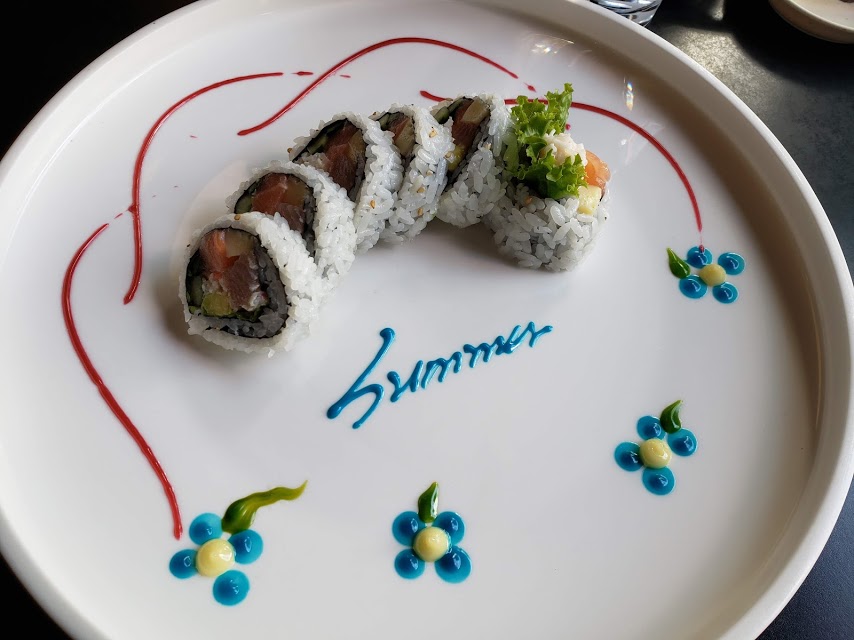 House roll: I was disappointed with my house roll because it was pretty tiny. Usually, house rolls are larger than a normal roll.
In addition, the tamago was the worst tamago I've had. It was a pale yellow/almost clear white colour, and very flavourless. The texture was also very rubbery. Gross.
I also ordered a salmon and avocado roll, which they forgot about. Since they had that giant poster warning about slow prep time, I thought they were making it still but nope. I ended up just cancelling it cause I didn't want to wait and because Elephant Garden is just next door, hehe.
I have mixed thoughts about Sushiville, because some things were hit or miss. Cocoa comes here more often and noted the prices increased as well. 
But, they do have some positives. The dry ice displays they have are pretty cool and fun to boomerang for Instagram. I would say come here for the big bento boxes or special rolls for the dry ice only.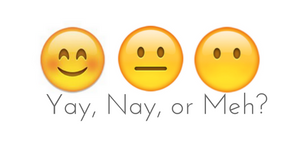 Yay…ish? Not bad enough to be a meh though.