Hiiiii everyone!
I've passed by Sushi Yama numerous times, but to be honest, I didn't really find it too enticing and easy to miss.  It wasn't until I stumbled upon this place on Urbanspoon (Now Zomato) and read great reviews on it – I was quite surprised!!
I finally got the chance to come here as an impromptu hangout with some friends in April. We came here because most other Japanese restaurants were already closed at that time (yeah, we had a craving at 10pm) and it was somewhat of a halfway meeting spot!
I don't remember the exact hours, but this place closes late compared to most casual Japanese restaurants that close around 9:30/10pm. We were here until 11:30pm that night, and I don't remember seeing them beginning to clean or close the restaurant yet.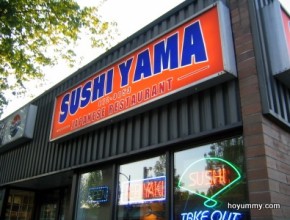 Although it was a bit late for dinner, the restaurant was still pretty busy! There were only a few tables remaining when we were seated. The restaurant could use a bit of a renovation as the floor tiles looked worn out and slightly greasy, with visible built up dirt. The tables had some built up sticky residue as well. Oh well, it still works!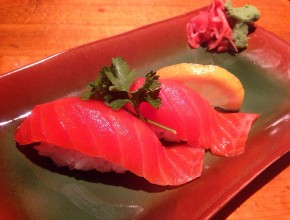 Macaroni had already ate, so she just ordered a small snack – wild salmon nigiri. We saw another customer eating this sashimi, and judging from the colour of it, we thought it would be pretty tasty and fresh!
The sashimi tasted fresh and was decent. My favourite place to get affordable, wild salmon sashimi is Kazu and I have yet to find another cheap/casual Japanese restaurant that is on par with the taste and quality of sashimi at Kazu, but Sushi Yama's wild salmon sashimi was not bad!
Cheese ordered the normal salmon nigiri and thought that the piece was small for the price. Unfortunately, I forgot to take a picture. =(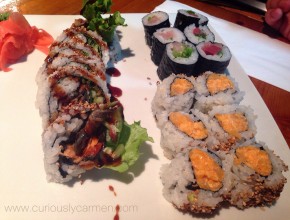 Continuing along, the boyfriend ordered the BC roll, chopped scallop roll, and hamachi roll.  The BC roll was average, and he would have preferred the salmon skin to be slightly more crispy.
The chopped scallop roll was a winner that night, the boyfriend and my friend ordered it and they both loved it!
Lastly, the hamachi roll was alright but he said he would have liked it more if it was prepared like a negitoro roll, with the tuna mushed with the onion instead of chopped up pieces.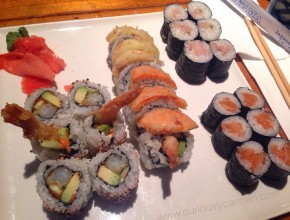 For myself, I had the tuna roll, salmon roll, dynamite roll, and yam tempura roll that I split with the boyfriend.
Overall, all of the rolls were pretty average and nothing really stood out. The prawn tempura did not taste fresh, we suspect that they use the leftover prawn tempura in the rolls as my friend ended up getting an order of tempura and it was perfectly fresh and crispy.
Sushi Yama is pretty average to me, but I wouldn't mind coming back if I was in the area or wanted some late night sushi. The cleanliness of the restaurant could be improved, but overall we had a decent experience and I'm glad that I was able to check this place off my 'to-eat' list!
Have you been here before?
Thanks for reading!
-Carmen