Despite ordering delivery more often due to the pandemic instead of eating out, we have yet to find a go-to sushi place that we like. Well, I really like Samurai Sushi for casual, no frills sushi but unfortunately don't see them on delivery apps often. We saw Tatsu Japanese Restaurant and it was pretty close, so we decided to try it out.
Tatsu Japanese Restaurant is located on Commercial Drive. There are a bunch of sushi restaurants on Commercial Drive. So far, the ones we've tried are Kishimoto (for more upscale sushi), Sushi Ville, Ginger Sushi, Naruto Sushi, and now, Tatsu for delivery.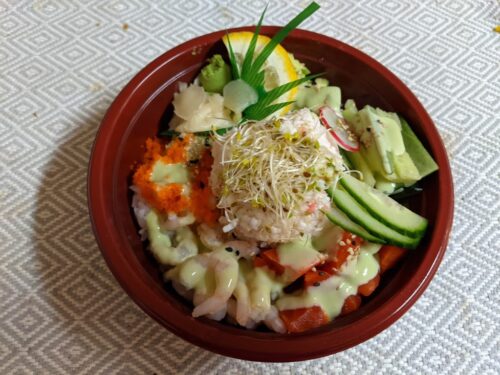 California donburi: For myself, I was feeling like a donburi. I was going to get a salmon donburi, but last minute, I saw the California donburi and ordered that instead.
The donburi was densely packed with sushi rice and was quite filling. Essentially, it was all the ingredients of a California roll in a bowl setting with the addition of salmon sashimi and baby shrimp.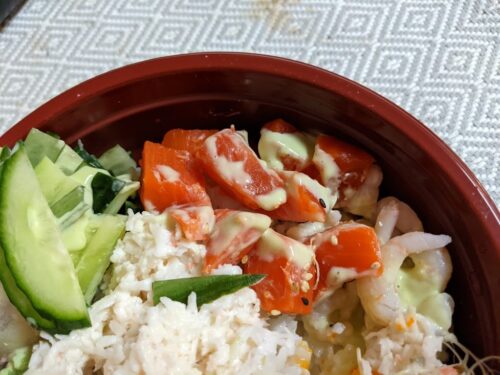 Although the donburi was densely packed with rice and a huge scoop of crab meat, there wasn't much salmon sashimi. The pieces were chopped up like poke style, but I would guess that there was only about 2 pieces of salmon sashimi.
The wasabi mayo was delicious, although it may be too spicy for some people. The donburi was good with fresh ingredients and crunchy vegetables, but I didn't feel like it was worth the price for how little salmon sashimi there was in the bowl.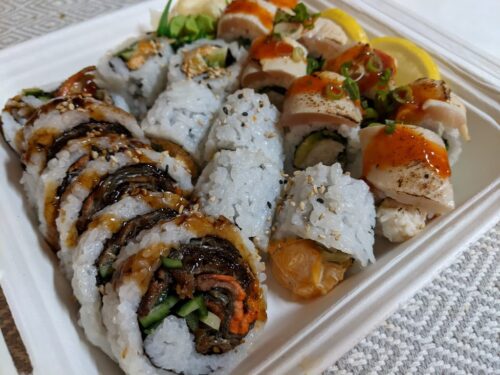 BC Roll: The fiance likes to try BC rolls whenever we try a new place. The BC roll was alright. The salmon skin could have been a bit crispier, but that could also be due to getting the order as delivery.
Chopped scallop roll: The chopped scallop roll was delicious! The roll was jam packed with juicy, fresh pieces of scallop.
Tuna tataki roll: This was ordered off their specialty roll section, but it was a disappointment. It was basically a California roll with a thin piece of seared tuna on top and some spicy gochujang sauce. The tuna was quite dry too. For a specialty roll, I was expecting more and would not order this again!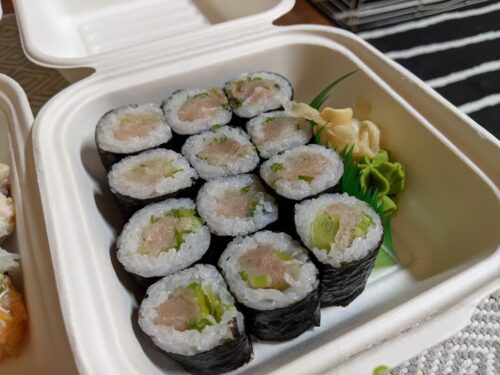 Negitoro roll: The fiance has become a negitoro roll expert and can usually tell right away if it would be good or bad. He was happy to see that this was one of the good places.
The negitoro was fatty and soft. There was a lot of fresh green onions inside too.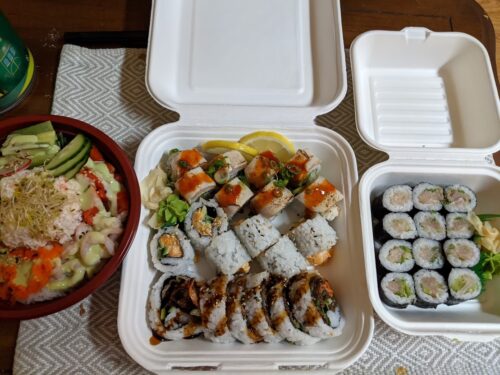 Overall, we found that the items were hit or miss. The usual go-to items we get like the chopped scallop roll and the tuna roll were delicious though, so we would order again. The ones we didn't like as much, such as the tuna tataki roll and California don, are items that we don't normally get.
I'd only recommend this place if you were in the area or they had delivery. It wouldn't be a restaurant that I'd drive purposely to but we wouldn't mind getting delivery from them again since it's close and fast for us.