Instead of our usual hangouts, we traded in board games and bubble tea for rockclimbing and trying out a restaurant nearby after, The General Public. I have mixed feelings about this place and am not sure whether to give it a good review or not.
I usually don't write such long intros… but the stories below, prior to our dinner, is why I wouldn't come back.
The General Public is a funky, eccentric restaurant similar to their sister restaurant, The Eatery in Kitsilano. The restaurant was unlike any sushi restaurant I've been to in terms of atmosphere. It reminded us of a nightclub or a pub… definitely not a sushi restaurant.
We made reservations for 7:15, but ended up finishing our activity earlier than expected, so I asked if we could come in at 6:20/6:30ish instead. Usually, restaurants are a lot busier at 7pm than 6:30pm, so I thought it would be better for both us and the restaurant to start and finish early. The lady on the phone seemed annoyed when I called and asked, and said they were fully booked until our reservation. We found that a bit odd and also a lie considering her tone… I know that sounds a bit weird, but we just had a feeling she was lying.
So, we decided to go early anyways to see if we could just get a walk-in table. Sure enough, the restaurant was half empty. When we got in, it took a long time for the hostess to acknowledge us… and even then, they said they were full and 'only the patio' was available.
At this point, I was getting really snobby vibes from the restaurant and soured my taste of the restaurant before even sitting down. We contemplated going across the street to another Japanese restaurant but my friend preferred to go here, so we killed a hour before our reservation.
Again, it took about 5 minutes for the hostess to acknowledge us, and it was not that busy still.
While we were standing at the table, I saw the book of reservations… you know how earlier I said we had a feeling she was lying about not having an earlier seat? We were right. In the book, there were no reservations from 6:15pm-7:00pm. Wtf?
What was the point of lying about that?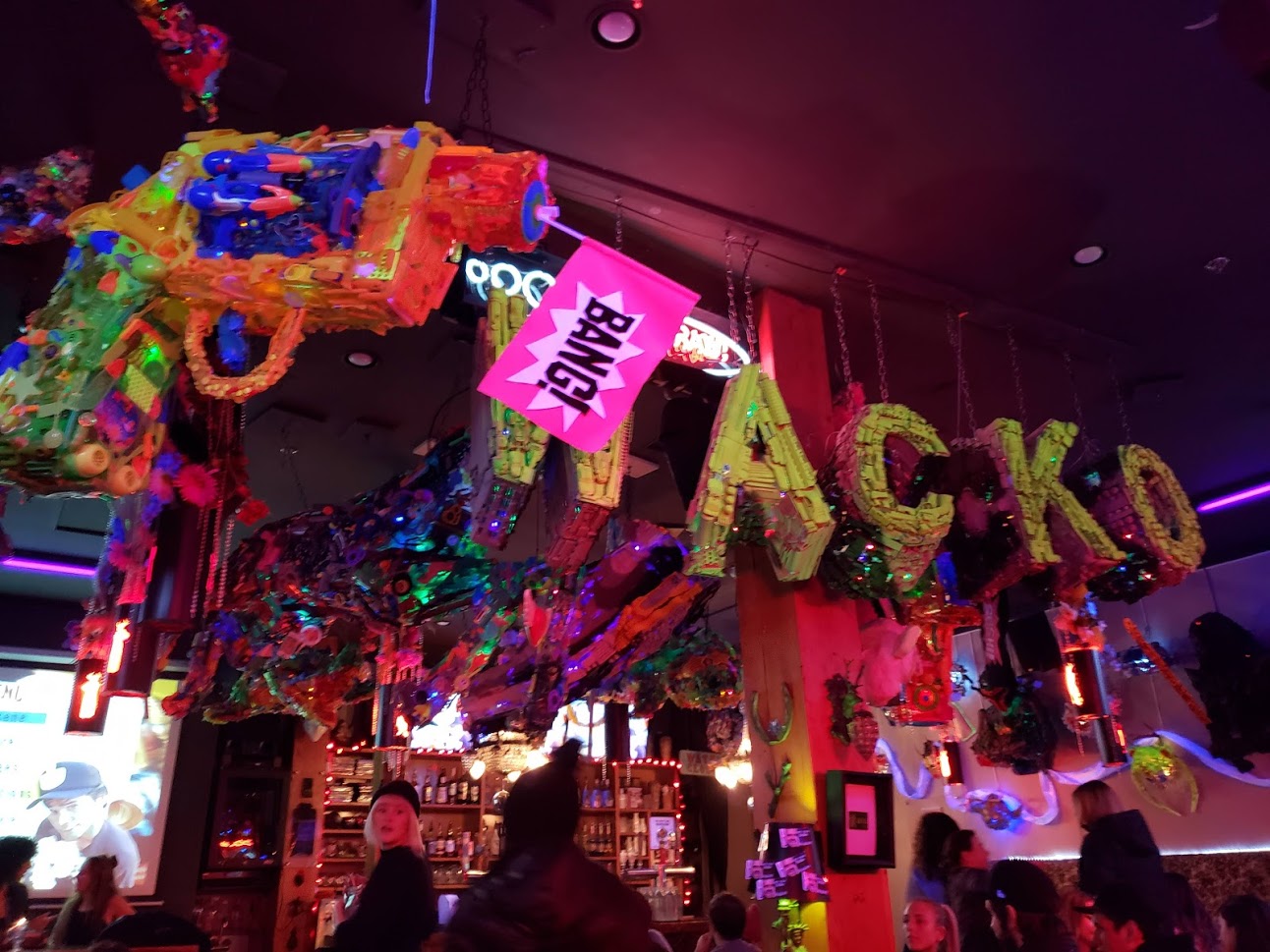 We were seated in a tight cramped table but once the customers beside us have left, it was a lot more comfortable.
Cocoa's stomach wasn't feeling well, so she asked for hot water. The server just gave her a blank look and said, 'uh… sure… oh wait.. the hot water machine is broken…' again, her tone felt like she was lying about it and just didn't want to make the effort. So she asked for water without ice… yeah, it never came.
While waiting for our food, there was a DJ which for the most part, was okay. But there was a 5 minute period in which she played this terrible, high pitched, screechy dubstep thing. It was a horrible noise….ugh.
Ugh. Finally on to the food.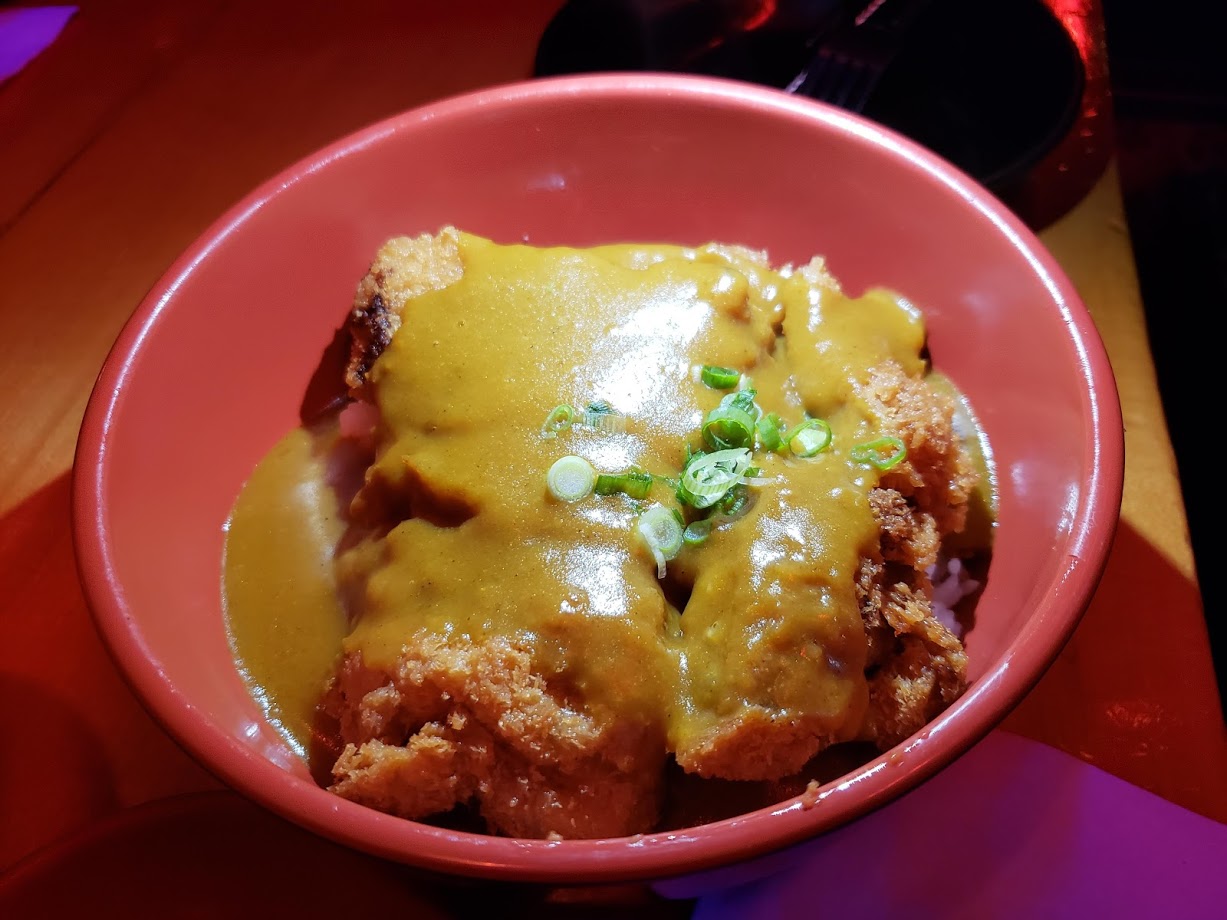 Chicken curry: The boyfriend was missing his Japanese curry, so he ordered this. Unfortunately, it reminded him more of Indian style curry, which is spicier and more fragrant. Japanese style curry is more sweet with subdued spices. It was decent, but he was just craving Japanese curry more than Indian curry.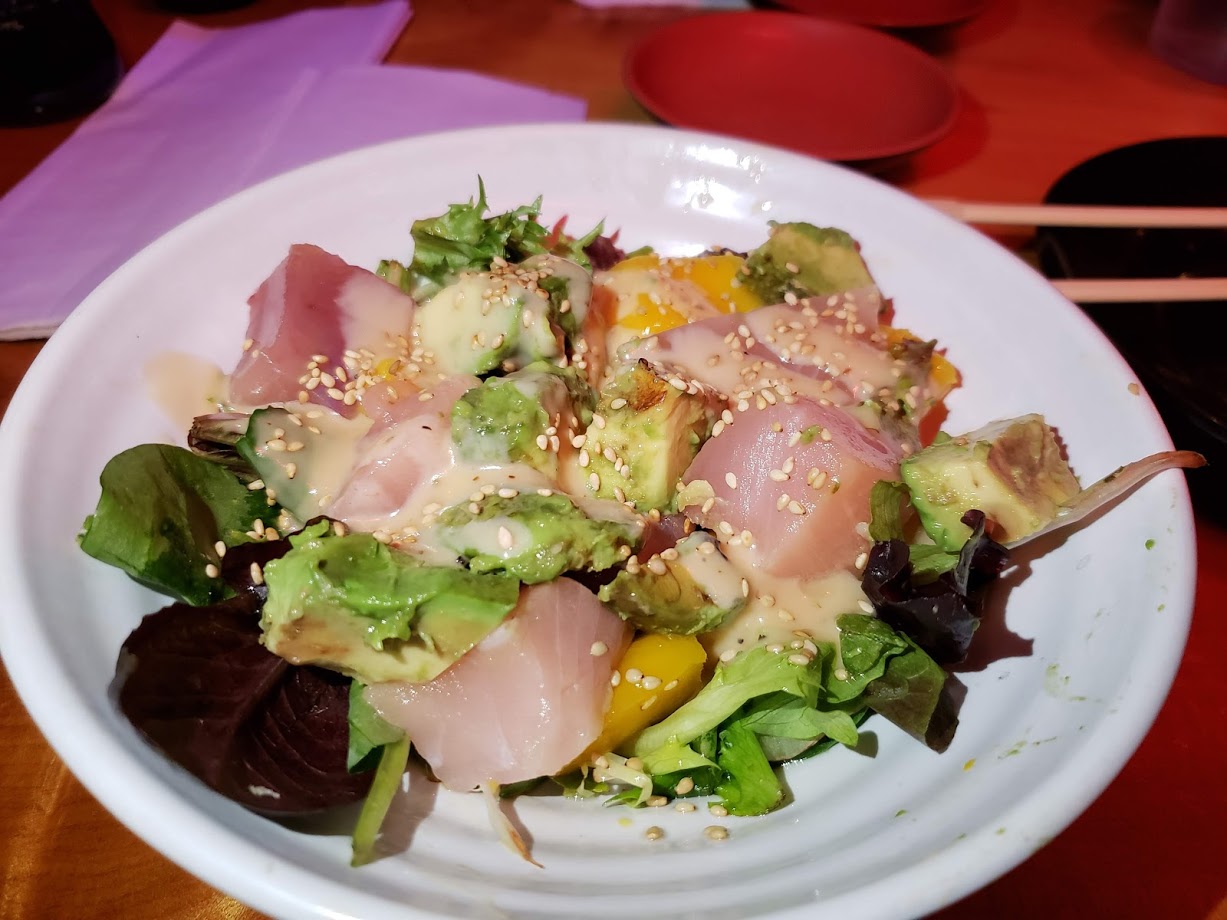 Tunacado: Both Cocoa and I ordered this, they had a section of only tuna so we thought it would be pretty good! It came with nice, fresh chunks of tuna, ripe mango, and avocado. I found that the sauce didn't go really well with it, there were hints of paprika? or something but overall, it was decent.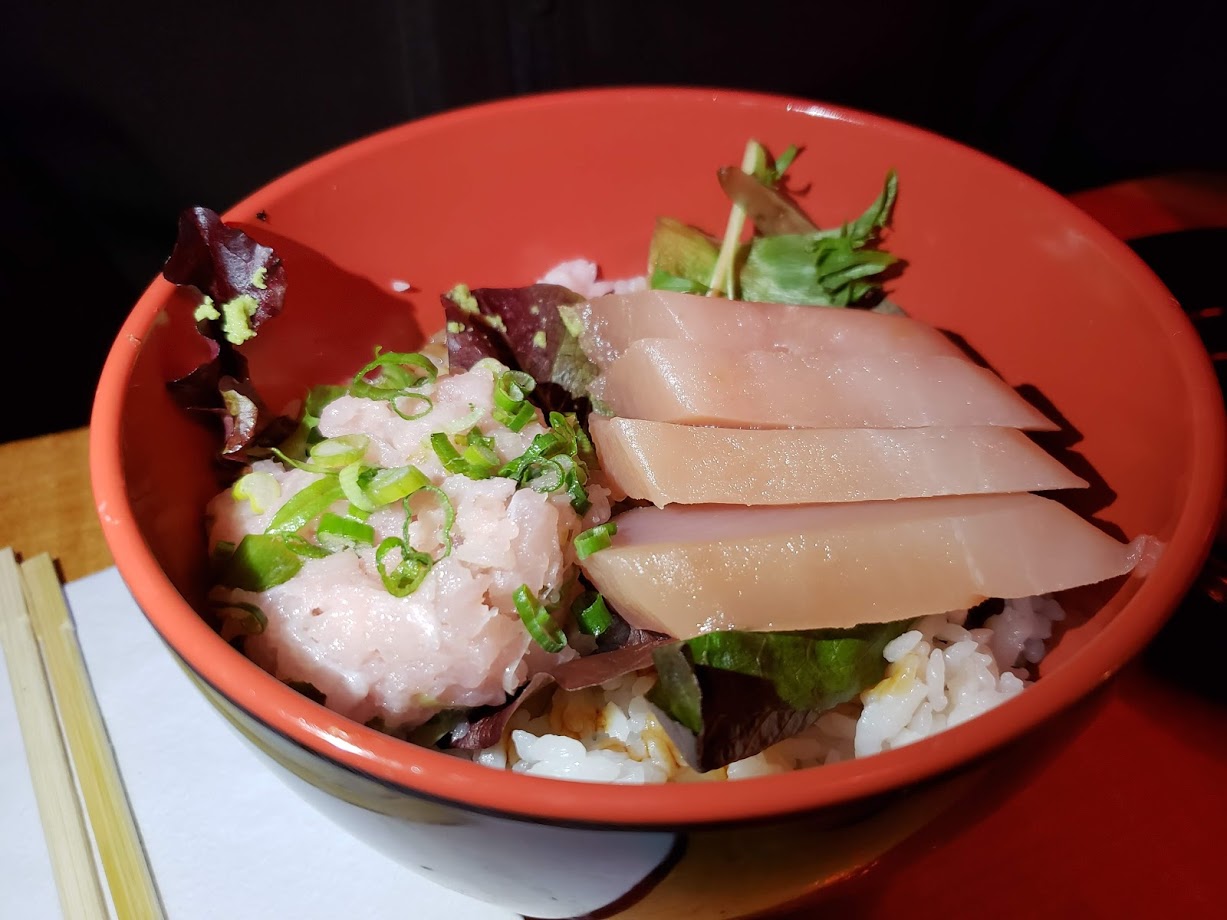 Tuna don: Again, they had a lot of tuna dishes so Cheese decided to get this! There were large tuna chunks and it was fresh. It also came with some minced tuna belly and onions.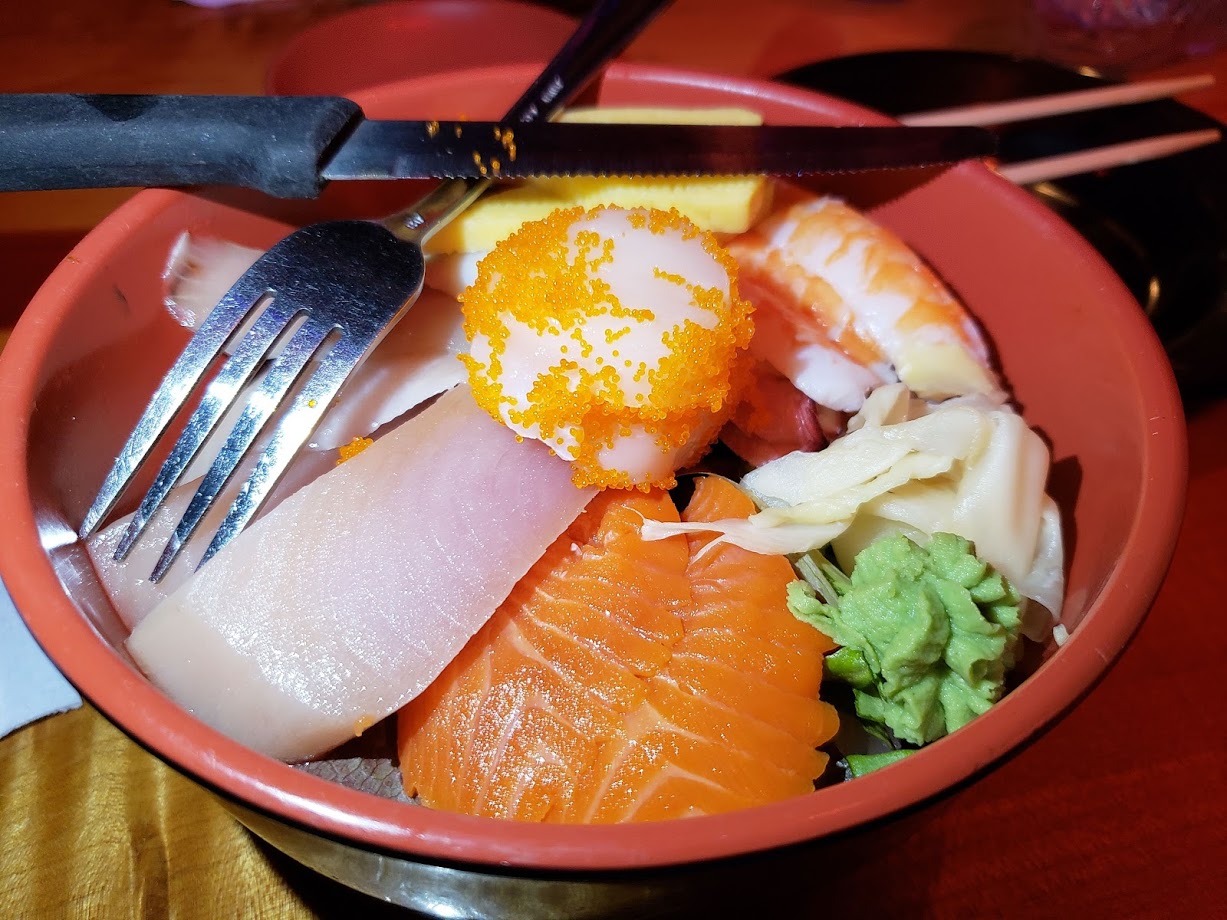 Chirashi don: My chirashi don was delicious! It made up (not really) for the sour taste in my mouth with the stuff that happened above. There was a generous portion of thick, fresh sashimi. I was quite impressed. A bed of fresh greens separated the sashimi and rice. The rice was drizzled with some sort of sweet teriyaki sauce which was delicious.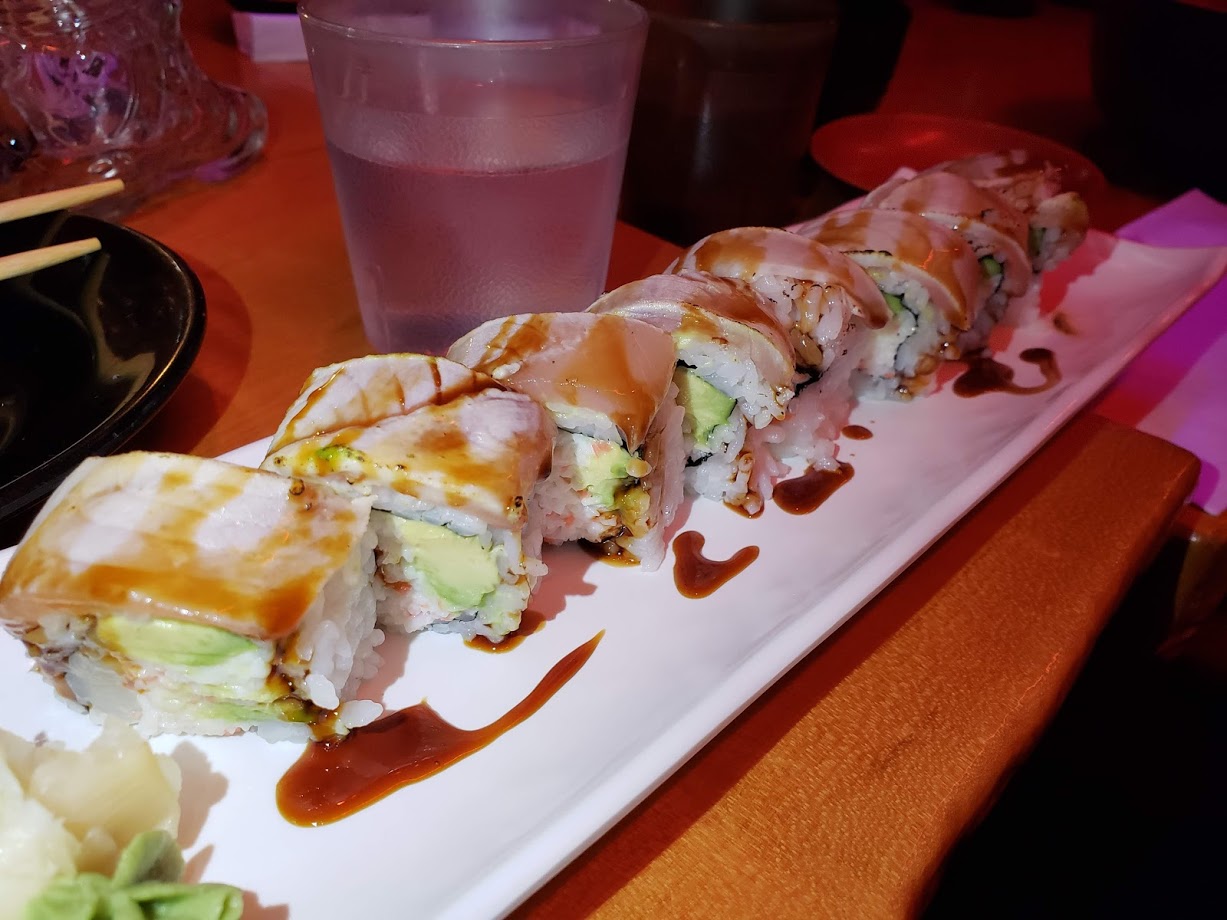 Tataki attack roll: This roll came with crab, scallop, avocado, mayo wrapped with seared tuna. It was decent, although probably best described as a California roll with tuna tataki on top.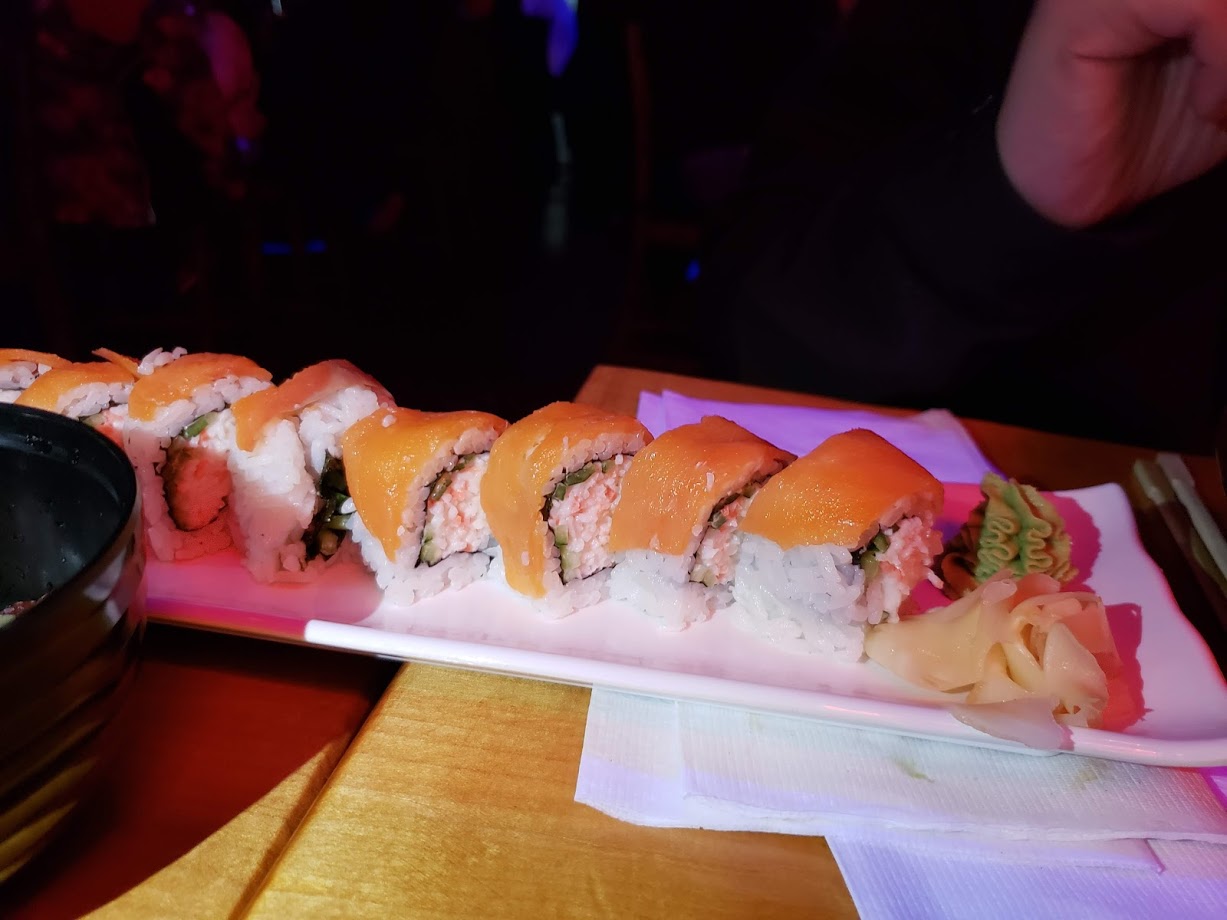 Alaska roll: Cheese ended off our meal with an Alaska roll. He had no complaints about it!
As you can see, the food was delicious and we didn't really have complaints about it. However, the servers gave off a pretentious, snobby vibe in the beginning (see above paragraphs) and service was quite slow throughout.
Perhaps we didn't quite fit their hipster clientele, but I wouldn't come back because of the snobby staff. It's a shame because the food was good. But there are plenty of other Japanese restaurants in Vancouver where they would treat their customers better and not lie.