It has been over 3 months since I have ate a proper meal at a restaurant! How crazy is that? The last sit down meal was at Do Chay with Avocado in March.
The Rise Eatery is an Asian-fusion restaurant inconspicuously located in the South Granville area, a block away from Kyo. The restaurant is located at the end of the shopping area so it's a bit hidden.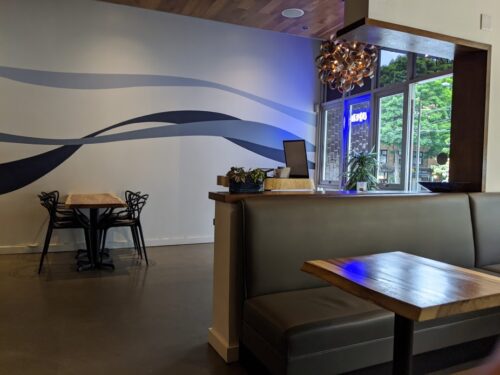 The restaurant was about half full, with other reservations that night too. We had a server who was friendly, but slow and hard to flag him down at times.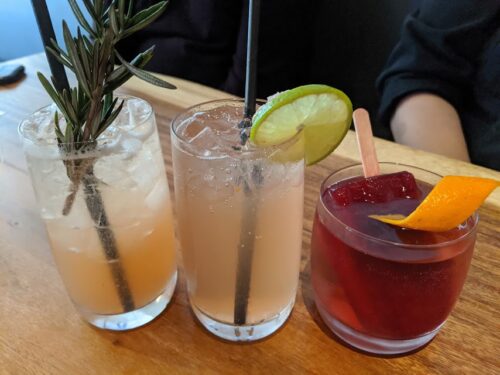 Drinks: We started off with some drinks! Starting from the left, Jerky ordered the 'Life's a Peach' which came with peach tea, peach puree, ginger ale, lime and rosemary.
In the center was my drink, Dark n' Timmy. I'm a huge fan of ginger beer and this was delicious! The drink came with ginger beer, grapefruit juice, lime, vanilla, and a candied ginger. The grapefruit gave it some sweetness and rounded out the spicy flavour of the ginger.
The birthday boy Smores ordered a Lolliwood North, which came with bench 1775 sauvignon blanc, lychee liquor, elderflower soda, cranberry & orange-mango popsicle. The popsicle was a cute and unique addition!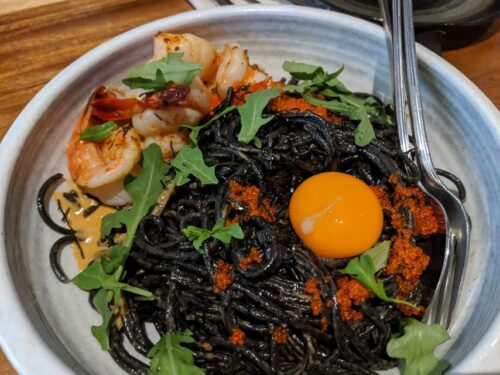 Uni-Versal Pasta XO Edition: Smores has been here before and raved about this. After deciding between the pasta and the heart attack rice, I decided on the latter and regretted it because this was delicious! I had a bite (the first bite with a clean fork so no germ transmission going on here), and was in love.
This came with squid ink pasta, sea urchin cream, runny egg yolk, sauteed prawn, flying fish roe, and toasted seaweed. It reminded me of an elevated and fancy version of a mentaiko udon.
I couldn't stop thinking about this dish the next day! I would definitely order this for myself next time because one bite was not enough.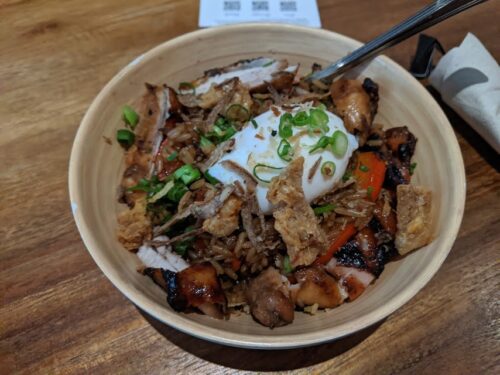 Heart attack rice: My rice bowl came with grilled chicken, a runny egg, and chicken crackling cooked in chicken fat rice. I can definitely see where the name heart attack rice came from.
The rice bowl was delicious as well, although a bit oily but that's to be expected. The grilled chicken was tender with a nice char flavour. So good! The chicken crackling was essentially deep fried chicken fat, which was too rich for me and my sensitive stomach so the fiance happily ate those pieces.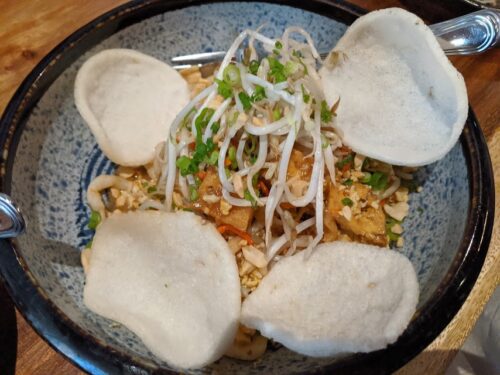 Shad thai: The only disappointing dish of the night. The sauteed fish noodles were very odd and not good… think of a springy, light fish ball but in noodle form. Some things should not be made into noodles, this is one of them.
The "noodles" came with a fish sauce, with a hint of sourness to it. The sauce was okay but the noodles were not good and ruined the dish. It also didn't feel worth the $19 price.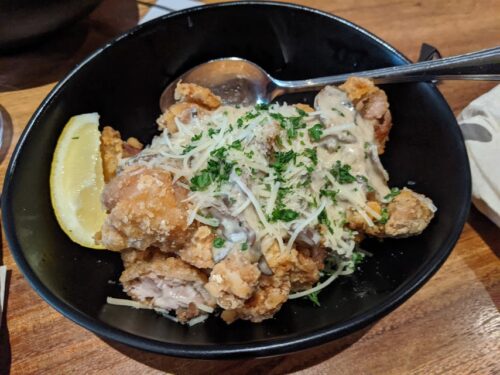 Chicken seoul good: This was amazing! Korean style fried chicken with wild mushroom cream, truffle oil, and grated Parmesan. All of these things combined was a match made in heaven. The chicken was juicy and crunchy, and the mushroom cream and truffle oil went so well together.
The truffle oil scent was very aromatic too. The cherry on top was the melted parmesan. Sooo good.
All in all, we enjoyed our visit to The Rise Eatery. It's a bit hidden at the end of South Granville, but very good (just don't get the Shad Thai). They do Asian fusion very well and you won't be disappointed with the uni pasta or fried chicken!