Disclaimer: In light of COVID-19, I just wanted to say that I am doing my part and social distancing. This is a review based on contact-less delivery.
I know that you may want to go out and have fun, but it is crucial that we distance ourselves to slow the spread of the virus and flatten the curve before it gets worse. Yes, you may feel fine but you could be passing on the virus to someone who is immunocompromised or elderly that may not survive this virus.
---
Another day, another day of social distancing and being at home. I realized that I did not step outside for 7 days, which I am not sure if that is impressive or just sad. I finally broke the streak by going to stock up on more groceries!
Anyways, it has been a whole 7 days of not eating restaurant food since our last meal with Wara Thai, so we decided to treat ourselves for lunch. The fiance had a coupon on Skip, and I was craving bun bo hue so we decided to try out Vietnam House since it had free delivery.
Vietnam House didn't sound familiar to me, but when I googled it, I remember it used to a hole in the wall called Thai Hang. Thai Hang had been around for ages… I went as a kid and in high school as well. Looking at pictures, it seems like they went through a renovation in addition to the name change.
The menu on Skip was a bit odd, as it didn't include the names of the dishes in Vietnamese. For example, they didn't even write 'pho' but at least that is easy enough to translate to English. I had a harder time finding 'bun bo hue' and ended up calling the restaurant to find out which one it was. The translation was 'beef and pork in rice spaghetti in soup'.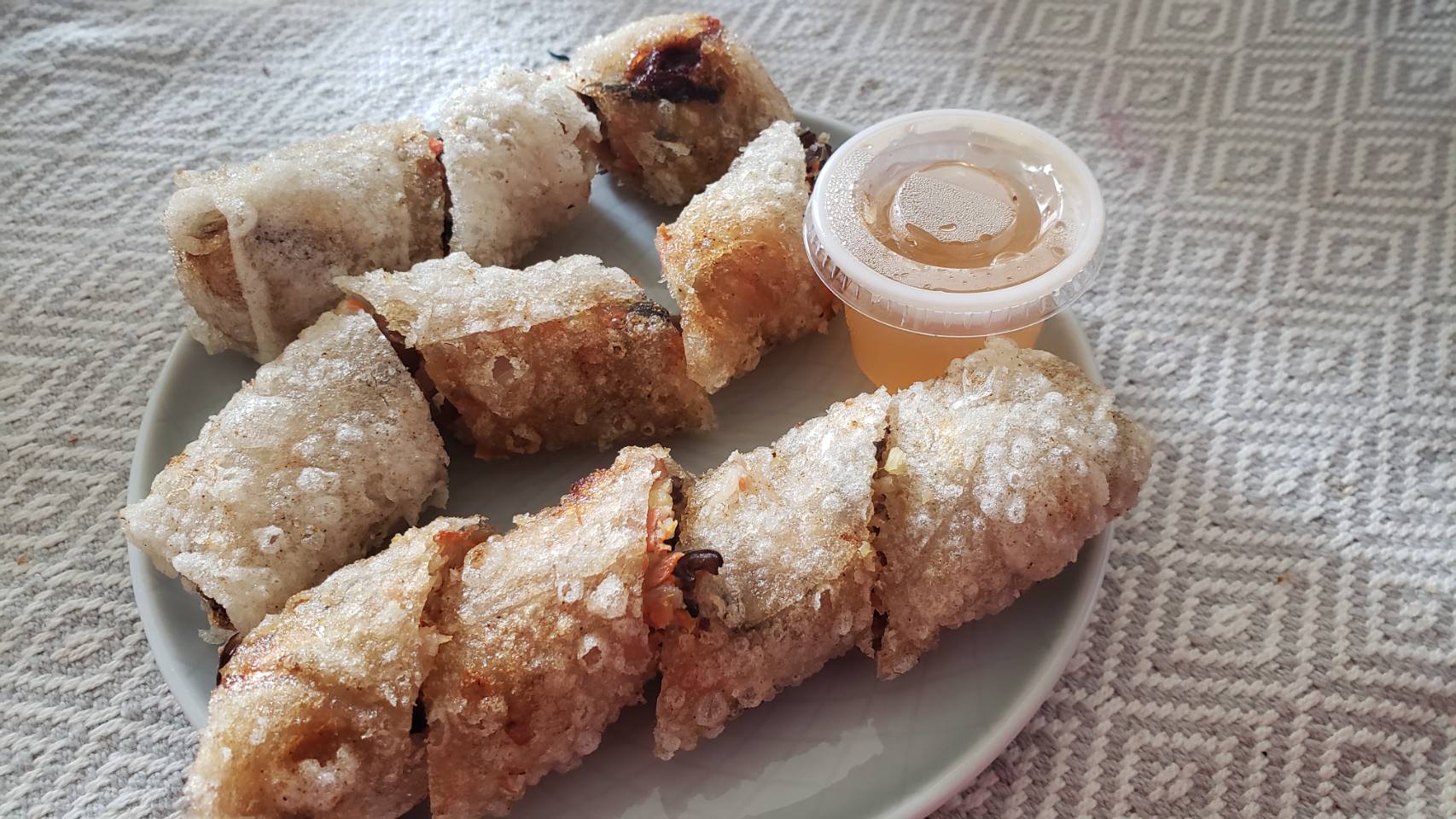 Spring rolls: I normally don't order spring rolls because #health, but we are in a pandemic right now and I wanted to excite my taste buds.
I was also motivated by Michael at Yes We're Eating Again to plate my takeout food nicely, as takeout boxes don't make for aesthetically pleasing photos! #FoodBloggerProblems. It was fun, although I was rushing because we were hungry and the food smelled so good!
The spring rolls were fresh and still a bit crunchy despite being takeout, which was great! They were your usual Vietnamese spring rolls and tasty.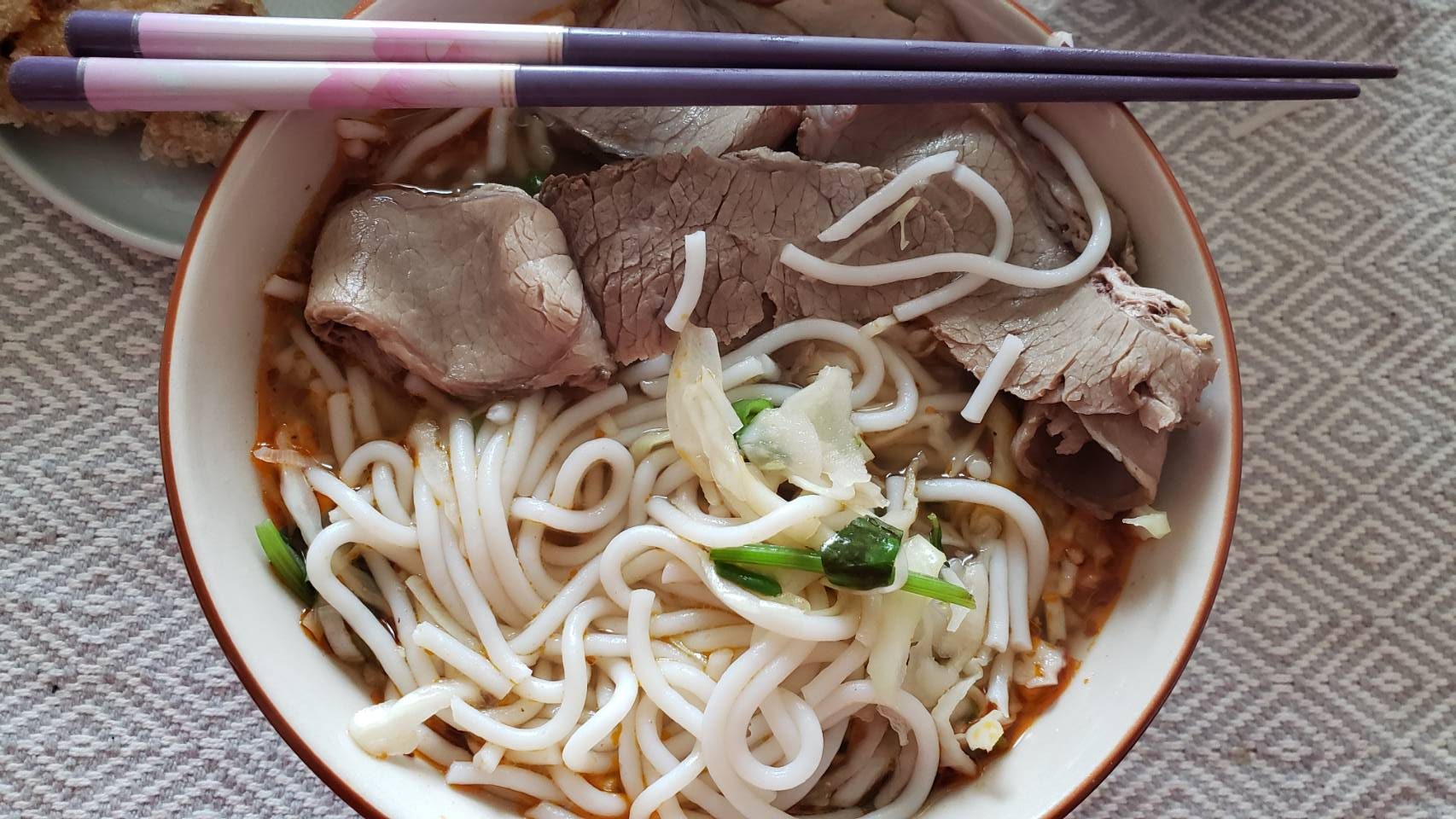 Bun bo hue: As mentioned above, I had a craving for bun bo hue, and this did not disappoint. When I first opened the takeout container, I was immediately greeted with an aromatic, fragrant soup.
The bun bo hue packed a lot of spice, and there was also hints of lemongrass flavour. There was also a generous amount of meat as well.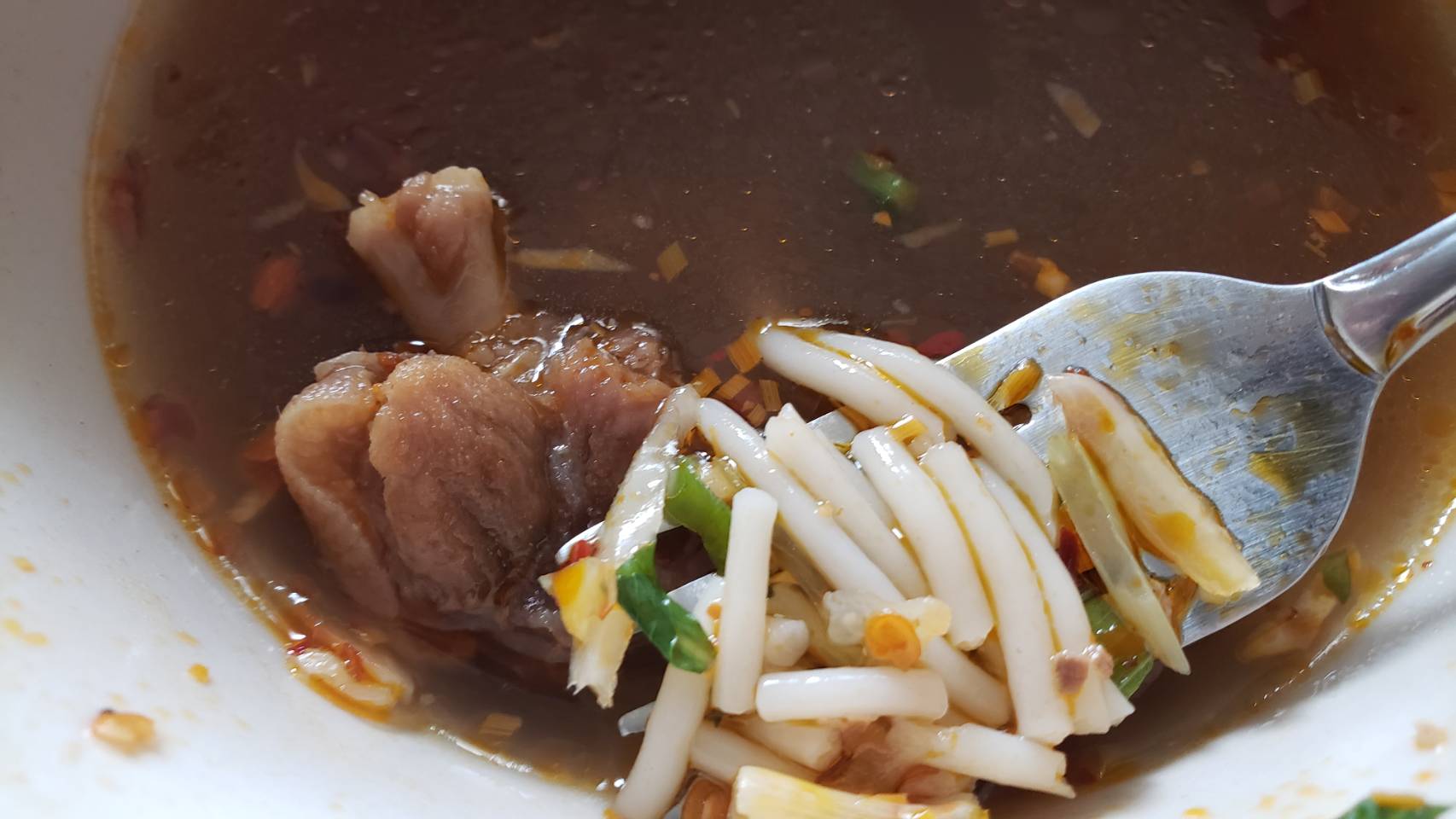 My only complaint would be that the noodles were too choppy and short, so my chopsticks couldn't pick it up. I gave up and ended up using a fork at the end because they were just bits and pieces of the noodles. This made it a bit harder to enjoy because I am the biggest noodle lover out there.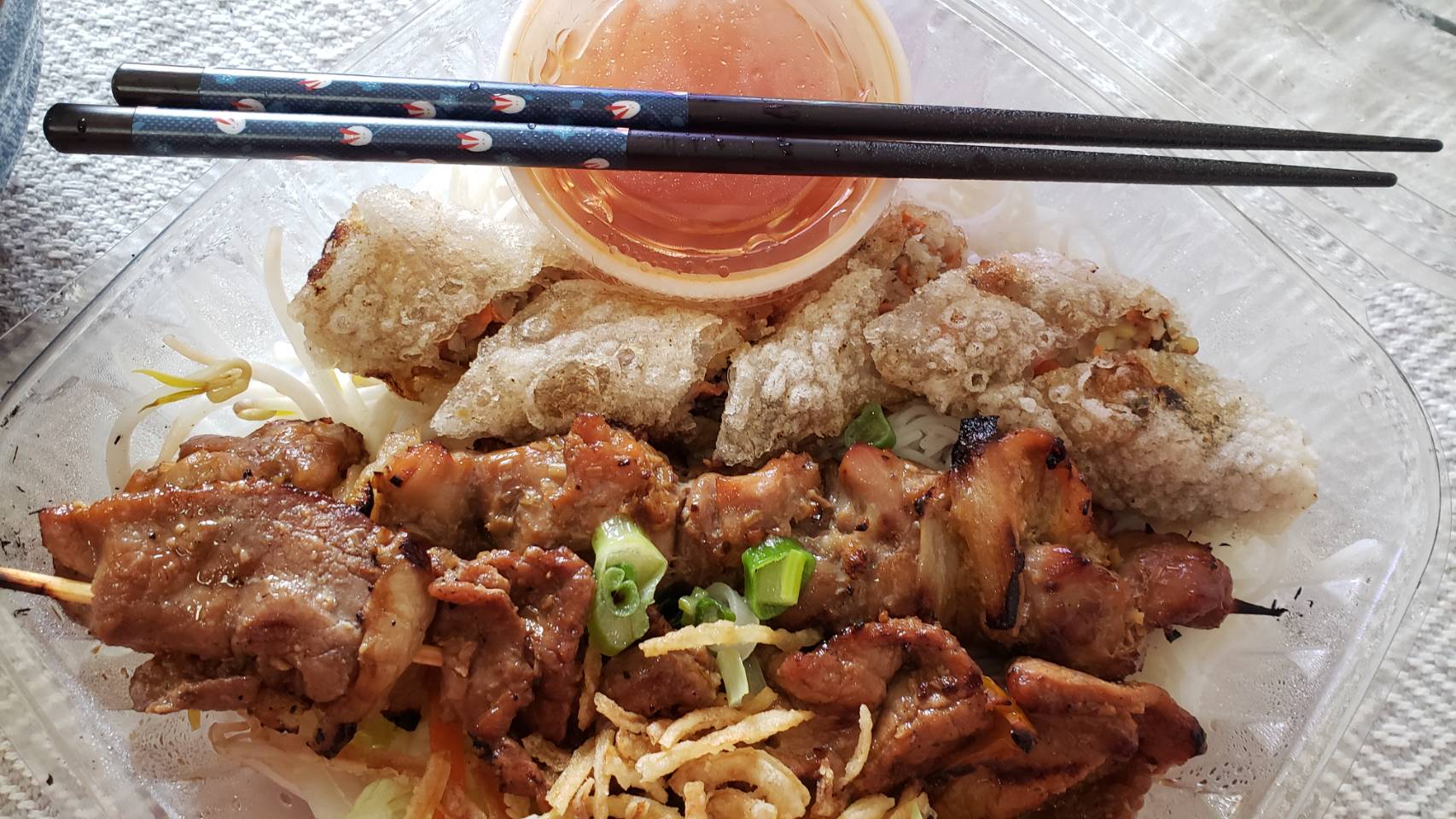 Grilled beef, chicken, and spring roll on vermicelli: The fiance ordered a vermicelli dish, and his was delicious as well. I had a bite of the chicken, which was bursting with grilled lemongrass flavour, and also very juicy! The beef was also very juicy and flavourful.
He noted that his vermicelli noodles were also chopped and short, so he had a hard time picking up the noodles with his chopsticks as well.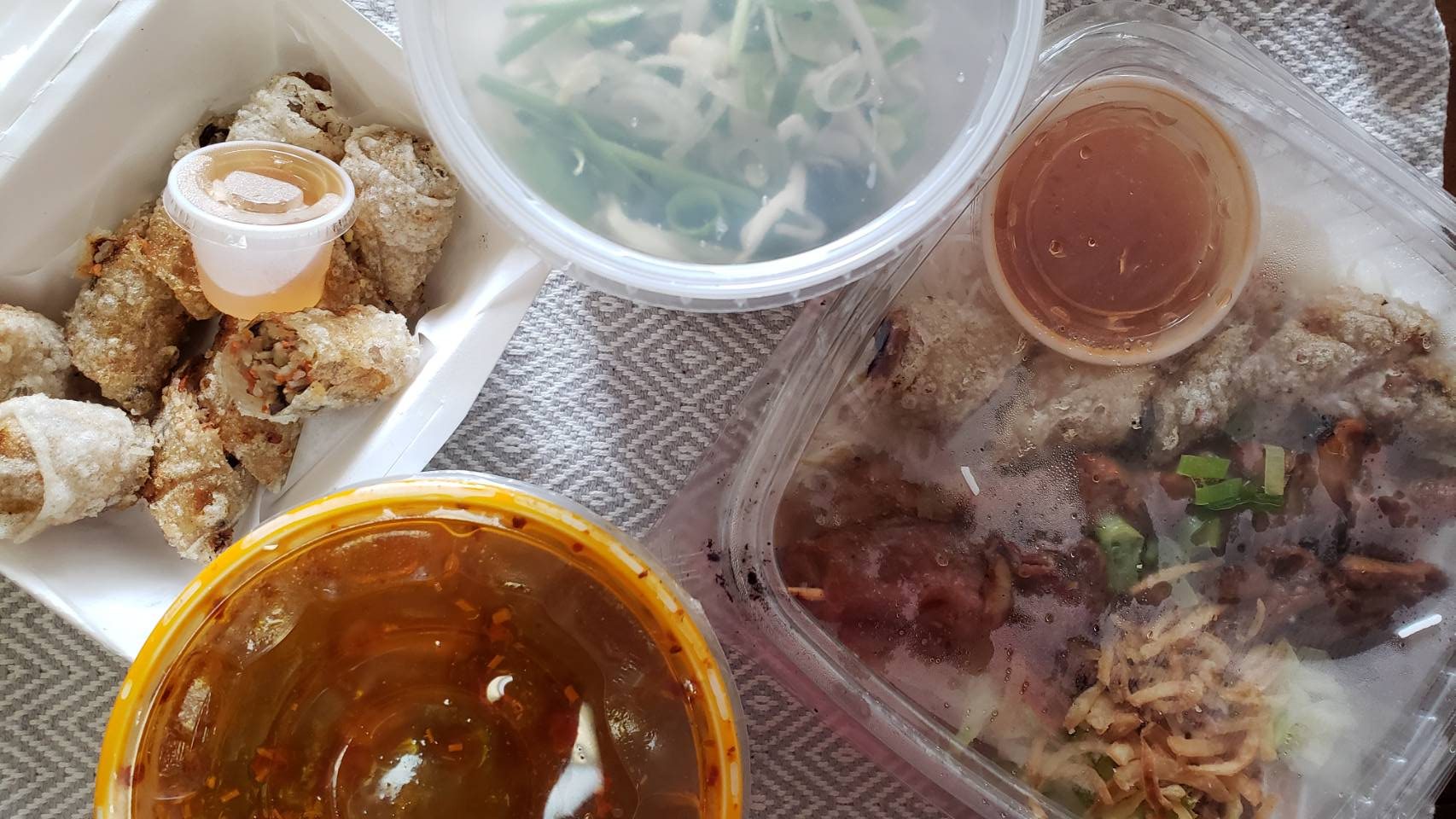 All in all, Vietnam House was delicious! One good thing (obviously I wish that this never happened in the first place) about that this crisis and social distancing has brought on, is that we have been trying new, local places for delivery. When we do order delivery usually, we just stick with the usual and familiar places so it's nice to branch out.
So far, we have tried Manpuku for Japanese rice bowls, Wara Thai, and now Vietnam House! All three discoveries have been great and I hope the the next delivery order we place will be just as delicious.