Water Street Cafe is a cute restaurant located in the heart of Gastown, right across from the famous steam clock. We came here with Sangria and Lager for a much needed catch up dinner!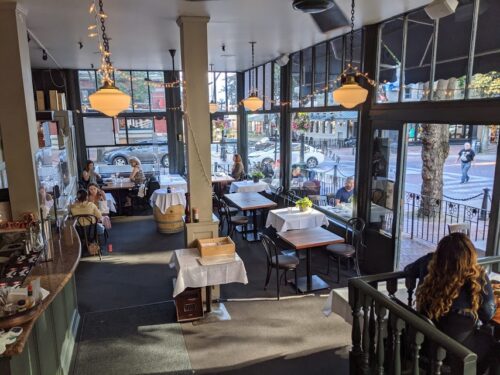 Walking in, I really enjoyed the ambiance of Water Street Cafe. There was a romantic, classic New York City feel to it… as if you were stepping into the crisp pages of a chick lit novel and the protagonist was about to have their first date. The ambiance was spectacular but the food was lacking unfortunately, as you'll soon find out.
Social distancing and sanitation protocol were at place here, and it felt clean and safe. Although, we did tell them that we would be sharing, our server didn't bring out serving utensils and plates until we asked.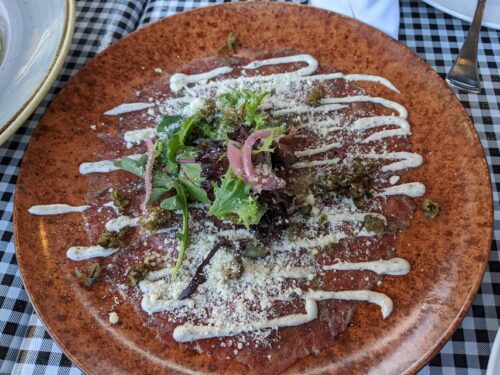 Bison carpaccio: To start, we ordered the bison carpaccio to share (we had serving forks and knives). No complaints about this dish. The parmesan and capers went really well with the bison.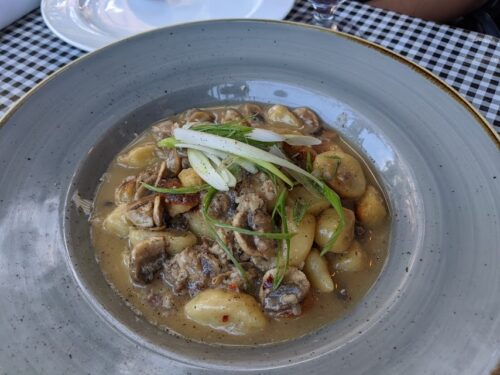 Mushroom gnocchi: After finding out that they make their gnocchi in-house, we decided to share this as well. Personally, I found it to be underwhelming. Truffle butter was advertised but there was no taste or scent of truffle at all.
It was also made with goat cheese so there was a strong gamey taste, which the fiance was not a fan of. We would not get this again.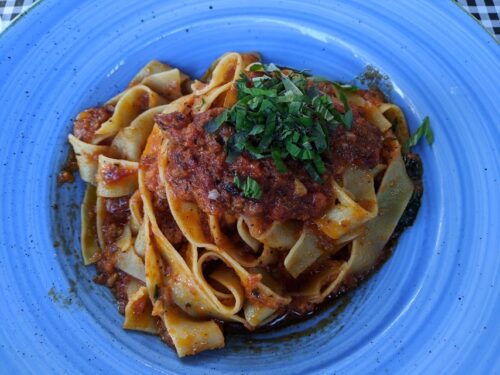 Pappardelle bolognese: After a great experience at Ask For Luigi, I decided to order the same thing to see how it compared since Water St. Cafe is also a fancier restaurant. Again, this was underwhelming and disappointing.
Lager noted that the tomato sauce tasted like grocery store canned pasta sauce, which I agreed with. In addition, there were strange pools of oil at the bottom of my plate.
I could have made better pasta at home for 1/4th of the price since this tasted like canned pasta sauce anyways.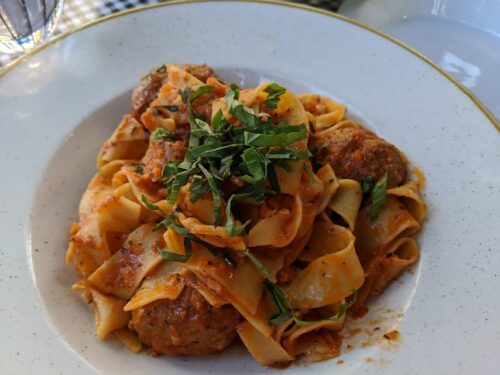 Meatballs and pappardelle: The fiance's pasta sauce was the same as mine, and he also found it to be lackluster and disappointing.
The meatballs were very tender, but he found the dish to be pretty forgettable and meh.
Seafood pasta special: Lager ordered the daily special, which was a seafood pasta in a lemon butter dill sauce. This was far more delicious than the fiance and my pasta dishes. The sauce was buttery, while the dill gave it a nice aroma.
However, the seafood was extremely overcooked. The clams were rubbery and the scallop had shrunk and was overcooked.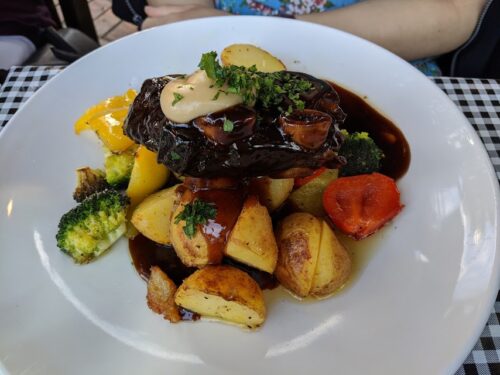 Braised beef short rib: Sangria had perhaps the most satisfying dish out of all of us. The braised beef short rib was tender and fell off the bone nicely. It was marinated in hoisin sauce which was unexpected for a Western restaurant, but it worked well.
There was live music playing on the patio right next to us which was nice, but the singer was belting out ballads and it was too loud and hard to hear our own conversation at times. It was nice when he was singing softly or just playing instrumentals though.
All in all, the dishes left little to be desired and was disappointing. While the ambiance and service was great, the same can not be said about the food.