White Spot has been advertising their chicken pot pie for awhile, and the fiance really wanted to try it. Advertising works! We went to the Gilmore Location (before restaurants closed for dine in again) so the fiance could have his chicken pot pie craving satisfied. On a side note, pot pies now remind me of Modern Family and Cam's obsession with them.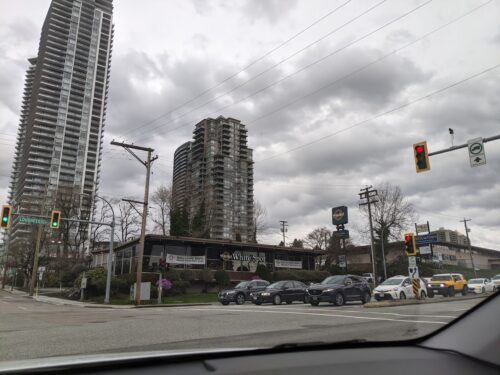 I have been to the White Spot on Gilmore and Lougheed many times throughout the years. This location has been here for a long time and I hope it doesn't get torn down for condos (although it wouldn't be surprising since it's so close to the Skytrain). I just never wrote a post on this location over the years so I thought I finally would.
We ended up coming back a couple of weeks later for their happy hour, so I included that in this post too. Again, these two visits were before restaurants closed for dine in again to prevent the spread of COVID!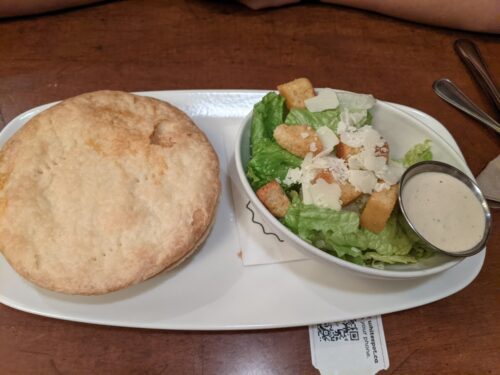 Chicken pot pie: The chicken pot pie was satisfying and just what the fiance wanted. It was delicious, with lots of white meat inside. The pie crust was very flaky and crispy! To the fiance's disappointment, this was a limited time offer so I am not sure if they still have it on the menu anymore.
The only minor complaint was that it was the only side dish was the salad and the fiance wanted fries. But we ended up swapping our side dishes so it wasn't a big deal. Thinking back, we probably could have just asked them for fries as well.
Regardless of location, White Spot always has a delicious salad and this did not disappoint. The lettuce is always very fresh and crunchy.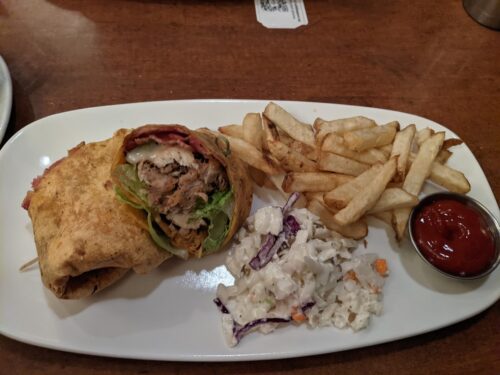 Grilled chicken wrap: This is what I usually get at White Spot! You can pick between the crispy or grilled chicken. White Spot has delicious grilled chicken, their chicken burger is good as well. I find the wrap has too much sauce for my liking so I ask for no sauce or on the side. I'm a weirdo!
However, I found the chicken wrap disappointing here compared to other locations. The chicken was cut into very small chunky pieces instead of slices. It was also wrapped pretty loosely. Taste wise, it was not bad but I've had better chicken wraps at other White Spot locations.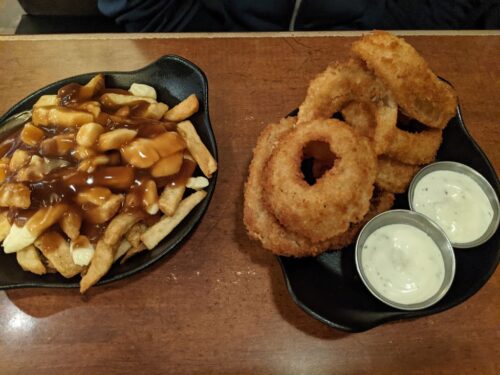 Poutine: After noticing the happy hour deals, the fiance and I came for a late night meal (although I didn't end up ordering happy hour because I saw chicken strips hahaha). The fiance enjoyed his poutine and said it was delicious and satisfying. There was the perfect amount of gravy and cheese curds.
Onion rings: I'm not a big fan of onion rings but the fiance enjoyed these a lot as well. The onion rings were served hot and crispy. There was a good amount for the happy hour price.
Chicken strips: For myself, I decided to try White Spot's chicken strips! It is no secret that I love my chicken strips. The chicken strips here were delicious. Piping hot, crispy, and well seasoned. I ended up packing half of it for leftovers the next day and they were just as good after heating them up in the air fryer.
Overall, White Spot is a BC staple and you can't go wrong with it. The one thing is that service can be slow sometimes, which would be my only complaint but otherwise, I enjoy getting my White Spot fix every once in awhile.