Yook opened a bit over 3 years ago, and I remember we were quite excited to have a Korean restaurant so close by! However, we ended up only going once with Smores, which I wrote a review on.
Then, Kook Korean BBQ opened up shortly afterwards and that has been our go-to place for Korean when we are feeling like going somewhere close. There is also the newly opened Rib & Chicken a couple blocks away from Kook now.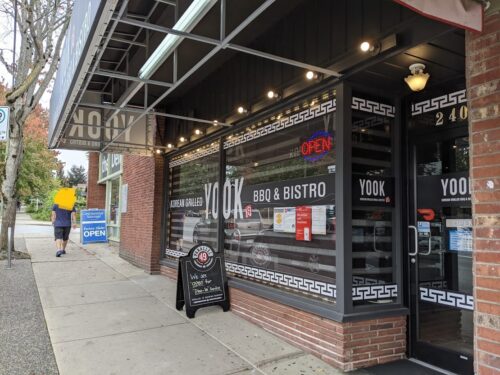 We ended up at Yook on a whim. I was craving Korean noodle soup and we were going to go to Kook like usual, but they were closed. I figured I'd write a re-visit post since it's been 2 years.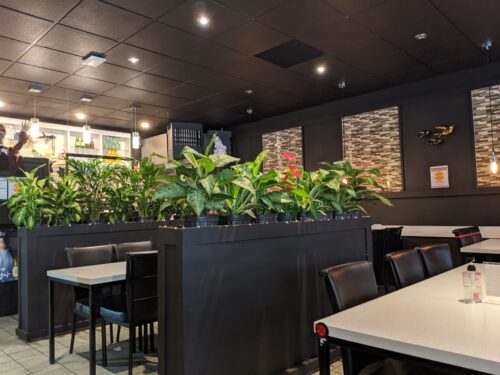 The restaurant was clean and organized, with hand sanitizer, contract tracing and socially distant tables. One thing I liked about Yook was the abundance of plants and greenery. The plants also provided some privacy between tables.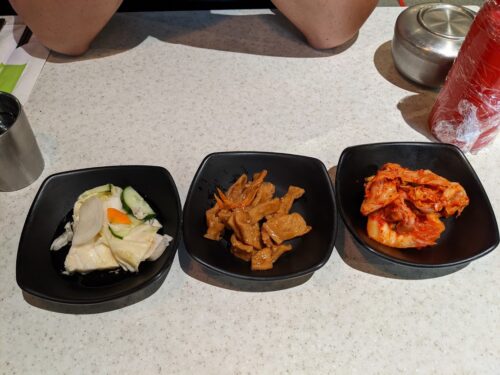 Banchan: We started off with the banchan. They were all tasty with no complaints. Also, in the back of the photo, you'll see the sauce container. I appreciated how they wrapped it during the pandemic to prevent everyone touching the same bottle.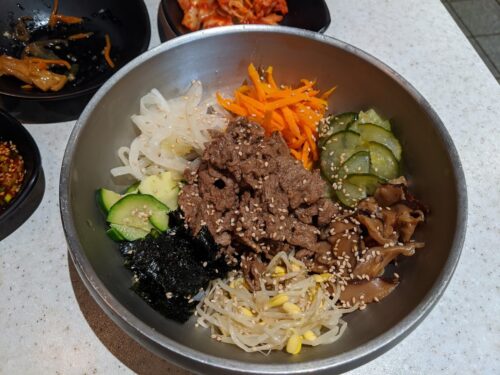 Bibimbap: When this arrived at the table, I was really underwhelmed. Usually bibimbap is served in a hot stone bowl, but this was served in a cold metal bowl that was refrigerated. Perhaps this is normal in Korean restaurants, and if so, I apologize for my lack of knowledge. But my first thought was that wouldn't the food get cold easier?
Also, we like the stone bowls more because you can spread the rice thinly around the hot bowl and have crunchy rice, a great way to end the dish.
Secondly, bibimbap is usually served with an egg where you mix the egg yolk into the rest of the dish. I was disappointed to see that it didn't come with an egg. We double checked with the waitress incase this was forgotten, but they told us that the egg was extra.
The bibimbap was tasty so it made up for the initial disappointing thoughts a little bit. I remembered that they have great stir-fry meat dishes, and the beef was very flavourful and tender. Even then, I couldn't help by thinking it was lacking compared to other restaurants.
Update: I've been informed that the stone bowl bibimbap is known as a dol sot bibimbap. The more you learn! Now I know to look for "dol sot" on the menu to make sure it's a stone bowl.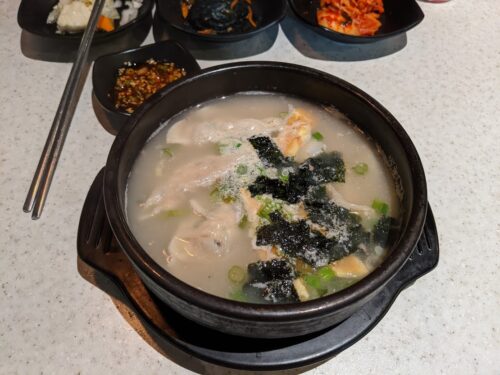 Dduck mandu gook: I was originally wanting an ox bone soup, but was disappointed that they didn't have it on the menu. I saw that they had a rice cake soup with handmade dumplings, so I decided to try Yook's version of it after having a delicious bowl at Tongileo.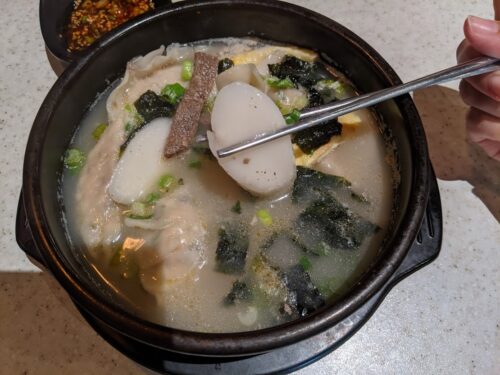 The soup broth was comforting and delicious, and tasted like an ox bone soup broth. The rice cakes were chewy, and they also included some sliced scrambled egg and beef strips. The beef was on the tough side so it was hard to chew, and strongly marinated with ginger.
However, the dumplings were plump and delicious, packed full of vegetables and pork.
Yook wouldn't be a place that I drive purposely too, only if I was in the area. With that said, I would still pick Kook over Yook.