Hey everyone!
This month, I was approached by a US based company, Maple Holistics, to review their hair care products. After reading up on the company and browsing through the products, I chose to order one of their best seller shampoos, the Degrease!
Ever since puberty, my hair type has been oily. I wash my hair each day because it becomes greasy, and feels unbearably gross if I don't wash it. I know that some people are able to ignore that feeling, and I've tried to but I can't! =(
Yes, I know that everyone says you shouldn't wash your hair every single day as it will damage/dry/thin your hair… but when you have zero tolerance for an itchy and greasy scalp, plus oily hair to begin with – it has to be taken care of!
Plus, I have such an excess of oil in my hair so I don't think that by washing it everyday, I am 'drying' my scalp out as there is SO MUCH oil =P I'm really jealous of those people who can go for days, even a WEEK without washing their hair, or simply using dry shampoo/baby powder to clean their hair – I could never do that.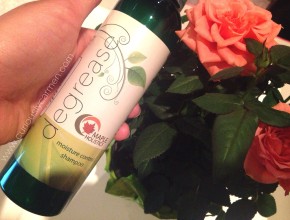 With all that said, I was honestly a bit hesitant at how well this shampoo would work. I've tried so many different shampoos catered towards 'oily hair', yet I don't really think have made a difference! =(
The ingredients in this shampoo consist of lemon, cypress, rosemary and basil, which help relieve oily, greasy hair and itchy scalp.  Degrease works to remove excess perspiration without absorbing hair moisture, all while contributing natural compounds known to assist in re-balancing sebum secretion levels.
I was very impressed with their shipping times, my shampoo arrived within three days of me placing my order! Funny story, I woke up that morning with extra oily hair (bleh) and really wanted to give my hair a good wash. I decided to check on my bunny very quickly first, and noticed that I had a package delivered! Talk about perfect timing!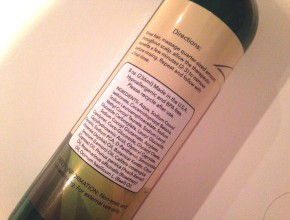 I was very excited to try this product because I have yet to find something that has worked for my oily hair. The instructions told me to use a quarter sized amount, then work it in your hair and wait a few minutes for the product to settle in before rinsing.
This shampoo has a very herbal and earthy scent – do not expect a perfume-y scent like the ones from Pantene or Herbal Essences (sigh, those smell so good haha!) as this product does not include any fragrance. The scent of this product reminded me a lot of the aromatherapy stores, which I personally love!
Immediately after rinsing, my hair felt very clean. I definitely felt that all the excess oils had been stripped away. I decided to test this product out and see how long it would take before my hair felt oily and gross. (Usually, that is under 24 hours – the oils in my hair work too fast!)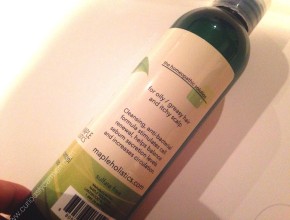 …..Which is why I was so shocked when I woke up the next morning, with my hair still feeling as clean and fresh as it did yesterday! That has never happened to me before and I seriously couldn't believe it!
I went through the whole next day without my hair feeling oily or greasy –  and that was seriously a miracle.
This was the first time that I purposely chose not to wash my hair the next day. I usually don't have a choice as my hair gets so oily – and that was an absolutely liberating feeling. You may think I'm being dramatic, but when you have been dealing with oily, greasy hair your whole life, you will know what I mean.
Those with non-oily hair, appreciate little moments in life like this and don't take it for granted! With this shampoo, I am able to wash my hair every other day without it feeling heavy or greasy – a possibility I never knew would exist knowing how much I hate that oily hair feeling.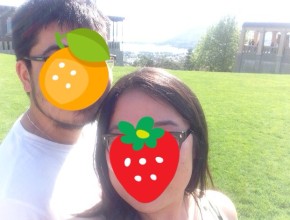 Here is a picture of my hair in the sun! I brought the shampoo with me on vacation, as I knew that Kelowna would be hot (which equals to more sweat & oil production). I like how my hair looked in this picture, it has a nice healthy shine without looking too thick and greasy =)
I also raved to this product to the boyfriend and told him to try it since he suffers from oily hair as well. He was also equally impressed with the product and doesn't his hair look nice and clean as well in the picture? =)
The Degrease shampoo is seriously great. I have never tried any other shampoo that has worked this well for my oily hair. If you suffer from excessively oily hair, I highly recommend trying this product. It has made my days so much easier now that I don't have to worry about having my hair bother me the entire day.
You can buy this product on Amazon.
If you have oily hair, what are some tips/tricks that you use to keep your hair as clean as possible?
Thanks for reading!
-Carmen
Product provided by Maple Holistics for review. Opinions are my own =)