A couple of years ago, the fiance and I tried House of Dosas a few times. The first time was delicious, and was how I was introduced to chicken biryani. The second and third times weren't as good though, so we stopped ordering from them. I didn't end up writing a review because back then, I didn't want to write delivery reviews.
How funny is it that fast forward two years later, most of my reviews are delivery because a "small thing" called a pandemic happened and uprooted everyone's normal lives?!
Since it's been awhile, we decided to order from here again and see if it was any good two years later. We are trying a bunch of Indian restaurants now to see which is our favourite and could be the go-to, hence why you are seeing a bunch of Indian food reviews lately.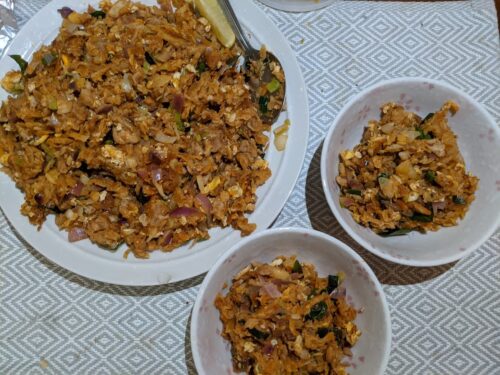 Chicken kothu paratha: When Lager took us to Sri Lankan food at Kurumba earlier this year, I really enjoyed stir fry roti bread dish. While looking at the menu, I noticed that House of Dosas also offered this dish so I ordered again in hopes that it would be as delicious as I remembered it to be.
The flavour was delicious, it was very aromatic and seasoned. There was a hint of spiciness to it. However, I found it to be more on the wet/oily side, and lacked the smoky, grilled taste from the pan that Kurumba. I wish that it was fluffier too.
The portion was absolutely huge, and we were only able to finish half of it that evening. Despite the huge portion, there wasn't much chicken in it. But what chicken there was, it was tender and flavourful. Overall, the dish was disappointing, especially having Kurumba to compare. I wouldn't order it again because of how wet, oily and dense it was.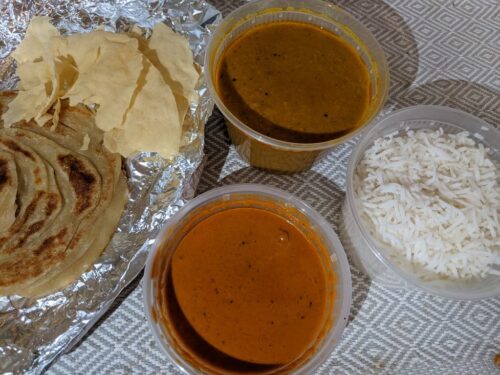 Chicken korma: One thing that I remembered we really liked from House of Dosas was that their dishes came with papadum, which is a thin, and crunchy flatbread. In addition to the delicious papadum, they also include roti bread and rice too. It's great that they have all 3 sides offered at no extra cost!
The chicken korma was delicious. It was fragrant and really flavorful. My favourite would be the roti bread though. The roti bread was perfectly layered, chewy, and soft – perfect to dip with the chicken korma.
The chicken korma also came with a tub of sauce? We weren't too sure what it was but ate it anyways. There was a sweet taste for the first few seconds, which quickly turned into a spicy kick.
---
Overall, House of Dosas was alright. What stood out to me most was the papadum and delicious roti bread. Those two sides would be the reason I'd order again rather than the main dishes.
It is also quite hit or miss here. As mentioned in the intro, we ordered delivery here a couple of years ago and the chicken biryani was different quality each time. This time, the chicken korma was delicious but the kotthu parotta wasn't.
With so many Indian restaurants to choose from, House of Dosas wouldn't be high on my list. Dosa Factory is on the same block as House of Dosa, and I would prefer Dosa Factory instead.