The boyfriend turned a year older and wiser last month! Happy birthday! To celebrate, I utilized the trusty Yelp and Zomato to help me find a restaurant to take him to.
I know he wanted an authentic Japanese dinner, but nothing too busy or popular because we both hate crowds. After half an hour, I came across Yuji's From Japan and knew it was exactly the restaurant we wanted to go to!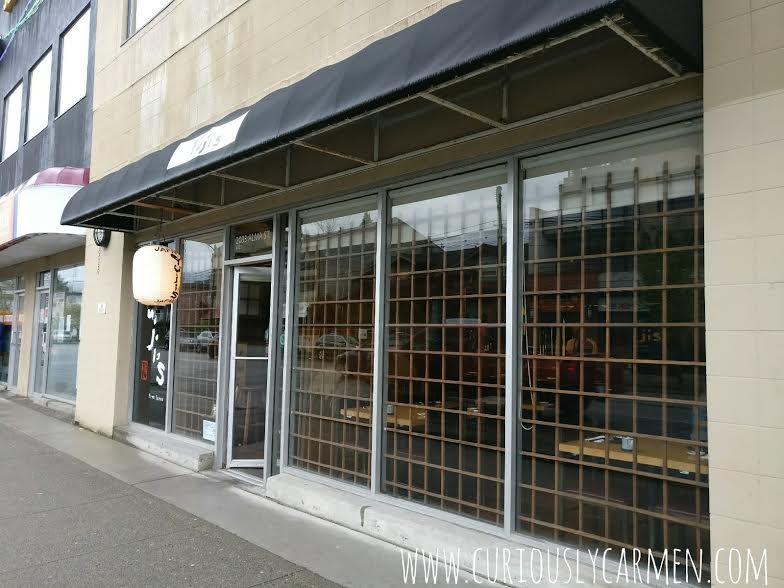 Yuji's From Japan is located in Kitsilano, just before the stretch of road to UBC. It is unassuming, simple, and run by Yuji, who was our sushi chef that night.
We decided to try their omakase because we wanted to cross it off our list, and where better than from an authentic Japanese restaurant with an intimate atmosphere?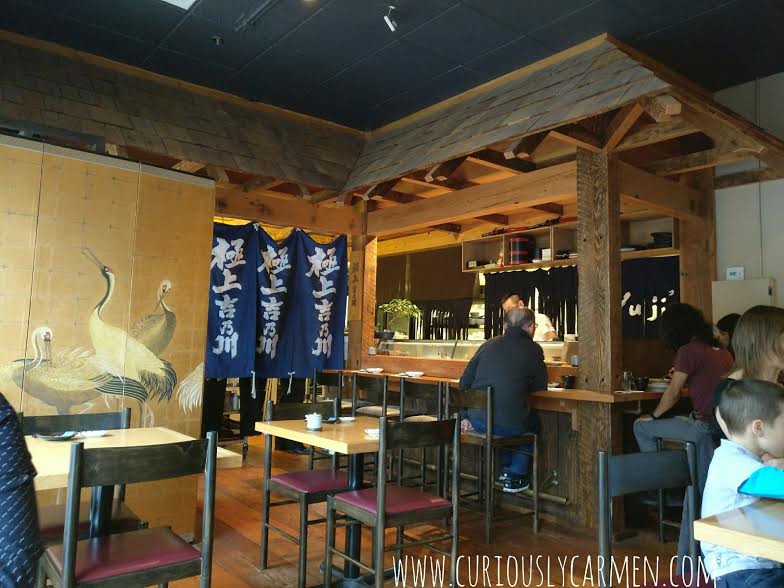 For those who don't know, omakase translates to 'I'll leave it up to you'. Your dinner is left completely in the chef's hands, and they usually come up with very interesting and unique plates that are change depending on the day and season.
I was hesitant to try omakase at first, due to my dairy restriction. But the service here was so awesome, and I was told nothing has dairy except for the dessert. If you have restrictions like me, I'm sure they wouldn't mind changing it to suit your health needs.
We left very impressed with our omakase! We ordered the $40/person omakase, which is the smaller omakase. The other one is $60/person.
We also ordered the sashimi omakase which was $15/person.
Since the omakase dishes change daily, please keep in mind that you might not get the same dishes as us! After reading other reviews, our omakase dishes were different from other customers.
The $40 omakase came with 6 mini appetizers and 6 pieces of nigiri. The appetizers came in a very cool black shell thing that had two levels.
Cooked hamachi in vinagrette, with mushrooms and tobiko: The cooked hamachi was soaked in the vinagrette and served cold, just like an ebi sunomo. I've never had fish prepared like this but it was very refreshing. The tobiko gave it a nice crunch and more texture.
Mashed seabream: This was very interesting! Seabream is a type of fish. It had a very strong umami taste. They somehow mashed the seabream with gelatin that give it a very light and fun texture. If you've had fish maw soup before, that's what the texture was like.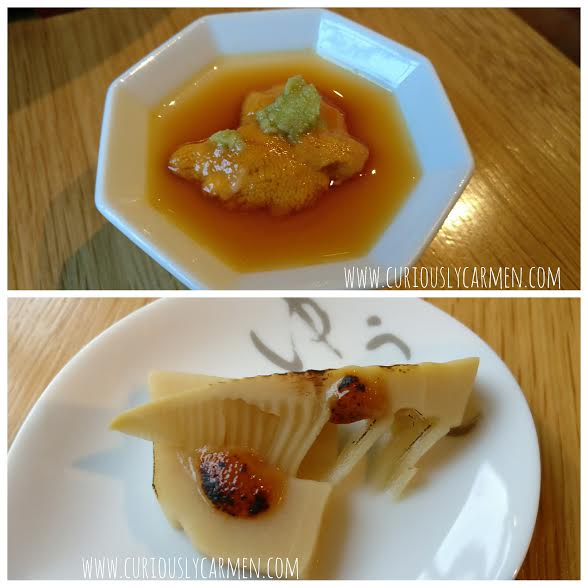 Egg tofu pudding with sea urchin: Again, this was very interesting and also unlike anything we have had before! The tofu pudding was salty with a strong umami taste. I was expecting it to be sweet like tofu pudding so I was surprised when it was salty! The sea urchin was refreshing and balanced the saltiness very well.
Miso marinated bamboo shoots: Sweet and slightly crunchy. Slight umami taste from the glazed miso droplet on top.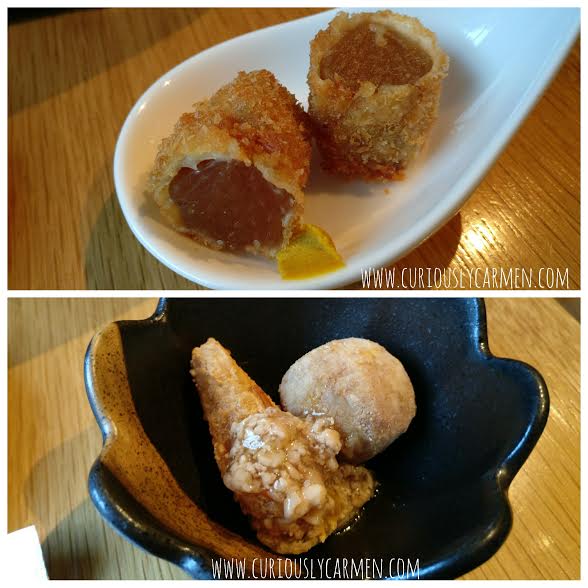 Panko breaded daikon: We thought this was meat, turns out it was daikon haha! The daikon was cooked and very tender.
Taro and kombucha squash tempura with chicken sauce: Was pleasantly surprised at this! The taro and kombucha squash were savoury, complete with the chicken pieces on top!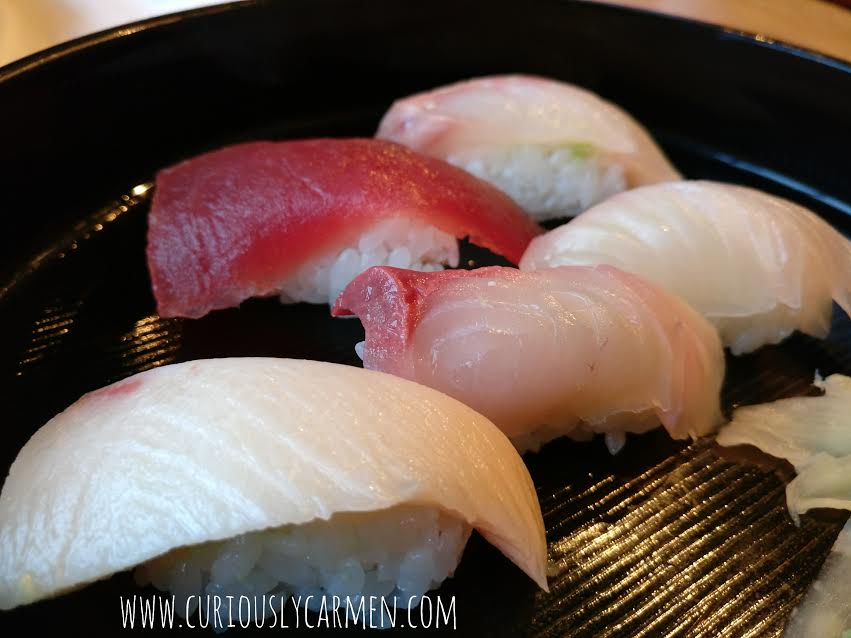 Nigiri: Big eye (ahi), hamachi, striped jack, seabream, sea bass, amber jack. All were very, very, very fresh and tasty. The tuna pieces were incredibly soft, buttery, and melted in your mouth.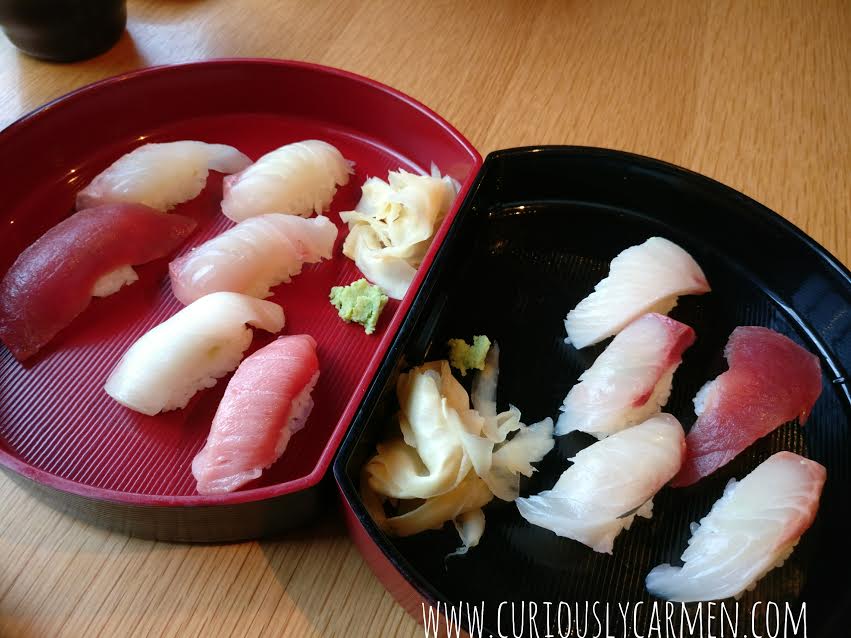 Bluefin tuna nigiri, $7.50: Can you spot the additional piece of tuna on the red plate? The boyfriend ordered this a la carte, because it is not commonly found in restaurants. At $7.50 per piece, it was the most expensive piece of nigiri I've had. But it was a special occasion and so tasty.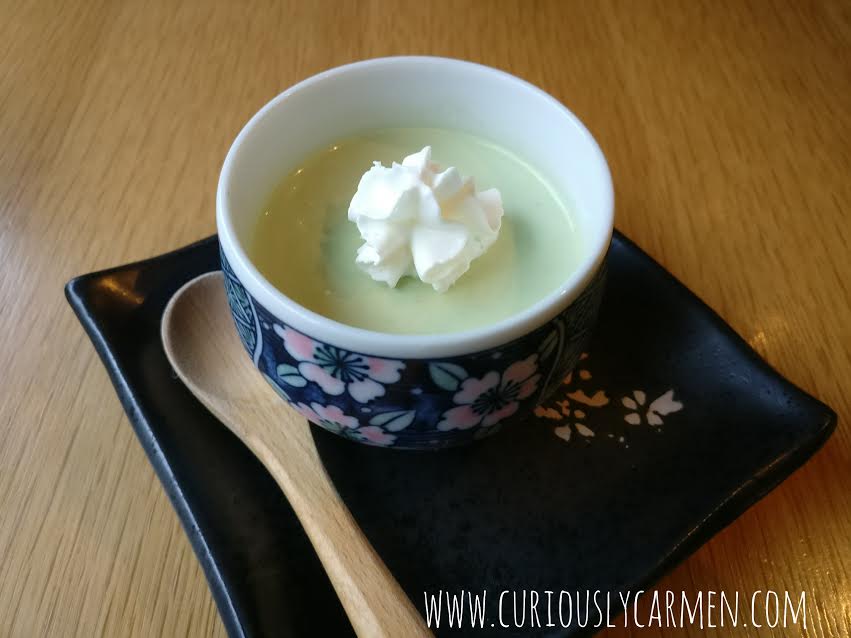 The omakase ended off with a dessert, which was a green tea panna cotta!
Yuji's From Japan was an impeccable elevated dining experience for us both. Although our dishes were smaller than we were used to, we left feeling very satisfied because the experience was great and the food was very well executed.
It was a memorable night and a great first experience with omakase. At $40/person, it is decently priced compared to other omakase places in Vancouver.
If you're craving something new but thoughtfully crafted and intimate, give the omakase here a try! You won't regret it.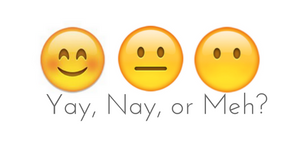 Yay!