Hiiii everyone!
Earlier in May, a couple of my girlfriends and I went to try Won Jo Noodle House on North Road. I never really got the chance to have Korean but I am starting to really love, and become familiar with the preparation and taste of the dishes.
Won Jo is an authentic Korean restaurant located in a tiny strip mall a bit past Lougheed Mall. Walking in, we were greeted by a kind, older Korean lady who gave us great service throughout our lunch.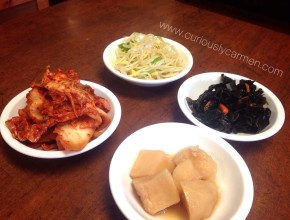 Standard Korean appetizers! I always forget about these complementary appies although I'm unable to resist them. The kimchi tasted fresh and crunchy, while the seaweed was cool and refreshing. My favourite was the potatoes.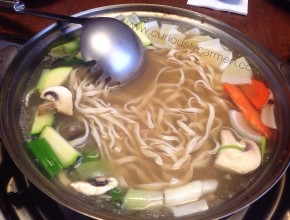 In the middle of the table, was a stove which was used for hot pot or BBQ-type dishes. Reading other reviews, I knew that the noodles would be cooked in a hot pot style. But what we were confused about was what if we wanted two separate types of soup?
We asked the lady if we were able to split two types of broth, but unfortunately they're unable since it is one big communal pot on the table. Luckily, we both wanted the same thing and ordered the seafood hot pot. This might be a problem if your party does not agree on the same broth.
The homemade noodles were delicious, well-prepared, and bouncy! There was a generous amount of vegetables as well. The seafood had a very fishy taste to it, and was pretty light.
Unfortunately, we were both disappointed with the lack of seafood in the broth. Although the menu said it came with seafood, we only found a few clams, which were shriveled up and had slight freezer burn taste. Because of that, I wouldn't order the seafood hot pot again and would want to try another broth.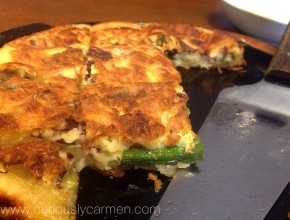 We were glad that we only ordered one seafood noodle soup because we felt that it wasn't worth the price. Instead, we split a Korean pancake and I'm happy to say that this was really delicious!
It was a pretty thick pancake, with a generous amount of filling inside. The outside was crispy, while the inside was bursting with ingredients.
Thinking about it is making me hungry again!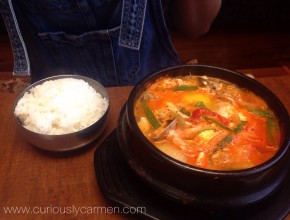 Our other friend ordered a spicy seafood soup, which came with a side of rice. After trying hers, I regretted ordering my noodle soup because this was really good.
It had a great amount of spiciness to it, and was cooked with quality and care. This dish felt super comforting and would be perfect for a rainy day! Unlike our 'seafood' soup which only had a meager few freezeburned clams in it, hers had a good amount of seafood and had a thicker broth.
I would recommend going to this place for an authentic Korean meal! I really enjoyed it and will come back whenever I'm craving some great Korean food, but would skip the seafood hot pot next time 🙂
What is your favourite Korean dish?
Thanks for reading!
Carmen