I have some reviews in store this month, but I wanted to do more of a chatty, get to know me type beauty post. I found this one off The Beauty Section so all credits to their website!
30 Beauty Questions Tag
1 // Do you remember your first makeup item?
Hmm…. probably something from Claire's! How I used to love Claire's growing up! I loved their eye shadow palette and remembering using it before the school dances LOLOL.
2 // Describe your perfect mascara. Have you found one that fits your specifications?
I am very picky about mascara… and it's not by choice, either. Mascaras tend to clump on me and I don't even know why. In fact, I didn't do a mascara review for 3 years because all mascaras I tried were the same! Until I found the Maybelline Lash Sensation. You can read my review here.
I just realized the answer didn't really relate to the question… so my specifications would be one that lengthens, does not smear, and does not clump.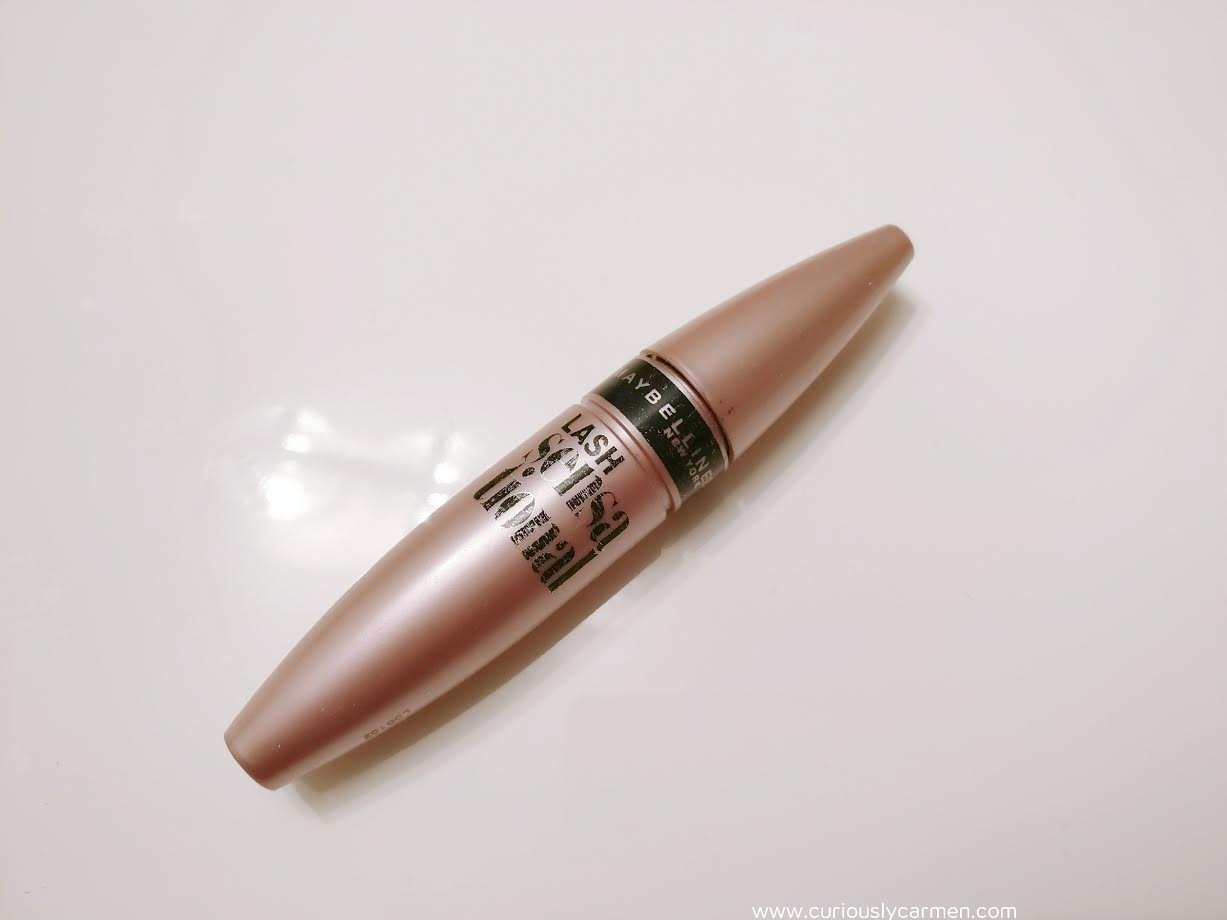 3 // What kind of coverage do you prefer from foundation?
I don't wear foundation on a daily basis, probably occasionally now… but I have drastically cut back this year. My skin went through a sensitive stage in the winter and I'm trying not to wear much face products to make it flare up again.
However, when I do wear foundation, I prefer medium to full coverage. Since I don't wear it often, go big or go home! I much prefer to stay home (and Netflix).
4 // Favorite high end brand?
Urban Decay 🙂 I don't think I've tried a product from UD that I haven't liked yet, and I've tried a lot! See what I've reviewed from UD here.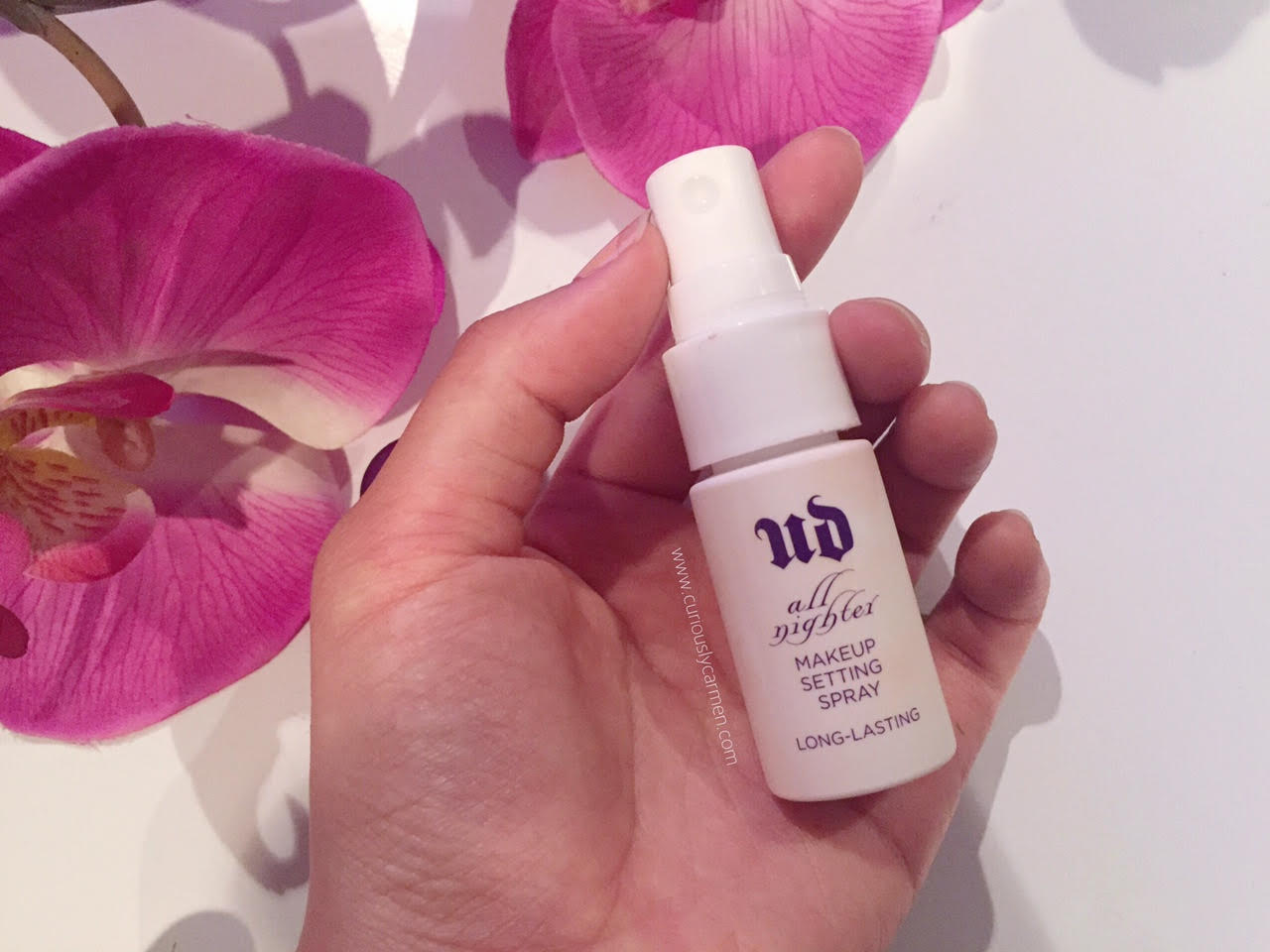 5 //What cosmetic brands have you always wanted to try but still haven't?
Deciem! Heard so many great things about the brand in the blogosphere.
6 // Favorite drugstore brand?
ELF and Maybelline!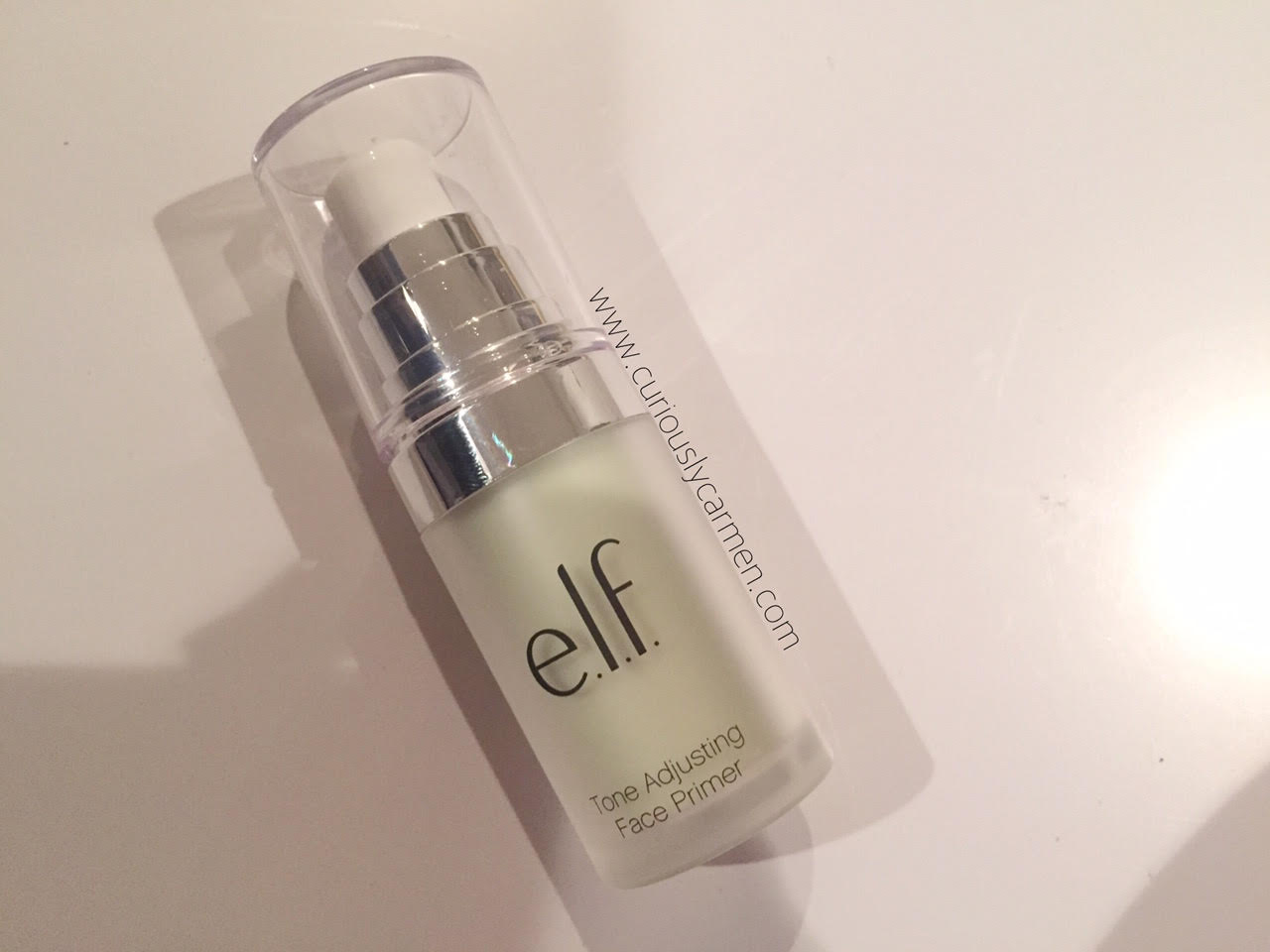 7 // Do you wear fake eyelashes?
I wear glasses everyday, which makes it hard to. But I do sometimes when I wear contacts. They're so fun!
8 // Is there any kind of makeup you can't leave the house without?
I leave the house sometimes with no makeup… so no? But if I didn't, it would have to be my eyebrows.
9 // What is your most cherised beauty product?
My Kat Von D liner! It's my holy grail liner and I've repurchased it more times than I can count.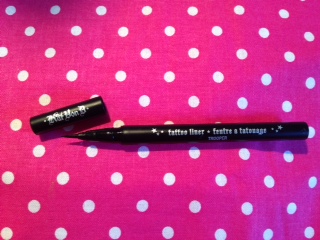 10 // How often do you shop for makeup? Do you like to pick up an item here and there or get lots of goodies at once?
Surprisingly, I don't shop for make up often. I like to browse when I'm shopping, but I'll only buy something if it's either really cheap, or I've done research. Rarely do I spontaneously buy a high end product for no reason.
11 // Do you have a "beauty budget" or you spend freely? 
Since I don't buy makeup often (my last purchase was 7 months ago), I would say I spend freely. If I was to buy products more often, such as once a week, then I would definitely have a beauty budget.
12 // Do you utilize coupons, rewards cards and sales when you shop for cosmetics?
If it's online shopping, then yes. I only buy online if there's free shipping codes.
13 // What type of product do you buy the most of?
Well I use my essence eyebrow pencil every day… so I go through that quickly! Second would be Kat Von D tattoo liner. Pictured below with some other essence products!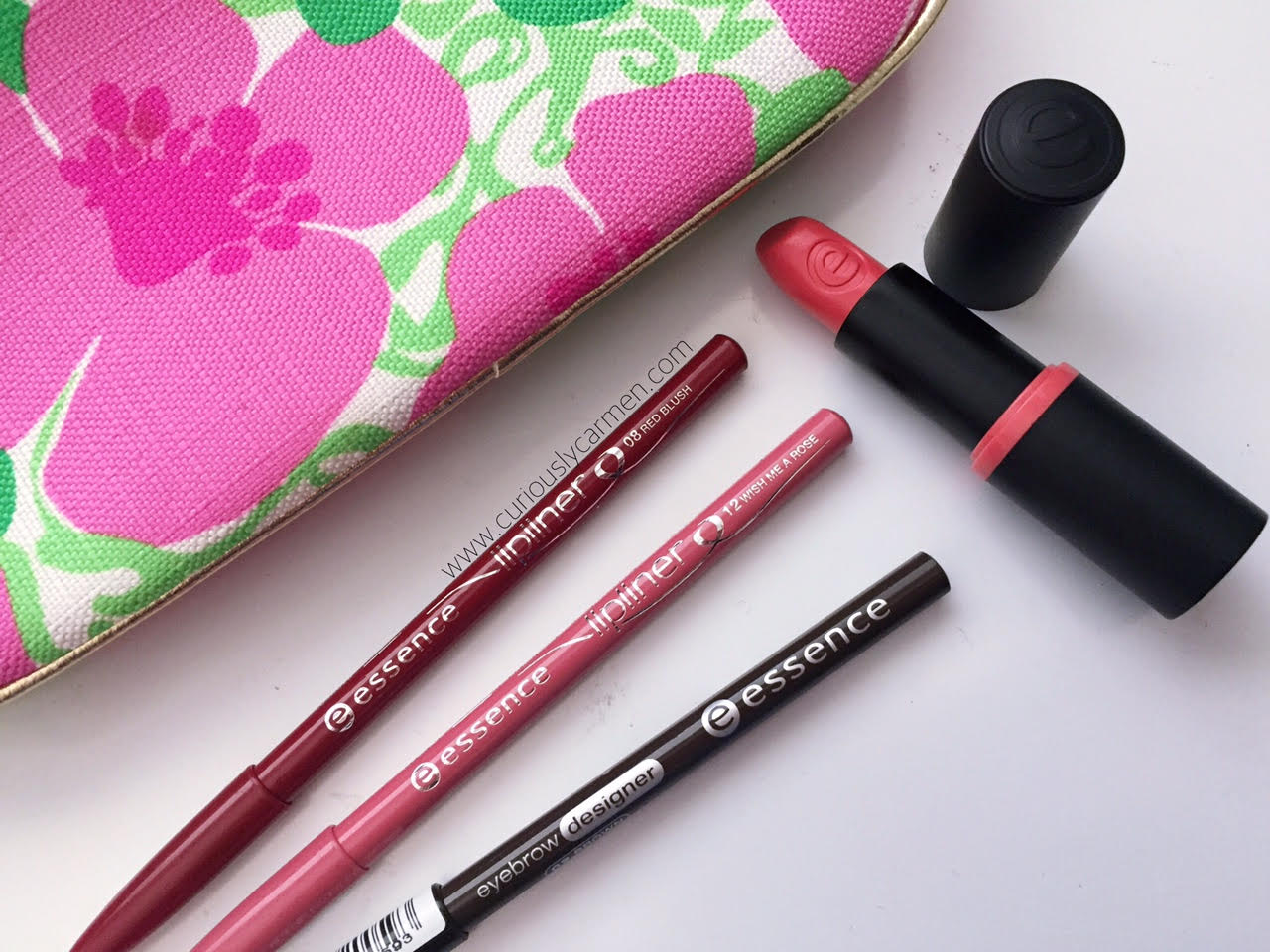 14 // Is there a brand that you absolutely can't stand?
Haha!!! Hmm…. Let me think… I don't think so actually. There have been brands with disappointing products, but none that I absolutely can't stand.
15 // Do you avoid certain ingredients in cosmetics like parabens or sulfates?
Nope
16 // Do you have a favorite place to shop for makeup?
Sephora!
17 // Do you like trying new skincare products or do you keep a certain routine?
I enjoy trying new skincare products so that I have reviews to share on my blog, but my skin is also quite sensitive these days which is why I try to limit the amount of new skin products I expose them to. When I'm not reviewing skincare products, I stick to a routine of my trusted moisturizers.
18 // Favorite bath and body brand?
Right now, it's definitely Weleda! I discovered them through blogging last month and can't get enough of their Evening Primose body wash. I only reviewed the Evening Primose day and night cream, but here is a picture of what the line looks like. The body wash has the same packaging but in a larger size.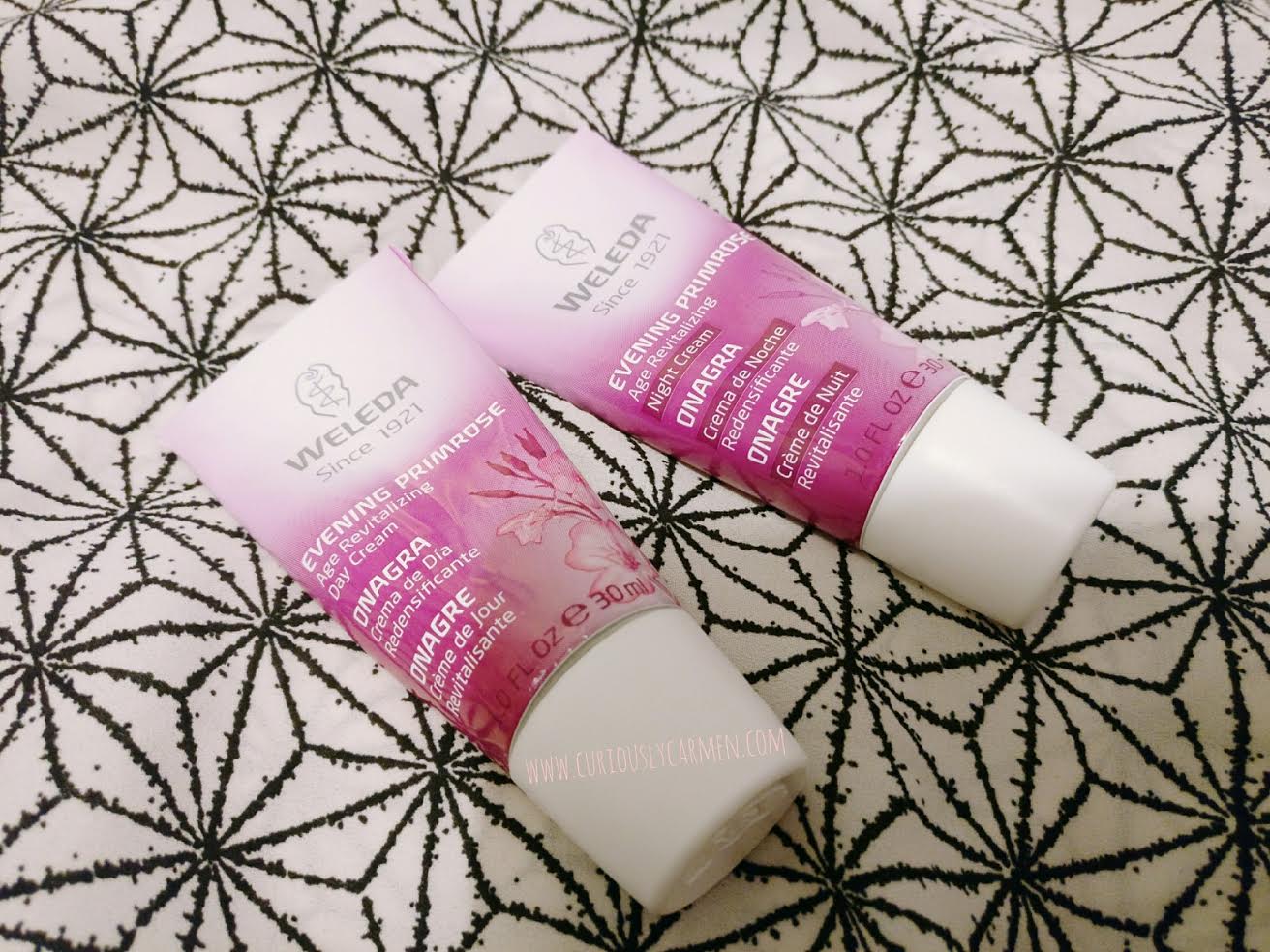 19 // If you could only buy from one brand, which brand would you choose?
Kind of similar to question 4! Urban Decay hands down. I've tried many of their products, and have yet to be disappointed. I can definitely trust them to come out with reliable products.
20 // What brand do you think has the best packaging?
Cutest packaging award goes to Paul & Joe for sure!
21 // Which celebrity always has great makeup?
I don't really follow celebrity make up trends or looks… but if I was to pick, the first that comes to mind is Kylie Jenner. Her makeup snaps are gorgeous and her Kylie products are great too!
22 // Do you belong to any online makeup communities?
Hmm… does Instagram count? Yes, I'm going to say it does. Apart from Instagram, the Canadian Beauty Bloggers Network, and some other Facebook blogging groups but they aren't make up related.
23 // 5 Favorite Beauty Gurus
I don't watch beauty gurus much so I can't give you five! I only watch Weylie regularly 🙂
24 // Do you like multifunctional products like lip and cheek stains?
Yes! Why not? It's a better value. Pictured below is one of my favourite beauty products ever. The Korres wild rose oil moisturizes my skin really well. When mixed in with a foundation, it gives my skin a beautiful, non-cakey dewy look!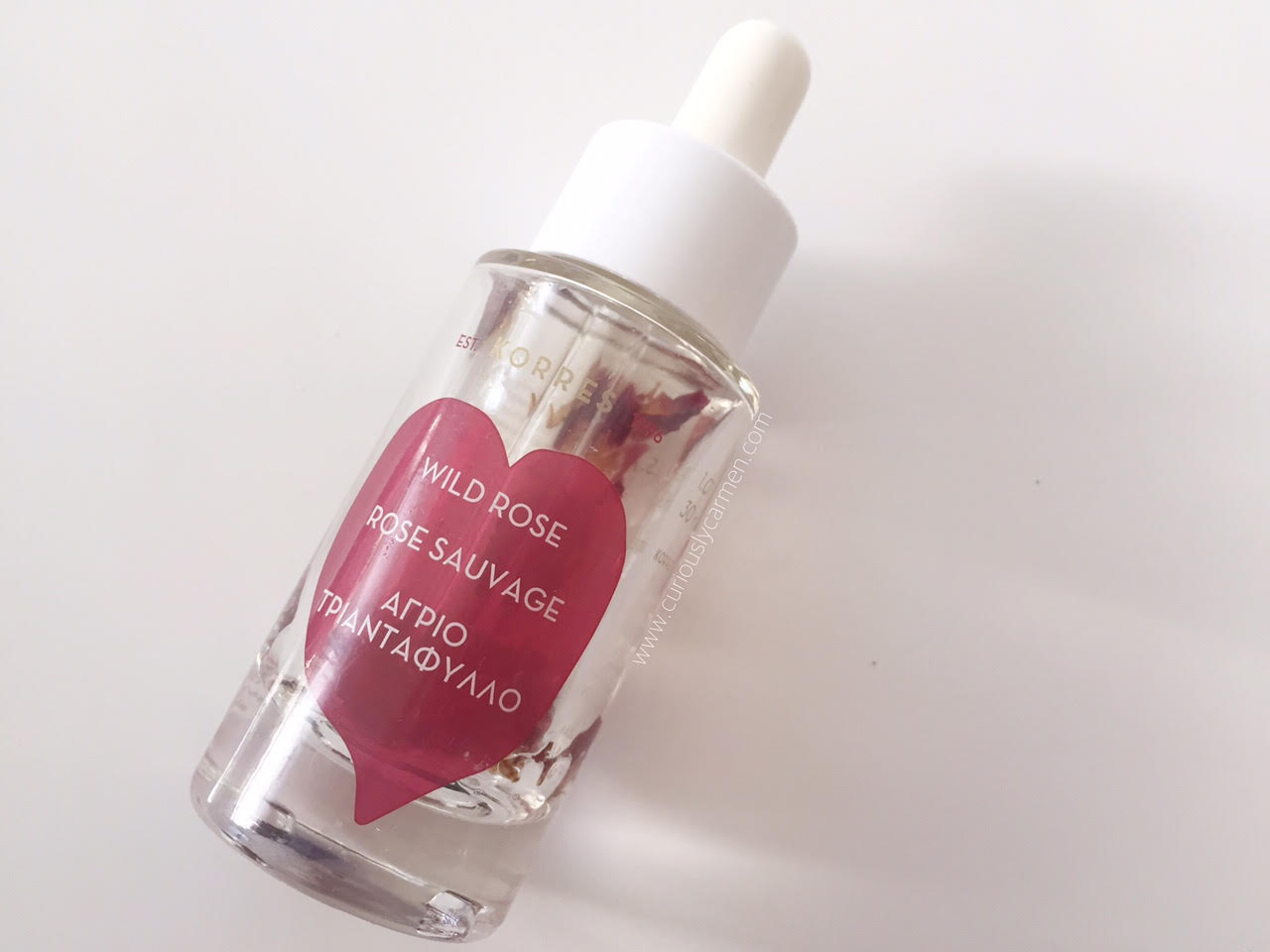 25 // Are you clumsy in putting on makeup?
Nope
26 // Do you use makeup base/primer for the eyes?
Yes, always. My eyes get pretty oily.
27 // How many hair products do you use on a typical day?
On a typical day, I don't use hair products. I'm boring. But I use Batiste dry shampoo sometimes!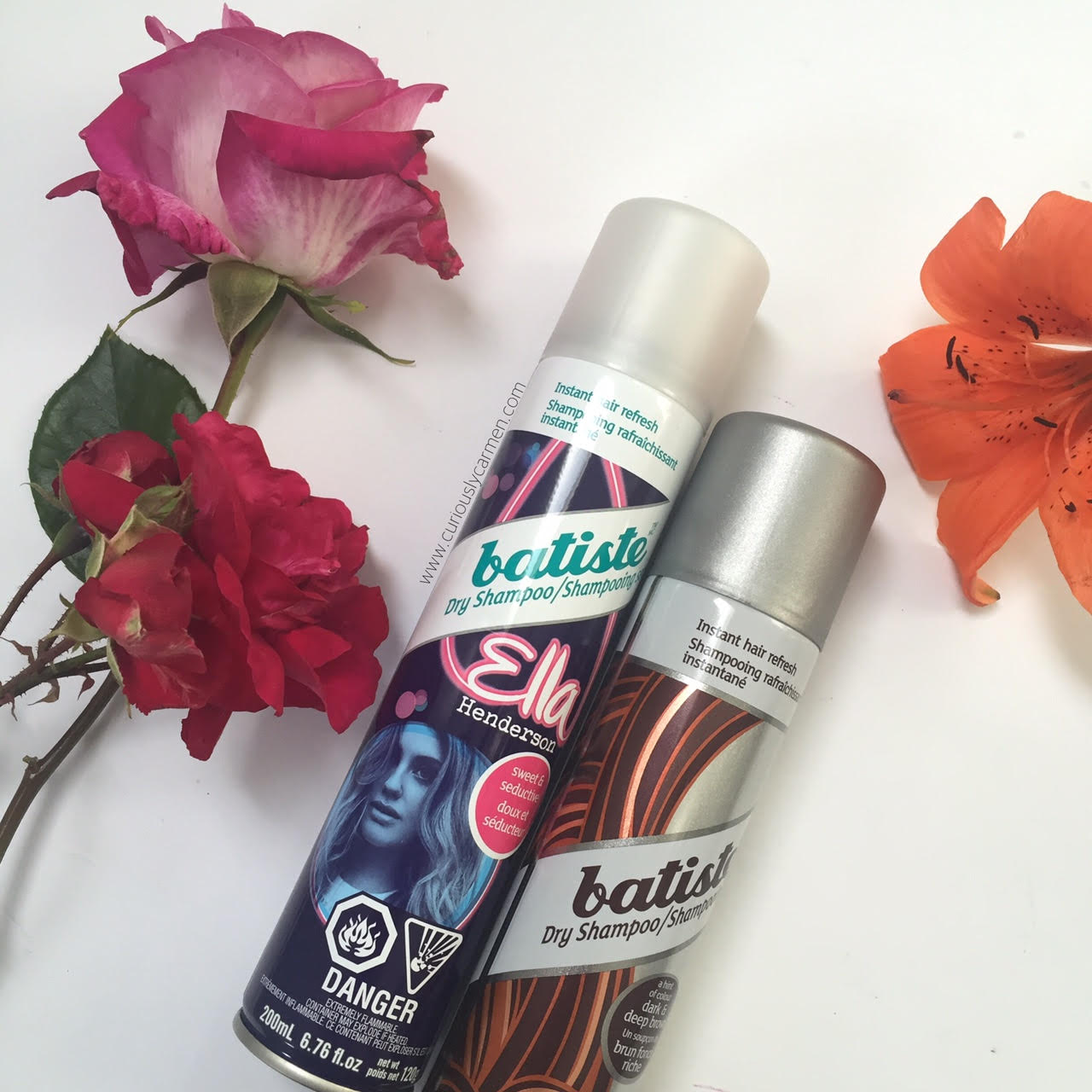 28 // What do you apply first, concealer or foundation?
Concealer!
29 // Do you ever consider taking makeup classes?
Nope.
30 // What do you love about makeup?
I love that there are so many options and styles you can choose from, depending on your mood and preference. I also love that it gives me something to write about, because I love writing. It's also a good conversation piece.
Again, credits to The Beauty Section for this fun tag. I would love to see your version as well, so let me know if you do this tag too.