After having my first gel nail manicure a month ago, I decided to paint my nails again once I had let my nails breathe a bit. While watching How To Get Away With Murder (is anyone else obsessed with that show? I watched the entire first season in 3 days), I decided to finally give my nails a splash of colour.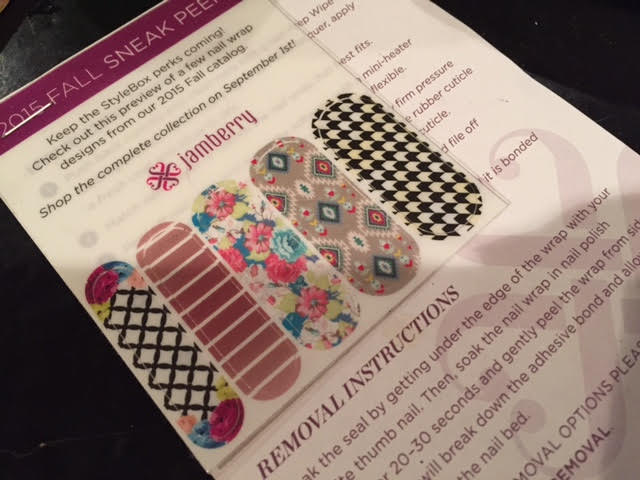 Amy, an independent Jamberry consultant, had sent me a nail sheet to try out last month, but since I had gel nails on, I didn't get the chance until now. I received the some of the designs from the Fall 2015 catalog (keep reading to see how big the entire collection is!).
Anyways, I decided to go with the floral print (middle one) because I was feeling girly. Since the weather in Vancouver has been pretty gloomy and cold (although for the past two days it's been miraculously sunny albeit freezing cold), I decided I wanted a bright colour that would perk me up and remind me of the sun that I so dearly need.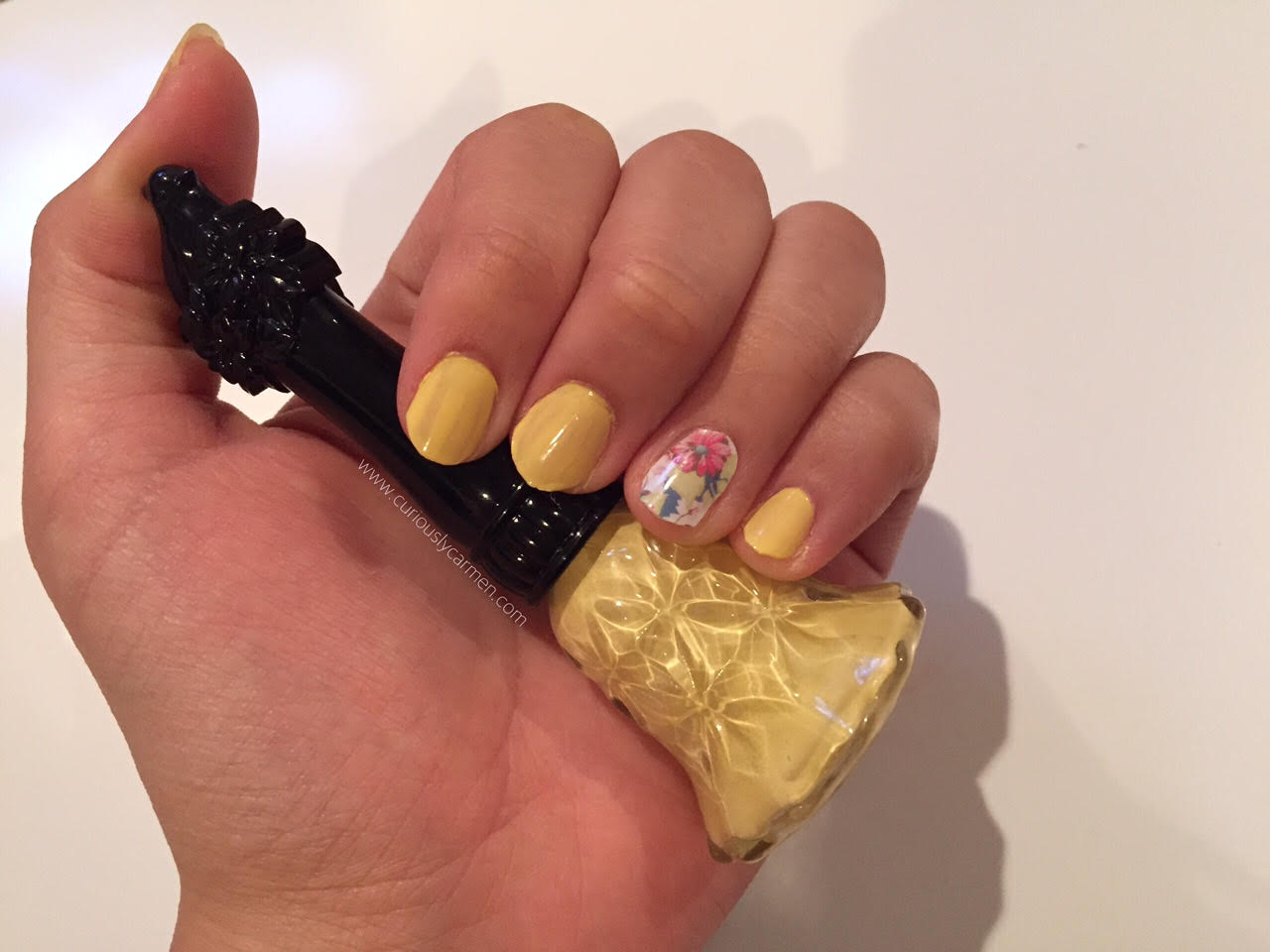 Other than the Jamberry nail sticker, I'm using the Anna Sui nail colour in N800- lemon yellow to brighten my nails up!
For best results, it is recommended that you warm up the nail sticker with a blow dryer/some sort of heat before peeling it onto your finger. Since I was watching How to Get Away With Murder and it was too intense to leave my living room to blow dry the stickers, I gave it a chance and just stuck it on without the heat. It's been two days and the sticker is still on great, and hasn't scratched one bit!

Upon looking at their catalog, Jamberry offers a very impressive array of nail stickers that would fit even the pickiest person.  I love nail stickers because I can get cute designs on my nails with minimal effort! I found that the Jamberry nailstrip was very big for my nail, so I ended up cutting quite a bit off to fit my nail.
Seriously, their nail sticker collection is HUGE. This isn't even all of it, just part of the Fall 2015 collection! Which one is your favourite? You can see their entire collection here.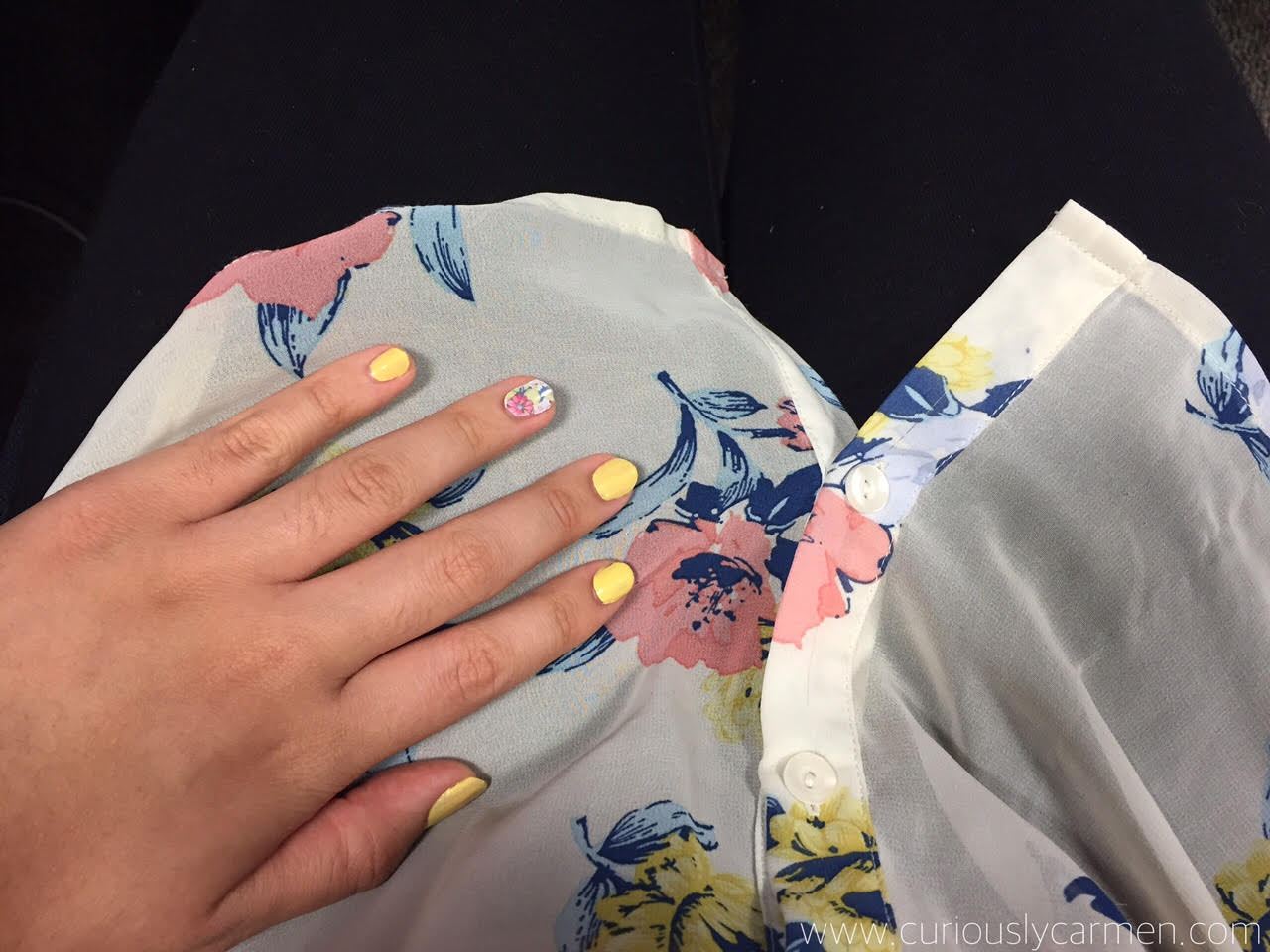 A fun thing to add is that I noticed that one of my favourite tops to wear to work match my nails -what a lovely coincidence! My nails chip extremelyyyy fast (it's a miracle if a polish lasts 24 hours without minor chipping for me), which is partly my fault because I use my hands a lot. This is two days after applying the nail sticker, and I applied another coat of polish to cover up the chip at the top of my nail.
Thanks for reading and stay warm everyone!
Carmen
Press samples provided. Opinions are own.