Oops! I didn't mention it on the blog, but it was my birthday a couple weeks ago… happy birthday to me! It has been awhile since I celebrated my birthday with a group of friends, so I decided that I would throw a group birthday dinner this year.
Seeing how it was my birthday, a lot of glitter makeup was in store! I thought I would share which products I used for my birthday look!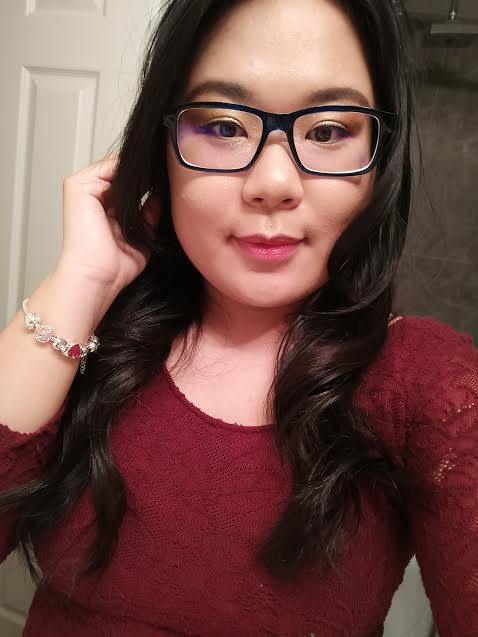 I will divide the look into different sections: face, eyes, and lips! If I have reviews on the products, they will be hyperlinked below!
Face:
1- Moisturized my face with the Mizon snail cream. It absorbs quickly and leaves my skin feeling plump and ready for foundation.
2- Primed my skin using my ELF primer and Stila primer. The ELF primer really helps to smooth out your face and blur imperfections. Secondly, the Stila primer gives a burst of healthy shine.
3- Applied my Estee Lauder Double Wear foundation. I've spoken about it many times on the blog and love it!
4- Set the foundation with my Bare Minerals powder.
5- Used my Anastasia Ultimate Glow Kit to highlight my cheekbones and top of my nose.
---
Eyes:
1- Filled in my brows with the essence brow pencil.
2- Primed my eyes with the classic Urban Decay Primer Potion. I've been using this thing for 10 years (not the same tube obviously lol) and it has never let me down!
3- Used my Naked 2 palette to create a soft brown/champagne smoky eye.
4- Used my Stila Glitter & Glow liquid eyeshadow for an intense glitter eye! I mainly focused on my eyelids as I already had the soft brown/champagne smoky eye going on in the outer corner.
5- Lined my eyes using my Kat Von D tattoo liner.
---
Lips:
1- After lipbalm, I used a coat of my MAC lipstick in lady bug.