Recently, I have been playing around and testing out products for my night skincare routine. Since starting this routine, my skin has noticeably gotten a lot softer and smoother so I thought I would share it! My pores seem to have shrunk too.
I have been doing this routine for the past three weeks now. These are the five products that I have been using!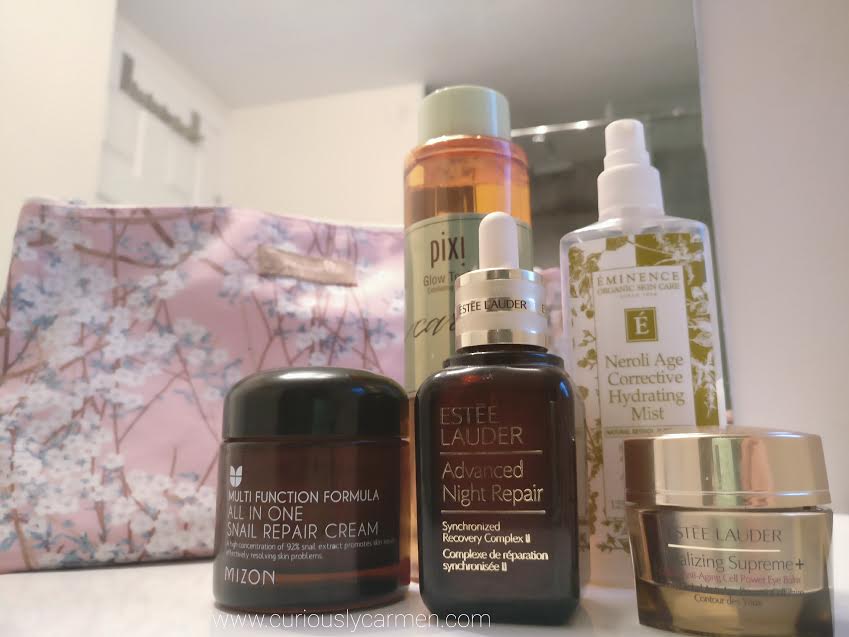 Step 1) Pixi Glow Tonic: I received this toner earlier this year, but it stung and dried out my skin so I stopped using it. It was disappointing since so many people have raved about this product. I'm not sure what happened since then, but my skin is able to tolerate it now and I love it now! I use a cotton pad and apply this all over my face.
Step 2) Eminence Neroli Age Corrective Hydrating Mist: I use two spritz on my face each night and gently pat it into my skin. My skin drinks this up and instantly my skin feels more plump and hydrated.
Step 3) Estee Lauder Advanced Night Repair: I use this for extra moisture and hydration, especially during the winter because my skin gets really dry.
Step 4) Mizon All In One Snail Repair Cream: My new favourite skincare product!!! This is my favourite part of my routine because this cream is seriously amazing. After my skin has been hydrated with the Eminence mist, I pat this in for the ultimate hydration and to seal in the moisture overnight.
Step 5) Estee Lauder Revitalizing Supreme eye cream: My last step is gently patting this eye cream over and under my eyes to prevent eye wrinkles.
Step 6) Lush sleepy cream: I bought this after reading so many great reviews at how this cream instantly put people to sleep. As someone who suffers from sleep problems, I was very intrigued but it did not work on me personally. But, it smells great and hydrates well so I just use this on my hands before I sleep so that my room smells nice before I try to catch some zzz's.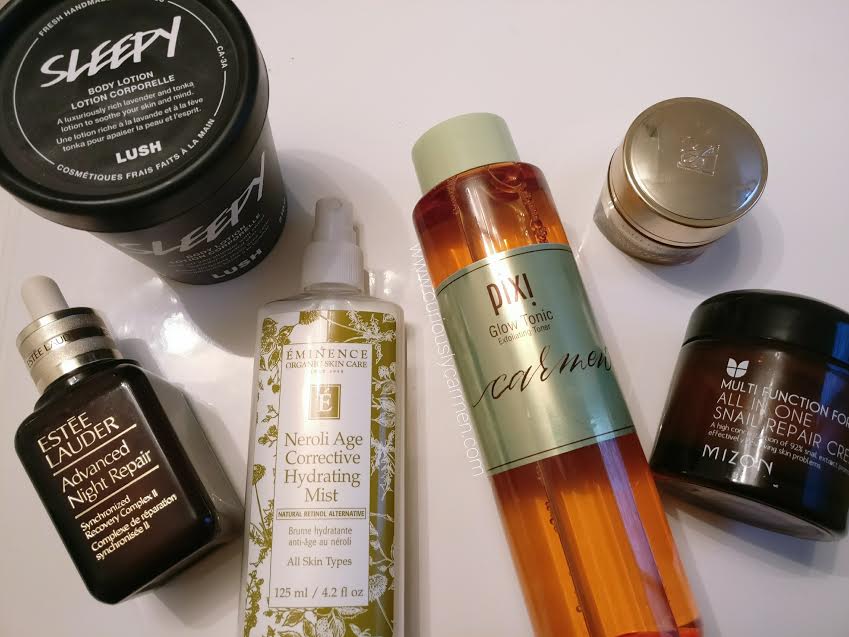 My skin dries up like crazy during the winter months, but this year, my skin has been seemingly unaffected by the cold and heaters.
I will probably change up my routine when the weather changes (as you should) but for now, this has been working very well for me!
I am thinking of posting my morning routine too, which is quite similar to my night time one!