Hi everyone,
It feels as though I haven't written a beauty post in so long! Truth be told, I've been quite busy this past month so I've just been using simple products that I've already mentioned previously. My skin was breaking out due to stress last month and I've recently rediscovered and reloved by Lush herbalism cleanser and  it has seriously helped clear my skin so much.
Giveaway update: I have already drawn the winner for my Cetaphil skincare set giveaway, congrats to Naomi for winning! Take a look at my Instagram to see how the winner was determined.
Okay, now on to the actual review!
Amie had sent me these facial wipes, which came at a perfect time because I was just looking at trying out different cleansing wipes.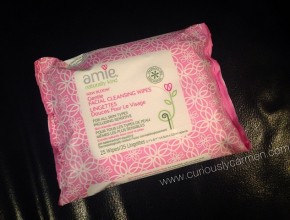 These come in a standard packaging, like the ones used for baby wipes. I like the size of the packaging, as it is compact and travel sized, I don't think I would have a problem bringing these with me if I go on vacation (someone take me to Hawaii right now please, Vancouver is in the middle of a wind and rain storm right now).
The sheets are damp, and not bad to work with (eg. it is not super thin so that it tears). I decided to test these out while wearing full coverage makeup, I would say it removed around 70% of my foundation. I rarely wear foundation so this isn't a problem for me.
With that said, they are not deep cleansing wipes but probably something you could use after washing your face to give it a "final" clean before moisturizing.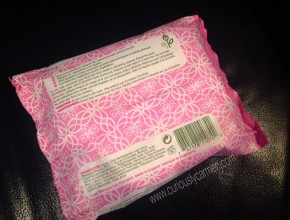 As always, Amie's products are free from parabens, mineral oils, and animal extracts. These wipes include pomegranate, cranberry, and green tea extracts, which explains why they smell so wonderful.
These would be really great and convenient to use after a gym work out or hiking. Or, if you're a person who is constantly on-the-go, these would be great to stash in your purse or car in between appointments and errands.
What are some of your favourite facial wipes? This is the first facial wipe I've owned so I'm open to trying new ones 🙂
Thanks for reading!
-Carmen
Press product featured, all opinions are my own.