Hi everyone!
Special blog post today- everyone, virtually meet one of my good friends, Pauline (She's super awesome)! She has agreed to write a guest post for me and I'm excited to share it with you all today. See what type of Asian cosmetics Pauline bought from Sasa.com and how she wore them to the Japanese cherry blossom festival. 
Happy reading everyone!
Carmen 
~~~~~
Hello everybody! I am doing this for my friend, Carmen, as a guest post, and will be the very first time doing this! So, hopefully this goes well… haha!
I recently bought some makeup and face products from this super famous Hong Kong make up store: Sasa. I usually purchase my makeup and face products from here because it's cheap and my skin seems like to like Asian brands of makeup/skin products. They also often do free shipping once in a while!
The first product I'm going to introduce is an eyeliner by Majorlica Majorca: the cream pencil liner.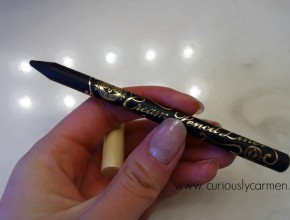 I must say, this cream liner is super smooth to line your eyes with, and it's super creamy. Usually with creamy eyeliner, it smudges easily, but this eyeliner didn't smudge and actually stayed on my eyes for the whole day! Especially when I tight lined with this eyeliner, I was ready for this to smudge all over my eyes by the end of the day. I was so surprised at how it stayed on so well! 5/5 for this product! =)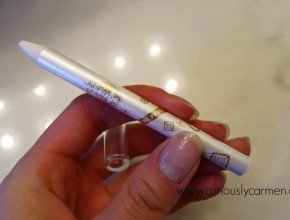 The second product is: Majorlica Majorca's jeweling pencil. This product is basically a white eyeliner to put on your eye corners to brightening up your eye as well as giving an illusion of having bigger eyes!
Nothing really special about this eyeliner, as I think all white eyeliners can do the same as this one can. 😛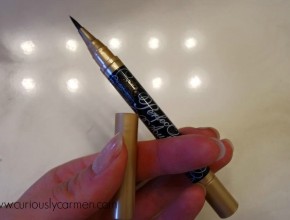 Third product: Majorlica Marjoca's perfect automatic liner: This product was kind of weird to use at first. So, the first thing you do is twist the bottom of this eyeliner until the ink comes out from the tip. The con of this is that if you twist too much, the ink will splat out and comes into a big mess.
However, after you clean that up, you can just apply that on your eyes just like any other eyeliner would … If you do not want to clean up the mess, this might not be the best product for you, because you will have to twist the bottom every time you want to use this product.
This eyeliner also stayed on really well on my eyes, and was pretty easy to apply as well. So, other than the whole twisting thing, I would rate this 4.5/5 ☺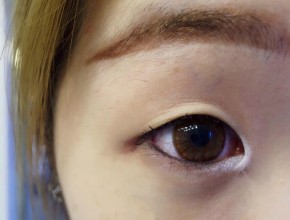 Hehe … I have combined the three eyeliners mentioned above today, for my makeup look of the day! I went to the cherry blossom Japanese festival with a couple of my friends today, so I thought "hey, why not try out these products if I am going to blog about them anyway!"
I used the cream eyeliner to tight line my upper line as well as my water line. Like I mentioned, it stayed on without smudging the entire day. I then used the perfect liner to line across my eye and winged it out just a tiny bit, facing downwards, to give an illusion of a cute round eye. (…or eyes…)
Finally, I used the white eyeliner to put on my eye corners to brighten up my eyes. ☺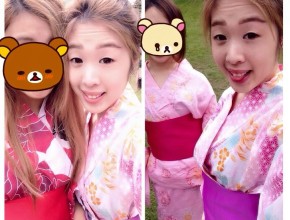 And here's me in a Yukata ☺ .. To protect my friends' privacy, I have turned them into Rilakkuma and Korilakkuma.
Okay, on with the other products!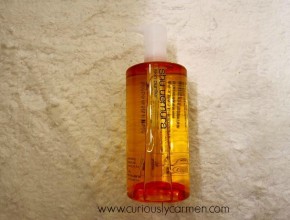 Fourth product: Shu Uemura Skin purifier (in premium A/I) This product … is godly. Although this is a "cleansing oil", this will not clog your pores nor will you have a disgusting oily feeling left on your skin after. Honestly, I can say it is like rubbing pearls on your face. There are 4 easy steps to using this purifier:
1.) Pump 4 pumps on your hand (hand and face dry)
2.) Rub the oil all over your face (and eyes if you have eye make up on)
3.) Add water to the oil until it turns into a milky foamy wash
4.) Rinse and wipe your face
Your makeup is literally all gone, and you do not have to go through a second cleanser to clean your face. The oil also leaves you with smooth skin and feeling hydrated.
The best part about this product is : THIS IS FOR SENSITIVE & DRY SKIN!!! Which is a big problem for me, because sadly, I have super sensitive skin … So now that I have found this, I rate it 10/5!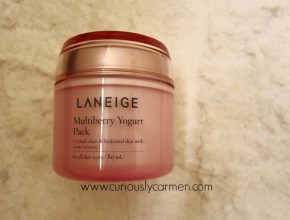 Last product I'm going to talk about is: Laniege Multiberry Yogurt Pack. I have mentioned above that my face is super sensitive … and this mask did not go well with my skin. I gave this mask a try because of all the good things I have heard about it.
It also says that it is for "all skin types" – and let me tell you … It's not. If you have sensitive skin, do not go for this product. My face reacted one minute after I put this on … The burning sensation and my face was literally all red like a cherry.
I must say, though, this mask smells like as if you are in a strawberry land … So the pro I can only say about this is that it smells super yummy.
That's it to my guest post! I hope all of you enjoyed reading about these Asian products and maybe try some out on your own as well!
-Pauline
~~~~~
Thanks for guest blogging, Pauline! You look so good in the yukata. I want to wear one too! 
What are some of your favourite Asian cosmetics?
-Carmen