I have been tagged by the lovely blondebeauty13 to do "my makeup story" tag! I've seen this going around the blogosphere for awhile, so here are my two cents on it. Thanks for the tag and keep reading to see who I'm passing this on to.
1- How old were you when you started makeup?
I have been around makeup since I was born, pretty much. There is a professional (well, as professional as Sears photography is haha!) picture of me when I was four years old, on my mom's lap with noticeable vibrant, deep red nail polish. My mom loves wearing makeup and I guess that's where it started for me.
I began playing with makeup in Grade 7, so around 12 or 13 years old? That was back in the days of school dances, we would get ready in the school bathroom. Anyone else remember buying things from Claire's?! I remember receiving an eyeshadow palette from Claire's, a boutique chain catered especially towards preteen girls. The eyeshadow set was something similar to the one below, but with 6-8 colours only 🙂

2- How did you get into makeup?
I'm not too sure, makeup is something that has always felt natural to me. I don't wake up everyday dreading putting on makeup, in fact, I really enjoy it. Probably sometime around the first time I started wearing makeup, I began to read a lot of those embarrassing teen magazines that I feel a bit ashamed of now… haha like J-14, M magazine, and Discovery Girls. If anyone read those, please let me know so I feel less embarrassed…  I would always go to the library and read magazines like those/novels until the library closed, I was usually the last kid to leave the library. Here's an issue of J-14 from 2005, back in my prime reading days LOL.. From there, it progressed to Seventeen magazine which I subscribed to for a majority of my high school days. How embarrassing… Why am I admitting to all this publicly…

3- What are some of your favourite brands?
Urban Decay is my favourite brand right now, I love all their products. I also like Benefit, Bare Minerals, and Kat Von D. For drugstore products, I like Revlon, Maybelline, ELF, and L'Oreal.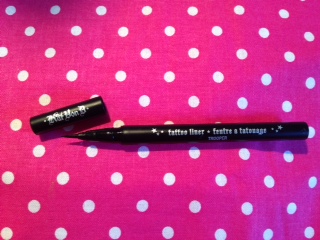 4- What does makeup mean to you?
To me, makeup is really fun and enjoyable. Makeup shouldn't be a mask that you hide under, but instead, as something that enhances your features. Makeup makes life more colourful (literally, hehe), and brings together a lot of people whether it's through Youtube, beauty blogs, or just in person.
5- If you could only wear four products on your face, what would they be?
Eyeliner, mascara, liquid foundation, and eyebrow pencil.
6- What is your favourite thing about makeup?
I love how you can change up your look and dress up. I love how makeup has the power to transform your mood and empower you, and gives you confidence. Also, this is a bit stupid but I really appreciate the packaging and marketing of all beauty products. I admire the design and advertisements of the beauty industry, but that's probably my Communications (in-process) degree talking. I saw this at Sephora the other day and fell in love with the packaging.
7- What do you think about drugstores VS high end?
I like both, but obviously I can't afford all high end products which is okay. Drugstore products are becoming more and more innovative, and there are a lot of drug store products that work just as well as high end brands. Just because you can't afford high end makeup, that shouldn't limit you to not wearing makeup.
8- What is one piece of advice you could give to a beginner?
Practice makes perfect. No one is born knowing how to create the perfect eyeliner wing/cat eye/ eyebrow shape. See the picture below, we all have been there before at some point LOL. Also, always wash your face and remove your makeup before going to bed to prevent bad breakouts and infections! No bueno =(
9- What is one makeup trend you never understood?
Hmm… this took awhile for me to think about. Heavy lip liner 5-10 shades darker than your actual lip/lip stick. WHY??? Why Britney why? LOL!
10- What do you think of the beauty community on YouTube?
It has transformed the way we view makeup. Great makeup techniques can be taught by the everyday girl, which is very encouraging. It's so accessible that anyone with an internet connection can learn how to do makeup. I've spent many many hours watching beauty videos and vlogs!
I tag (in alphabetical order):
You are also welcome to share your makeup story even if you aren't tagged, I look forward to reading everyone's posts! However, please do not feel obligated or pressured to do this if you don't want to, I won't be upset or offended 🙂
Thank you for tagging me blondebeauty13, click her link to read her tag!
-Carmen