Hi readers!
Back in August, I had the pleasure of attending my first Estée Lauder media preview event.  I was thrilled when they invited me back to their Spring/Summer 2015 preview event this month!
The format of the media preview event this season was a bit different, but I still enjoyed it. Here are some of the highlights, plus some products that I am looking forward to in the upcoming season!
Bronze Goddess shimmer collection: Want to achieve that tanned, golden, bronze look with a hint of shimmer this season?  My favourite from this line would have to be the shimmery body spray, seen in the back left. An Estee Lauder spokesperson showed us how to apply this product by gently dabbing it onto your skin to achieve a glowing sheen.
I love this line because it reminds me of a tropical vacation… if I had these products, I would bring them on my next tropical excursion!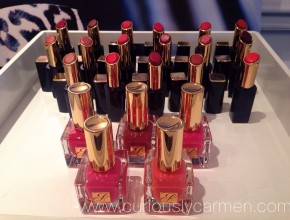 Up next, a pretty array of lipstick and nail polish shades for this season! I am a huge fan of coral and pinks, so these products are wonderful to me! My favourite would have to be the coral nail polish in the front.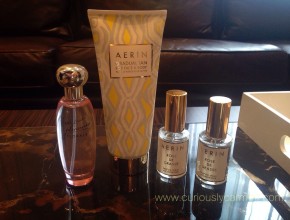 Next up, my FAVOURITE Estee Lauder products… their perfumes! I've never encountered an Estee Lauder perfume scent that I did not like, so I was quite excited to see how these smelled. Of course, they did not disappoint.
The AERIN line, launched last season from Estee Lauder's granddaughter Aerin Lauder, has the most amazing scents so I'm glad they came out with a few more this time around.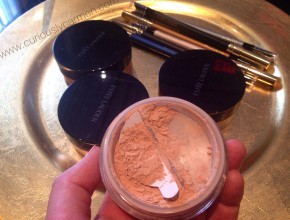 This was definitely an interesting product that captivated my eye. It is their new finishing mineral powder.
It looks like a regular, mineral, loose powder foundation but upon application, it feels like pure silk. It is unbelievably soft and has a nice, smooth finish to it.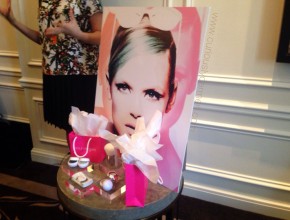 We also previewed the new Courreges x Estee Lauder line, which the attendees were really excited about. Andre Courreges is a French fashion designer, known for his modern and futuristic design.
This preview session definitely did not disappoint. I'm super excited to see the new AERIN perfumes and finishing powder foundation on the shelves!
What were your favourite products that I talked about? Let me know in the comments down below!
Thanks for reading!
-Carmen