It's funny that I'm doing this post, because I wasn't planning or even wanting to go Black Friday/Black Friday weekend shopping. My friend and I had planned a girls day out, and only on Thursday did we realize that we accidentally planned it on Black Friday weekend. Ahhh! I really did not want to step inside a mall during Black Friday weekend, dealing with crowds and swarms of people fighting each other to get the cheapest prices. Anyways, since we had been planning our shopping trip for a few weeks, we didn't want to reschedule so decided to just suck it up, and pray for the best. If it got cray cray, we figured we would just leave and find something else to do LOL.

I am happy to say though, that it didn't turn out as crazy as we thought it would be. We went shopping on Saturday instead of the actual Black Friday, which probably really helped. Most of the stuff I bought was at Sephora (no surprise there hah), so I'll just be focusing on what I bought there. Please keep in mind that I didn't try any of these products fully yet, I may write a detailed review on some of these products after I've used them for longer.
 Walking into Sephora, the first thing that caught my eyes at on the Black Friday exclusive shelf was the Kat Von D Lip Love Set. Admittedly, I tried to buy this from the safety of my laptop on Friday but just as I was about to check out my purchases, all of the items I wanted were sold out! So you can imagine my happiness when I found this in store, I grabbed one right away! This set is a Sephora exclusive and limited edition. I've always wanted to try Kat Von D lip products because I absolutely love their tattoo liner. It came in a lip gloss and lip stick duo, with pre-selected shades. Right after we left Sephora, I tried on the lip gloss. My first impression was that it was very pigmented, and the shade was a lot brighter and lighter than it looked in the tube. For the first few seconds, my friend and I were absolutely horrified at how bright it was but after applying it all over my lips, it didn't look as bad and I actually ended up really liking the colour on my skin LOL. It stayed on for a few hours until I took it off at dinner. At $12CA for both, the lip love set was an amazing deal and I'm glad I was able to pick one up.
Just like the KVD lip love set, I was also hoping to buy this online on Friday, but it was sold out by the time I went to the online check out. Lesson learned, do your online shopping quick during huge sales. I've been looking for a new face wash, and read pretty good reviews on this. This was the Bliss fabulous foaming face wash, a 2-in-1 cleanser & exfoliator. From first glance, the formula looked very thick and gel-like. A lot of reviews that I read said that this does an amazing job of removing face make up immediately, and that was exactly what I was looking for. An amazing cleanser that will remove foundation right away, because let's face it- after a long night out, there is nothing better than changing into cozy pajamas and letting your skin breathe and be makeup free. I know that when you sleep with makeup on, or get makeup trapped in your pillow cases (so gross), it is really bad for your skin so I don't take any chances when I'm already susceptible to breaking out. Which is why I also don't wear foundation on a daily basis.  This was half price for their Black Friday sale, I got it for $12CA!
As I was about to leave the Black Friday shelf, the Buxom Power Players set caught my eye. Darnit, haha! Considering that it came with a full sized Buxom sculpted lash mascara, which retailed for $24 Canadian, AND a waterproof eyeliner, for $12 Canadian, I knew that it was a sale opportunity that I could simply not pass up. My friend gave me a gel pot liner from Buxom last year, which I really liked. I'm hoping that I'll like these two products as well.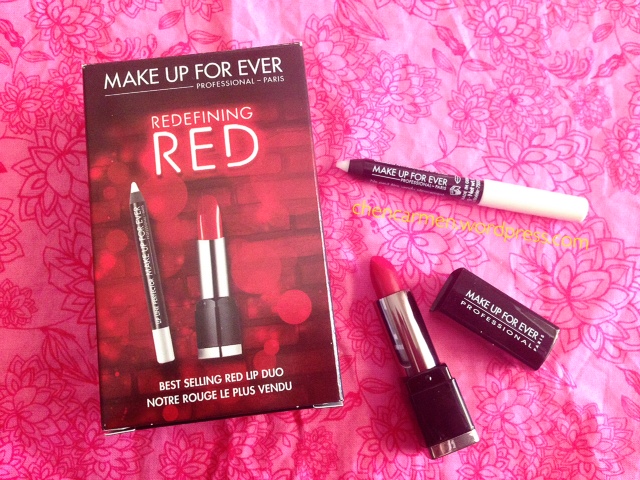 Time just disappears when I'm in Sephora, and before us girls knew it, almost one hour had passed by…  we decided to finally go and pay for our things, but we had another tempting obstacle to overcome… the last minute product shelves they have while you're waiting in line to pay. I was really wanting a darker lip colour ever since my possibly haunted experience with the Too Faced melted lip stick, and the colour in the Make Up Forever Redefining Red caught my eye. The duo also came with a colourless lip liner, known as their lip line perfector and claimed to prevent lipstick from smudging. And at $17 for two MUFE products, I thought it was a good deal.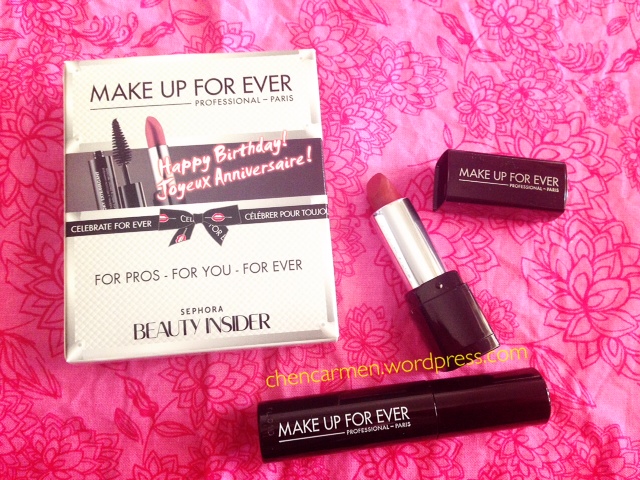 As a bonus, I also received my birthday gift from Sephora! It was also MUFE, but with their mascara and other lipstick instead. I forgot to pick my gift up last year, which I'm still mad at myself for, so I'm glad that the cashier was able to give it to me even though my birthday isn't for awhile. Since I'm a late December baby, did anyone pick this up already? How did you like it?
I am quite happy that I bought all these products on sale. And before you judge, let me just say this. If there wasn't a sale, I probably wouldn't have bought anything. Most the time I go into Sephora, I browse and end up walking out without anything. It may not look like it because my blog focuses on a lot of purchased beauty products, but I only buy products that are on sale and know are a good value for what you receive. You only see half the picture, and don't know what else goes on which is completely okay because I like to keep some things personal. I usually don't buy this much in one visit, but I wanted to take advantage of their sale because deals this great don't come around often. I don't want you guys to think that I have a habit of consistently blowing money for no apparent reason, because I am quite the opposite. I think carefully about my choices before I buy and am conscious of how much I spend (which is one of the reasons why I spend so long in Sephora, debating if I should actually get the products or not haha!). I know, and can distinguish when I can or should spend money, versus times that I shouldn't. Okay that's all, thanks for reading that blurb 🙂
-Carmen