Al Porto Ristorante is an Italian restaurant in the heart of Gastown, located in the basement of one of Gastown's many beautiful historic brick buildings. Al Porto had a fancier feel to the restaurant, but I wouldn't describe it was fine dining. It is certainly a restaurant that to go to when you're not in a rush. I thought that this place would be great for romantic dates, but after reading a few reviews and hearing some stories from friends, seems like this place gets quite noisy in the night time and it's hard to hear the person across the table from you.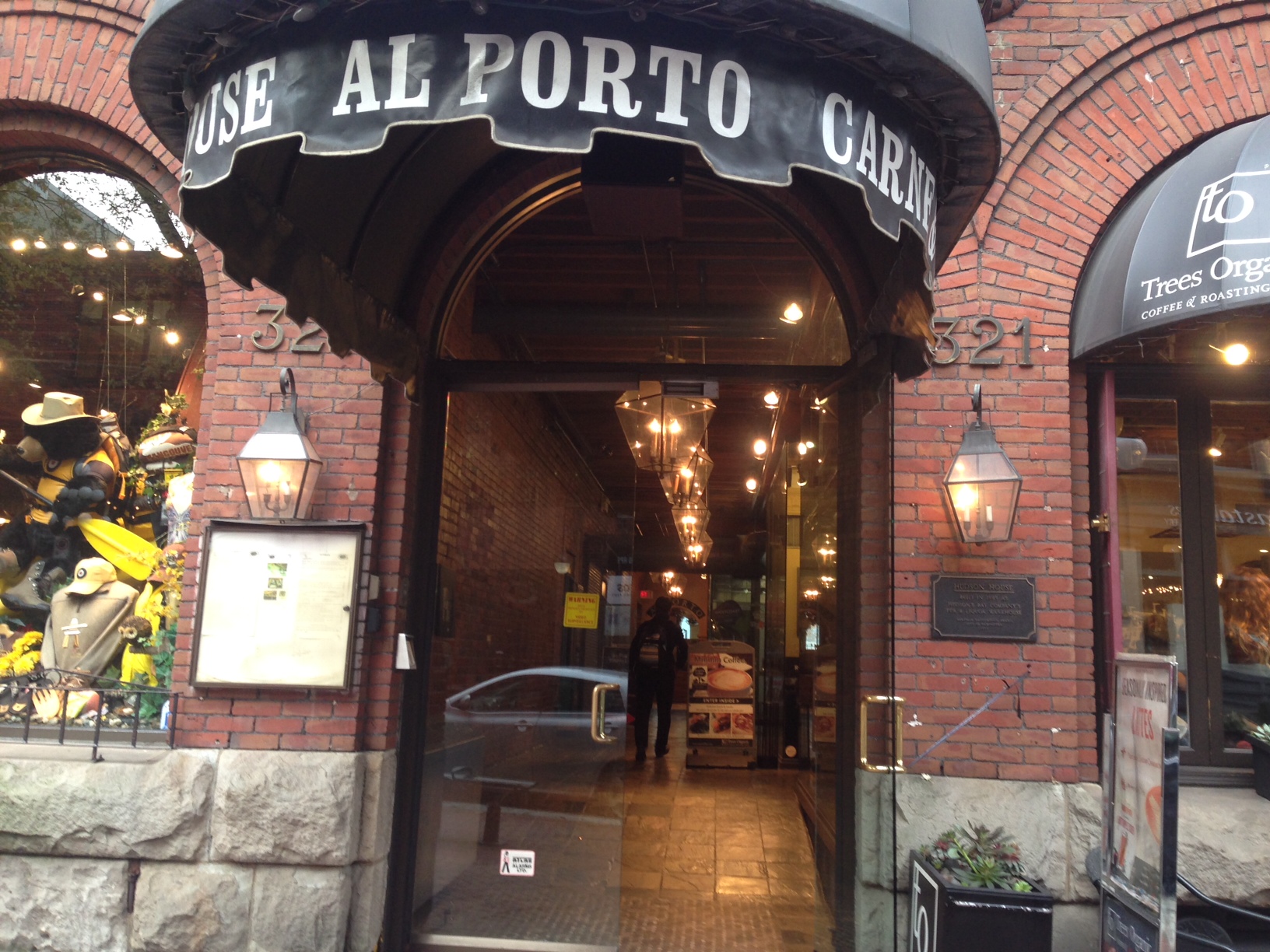 The main entrance to Al Porto is located off the side of the building, towards the train tracks. There is a sign out front with a big arrow, so it's pretty hard to miss the entrance. The picture above is the entrance to their second floor loft. I came with a few of my coworkers for lunch. The restaurant was pretty empty when we arrived, and were seated quickly. I liked how we got one of the round tables for the five of us, it made conservation easier and it was nice to see everyone without having to lean forward or anything like that. I wish more restaurants had circular tables =P Like Chinese restaurants!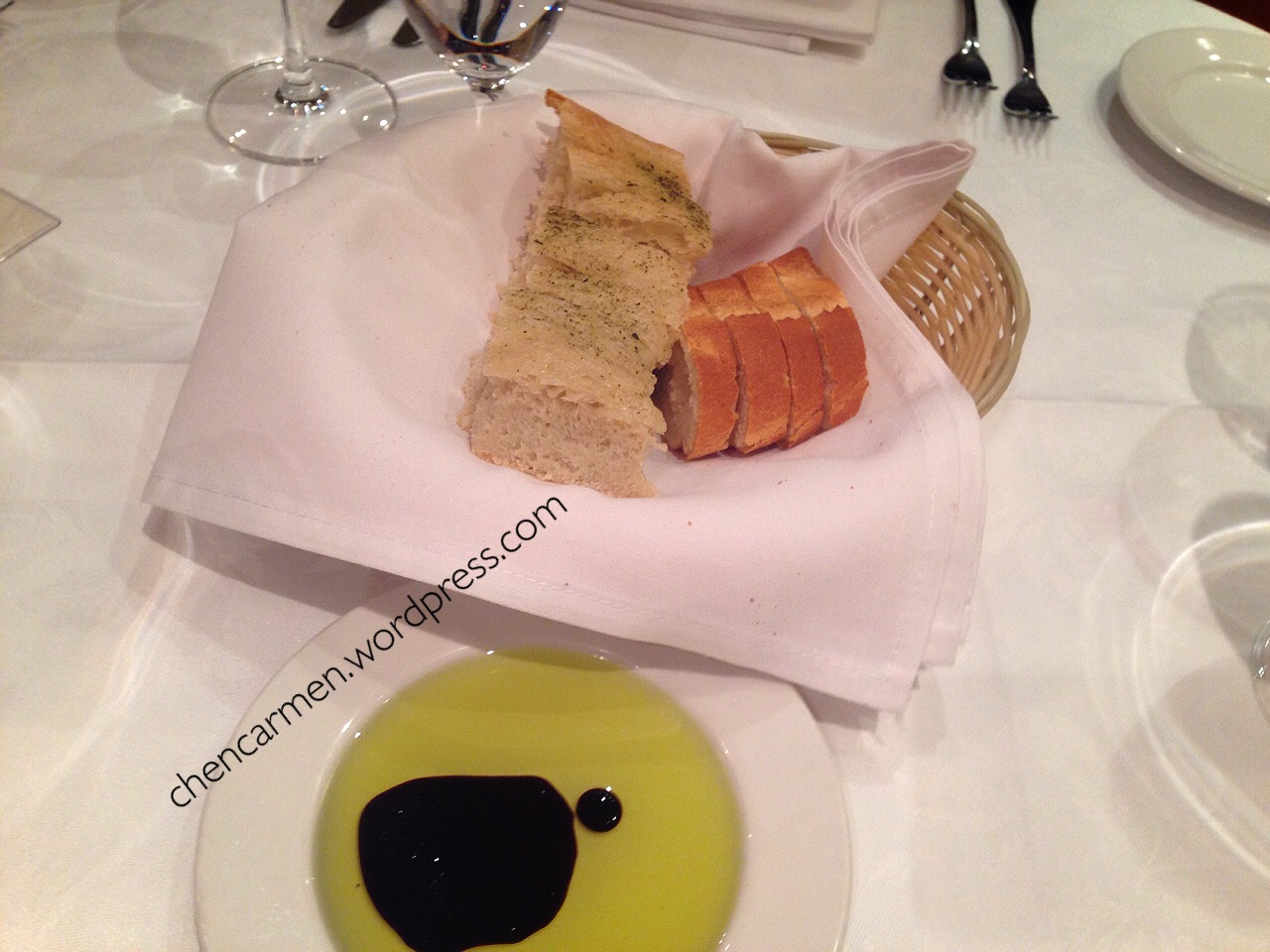 Right after we ordered, our bread came! If I was going to be picky, it would have been nice to have the bread warm, but oh well. I'm not sure what the bread on the left was called, but it was very doughy and chewy, with subtle garlic and herb tastes to it. I liked how it was chewy and I am a big fan of herbs so this bread was an obvious winner in my books. I wish I could say the same about the right one, but unfortunately I found the outside to be rock hard and bland tasting.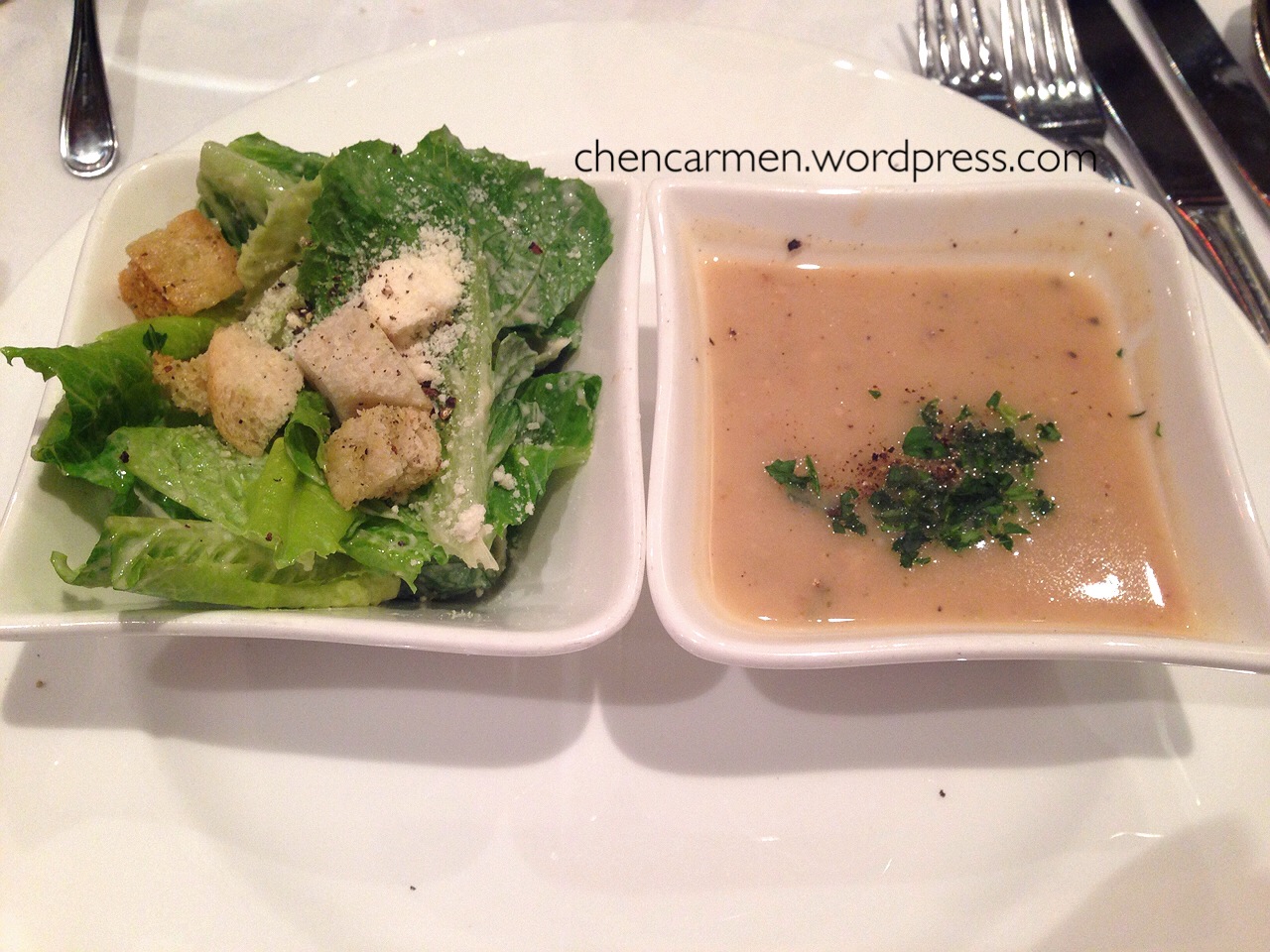 My side of caesar salad was better than I expected it to be, which is always a great surprise! That, or I normally don't have great experiences with side salads. The lettuce was very crunchy, as were the croutons (and not in a bad way like the complementary bread above). It had a great garlicky flavour to it. Everything tasted really fresh and tasted like what a delicious caesar salad should taste like! There was also bits of crushed pepper, which added more dynamic and a hint of spice to the salad.
Soup of the way was a white bean, tomato and basil soup. It had a thick texture to it, and was a bit starchy due to the potatoes. However, all of the flavours in the soup complemented each other really well and I didn't find the soup to be extremely salty (I'm looking at you, Olive Garden). I try to stay away from soups at Western restaurants because I find them to be very salty, but this wasn't the case. I added a bit of pepper to the soup to give it a bit of a flair too. Yum!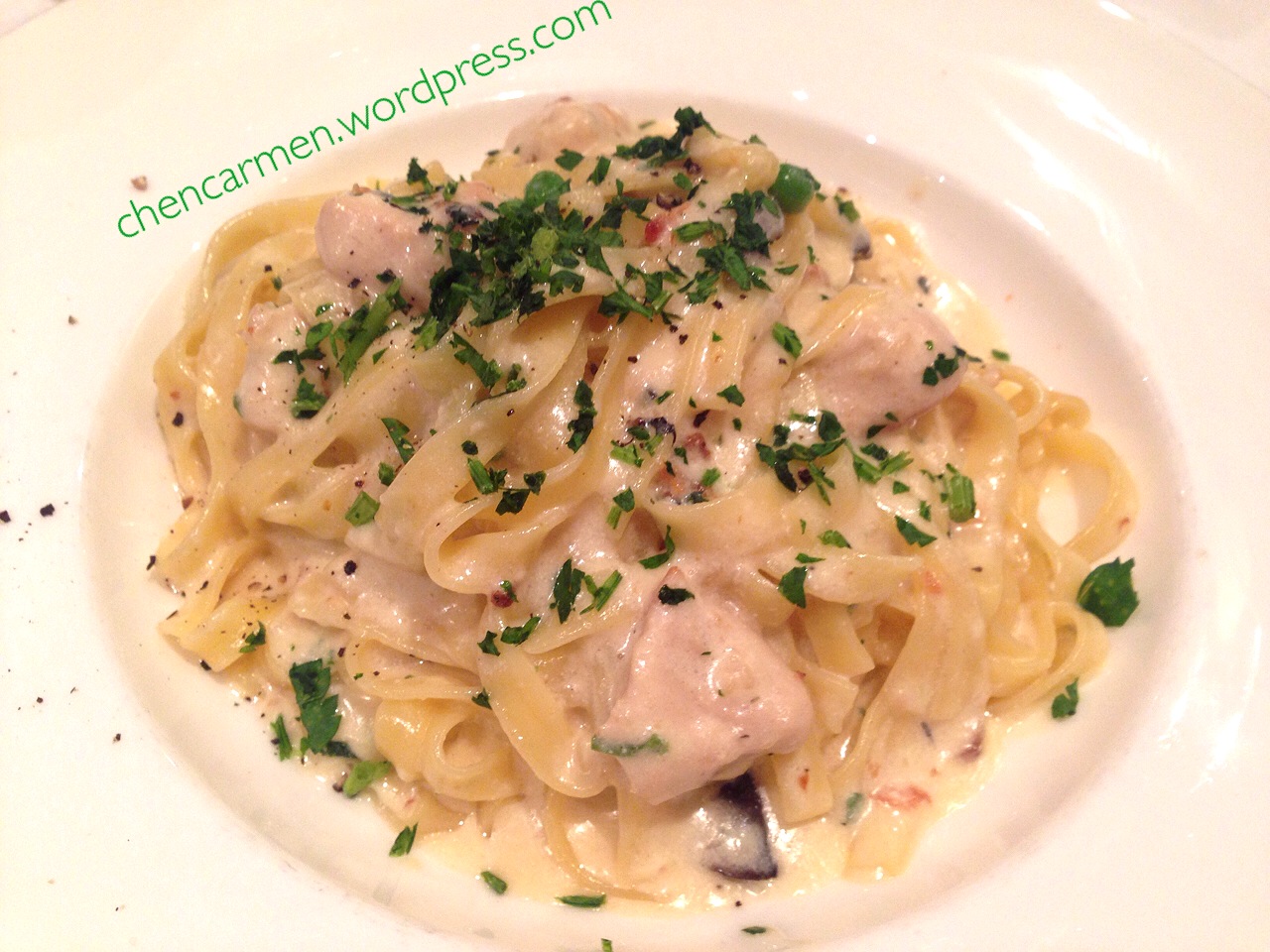 For myself, I ordered the tagliatelle buongustaio ($10.95). Tagliatelle is the type of pasta, which is a flatter and wider noodle. My plate came with chicken, sweet pea, and mushrooms in a garlic cream sauce. The tagliatelle was cooked al dente, and had a good bounce to it. The sauce was delicious as well, it was very creamy without being too heavy, and had a subtle garlic and butter taste to it. The chicken chunks had a slightly grilled and smoky taste to it, and was juicy. I love my pepper, and requested for extra in my plate which completed my dish perfectly. I sprinkled a bit of Parmesan cheese, which melted a bit due to the warmth of the everything else.
With all that said, one thing I found a bit off was their service. The service wasn't bad or rude… it was just a bit off. I wasn't feeling well that day and had a cold, so I asked for a warm honey water to maybe give my sore throat a relief, and so that I was actually able to talk with my coworkers because I was about to lose my voice. She seemed very confused about it and looked a bit annoyed. The rest of the time, I felt bad and uncomfortable asking her for more water, which I don't think a server should make you feel especially at a restaurant that is known to be a bit more upscale. So I sucked it up and took Halls like there was no tomorrow.
Going to a restaurant is not just about the food, it is about the ambiance, service, and overall atmosphere. Al Porto really hit the points high with their food, but I think their service could use a bit more work, or maybe the two staff were having an off day. I don't think I would come back for dinner since I know it gets pretty busy and is a popular tourist destination, but I wouldn't mind coming back for lunch (if there is better service).
-Carmen