Hi everyone!
Continuing part 2 of my trip to the nightmarket with some friends a few weeks ago! Here is part 1 if you missed it =)
As we were walking around, I noticed a stand from Mogu Street Eats. I've read about their food truck and heard great things about it, and my friend said that she saw it on The Food Network. So, my other friend decided to get the chicken karage and see if it was actually that good!
Honestly, it didn't look too appetizing to me because the batter looked pretty old and it looked pretty oily. He insisted that I try it and my opinion was right – it was soaked and dripping in oil.
It's probably prepared better at their actual food cart because there's no way that this chicken could get such great reviews.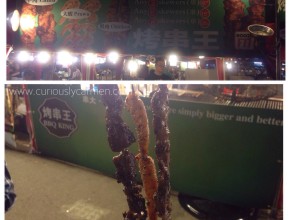 The nightmarket was almost closing, and we saw that some places were beginning to offer closing specials (they weren't super good deals though so no point waiting to come later). Decided to ask this stand if they were offering any closing specials, and they said no, but offered us a cheaper price.
After some negotiation, we settled on a price we were both happy with (sorry forgot what it was)! We got the lamb, prawn, and chicken skewer.
The chicken skewer was still a bit raw inside, so I didn't eat it because I didn't want to risk feeling sick afterwards. The prawn was also slightly raw too =( If they were both cooked fully, it would have been pretty delicious as the seasoning was great!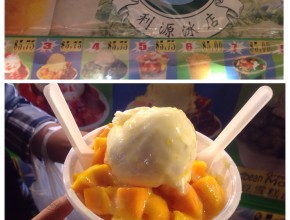 The last thing I got was a mango shaved ice!
The mangoes tasted really fresh and ripe. Drizzled with condensed milk, it tasted heavenly!
The ice cream tasted very cheap and like 'cardboard' to quote my friend. It wasn't exactly the best quality ice cream, you could definitely taste the lack of quality in it.
As for the shaved ice, it was just crushed ice with no flavour because well… it was just crushed ice LOL. I was expecting something like this, but maybe this is a different style. There was more ice than toppings, so it was hard to combine the ice with the mango/condensed milk/ice cream to make it taste better.
Overall, this dish was definitely not worth the price.
——