Update 11/2018: Since writing this post, it seems that Uomo has changed ownership and things have gone downhill. The prices increase each time, while the quality and quantity decreased. We have stopped going here now. 
Sushi UOmo has been around for awhile now, I'd like to say at least a year? Maybe two? Correct me if I'm wrong. In case you are wondering…no, it is not a typo, it is capital UO and small mo = UOmo. I've been meaning to try this place, since all my friends have been raving about it. "CARMEN! You have to try this place! It's so good!" So finally, I went to try it.
In retrospect, I probably shouldn't have gone when I was battling a cold… I think my taste buds were a bit off that day (stuffy nose) and I was feeling very groggy. I need to come back when I don't have a cold so I can actually taste the full flavours of all the food LOL. Lesson learned, don't try new places when sick. =( So, take this review with a grain of salt please.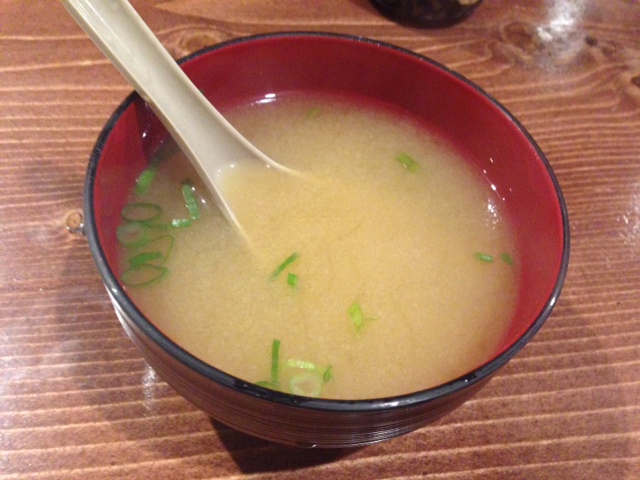 We were pleasantly surprised when we received miso soup at our table. We told the server that we didn't order miso soup, but she told us it was a complimentary starter, how nice!
Restaurants usually don't offer free miso soup anymore. It tasted pretty standard, a bit saltier than normal and had a healthy amount of green onions, seaweed and tofu on the bottom. Considering it was free, it was still full of flavour and served hot.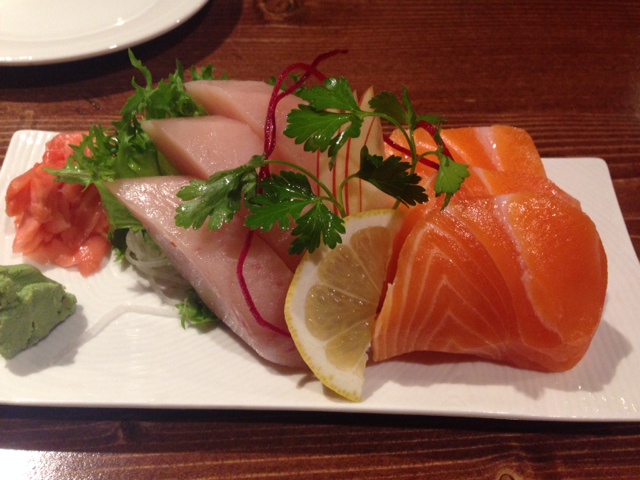 Up next, was our tuna and salmon sashimi. The pieces of sashimi were absolutely HUGE. I don't think I've seen such giant chunks of sashimi before ever, and it weirded me out in a way. But of course, quality over quantity, and was that the case? Despite my sickness, I still tasted the fresh and juicy flavour of both the tuna and salmon sashimi. Look at that glisten! I was already starting to feel a bit full since the sashimi was so big!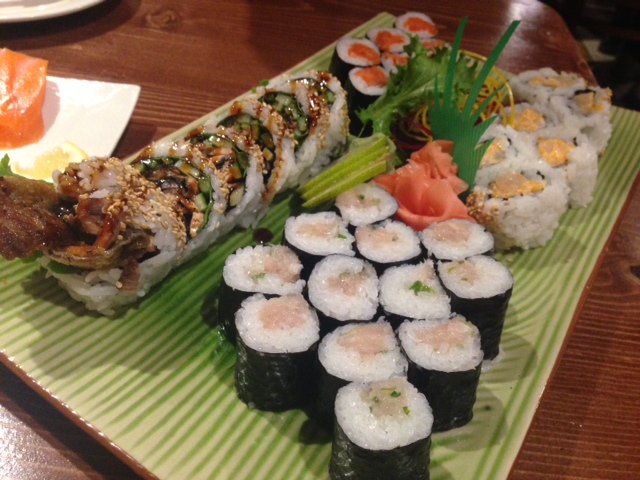 Then, our plate of rolls came! Starting off with the negitoro roll, it was my favourite out of all the dishes that night. Just like the tuna sashimi, the negitoro roll was packed full of fresh flavour, and there was a strong green onion taste which is what I'm looking for in a negitoro roll! The boyfriend and I almost always order negitoro roll every single time we eat Japanese food, we both agreed this was one of, if not the best, negitoro roll that we had so far.
Following that, was the BC roll. I didn't have any because I'm not a fan of salmon skin, but the boyfriend said that it was very crunchy and had a lot of cooked salmon meat inside.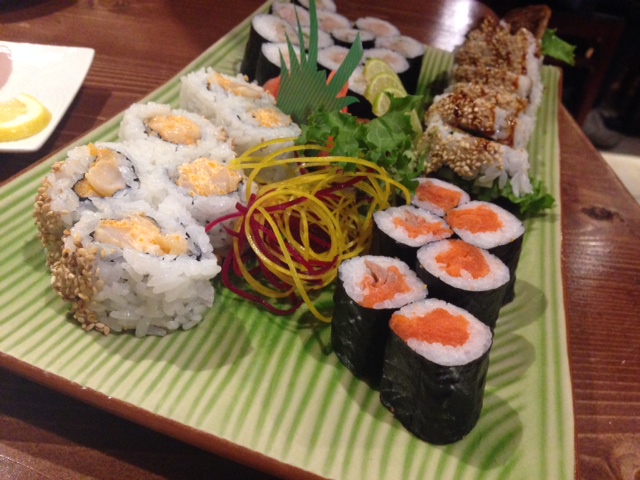 Here is where I regret trying new restaurants when I'm sick. I thought that the chopped scallop roll tasted a bit bland and rubbery, which surprised the boyfriend because he thought it was absolutely delicious! Well, more chopped scallop rolls for him then! I need to re-order this dish next time because I'm sure it tasted fine.
Moving on, I felt like trying something new so I ordered the smoked salmon roll. I loooove smoked salmon, so I thought that it would taste great in a roll. I didn't really like this roll though, I think I prefer my smoked salmon alone. It was a bit warm which was off putting, and I didn't like how the roll was so salty. There was nothing wrong with the sushi rice or smoked salmon, but I personally don't like the taste of it together and will probably stick with salmon sashimi rolls.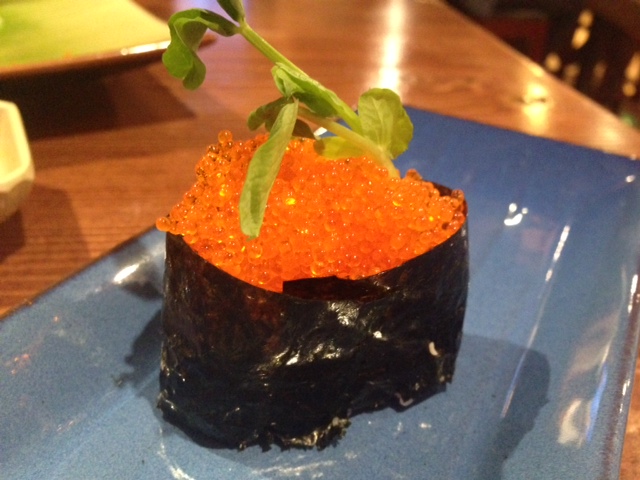 I really wanted to try their tobiko, so I had a one piece of nigiri. The tobiko was very fresh, and extremely crunchy. In fact, it was so crunchy that as I was chewing on the tobiko, my boyfriend heard the crunch from the other side of the table LOL… which made him want to try some of it too.
Everything went well with our visit to Sushi UOmo, I think we will be back (I am feeling better now, and have fully regained taste yay!). It is a lot better than the place next door, Yo Sushi . I'm sorry, it had be said but I would pick UOmo any day over Yo Sushi. For the price you pay there, the quality is NOT worth it. Okay, I don't want to rant about Yo Sushi so just read my review on it *~~~positive vibes~~~*
-Carmen