Hi everyone!
Hands down, Suika is my absolute favourite place to go in this city for Japanese tapas. I love that Suika is super authentic, has amazing quality & preparation, great service, and a lovely atmosphere. I have a positive dining experience every time I come here, and this time was no different.
Back in December, Suika was offering a 10 course (plus dessert, so eleven) set meal for $25 a person. When I saw this offer, I immediately jumped on it and asked three other friends to come with me, since they suggested a party of four.
Without the set course menu, we calculated that each person would have had to pay at least $50 each, so it was definitely an amazing opportunity to enjoy some authentic Japanese food without breaking the bank.
Each plate of food comes with inclusions that complement each other really well, I don't know how they come up with these recipes but I am truly in awe with how everything is perfectly prepared here.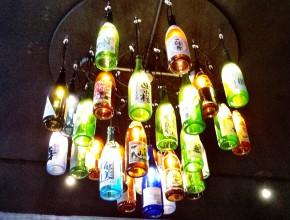 I love this sake bottle chandelier! It looms above the restaurant, making this restaurant so unique.Little details like this go noticed and appreciated.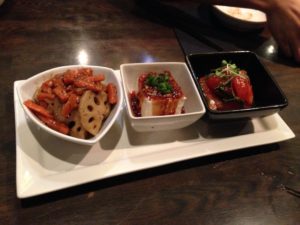 3 kinds of appetizer – I believe it was taro, kimchi tofu, and vegetables. At first, we all thought the tomato was salmon which was disappointing, but oh well! Can't really complain when you're already getting a good deal. I enjoyed the taro root dish most, it was really flavourful and crunchy.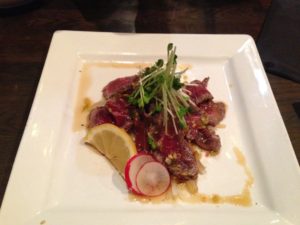 Beef tataki- super fresh, and well seasoned! The veggies on top, lemon, and horseradish really brought out the flavours and sauces of the dish.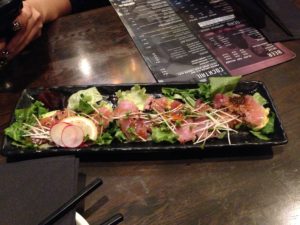 Sashimi salad- This was SO GOOD. Everything was mixed perfectly and complemented each other so well. There were also some tobiko in it, to add some flair and crunch. We cleaned off every piece of green on this plate, that was how delicious it was.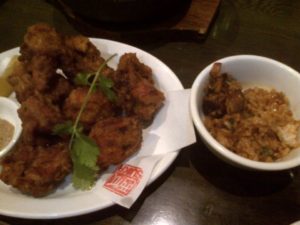 Chicken karaage- This dish was too oily for me, so I avoided it. My friends thought that this dish was pretty oily too, so they used a napkin to dab some oil off. It came with a small bowl of dipping salt. (Pic taken by my friend)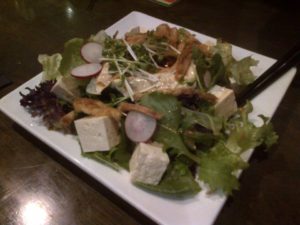 This was some sort of salad, I can't remember exactly the name of it. I just remember it was very delicious. (Pic taken by my friend)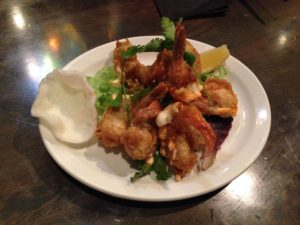 Ebi mayo- delicious! The mayo wasn't too rich, from what I remember it was also a bit sweet. Lightly fried and well seasoned. We wished there was more because it was sooo good!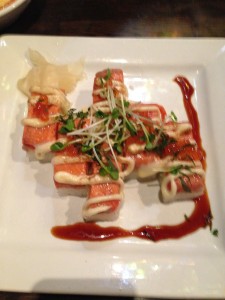 Salmon battera- Essentially their take on a regular salmon roll. From what I remember, the salmon was lightly flamed, giving it a smoky flavour. Salmon was also very juicy, the rice was soft, and the vegetables complemented the flavours perfectly.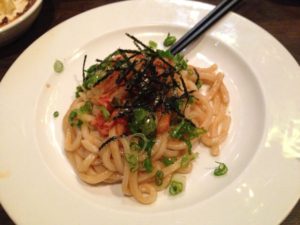 Kimchi yaki udon – The noodles were cooked very well- very soft and chewy. Although I'm not a big fan of kimchi, I really enjoyed this dish due to the sauce they add on the noodles, plus the fresh onion they add on top.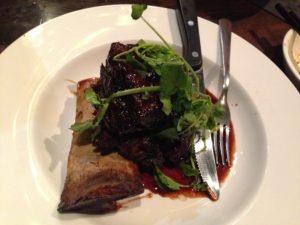 Beef short rib- THIS WAS SO GOOD. It was marinated in some kind of BBQ sauce. Heaven in every bite. It was extremely soft, tender, and juicy. I'm pretty sure we had a hard time trying to share this dish as we all wanted it to ourselves 🙂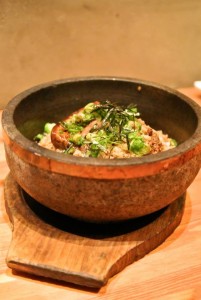 Kakuni bibimbap. We forgot to take a picture of this, so I got it off their website. We really enjoyed this rice dish cooked in a stone bowl, there was a lot of tender and juicy meat inside. There was a really rich and aromatic flavour to this.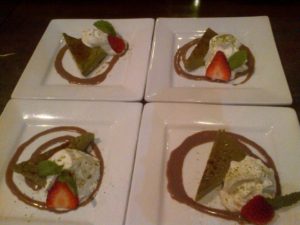 Matcha creme brulee for dessert! Hands down, my favourite dessert ever. This even beats out cheesecake. It is a slice of matcha ice cream, but frozen enough so that you have to kind of cut into it with your spoon. The crunchy part is caramelized sugar, with a side of fresh whip and a slice of strawberry. (Pic taken by my friend)
Needless to say, we all left very full and satisfied, I was left with an extremely joyous feeling in my tummy. If you're planning on coming to Suika on a weekend, you should make a reservation or you're going to be waiting awhile. I've tried coming here without one, and they usually ask you to be done within a certain time because they need to prepare for a reservation.
Service here is really friendly and accommodating, servers are really knowledgeable about the dishes. I hope you enjoyed this post as much as I enjoyed writing it! Suika, if you're reading this, sponsor me!!! (Joking… maybe #whynot )
Thanks for reading!