I just came back from a nice little getaway to the beautiful city of Kelowna and had the idea to attempt travel blogging. I've never really done this before but I do follow my awesome friend's travel blog, so I figured I would give this a try.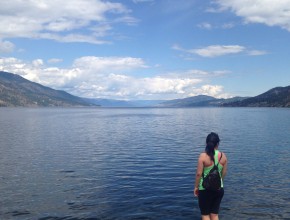 For those who don't know, Kelowna is a small city located around 4 hours away from Vancouver, in the same province (British Columbia). It is a pretty easy drive up as you just follow the highway. This city is situated in the interior region of BC, otherwise known as the Okanagan Valley.
The Okanagan Valley is very well known for the beautiful Okanagan Lake which I couldn't take my eyes off of and the beautiful summer weather, which in turns produces their famous fresh and delicious fruits. In particular, Kelowna is well known for their tremendous amount of wineries and outdoor activities! It is the perfect place to come and enjoy the great outdoors!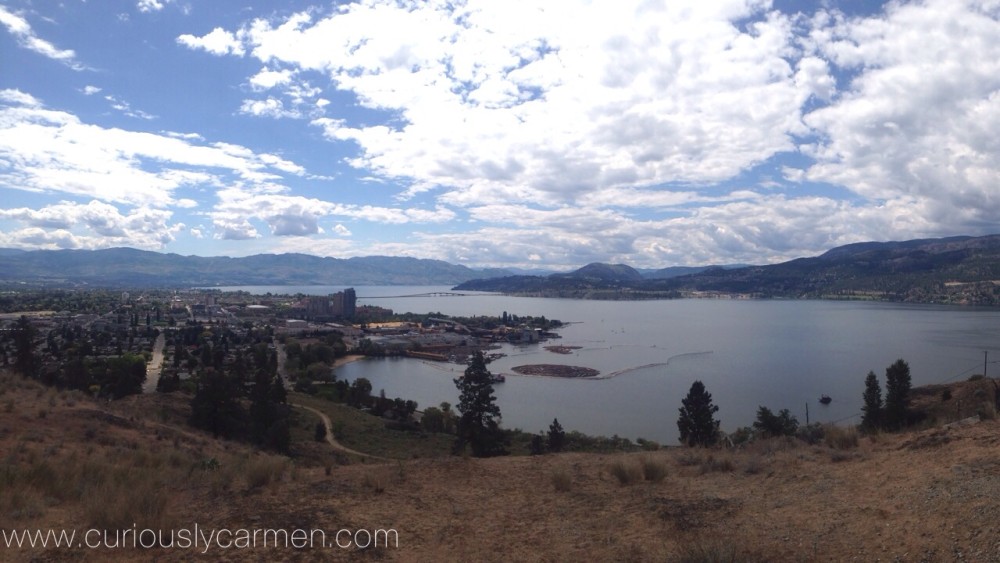 I don't normally go hiking, but one of my best friends who lived here for 4 years recommended that we hike up to Knox Mountain. I'm glad that we went in the early afternoon, because by the time we were done the hike, the sun was directly on top of us and it was getting really hot. The hike up to the first viewpoint took around 15 minutes, and was pretty easy. There was some slight uphill, but nothing that bad.
From there, we saw signs leading to the Paul's Tomb hike, and decided to follow that instead of going to the second viewpoint at Knox Mountain. The hike to Paul's Tomb was a lot easier because there wasn't much uphill, and a lot of gradual downhill! It took us around 30 minutes at a leisurely pace to get to Paul's Tomb.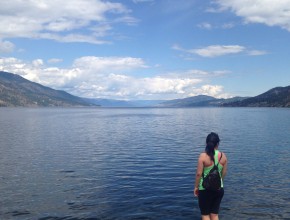 When we got to Paul's Tomb, I was in awe at how beautiful the view was. The trail was pretty quiet, and we were the only ones there which was something I really appreciated about a smaller city like Kelowna.
We sat here for awhile, absorbing the beautiful view that was Okanagan Lake and the surrounding mountains. Waves gently brushing over the rocks, a gentle cool lake breeze gave us a break from the hot sun, and clear water.
The walk back took more effort than the getting there, but it was so worth it! We took shelter and cooled off whenever the sun would get hidden behind the fluffy white clouds. There was slight uphill as the walk there is downhill, so you do get a bit of a workout. As someone who doesn't hike often, I certainly felt it in my calves and hamstrings after finishing the hike.

After a quick lunch, we were off to our first wine tasting! There are five main winery regions in Kelowna, which can be found on the online pamphlet or in the wineries themselves. We decided to go to the Lake Country region first. I recommend having a car in Kelowna, as many of the wineries are in secluded, hidden areas. Also, a map – we got lost a few times with all the winding off-roads!
Unfortunately, I didn't take pictures of all the wineries as I hadn't thought of blogging about this trip until afterwards =( My favourite winery in Lake Country was Arrowleaf! The inside had a nice, modern, clean design and had floor to ceiling windows. They also had a nice grassy area for a picnic or a patio where you can enjoy their wine.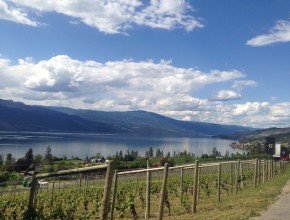 This is the view from Grey Monk winery. All the wineries that we went to had breathtaking views of Okanagan Lake! The Lake Country region had around 6 different wineries, we went to 3 of the wineries.  At most, wineries in the same region are no more than a 15 minutes drive away from each other but usually less than 7 minutes.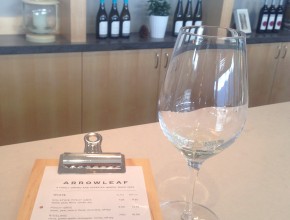 Never been wine tasting?
Worry not! When you arrive at the winery, one of the workers will approach you and ask if you're interested in sampling some wine. Some wineries charge a small fee (I remember the ones we went to ranged from $3-$8), but sometimes they waive the fee if you purchase a bottle of wine from them. Others offer complementary tasting.
Then, they give you a small menu with all the different types of wine that is available for sampling, it can vary from day to day. Most places limit you to four samples. You will start with the lighest wines (typically the whites and rose) and move on to the heavier wines. This method works better for your taste palette.
Wine tasting goes by pretty fast! In each winery, we completed the wine tasting in under ten minutes and spent the rest of the time walking outside, enjoying the view, or checking out the products on sale.
Where did we stay?
We found a nice, comfortable place on AirBNB! It was very centrally located and convenient. Our host was wonderful and the place was readily stocked with all the necessities plus minor little details. We chose to go with AirBNB instead of a hotel mainly because Kelowna hotels cost significantly more in the summer due to the influx of tourists and were all sold out already, and because we wanted a full kitchen in case we decided to cook.
Thanks for reading! Stay posted on more wine tastings, horseback riding, and an outdoor high ropes/obstacle course!
-Carmen