To celebrate a special occasion, the boyfriend and I decided to go on a quick trip (much to my persuasion in the beginning) to the Sunshine Coast. We were there for two nights and three days, which was a good amount of time to explore. Despite being a long weekend, the towns we visited weren't overwhelmingly busy, although the ferry was a different story!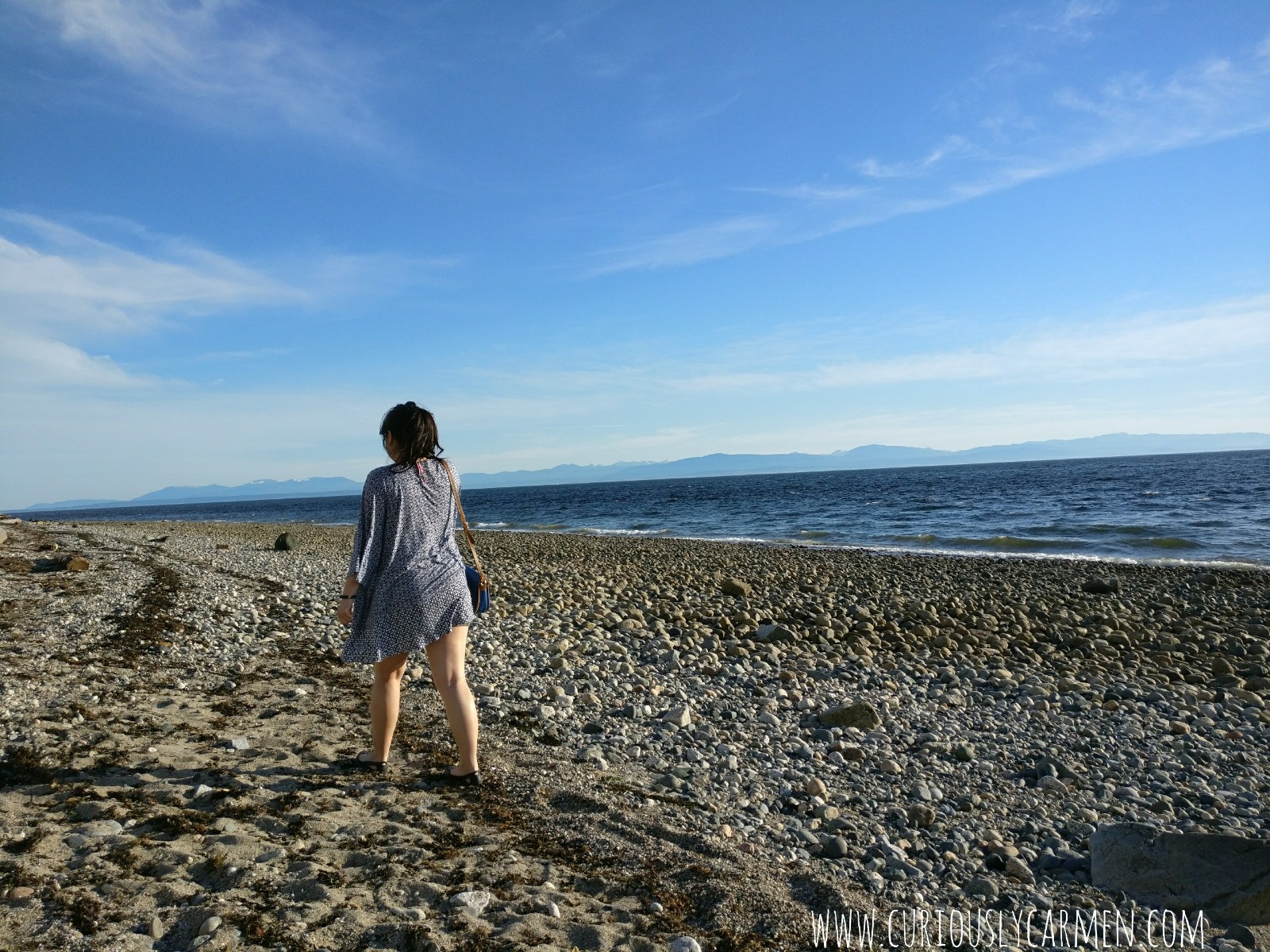 We've been to the Sunshine Coast twice before, with my mom and her friends. But for those two times, we didn't get a chance to fully explore restaurants and parks because we stayed at the house that my mom and her friends rented and went fishing. And those were only day trips as well.
I'll be writing a few other posts on the Airbnb we stayed at (because I miss that little beach house so much) and also reviews of the restaurants we visited. This post will be about things to do on the Sunshine Coast!
---
Here was our itinerary:
Day 1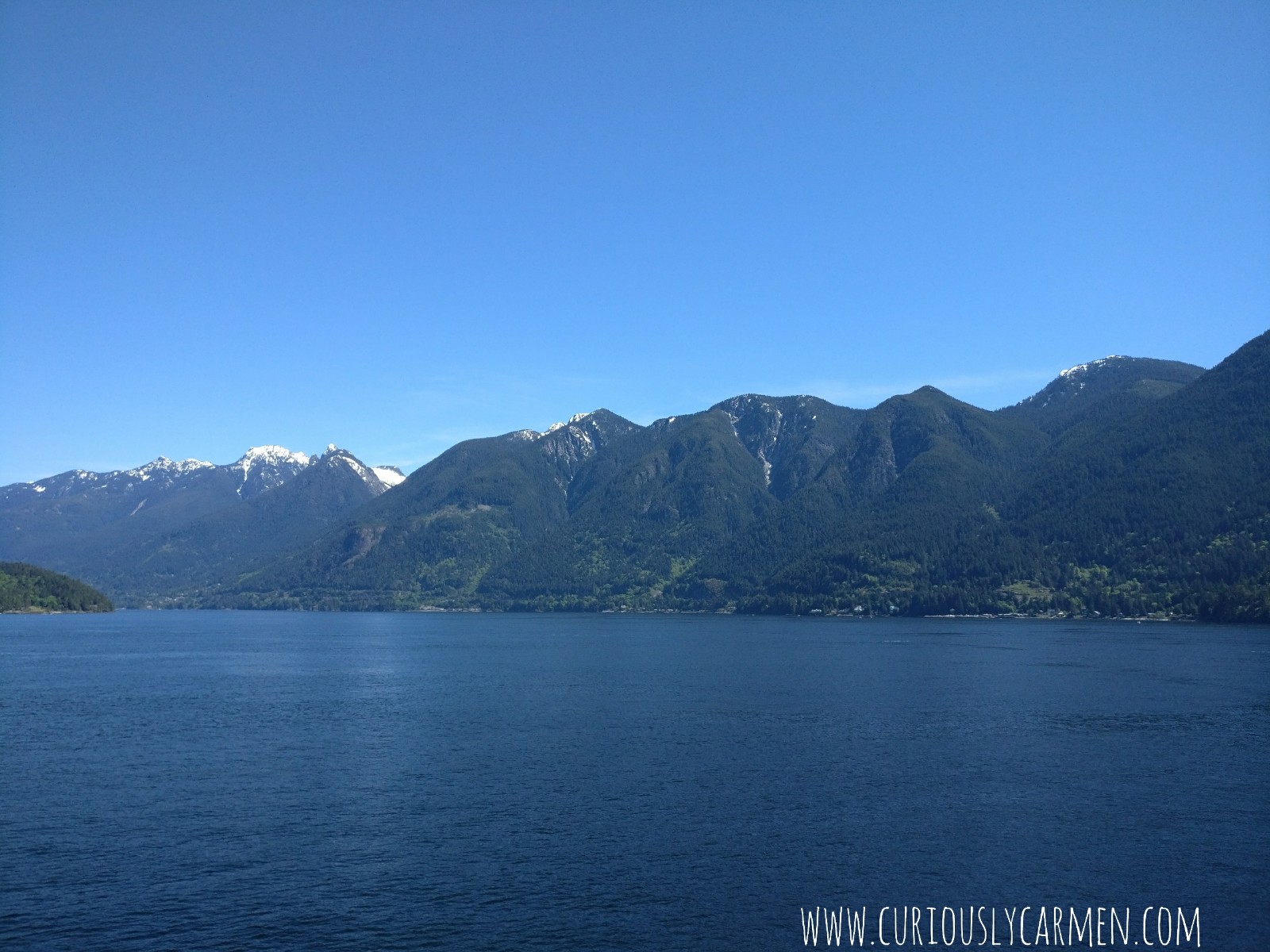 Ferry: Although ferry is the only way to get here, it is definitely a beautiful 30 minute ride and one to be savoured. On a beautiful BC day, there are no better places to be than on the ferry. I recommend going to the top deck of the ferry, to enjoy the magnificent mountains surrounding you and the vast ocean gleaming. I brought a book to read while the boyfriend plugged in his headphones. But it gets pretty windy on the top deck, so I recommend bringing a light cardigan or something to keep yourself warm while enjoying the views.
Lunch: After arriving at the ferry, we drove to Sechelt (approx 30 minutes) for lunch. The boyfriend found a BBQ restaurant named Lucky's, so we ate there and we were not disappointed at all!
Porpoise Bay Provincial Park: We were a 7 minute drive from this park, so we decided to check it out and drive around as we are planning on going camping here with our friends in a couple of months. Perhaps I will blog about that!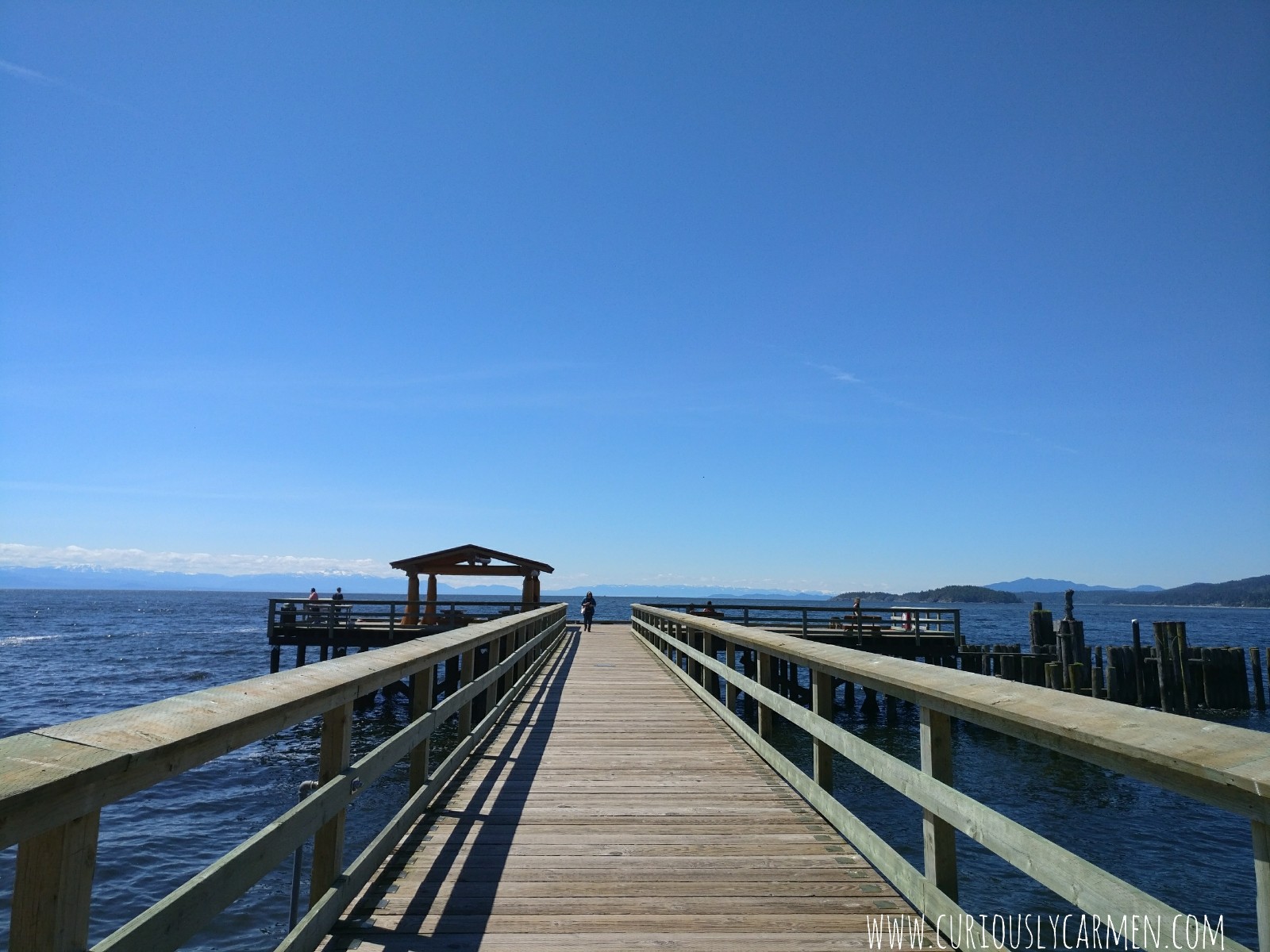 Davis Bay Pier: Before driving back to our Airbnb, we relaxed at Davis Bay Pier. It is a small stretch of land overlooking the ocean, and it is so beautiful! There is a nice pier to walk along, kind of like a mini White Rock. We walked down the pier and enjoyed the views.
When we came here two years ago, there were people swimming in the water but we didn't see that this time. We did see some families bringing their dog to play in the water though!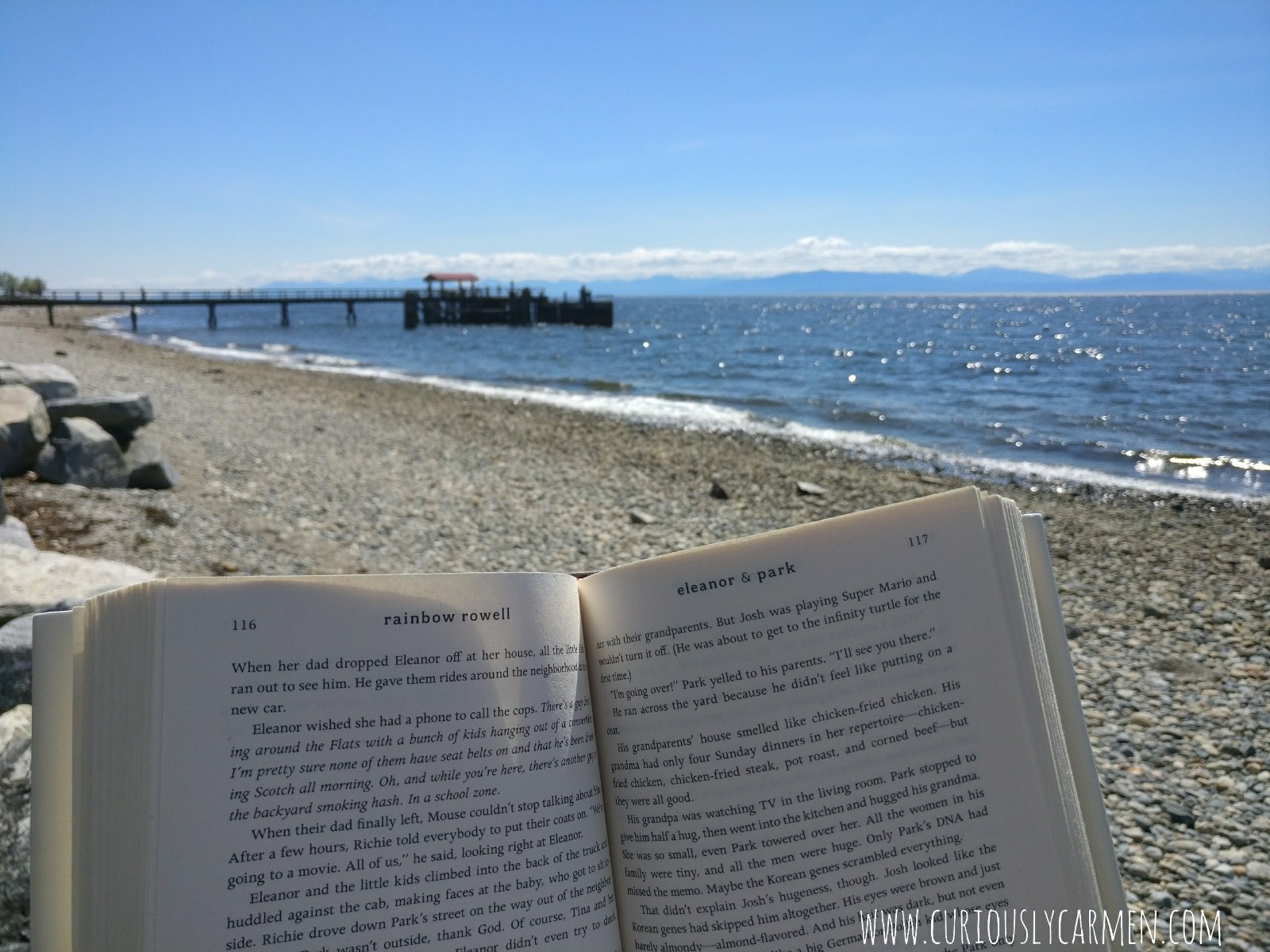 Roberts Creek: It was check-in time so we met our Airbnb hosts, and unpacked our bags. We were both a bit tired, so we rested at the Airbnb for a bit.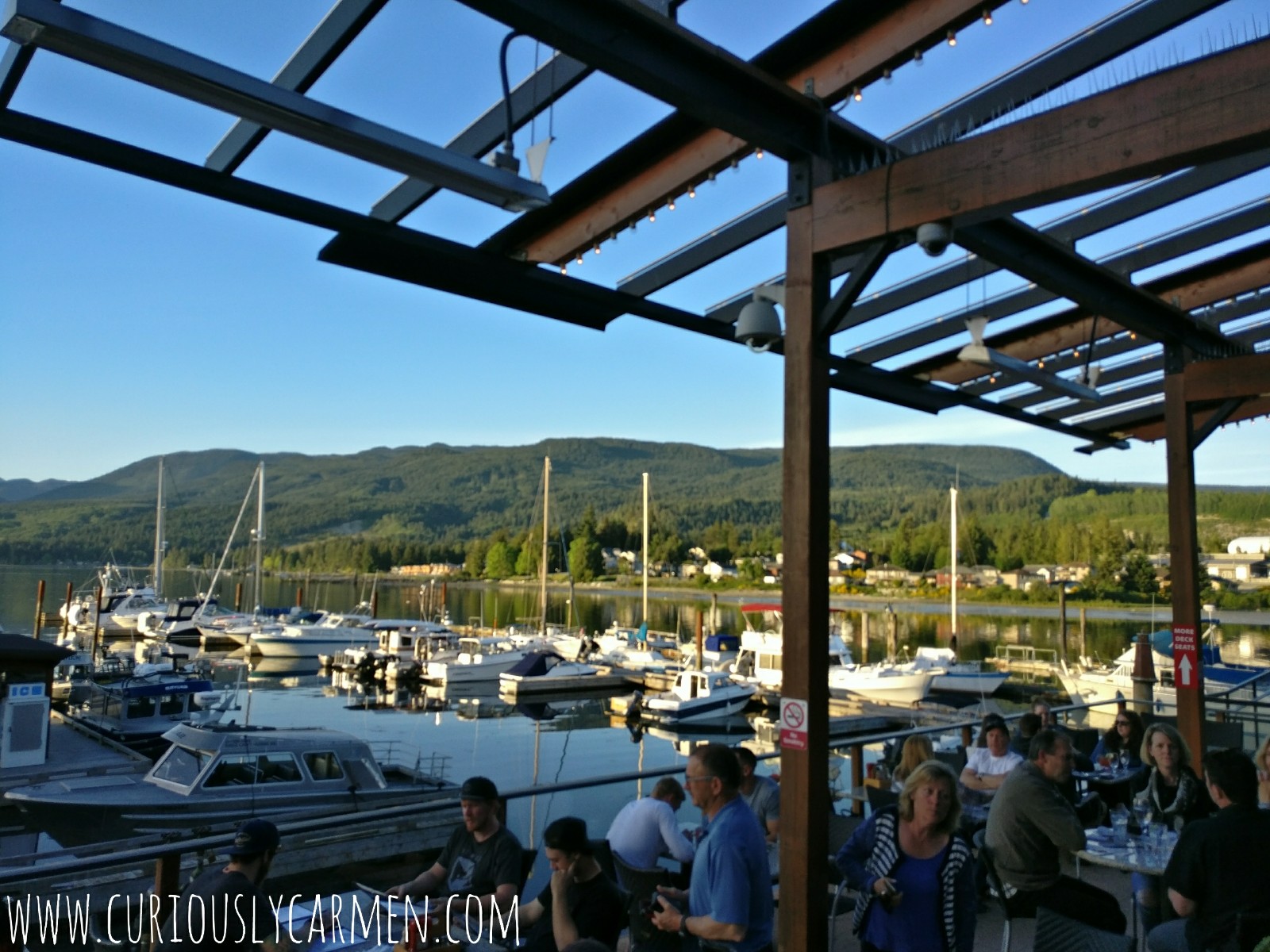 Dinner: After recharging, we went back to Sechelt for a lovely patio dinner at Lighthouse Pub overlooking Porpoise Bay. The views were great, but my food could have been better.
Day 2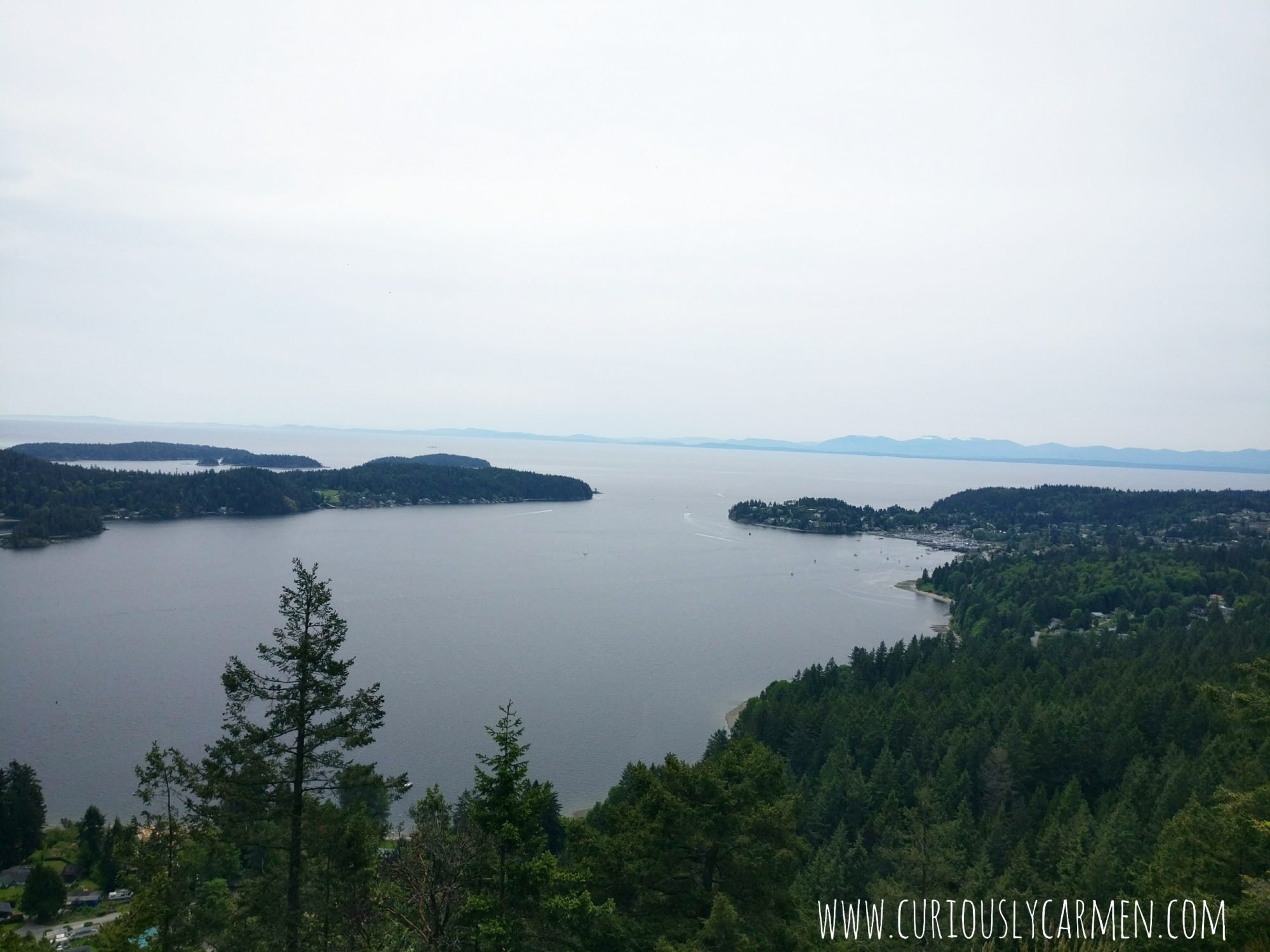 Soames Hill: I found out about this hike back in the fall, and I really wanted to do it because people were saying that it was quick and easy for the view. And I'm a sucker for views. The hike was about 40 minutes going up to the second peak if you stop for pictures along the way, which is what I did. To get to the first peak is about 20 minutes. We didn't find it too challenging but I was a bit sweaty at the peak. The view was super beautiful and overlooked Gibsons and Keats island. Definitely recommend as it's a pretty easy hike!
Dessert: After the hike, the boyfriend found a gelato place in Gibsons, Mike's Place, that supposedly had really good ice cream. So we went there and yes, the ice cream was really good. It was also really cheap compared to Vancouver prices, only $3.75 for a cone with one scoop! He really enjoyed his gelato!
Gibsons Landing: We decided to explore a bit of Gibsons Landing. It was a pretty and quiet seaside town, but also buzzing with people at certain restaurant hot spots. We walked around here for a bit, went to the boardwalk and gazebo. This place is great for taking pictures on a nice, sunny day.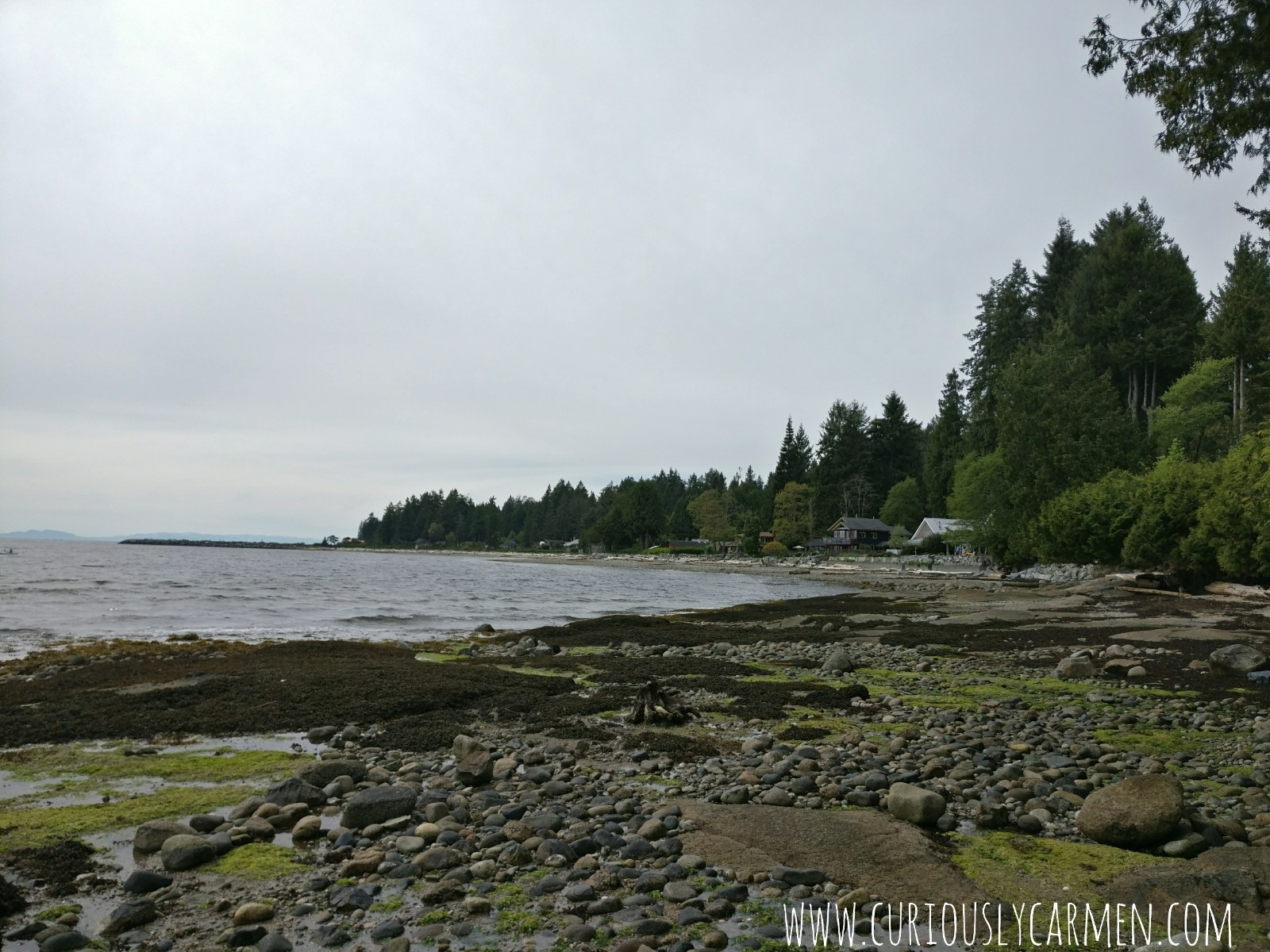 Flume Beach: We went back to our Airbnb area of Roberts Creek, which is halfway between Gibsons and Sechelt (the two biggest towns). Our beach house was literally next to the water so we brought some towels, a book, music, and just relaxed. However, the beach outside our place was really rocky and breezy due to the shade. Our hosts recommended that we drive to Flume Beach which has less trees and more sand. It was a good choice and we relaxed there for a good two hours. At one point, we saw some sea lions playing in the water!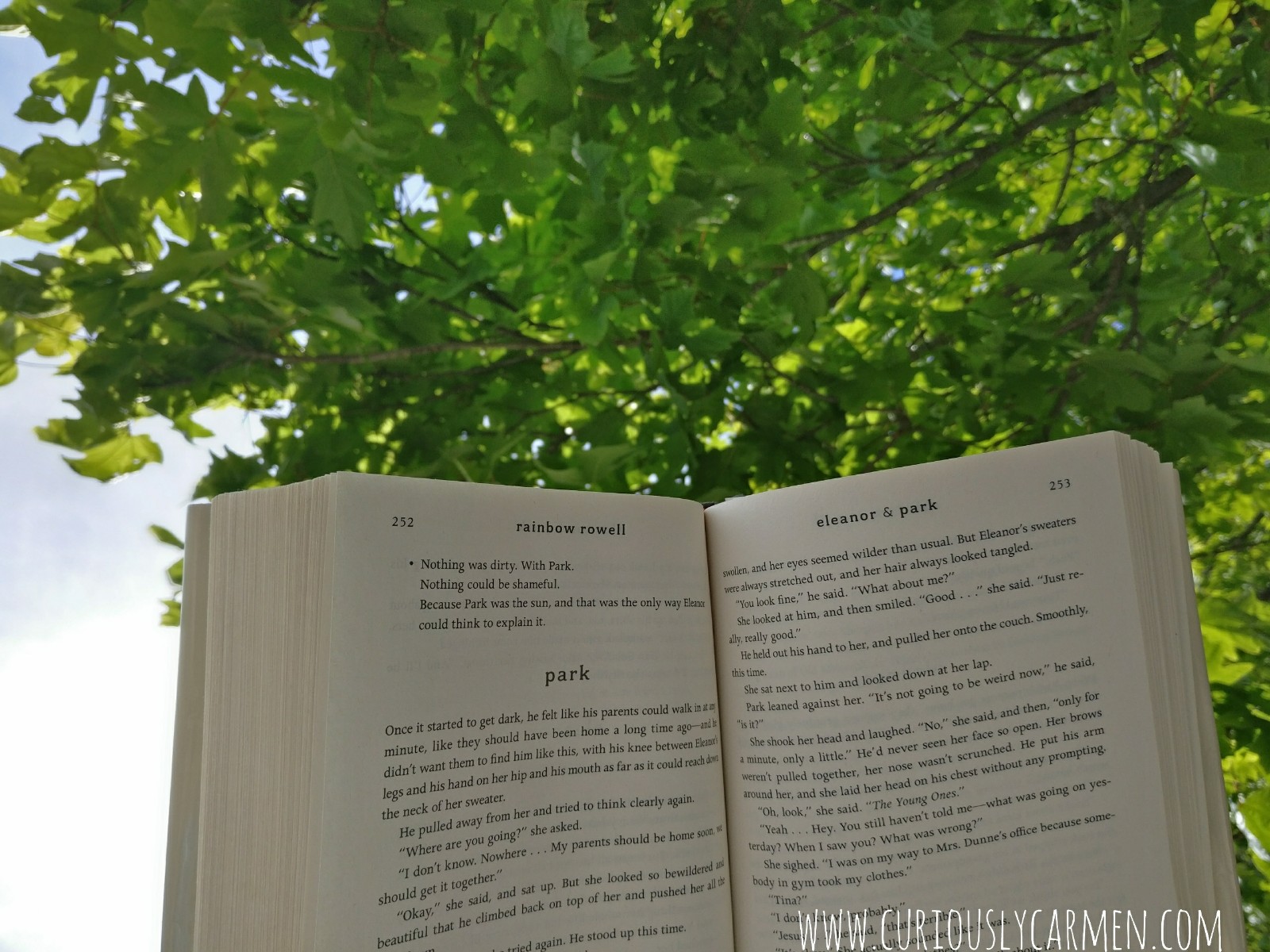 Dinner: We didn't have a dinner place in mind, so we decided on trying Shift in Sechelt. I didn't really enjoy it at that much as it wasn't really the vibe that I was looking for in a small beach town. It reminded me of a smaller Rogue Kitchen & Bar or something that belonged in the city. After we sat down and ordered our food, we went on Yelp and found a hotel restaurant across the street which we probably would have enjoyed more as it had a more slow and relaxed atmosphere with ocean views.
Day 3: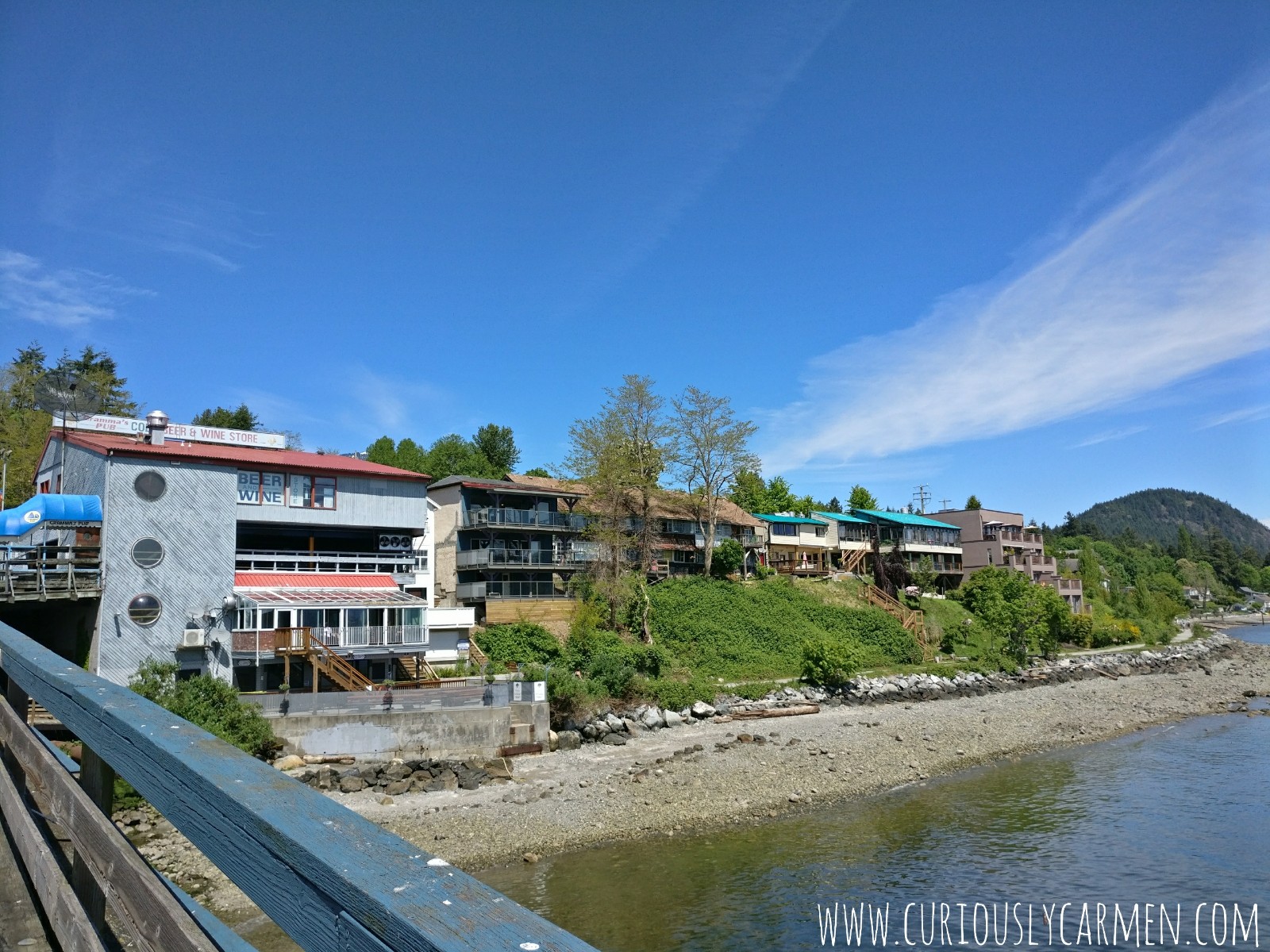 Gibsons Landing: Since we were catching the afternoon ferry, we decided to go back to Gibsons as it is closer to the ferry. The last day was prettier than the second day, as the clouds were gone and the skies were bluer. The pictures I took on the third day were a lot brighter than the second.
Lunch: Lunch was spent at Molly's Reach, which kind of as a cool back story to it! So in the 70s-90s, Gibsons was the filming location for a show named The Beachcombers. it was one of the longest running TV shows in Canada but I was too young for it. Anyways, Molly's Reach was a fake restaurant for the show. When The Beachcombers ended, someone decided to buy the property and turn it into a real restaurant. We sat on the patio, which had a nice view of the boats and water. The food was good as well!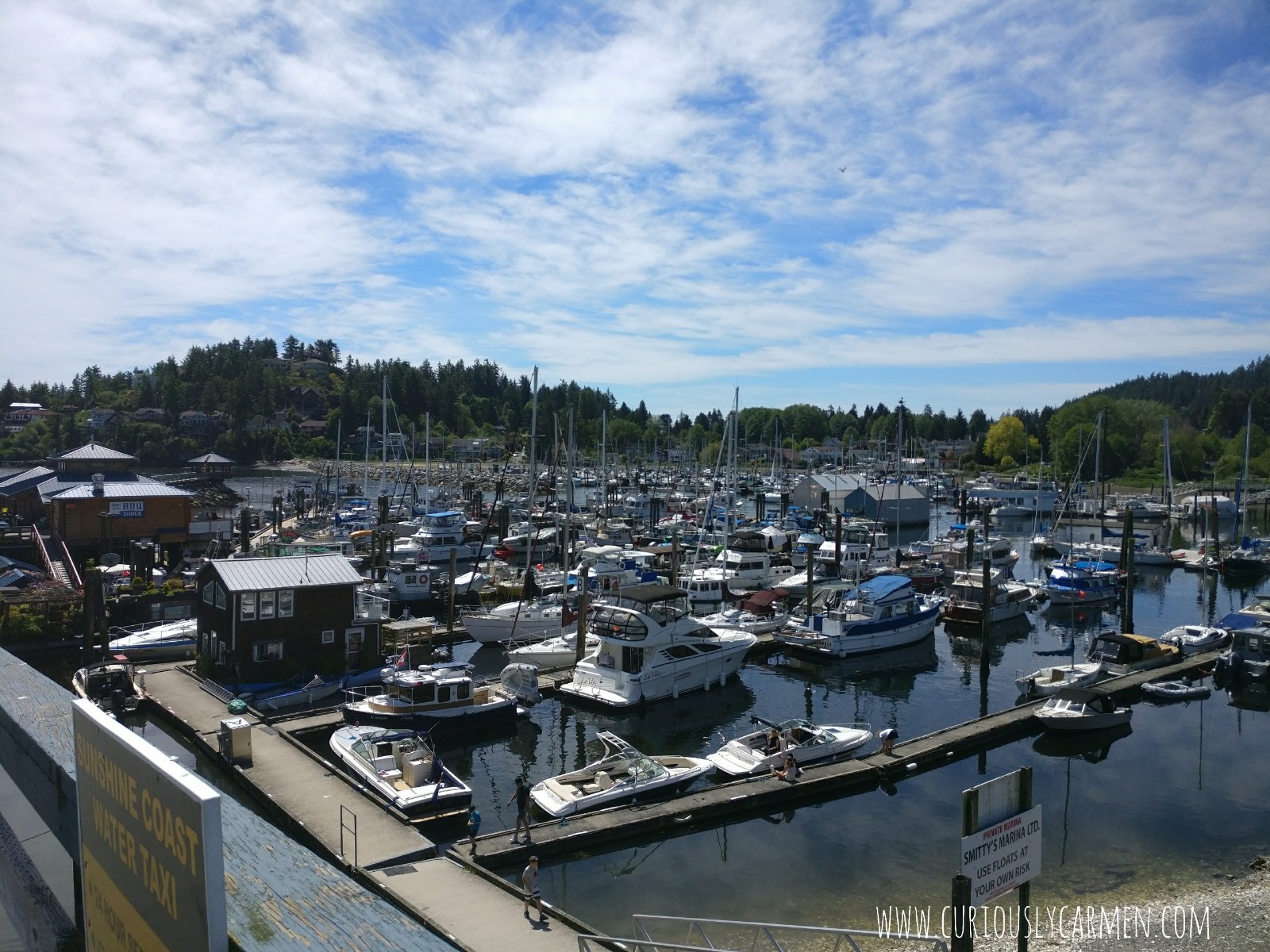 Gibsons Landing: After lunch, we walked around a bit again and went back to Mike's Place for cheap gelato before taking the ferry back.
---
All in all, it was the perfect quick little getaway. I feel much more refreshed and energized. I made a point to not bring my computer so that I could fully relax. I have a hard time relaxing, which is weird… but I feel like I should always be working on my blog or answering emails or something.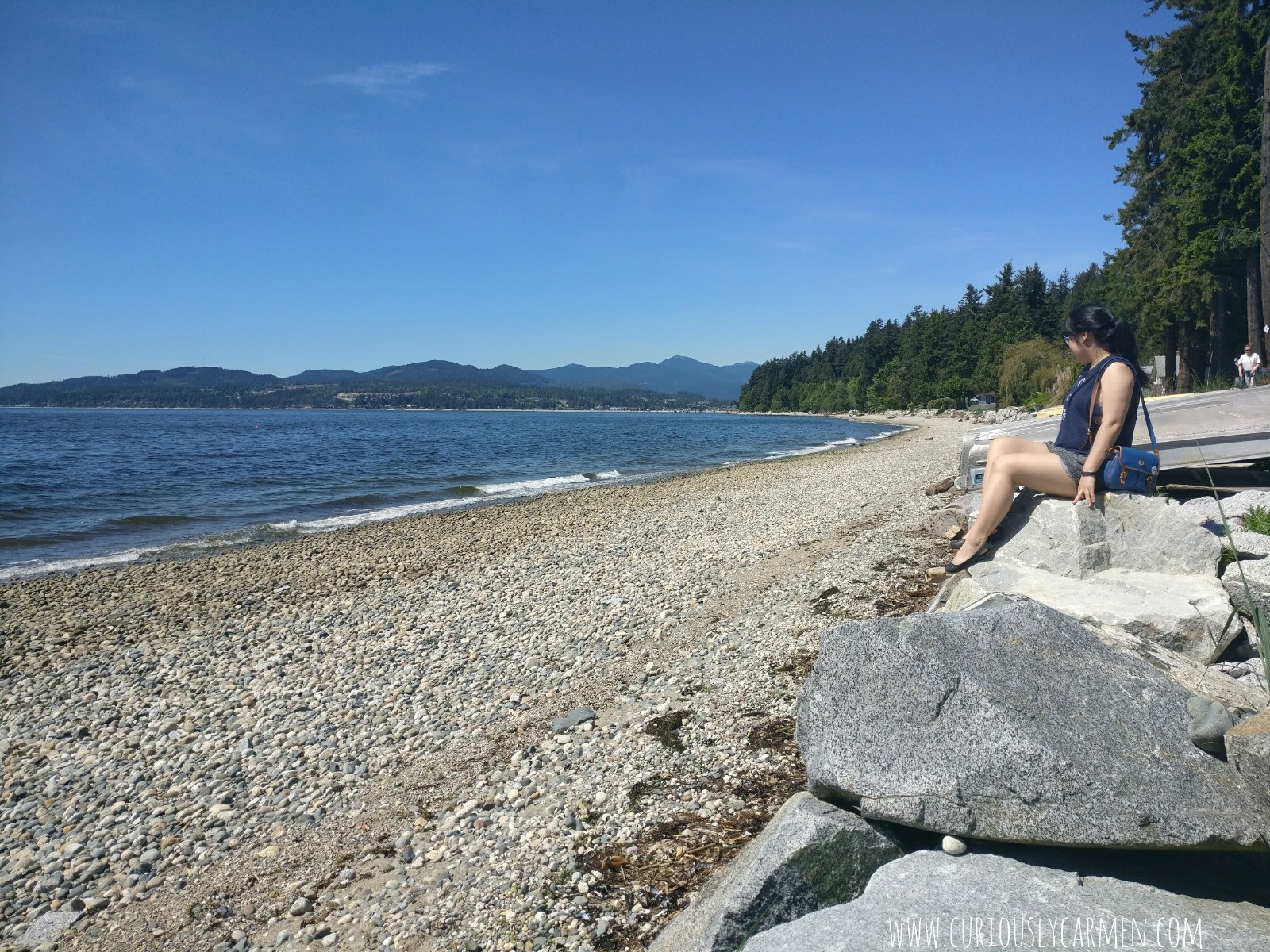 Tips:
-Use Airbnb or VRBO: The hotel options on the Sunshine Coast are pretty limited, and often not as nice as the vacation home rentals. As we drove through the area, we saw that many of the houses there are being rented out by vacation go-ers like us.
-Free ferry: Yup, you heard that right! As the main form of transport out of the Sunshine Coast is by ferry, it is free coming back. Tbh, that is one of the main reasons why we chose the Sunshine Coast as opposed to Victoria or Nanaimo… because spending $150 roundtrip on a ferry is something we prefer not to do.
-Transport: We saw many bus stops along the main road, and read that transit is a good option for those without a car. But after being there for the weekend, I don't recall seeing a single bus along the road although I saw people waiting at the bus stops. I would recommend renting a car or driving if you're able to.
-Take it easy: The Sunshine Coast is known for its relaxed, laid back, and easy life. Don't come here expecting a ton of things to do, it is not New York City or Tokyo. If you're looking for a quiet retreat and a small town vibe, Sunshine Coast is the place to go.