Greetings everyone!
For Jerky's birthday dinner a few months ago, a bunch of us went to celebrate at Kyo, which is mostly popular for their AYCE (All You Can Eat) Korean BBQ & Sushi dinner. I've been here a handful of times already in the past few years, but this was my first time coming here in more than two years.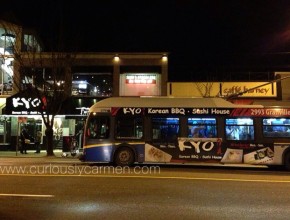 I took this picture back in 2013 and posted it on Facebook because I thought it was funny how the timing of the bus worked perfectly! Never would I have guessed that I would be using this picture again in a blog post two years later.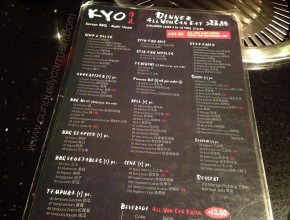 We had a group of around 15 people and were split up between 3 tables. All of us were ordering AYCE, they used to allow tables to have both AYCE and non AYCE, but I don't think they allow that anymore. They also have an all you can drink section as well, but I believe the entire table has to have it in order for it to qualify? Or maybe I am thinking of another restaurant.
I didn't take pictures of every single dish that came since we were all hungry and impatient, my apologies!
For starters, some of us ordered the spinach gomae and miso soup. I enjoyed the spinach gomae quite a bit and was surprised at how good it tasted. The spinach did not taste old and the peanut butter sauce was a tad sweet. The miso soup was your standard instant package miso soup, and was salty.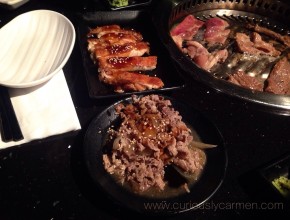 One of my favourites that night was the chicken teriyaki, pictured in the back! The chicken was fried nice and crispy, while the inside was warm and juicy. It was lightly covered in teriyaki sauce and sprinkled with sesame. I could easily eat 3 plates of this myself, it was that good!
Unfortunately, the beef teriyaki was not as good. We found it to be a bit watered down, as there was a puddle of water at the bottom of the plate. It was also very bland and overcooked.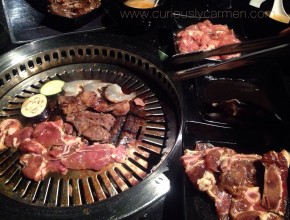 Barbeque! And a few tiny pieces of vegetables, hehe… Since I didn't take a picture of all the meat, I'll just briefly talk about them here. We ordered the beef, short rib, chicken, pork, and lamb meat. All were pretty delicious and juicy. Some of the meat was a bit too salty as it was already marinated beforehand.  Not bad for all you can eat!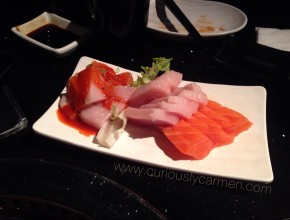 I found the salmon sashimi to be very bland and flavourless. The tuna sashimi was slightly better, but not the best either.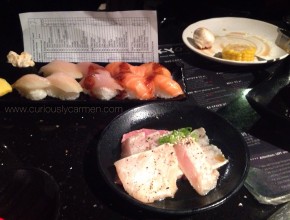 I didn't try the nigiri pieces seen in the back since I didn't really enjoy the sashimi to begin with. The tuna tataki was a different story though – it was amazing! It had a slightly grilled taste due to the fish being seared. The tuna tataki was soft and melted in your mouth. Combined with the ponzu sauce and fresh green onions, this was a definite winner!
All in all, Kyo is a hit or miss with their food but it is one of my favourite restaurants to go to for all you can eat. Service was friendly, although they missed a majority of our dishes from the first order. I wished that I had taken more pictures of the food! All of us ended up being so disgustingly full but hey, what is the point of eating AYCE if you don't feel like you can ever move again? =)
Do you enjoy all you can eat, or rather have quality over quantity?
-Carmen