I always look forward to my adventures with Avocado (aka Vegan Buddy but I wanted her to have a food nickname too!). We don't get to see each other as often anymore because we're both busy with different schedules, but I always treasure our time together when we do get to hang out.
Our March vegan adventure was Meet On Main! I found this place online and it seemed to have great reviews, so I suggested it to Avocado!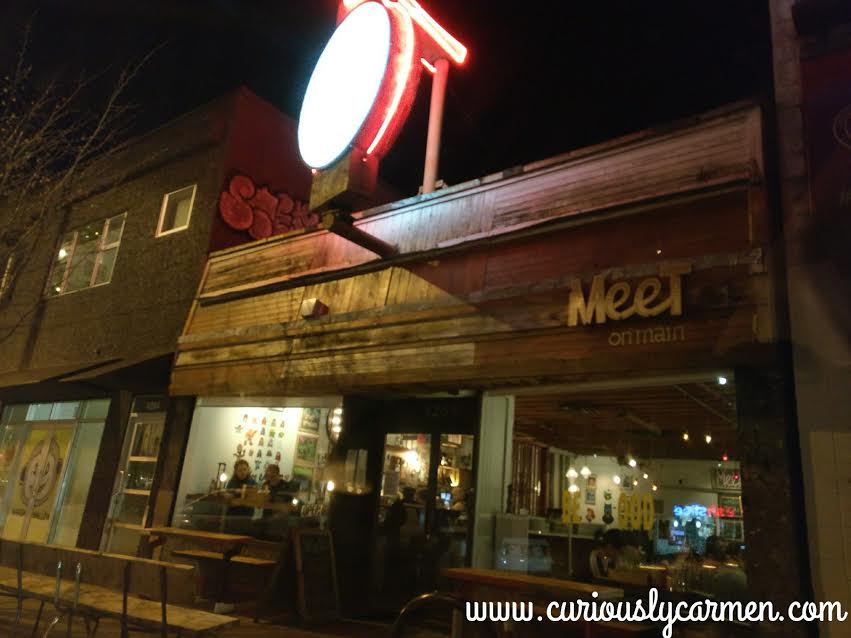 I called to make a reservation but unfortunately was told that they don't accept reservations. I waited about 15 minutes and took the time to read over the menu options, which was perfect as Avocado had just arrived. And I tried to save her the meter parking in front of the restaurant that had 49 minutes remaining… Success!
The restaurant was bumpin' on a Wednesday night! All the tables were full, the place was buzzing with conversations, and music was blasting.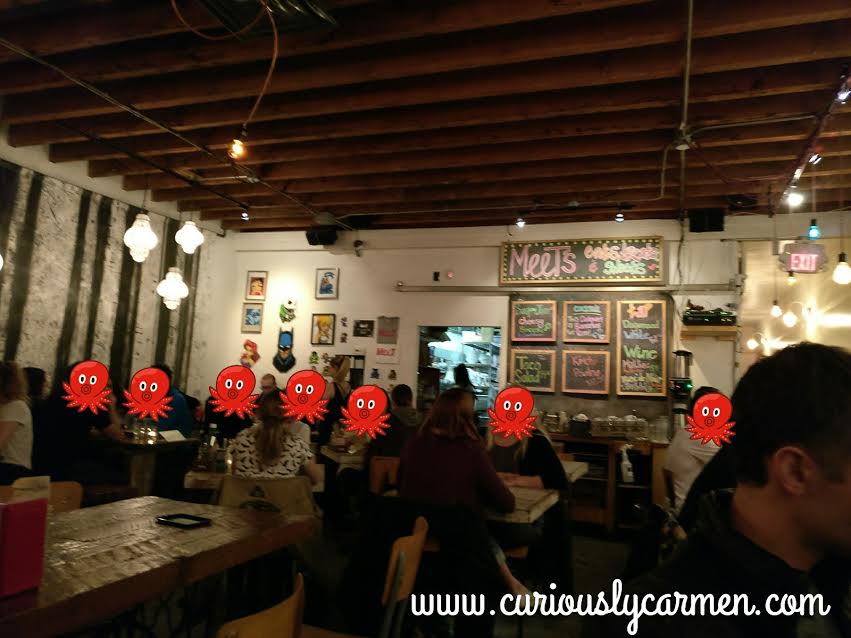 I love going to vegan restaurants because it means I have the freedom of ordering anything off the menu, whereas usually I am limited to only 2 or 3 choices and have to make modifications.
We decided on sharing a few items!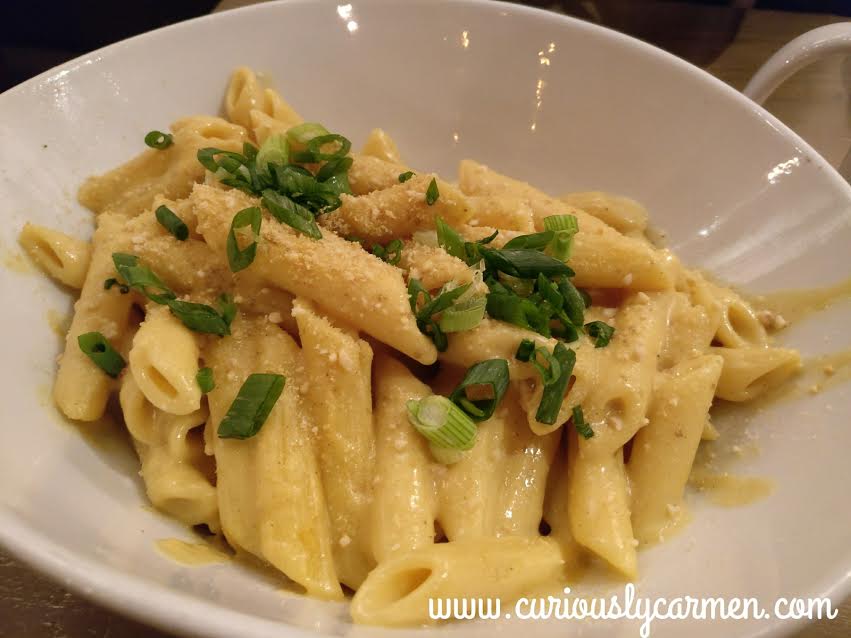 Mac n' cheese, $10.75: I haven't had the regular version of this dish for so long because it's dairy death. But this one is vegan so yay!
It came with al dente penne pasta which was comforting, warm and filling. It didn't taste anything like cheese nor was it gooey like cheese, but we both still enjoyed it. We had a hard time identifying what made the sauce creamy, and guessed it was some kind of nut base.
Sweet chili cauliflower, $9.75: Most Yelp reviews and my coworker raved about this, so we had to try it. The cauliflower pieces were bigger than I expected and fully cooked.
I really liked the batter, which was a bit chewy and dense. It came with a sweet chili sauce that reminded me of Korean or Asian-style sweet chili due to the ginger inside.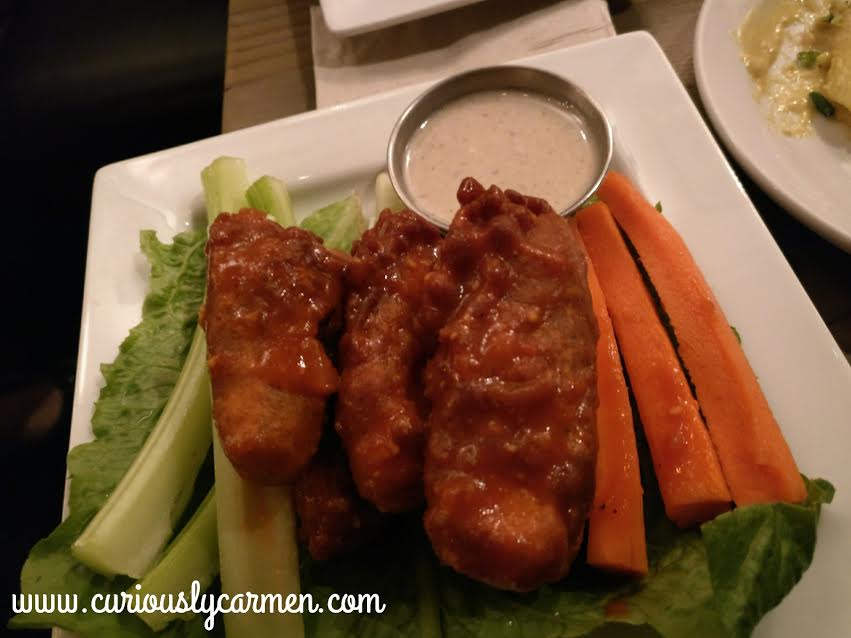 Hot chiggin' things, $9.75: This was their take on vegan buffalo chicken! The first bite had the texture of real chicken and I had to do a double take. But after a few more bites, it had a denser texture than chicken.
It was a bit too spicy for Avocado, so she only had one piece. After a couple more pieces for myself, it got pretty spicy so I took turns eating the creamy mac and cheese to balance the heat. The creamy dip was also pretty watery, so it didn't help to extinguish the heat.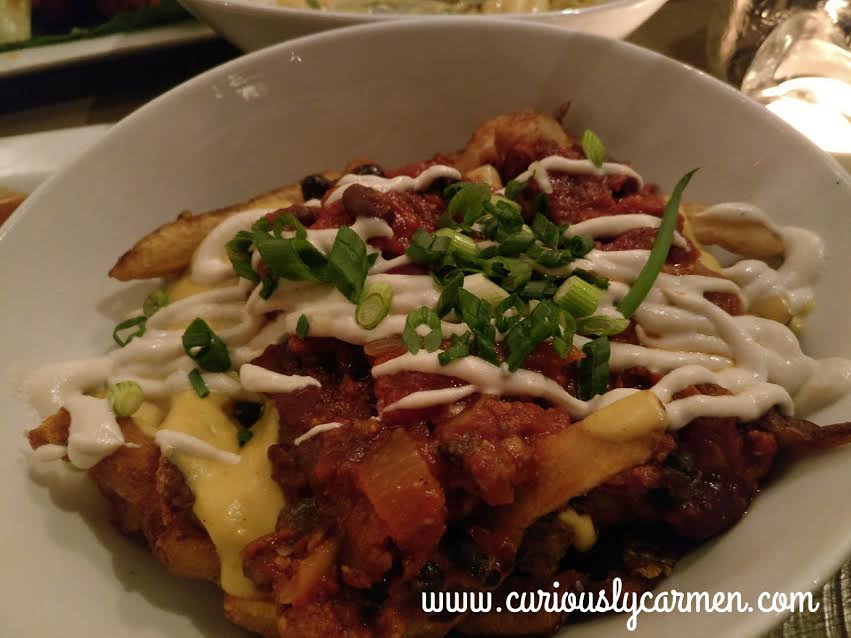 Chili cheez fries, $10.75: This was our least touched and we ended up packing most of it back home. Although it was good, I don't think the both of us were in the mood for fries as a main course, and my stomach wasn't feeling good from before so I didn't want to aggravate it with oily fries.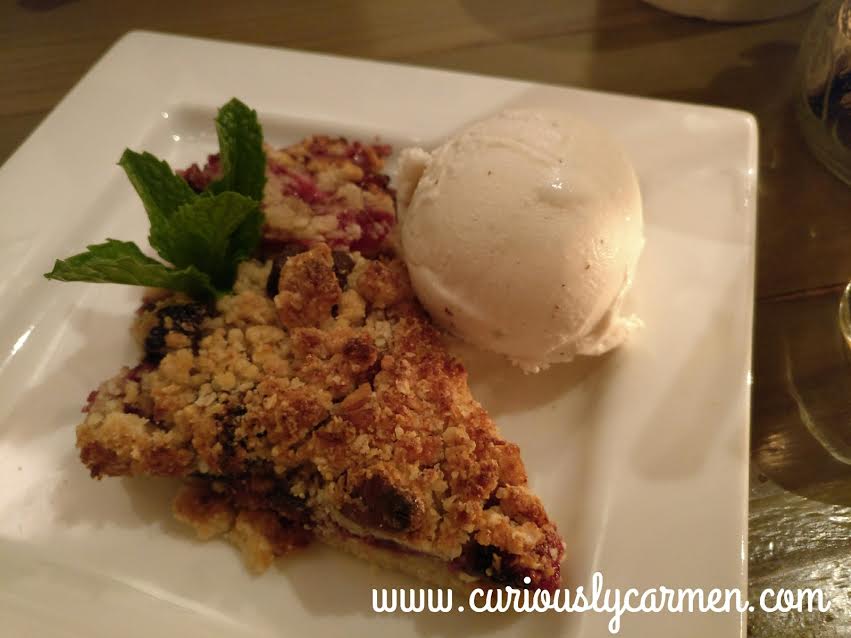 Warm raspberry crumble with a scoop of vanilla ice cream, $8.50: Even though we were both already full, I rarely get the chance to have dessert since it's usually always dairy (sorbet is boring) so we had to!
We actually ordered the chocolate pecan crumble but raspberry was fine too. It was okay, but definitely not worth the price. The vegan vanilla ice cream was delicious though. It was more of a vanilla bean flavour than plain vanilla and enhanced the flavour of the raspberry crumble.
All in all, we enjoyed our vegan adventure to Meet On Main. I would recommend hanging here with some friends for snacks instead of a dinner, especially if you want to try something new. Our server was also very friendly and attentive throughout the night.
Although, it is a bit on the pricier side for what the ingredients are so I wouldn't come that often. Maybe it's just me, but I felt it was overpriced for veggies. But I feel like Meet is a vegan restaurant staple in Vancouver, so I'm glad we got to check it off our list!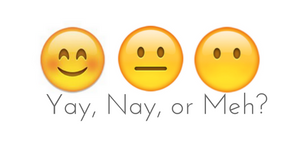 Yay!