Over the weekend, I attended the Vancouver Tea Festival, presented by the Vancouver Tea Society with a friend! Tea lovers congregated into the Croatian Cultural Center to discover and taste tea from over thirty different tea vendors. I spent the afternoon discovering many new tea companies and tasting tea, and left with a better appreciation of tea.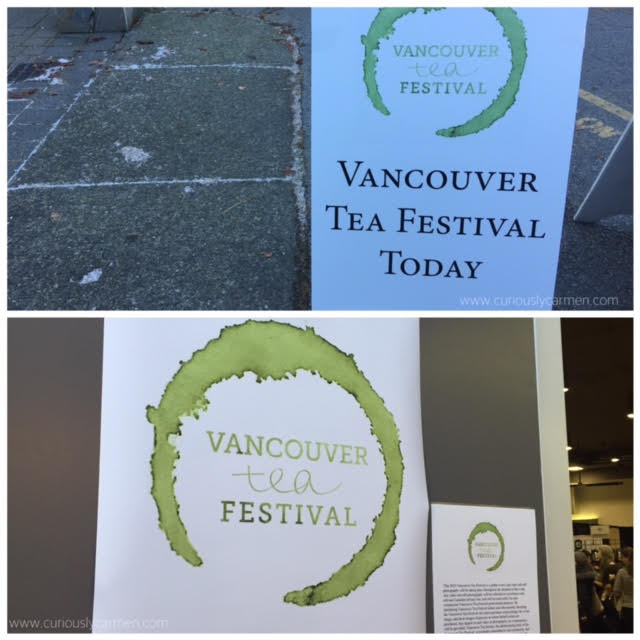 Since I don't have caffeine due to caffeine sensitivity (bad things happen when I have caffeine), I was only able to sample the herbal or caffeine free teas but there were so many herbal teas being offered that it wasn't a problem or frustration! I was a bit worried that my tea sampling would be limited but there was a good balance of caffeinated and herbal tea.
Also, my friend has a pretty extensive knowledge of tea and is an even bigger tea lover than I am, so I trust her opinion on the taste and quality of tea!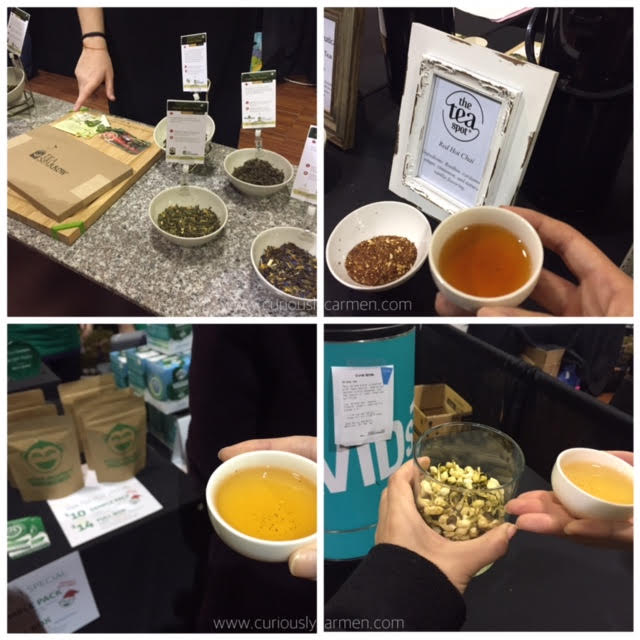 Top left, going clockwise
Tea Sparrow: The first stand we went to was Tea Sparrow, which I first saw at the EAT! Vancouver festival. Tea Sparrow offers monthly subscription boxes for tea. Unfortunately, the table was really busy so we didn't end up trying a sample here.
The Tea Spot: I sampled the red hot chai tea from them. It was pretty rich and full of flavour, but I'm not a fan of cinnamon so this wasn't a favourite of mine.
David's Tea: We (my friend) sampled the citron oolong. There was a very strong lemon/citrusy scent to the tea, which showed in the taste as well.
Wize Monkey: The packaging was so cute! They also had fake mustaches plastered on some of their products as well. I sampled the peppermint tea, which had a strong minty and refreshing flavour to it.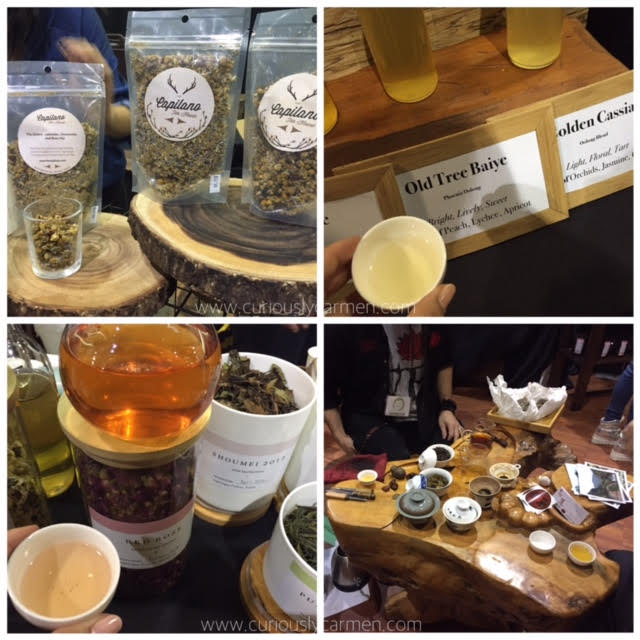 Top left, going clockwise
Capilano Tea House: I sampled the lavender chamomile tea here. It was just absolutely amazing and probably my favourite tea at the festival. The strong lavender taste made the tea very well rounded and fragrant. Chamomile is usually a lighter tasting tea, but I how well the lavender went with the tea.
Cultivate Tea: This was an oolong kombucha tea. Did you know that kombucha tea is made from fermented bacteria in sweet tea? I didn't know that! My friend drank a lot one time, and her face ended up getting red from the alcoholic content although she didn't feel drunk.
Crimson Lotus Tea: There was a big crowd around this vendor table as well, so we didn't get a chance to try their tea. However, it was the only table that had a carved wooden table set up for tea demonstrations, which I thought was pretty cool!
The Chinese Tea Shop: I tried the red rose herbal tea, but it was nothing new to me since my dad has a big jar of this at home. The flavour was pretty light although fragrant. We usually add dried rosebuds like this to other teas, I think this would go well with chamomile tea!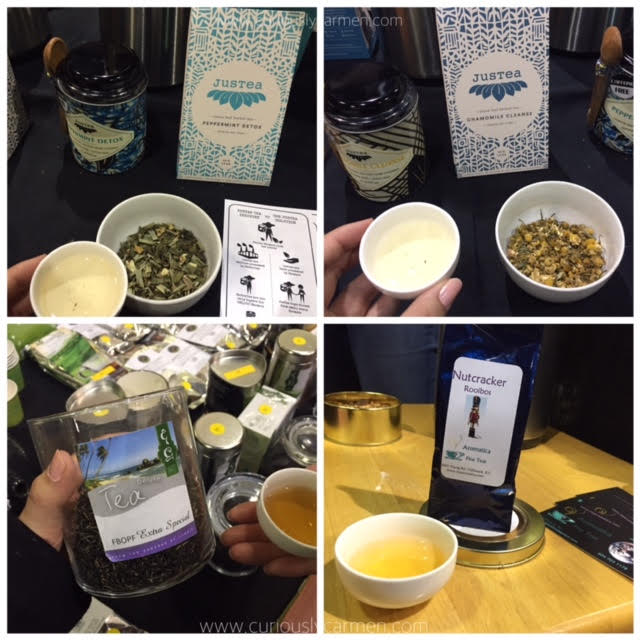 Top left, going clockwise
Justea: We were really drawn in by the packaging of their products! Luckily, they had two samples of herbal tea so I tried the peppermint and chamomile tea. The peppermint tea had a very strong and minty flavour, great for those days when you have a sore throat or congested nose. As for the chamomile, the flavour was pretty light.
Aromatica Fine Teas: Their rooibos tea was also one of my favourites. It was a nice, rich rooibos tea with hints of apple and nutty flavours.
Lumbini Tea: One of their green teas hold a patent for the way that it is hand rolled in Sri Lanka. I wish that I took a photo of it, but I had never seen green tea rolled in that way before!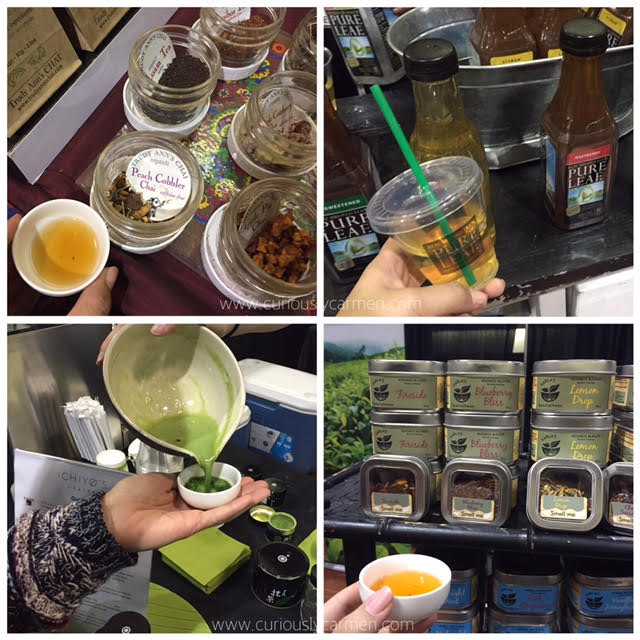 Trudy Ann's: Normally I stay away from chai because it is usually served as a chai black tea, which contains caffeine. However, I was happy to discover Trudy Ann's as they have many chai flavoured herbal teas! I sampled a few of their teas, but my favourite was the peach cobbler chai. It was very rich and sweet, and would make a delicious dessert tea.
Pure Leaf: I've seen this brand many times and tried their tea before, so I didn't try it again at the festival. Their tea is pretty light and slightly sweetened, with different flavours that you're able to choose from.
Karla's Specialteas: Karla had a big selection of tea to sample and buy, all packaged in small and durable tea tins. I tried the fireside tea, which is a rooibos and fruit blend tea. I was blown away by the amount of flavour in it since the colouring of the tea wasn't that dark! The tea had a strong and delicious berry flavour, perfect for those fruit tea lovers.
Ichiyo: I could smell the matcha as we were approaching their table! I really wanted some, but was able to resist! My friend said it was amazing, and even talked about it afterwards. I could definitely see the quality in the matcha!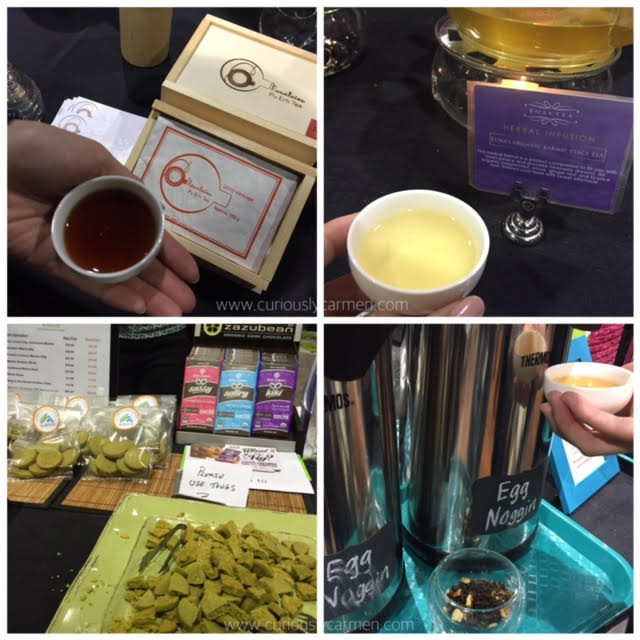 6 Mountains Tea: My friend sampled the pu-erh tea here.
Shaktea: I have been to the Shaktea store on Main Street before, but haven't tried this tea before. I read the tag wrong and was expecting a peach tea (it said peace, oops), but what I tasted instead was a strong hit of peppermint. The peppermint tea had a round, sweet aftertaste due to the licorice.
My Steeped Tea: This table was featured on Dragon's Den, and even had their episode playing in the background. I'm a big fan of Dragon's Den so naturally, I was drawn to this table. Seems like the company is doing well after signing a deal with one of the dragons! Their egg nogging tea is a blend of black and green tea, which my friend enjoyed.
My Matcha Life: The only table that was giving out food- matcha cookies, that is!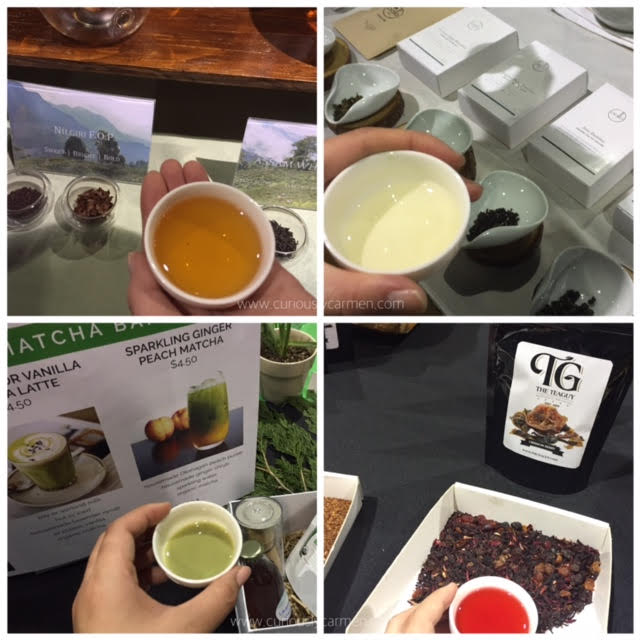 Young Mountain Tea: The team here was very kind and sweet! They drove here from Oregon to attend the festival. My friend sampled the Nilgiri FOP tea, with the FOP standing for three ingredients in the tea that I can't recall anymore. It had a slight honey taste to it.
Oollo Tea: My friend sampled the oolong tea here, while we were trying to figure out how to pronounce the company's name! Their logo is actually an infinity symbol, I just typed in oollo tea hoping that something would show up.
The Tea Guys: The last table of the day! Phew! Before we knew it, 1.5 hours had gone by. This was a great tea to end the festival with. Similar to Karla's Specialteas, this herbal berry tea was full of delicious fruity flavour!
Amoda Tea: Amoda Tea was one of the few tables that were selling full sized drinks to go. My friend sampled the matcha vanilla lavendar latte, which she really loved. I was able to talk to one of the co-owners of this company, and learned about a new app called Ant Square which connects consumers with local shops.
—
Even if you aren't a tea lover or know much about tea, I would recommend attending this event as you get to taste so many different types of tea in one place. You're bound to find a tea you love here. Thanks for a great event, Vancouver Tea Festival!
-Carmen
Media passes provided. Opinions are own.