Konnichiwa from Kyoto, Japan! The fiance and I are back in Japan! I have a backlog of food posts though in my absence. Stay tuned for Japan posts next month!
——–
De Dutch has been around for quite awhile! I remember going to the De Dutch a few times in North Burnaby as a kid. They seem to fly under the radar because I don't see or hear about it often. But it's time I give them much deserved attention on the blog!
We came here because they had a birthday promotion. If you signed up for their emailing list, they give you a free pannekoek (Dutch pancake) up to a value of $14.50! Since we didn't get a chance to go during the holidays, we came in the new year because the coupon is valid for approximately 3 months.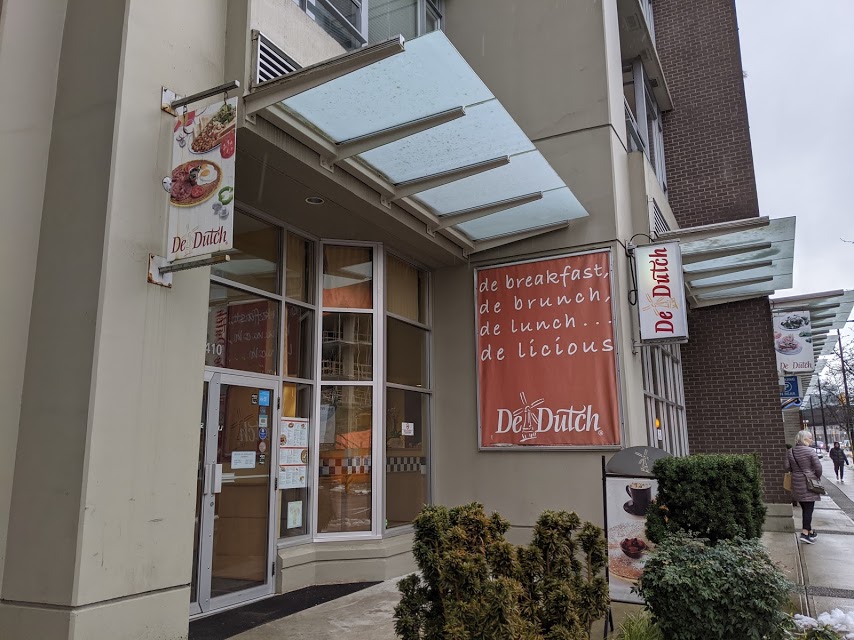 The fiance and I went to the De Dutch in Olympic Village, which we didn't even know existed until looking on their website even though we are in this area a lot! They are located on West 2nd which is a busy street. This just shows how under the radar De Dutch is haha.
The last time we went to a De Dutch location was when we started dating many years ago, when I took him to the North Burnaby location.
The restaurant was about half full when we came on a Saturday morning around 10am. The atmosphere inside was calm and slow, which I appreciated. I'm not a fan of chaotic and noisy environments! The restaurant was clean, tidy, with comfortable seating.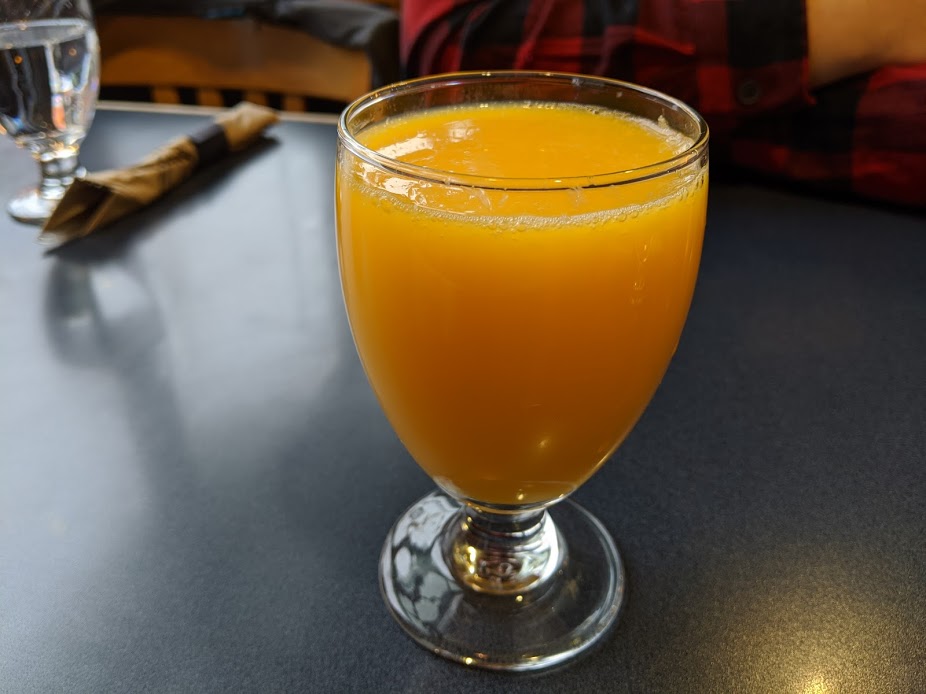 Freshly squeezed orange juice: Marketing worked on me that morning when I saw the OJ being advertised. Their OJ is freshly squeezed and it sounded delicious, so I ordered a glass. And delicious, it was!
The orange juice was pulpy, very fresh tasting and definitely not Minute Maid (although I do love my Minute Maid so no shade being thrown here).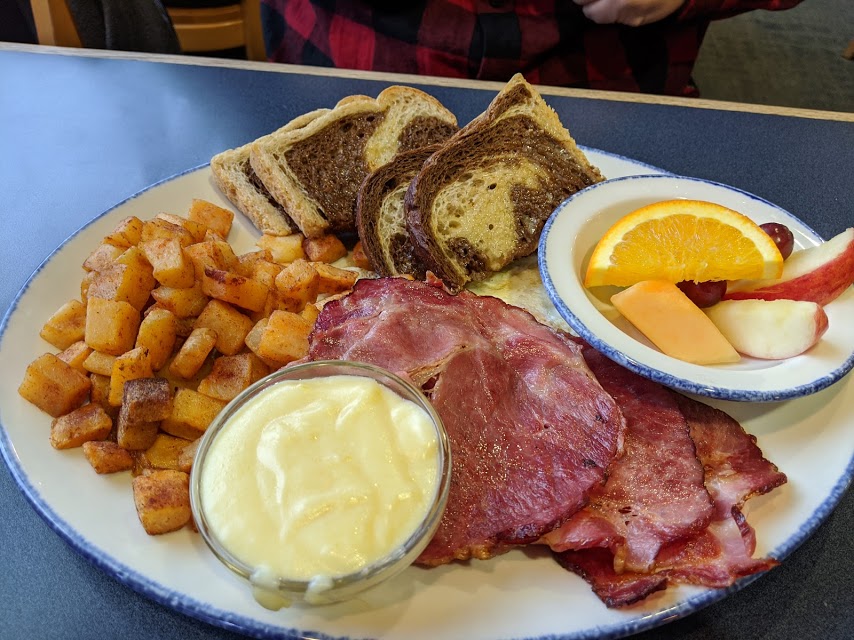 Debakon and eggs breakfast platter: The fiance went with their Dutchmen Platters, and chose the debakon and eggs one. This was a massive, hearty and filling platter!
Debakon is the Dutch twist on bacon. Rather than being in strips, they came in large slices. The slices reminded me of a ham and bacon mix. The potatoes were crispy and delicious. If you look carefully under the debakon, you can also see the two over-easy eggs which were nice and runny, perfect for dipping the potatoes into.
The only complaint on the platter were the fresh fruit. The canteloupe was very bland and flavourless. The apple skin had a strange bitter taste too.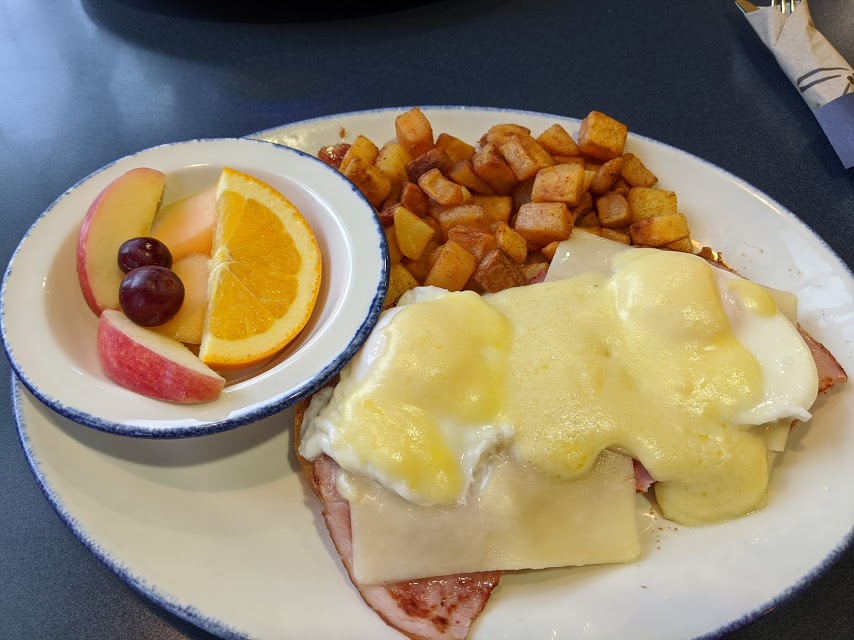 Eggs Amsterdam: It's unusual that I order the eggs benny, usually it is the fiance who does! After debating between the smoked salmon benny or this one, I decided to go with the Eggs Amsterdam which had ham and Dutch cheese.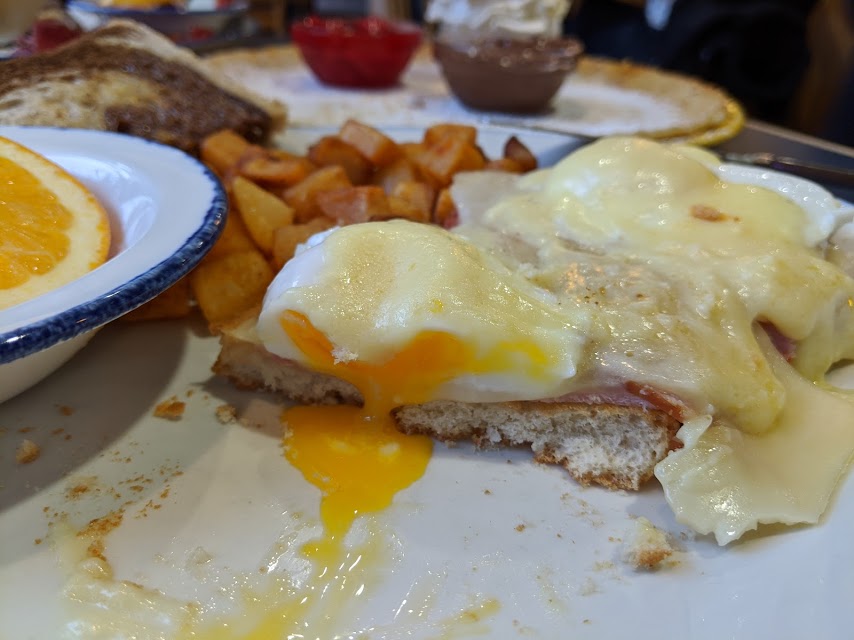 The poached eggs were perfect, with a nice runny yolk! In addition, the Hollandaise sauce was deliciously rich and buttery. The fiance who is a huge Hollandaise sauce fan, gave it his seal of approval.
The difference with the eggs benny at De Dutch is that they come on a Dutch rusk, which is a twice baked biscuit. I didn't like it at first because it was hard and crunchy, but after a few bites and with the delicious Hollandaise, I didn't mind.
I also found that the fruit was not good. The cantaloupe was tasteless and the apple skin had a bitter taste to it.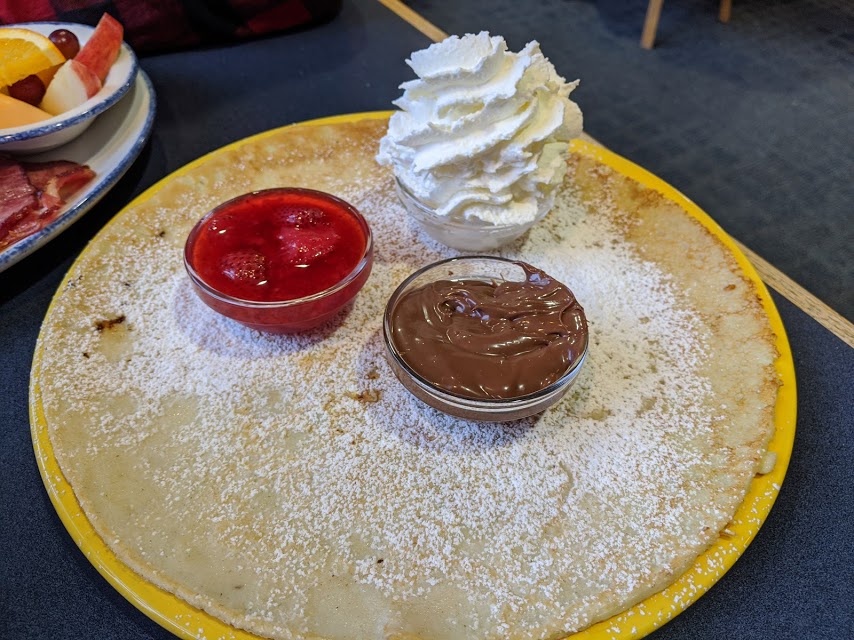 Chocolate, strawberry and whip pannekoeken: The reason why we came here! The chocolate and strawberry was the perfect combination for us!
The pannekoeken is quite large. I remembered the pannekoeken being paper thin, almost crepe like, which is why we ordered two breakfist dishes. My memory from years ago proved to be wrong because it was actually thicker. I would say it was in between a crepe and pancake.
You could pick between Nutella, or chocolate sprinkles. We went with the Nutella and it was an excellent choice. They gave us a lot of Nutella, strawberry syrup, and whipped cream.
There isn't much taste to the pannekoeken, so it relies on the toppings and the powdered sugar sprinkled on top. It also had a slightly chewy texture to it. The combination of Nutella and strawberry was delicious!
All in all, we enjoyed our breakfast and free birthday pannekoeken at De Dutch. It has been many years since we came, but we will be back again in a few months when it is the fiance's birthday, for another free pannekoeken!