During our trip to Las Vegas last year, we wanted a hotel that was relaxing, quieter and low key compared to the hotels on the strip. We came across Tuscany Hotel & Suites, which matched our preference perfectly. This probably comes across as weird for people who come here to party. We do like the excitement and glam of Vegas, but also wanted a quiet place to escape to.
It was a 5 minute walk from the strip (to the Bellagio and Flamingo hotels so very central), but offered a slower and calm vibe to escape the craziness of Vegas.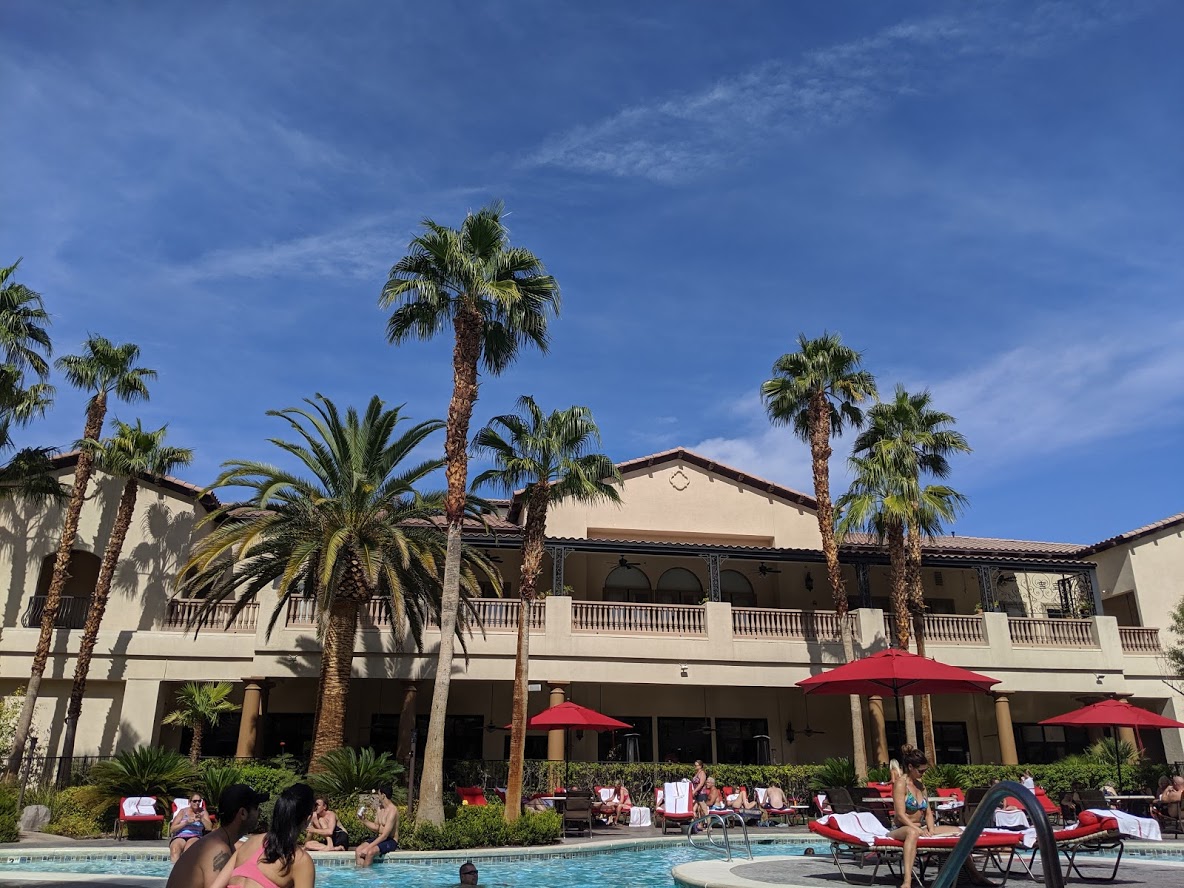 Location: Tuscany Hotel was quite spread out, which is quite unusual given the proximity to the strip and cost of land.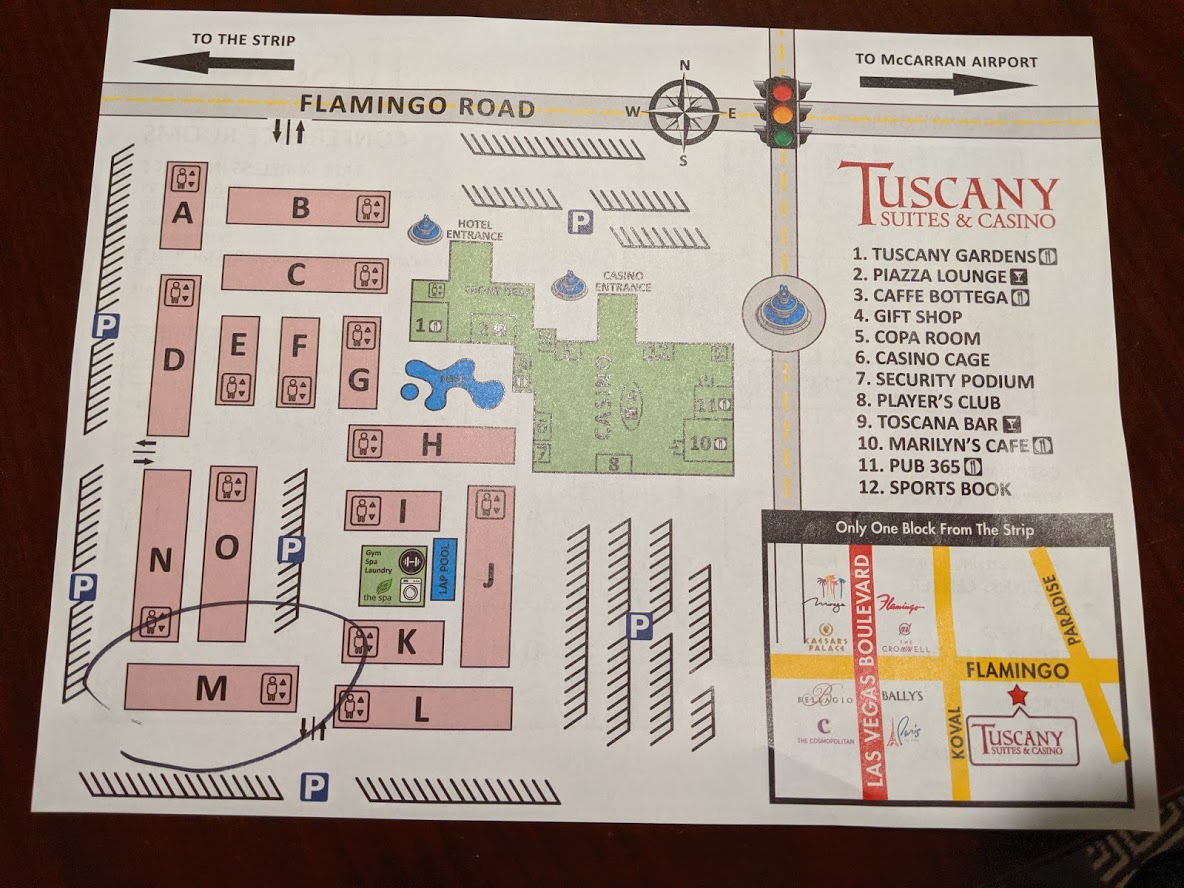 Instead of a single tower building, they had 15 (yes, fifteen!) three storey buildings, plus the main lobby, casino and restaurant building. This map shows all the buildings. The red buildings are the guest rooms, while the green building is the lobby/restaurant/casino building.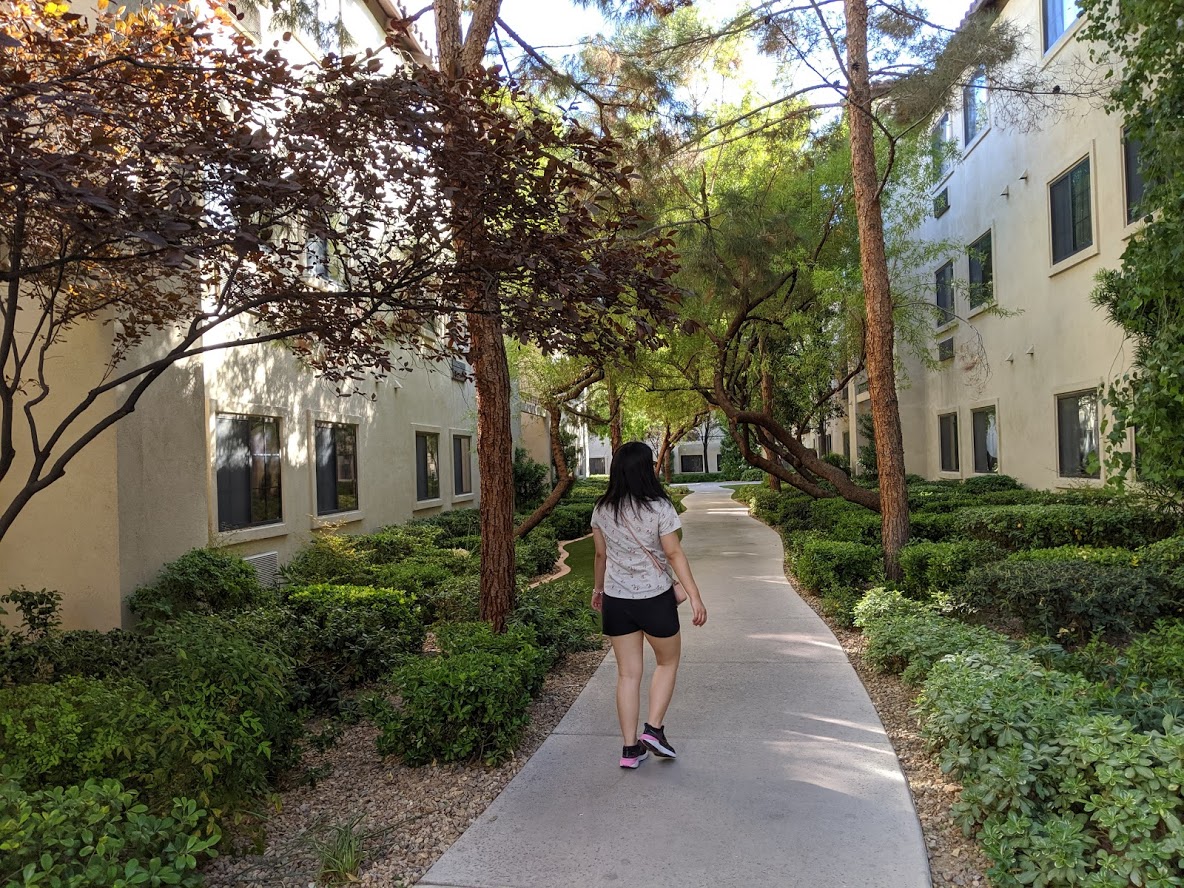 We requested a room in the furthest building because I am a light sleeper, and didn't want to be possibly waken up by loud people in the middle of the night. This worked out well, but the only con obviously was that it was a further walk, probably about an extra 4 minutes.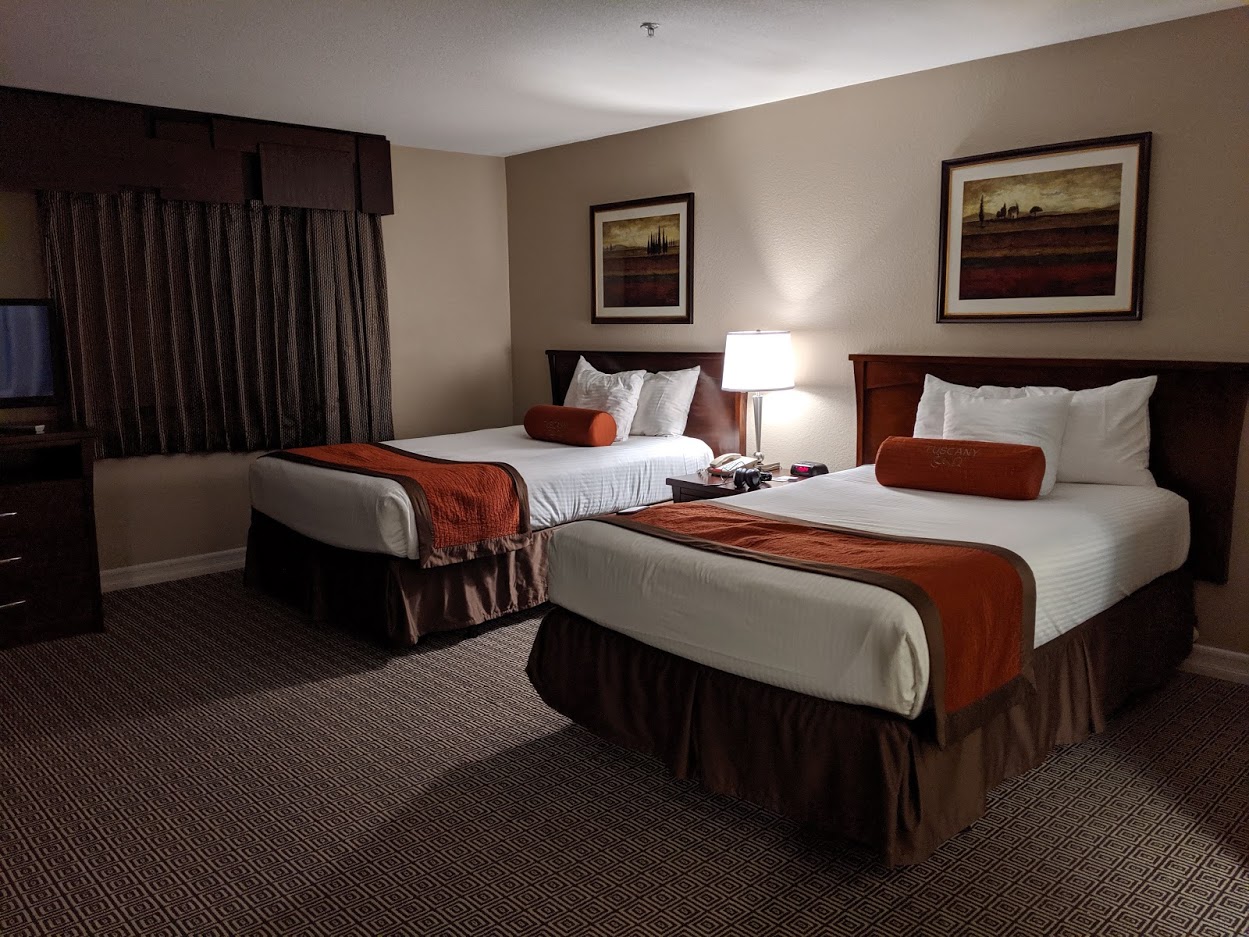 Room: The hotel room itself was pretty standard with no major complaints. There was a kitchenette, a sitting area, and two queen beds. The only king sized beds available during our stay was a smoking room, so we picked the two queen beds.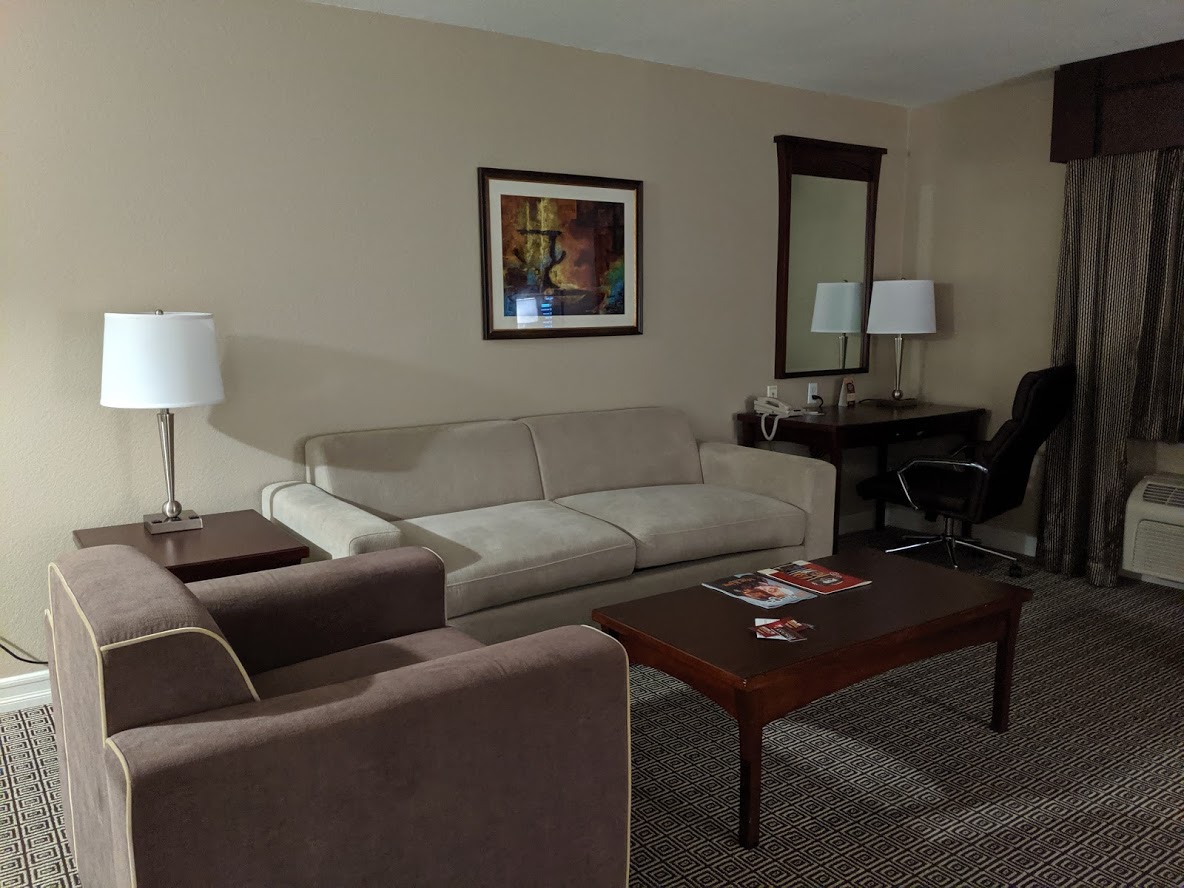 The beds were comfy, and the multiple pillows were fluffy. We came from Sunday-Thursday, and didn't experience any major noise that disrupted our sleep. If you're a light sleeper like I am, I would recommend getting a room further away from the lobby/casino building which has a lot of visitors, and also away from Flamingo Road which was a busy road.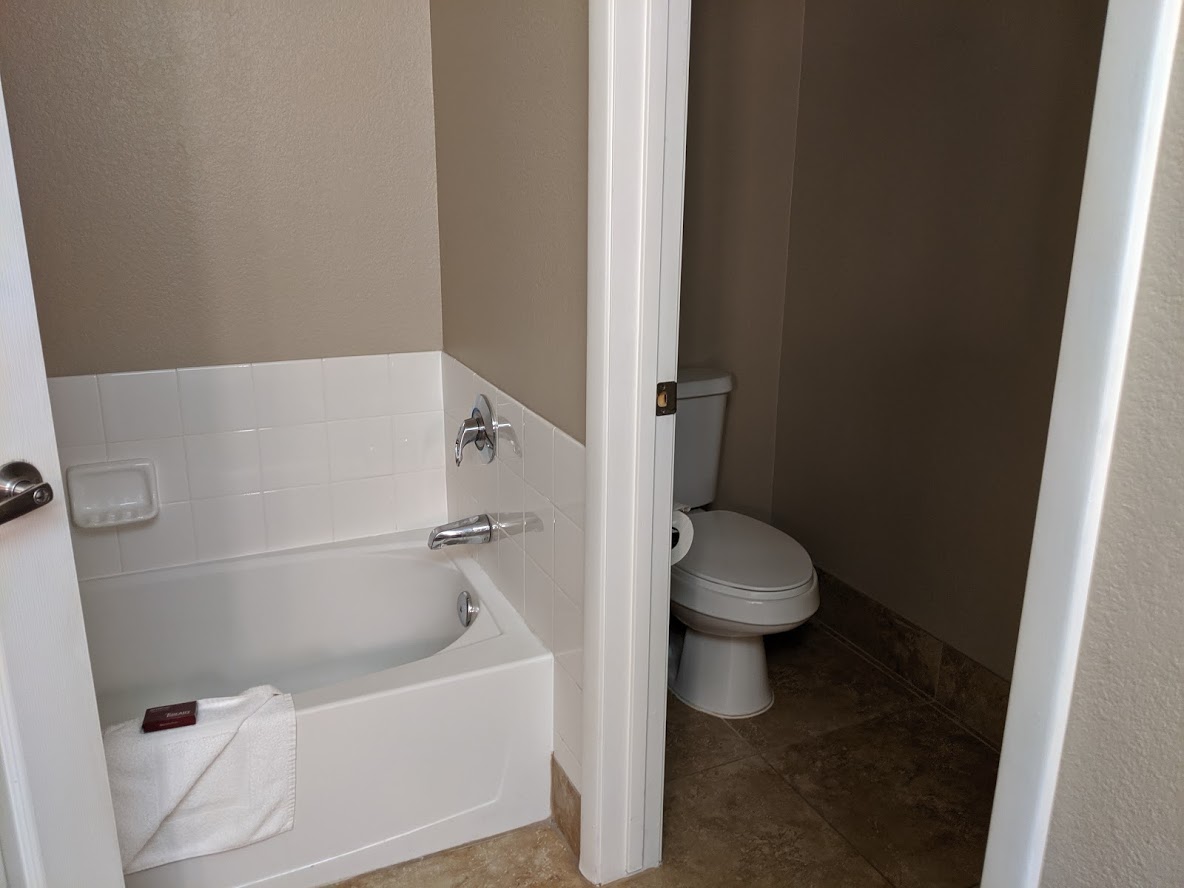 Washroom: The washroom was split into two sections, which I actually prefer this way. The toilet was in a small room covered with a door, while the shower, sink, and bathtub were separate. This way, you could shower while someone else is using the toilet, etc.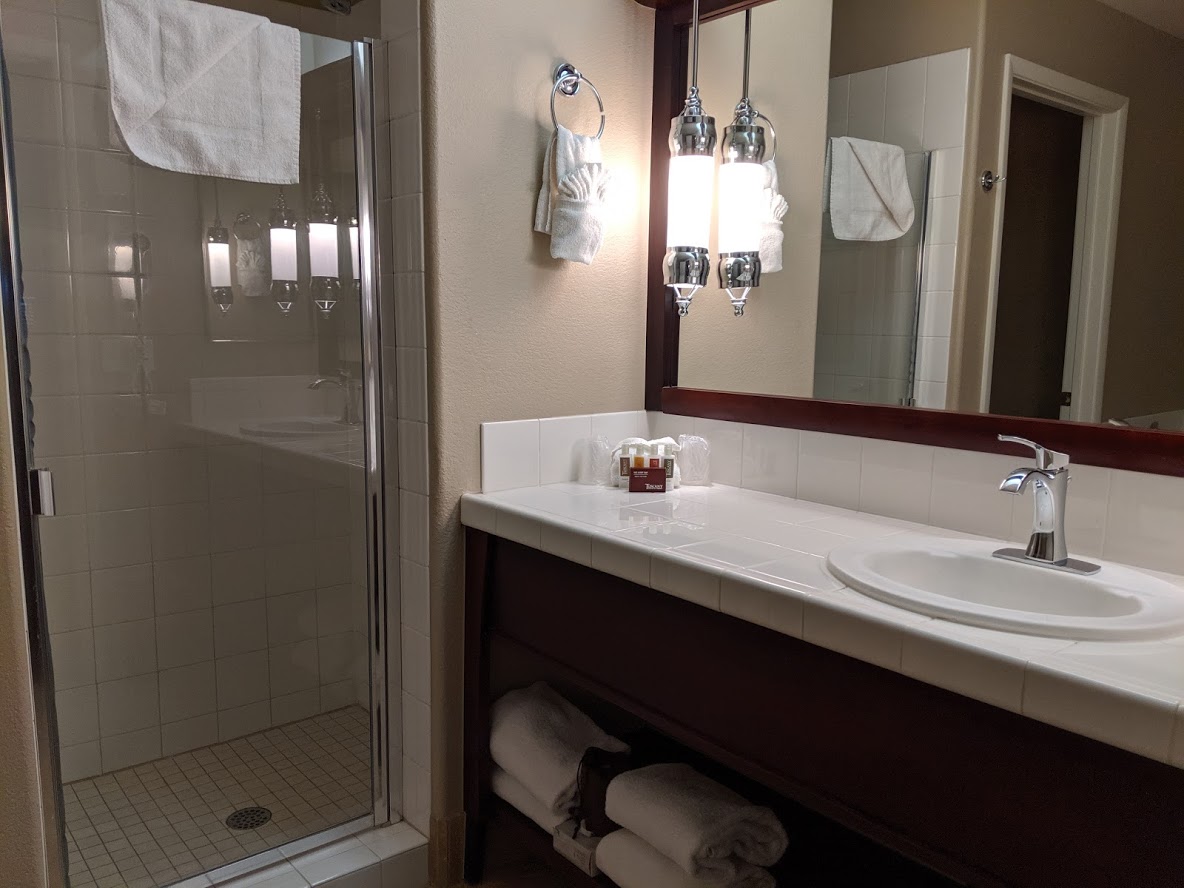 The shower pressure was great. However, the water temperature was very finicky. One tiny adjustment and you go from warm to extremely hot water.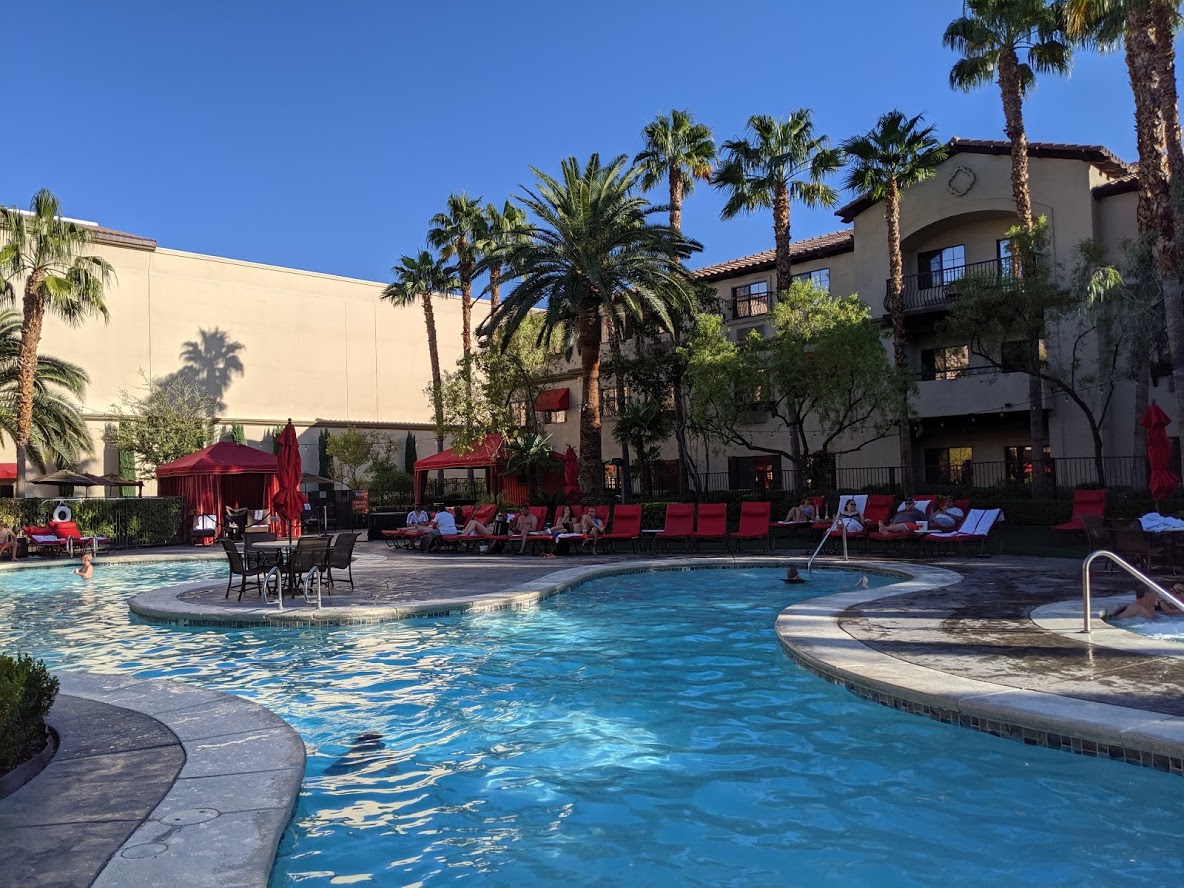 Amenities: I really enjoyed the outdoor pool and lounge area! It was relaxing, and we came here a few times to recharge. There were enough pool chairs for everyone (keep in mind this was low season, mid October weekdays). Tap water in Las Vegas is not tasty, so I took advantage of the filtered water station inside the pool area.
In addition to the outdoor pool, Tuscany also had an indoor pool, sauna and gym.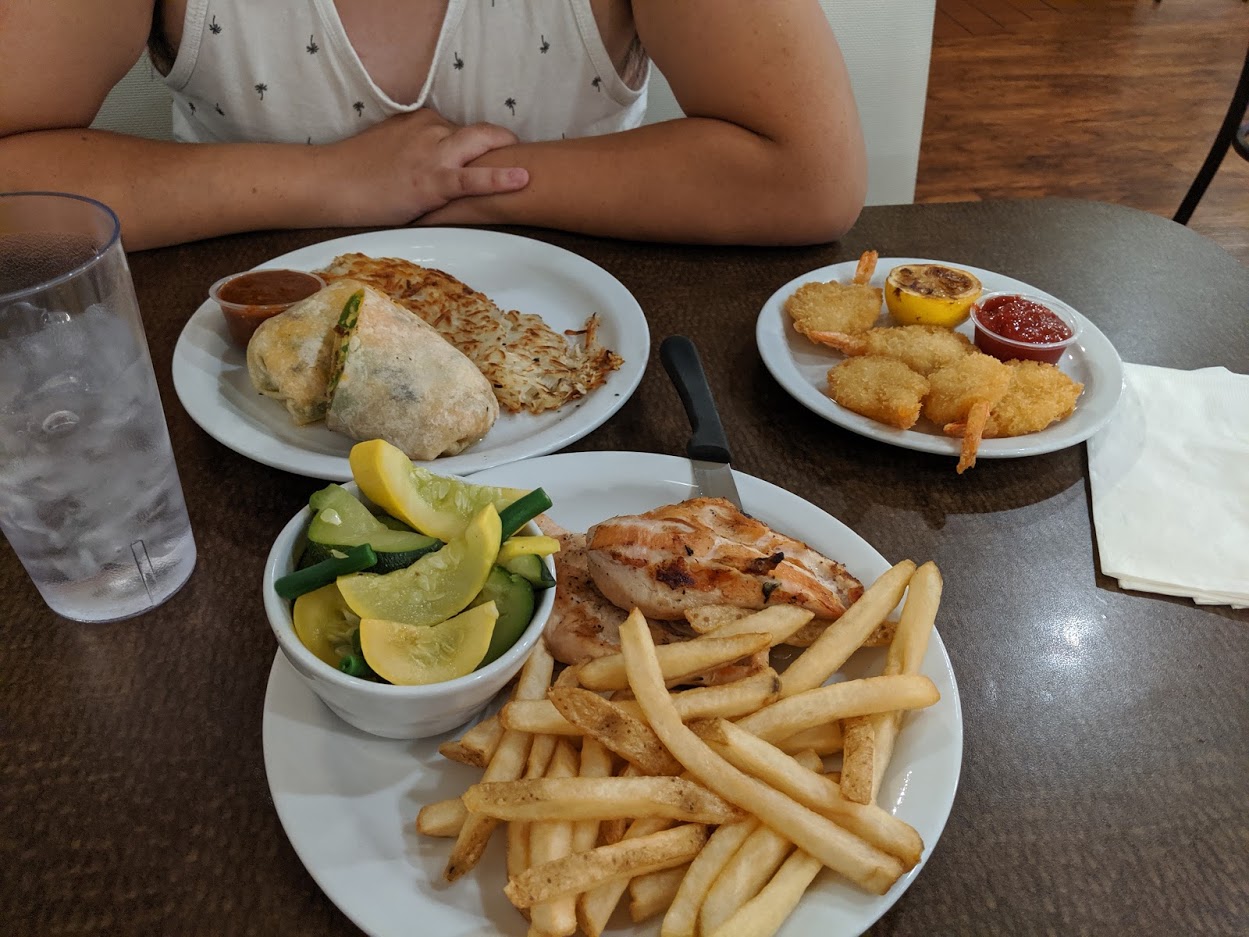 Dining: Apart from the casino and pool in the main lobby building, they also had 3 restaurants and 1 coffee shop. We only went to one of the restaurants, Marilyn's Cafe.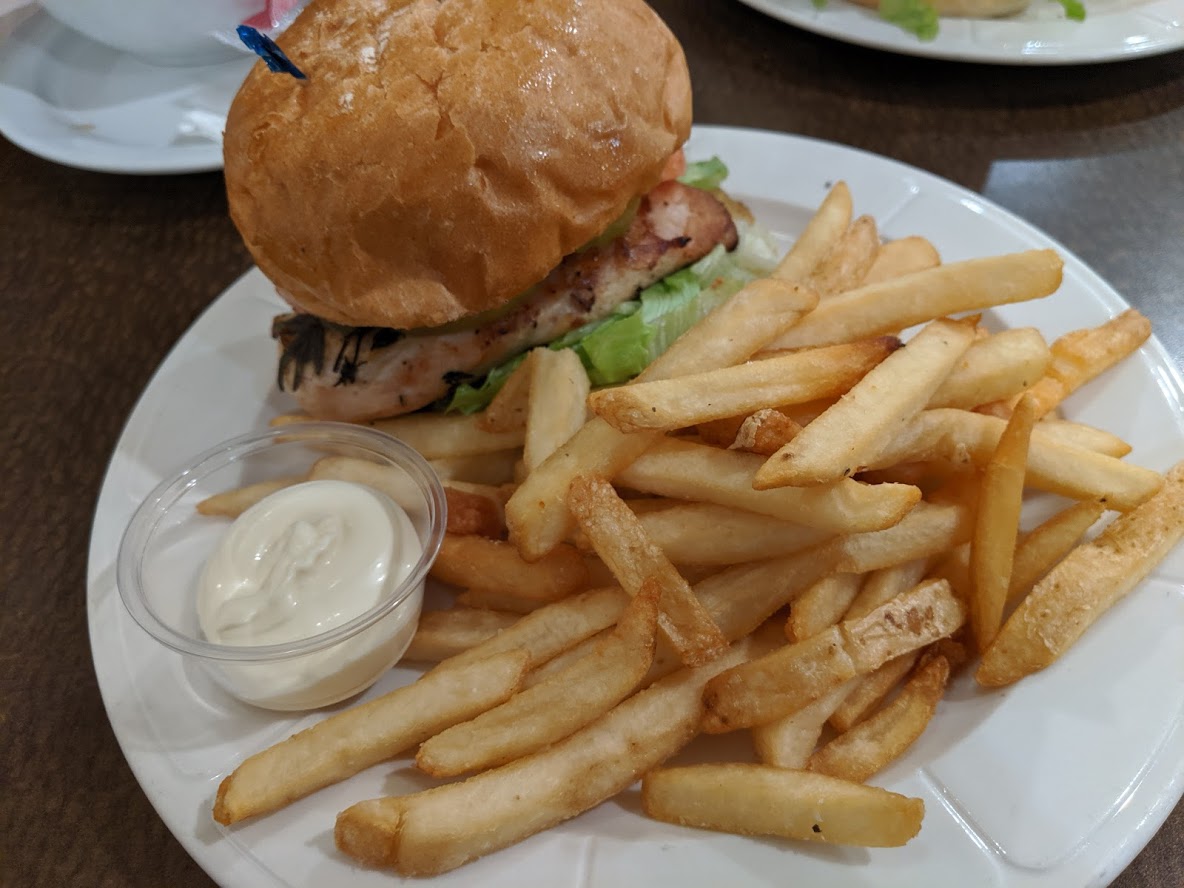 The pricing at Marilyn's was very affordable, and portion sizes were very filling. The chicken burger and fries pictured above was about $10 USD! You definitely can't get that kind of pricing on the strip.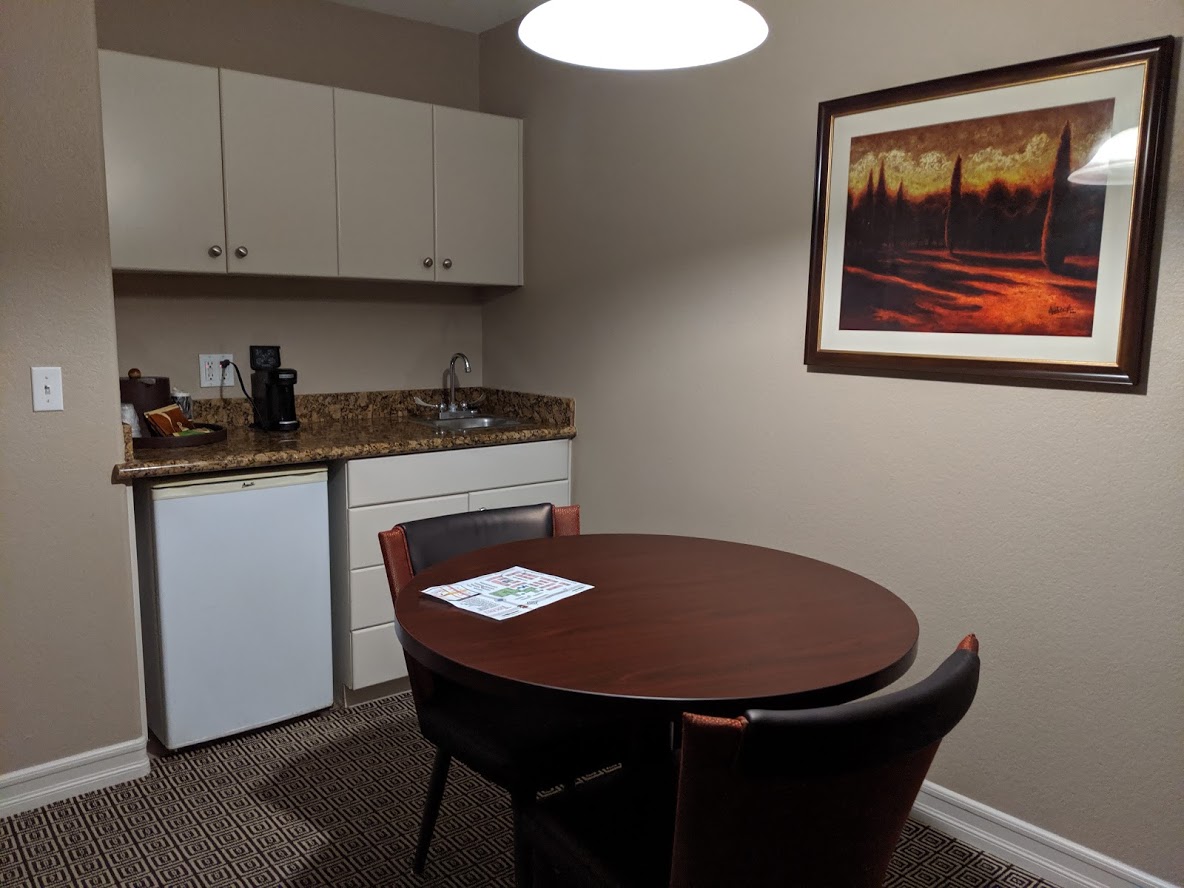 Cons: They were just small issues, not big enough for me not to stay here again, but I try to be transparent and informative in my reviews.
Housekeeping: Housekeeping did not do a good job in cleaning the room. We found an old brownie in the garbage can on the first day, right when we checked in.

Washroom fan & light: The washroom fan and light were insanely loud, like jet engine roaring loud. It got quite annoying so we ended up turning on the small light in the toilet room (separated from the shower/sink/bathtub) instead.

Squeaking/loose floorboards: In certain spots of the room, the floorboards were squeaky and felt uneven.
Pricing: Most hotels around the Vegas area also include a resort fee. This was the case with Tuscany as well. Including the resort fee and taxes, I forgot the exact price but we did not pay more than $100 CAD a night. A very great deal considering how close it was to the strip and how great the room and amenities were! (Pricing as of Oct 2019)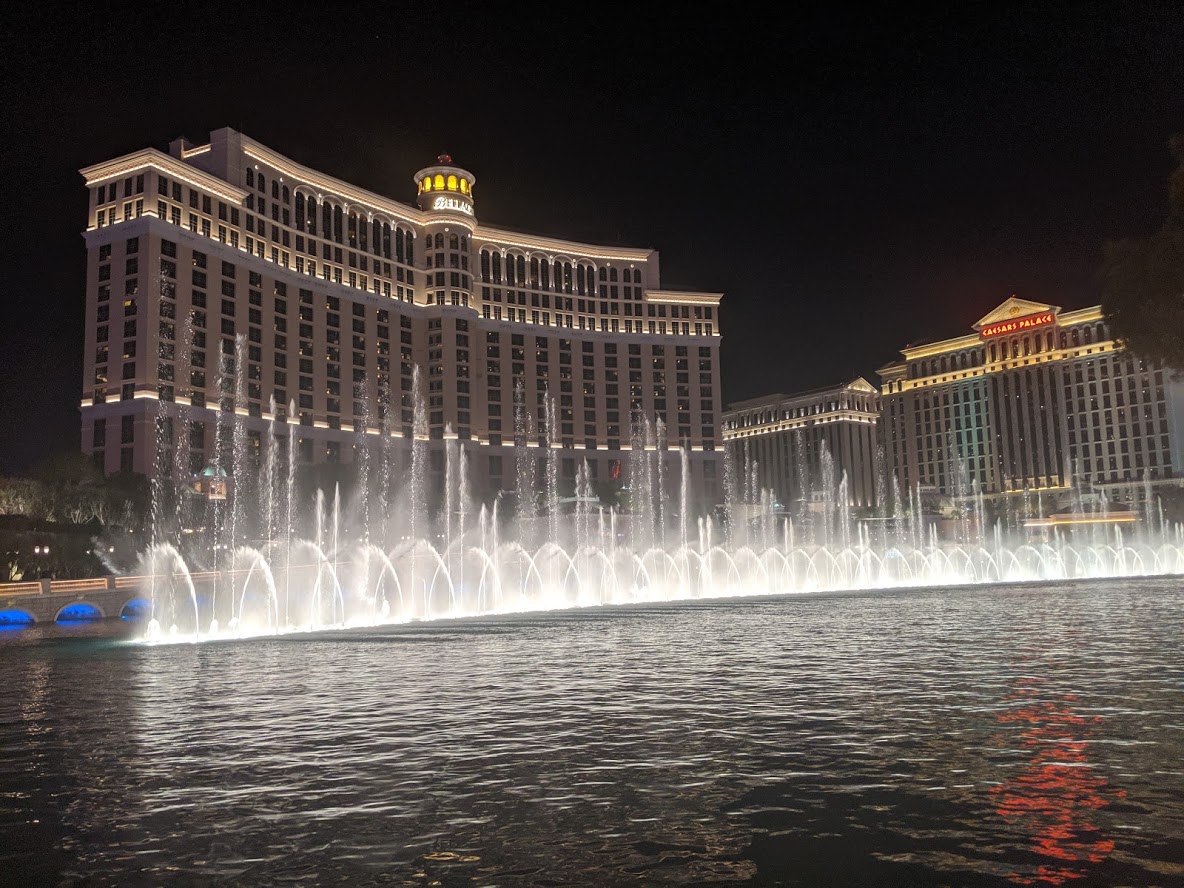 Summary: There were a few minor hiccups but overall, I was satisfied with the hotel. I liked how it was peaceful, not overcrowded, yet within 5 minute walk to the strip. Don't get me wrong, we love the excitement of Vegas, which is why we came here in the first place, but it was also nice to take a break from that and recharge.
If you're looking for a more peaceful, calm hotel but still very close to the excitement of the strip, I'd recommend Tuscany Suites and Hotel.
This review is not sponsored.