This is the fourth time Chad Thai has been featured on my blog now! I've enjoyed going here each time, and always make a note to come here more often, but I don't crave Thai food as much as I do with other places.
I usually write re-visit posts after 2 years, so I figured it was time for an update. It's hard to believe that 2 years has passed, it seems like a year or less because 2020 was just a blur and we can pretend it didn't happen. You can see my first, second, and third post. I've been a few times in between the reviews too.
Recently, a new Thai restaurant opened up a couple blocks away from Chad Thai, Siam Le Bien, which the husband and I didn't enjoy as much. You can click to read my review on it.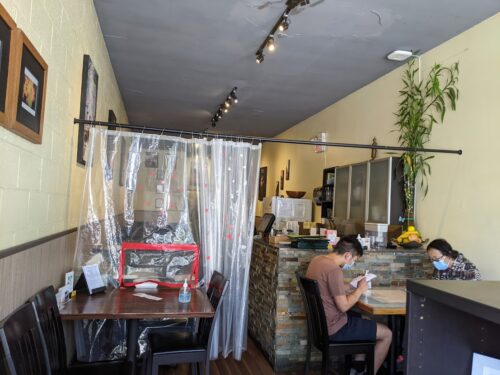 I haven't been here since the pandemic though. They seem to have some sort of shower curtain (?) to separate the takeout and dine in orders. When Jerky and I first arrived for lunch, we thought maybe they weren't doing dine in but they were.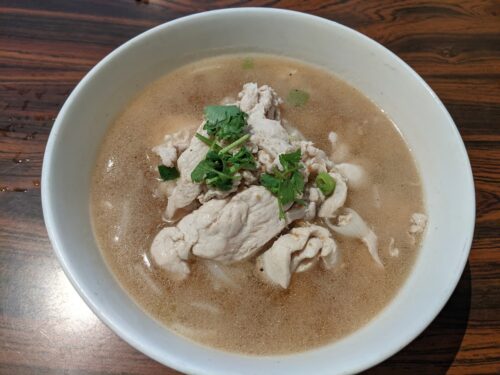 Thai chicken noodle soup: I ordered this during my previous visit and remembered that it was light but delicious, so I decided to give it a try again. It did not disappoint! The broth was light and clear, but flavourful. Thai chicken broth tastes different and I'm not really sure how to describe it, but it was good.
The chicken breast inside the noodle soup was also juicy.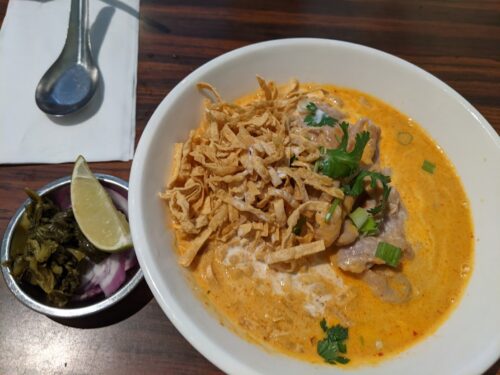 Lunch combo: Chad Thai had some reasonably price lunch combos that come with a side. I don't remember what he ordered, but he enjoyed it. I think it was some sort of curry with pork.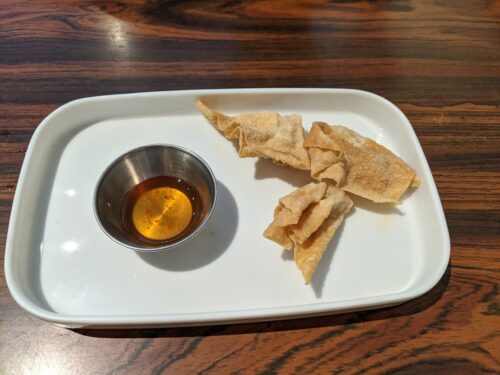 Crispy wonton: The side for Jerky's lunch combo that day was the crispy wontons. They are deep fried wontons with marinated ground chicken and veggies. The wontons were crunchy, and Jerky enjoyed them.
Chad Thai has been a reliable staple in this area! If I'm craving Thai food, my two places to go are either Chad Thai or Bai Bua. Both have not disappointed during my many visits.