This review is a long time coming! Back in August, Cola, the monkeys and I had lunch at Green and Oak. I had heard about this restaurant, which took over Mr. Chili a couple of years ago. I'm not surprised that Mr. Chili shut down because it wasn't good.
The monkeys had mentioned that they liked Green and Oak before, and the menu looked decent so we came here one afternoon.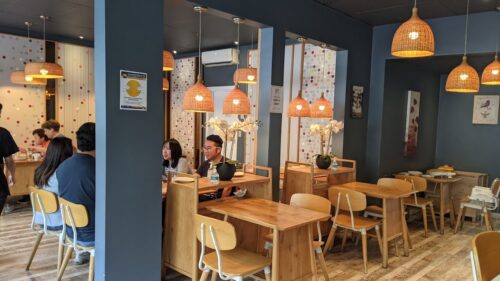 I was really surprised at how good it was here. We have been sleeping on Green and Oak this whole time! I brought some takeout back for the husband, who also loved it. Since then, we have gotten a couple of take out orders and Green and Oak has quickly risen to one of our favourite restaurants, which I never would have expected!
The restaurant was really clean and nicely decorated with a wooden theme. I also appreciated that they had wooden shelves under the table for bags.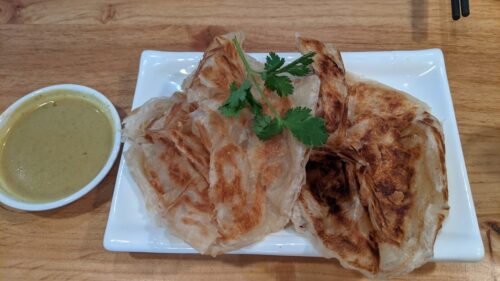 Roti bread: We started with a roti bread, which was delicious and served hot and fresh.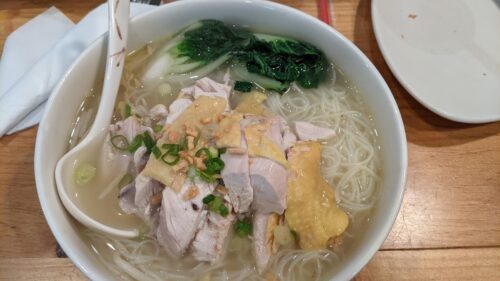 Clear chicken noodle soup: I was surprised to see a clear noodle soup on the menu. Usually, Malaysian places don't have clear noodle soup. I was curious if it was any good, and decided to order it with vermicelli noodles.
Firstly, the chicken soup is a great deal because it came with Hainanese chicken (I think?). There was so much chicken in the soup, and it was juicy, flavourful, and tendor. The soup base was also flavourful and garlicky. I really enjoyed the noodle soup and would get it again.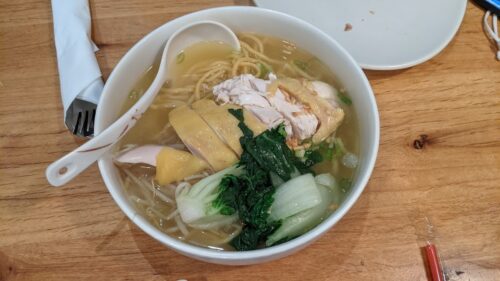 Clear chicken noodle soup: I didn't know this, but the chicken noodle soup is the monkeys favourite! They come here often and always order this. They chose the egg noodle. You can pick from egg noodle, vermicelli, rice noodle, or a mix.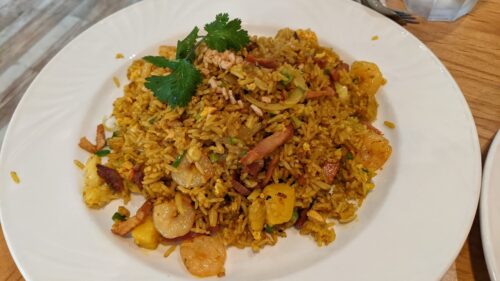 Pineapple fried rice: Cola picked the pineapple fried rice, and it was delicious! The fried rice was very flavourful and had a generous amount of prawn, BBQ pork, and pineapple.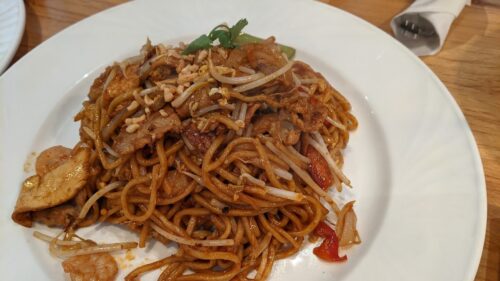 Mee Goreng: The mee goreng was absolutely delicious as well. I don't normally order mee goreng and am not sure how it is supposed to taste, but we all really enjoyed it.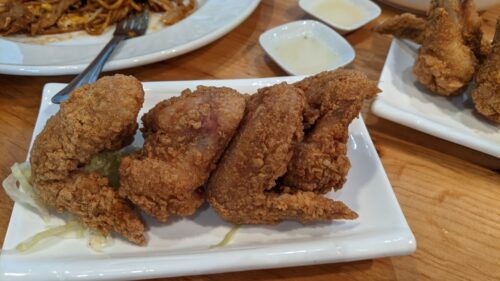 Fried chicken wings: The monkeys are also a big fan of the chicken wings, and I could see why. The chicken wings were piping hot, fresh, and crunchy. Each order comes with 4 big pieces. The chicken wings also came with a lemon vinaigrette sauce which complimented the chicken wings well.
---
Now, on to our two take out orders!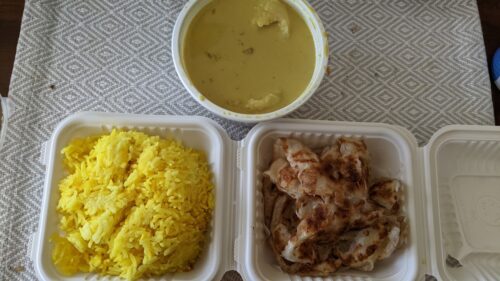 Malaysian curry seafood on rice: The husband decided to try one of their curry dishes, and he really enjoyed it. The seafood curry had a lot of seafood inside. The curry was also really fragrant. He switched the rice for the chicken oil rice, which was delicious too! The roti was delicious when dipped into the curry.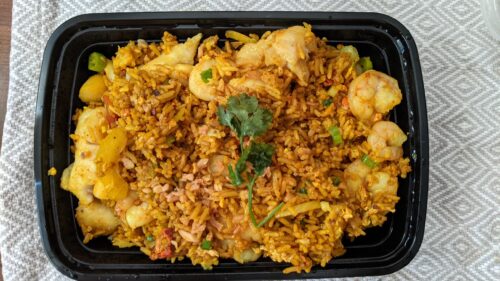 Curry seafood fried rice: I ordered the pineapple fried rice, but when we opened the takeout container, we realized they gave us the curry seafood fried rice instead. I didn't mind too much because this was really good too. They were quite generous with the shrimp and fish pieces.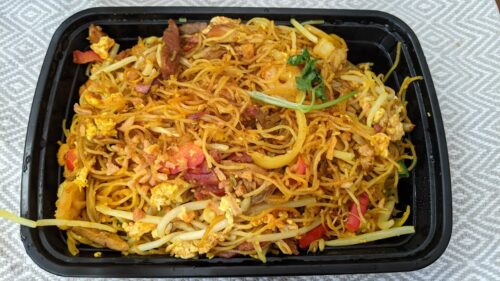 Singapore fried vermicelli: The singapore fried vermicelli was soooo good. This is usually served in Chinese restaurants too, but I found that Green and Oak included some fried shallots in here which elevated the dish even more! There was a strong curry powder taste which I loved.
---
After one dine in visit and two take out orders in the past month, it is safe to say that we are fans of Green and Oak! We have tried a few different items and they were all good. We will definitely be coming back here or ordering more takeout.