This post is a long time coming, because I've wanted to try Vashti Rose for a long time now! I started to receive Facebook ads awhile ago. Targeted ads work people!!! Lol.
Vashti Rose caught my eye because they had just as many vegan flavours as regular dairy flavours. We finally went to try it and ended up going twice in a week, because we were in the area both times!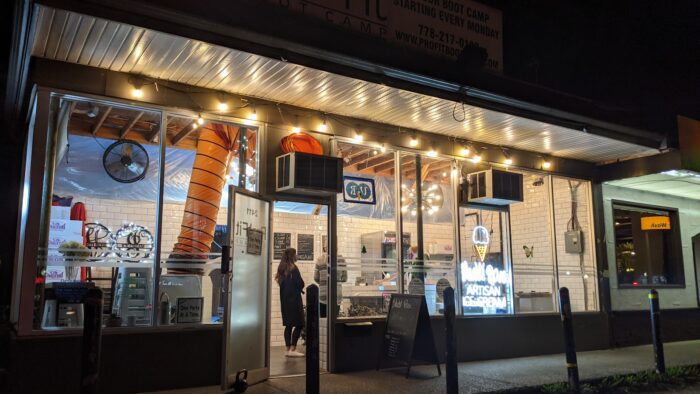 Vashti Rose is a very small ice cream shop in Port Moody. It's a bit odd because they share the space with a kickboxing or martial arts facility. They are quite easy to miss because the sign is a bit dark and it's not really in a busy area.
The best way to describe where Vashti Rose is, is that it is beside the Shell gas station.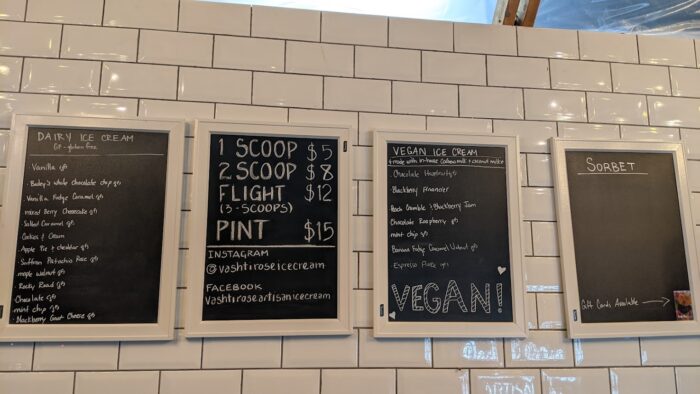 The flavours change daily, but here were the flavours on our first visit. We came a bit later on the second visit, and some flavours were crossed off.
Banana fudge caramel walnut vegan: You know a vegan flavour is good when dairy ice cream lovers order it! I had decided on this already, but Sangria and Lager also decided to get it because it was that good. This was a flavour I haven't tried before, but it was really good! There were some crunchy walnuts in there too.
The top dollop was a sample of the vegan peach crumble and blackberry jam. Sangria couldn't decide, and the staff were nice enough to give her a tiny scoop of it.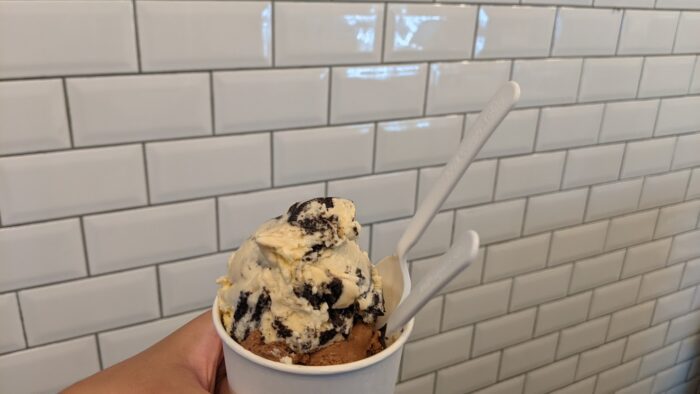 Cookies and cream: The husband really enjoyed the cookies and cream ice cream. In particular, he noted how generous they were with the cookie chunks. The cookie chunks were really big, and he even found a whole Oreo chunk in there!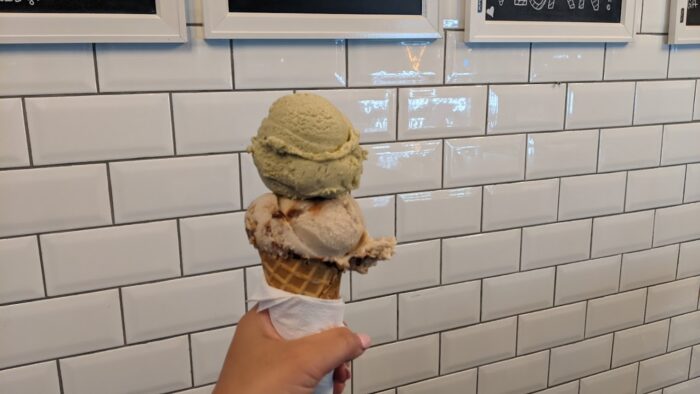 Mint vegan: I couldn't decide on one flavour, and went with two scoops. The mint kinda tasted artificial, but I didn't mind that much. The chocolate chips they used in here were probably 90%+ dark chocolate, because it was extremely bitter! The bitterness contrasted too much with the mint ice cream, and I was not a fan of the chocolate chips.
The bottom scoop is the banana fudge caramel, which you can read about above.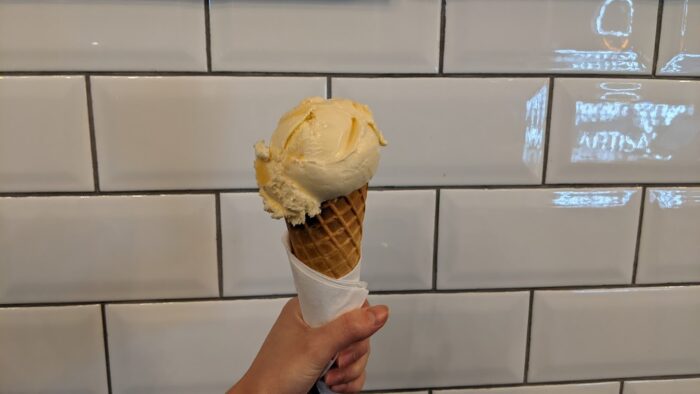 Lemon curd: We came a second time with Maki and Nigiri. Maki really enjoyed her lemon curd ice cream. Although lemon isn't normally a flavour she usually gravitates to, she was pleasantly surprised at how much she liked it. There were also lemon curd pieces in there which reminded her of lemon cheesecake pieces.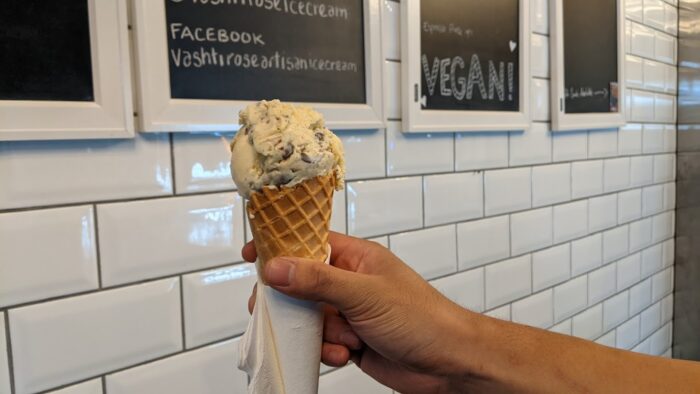 Mini egg: I was really jealous of Nigiri's scoop. Much like the cookies and cream ice cream, the mini egg ice cream had a very generous amount of mini egg chunks in it. Nigiri enjoyed his ice cream a lot.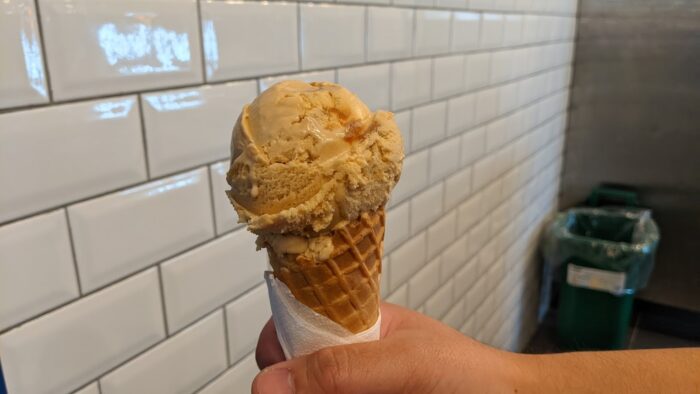 Salted caramel: The husband decided to try the salted caramel flavour this time. It was also just as good as the cookies and cream, and did not disappoint. However, he prefers the other flavours with stuff in it (such as cookies and cream or mini egg) because they are so generous with it.
I'm really glad that I finally tried Vashti Rose, and brought some friends who also enjoyed it. I will definitely be back for my ice cream fix. Rocky Point Ice Cream nearby is the more popular ice cream shop in Port Moody, but Vashti Rose is great too, if not better!