In the fall last year (2022), the husband and I went to London! It was our first time in Europe, and we were in London for eight days. Looking back, we probably should have split our time there and visited at least two countries. Initially, we were not too impressed with London but after coming back, we found ourselves reflecting on the trip and enjoying it more than we thought!
I haven't had time to write about our trip until now! During this trip, we also had a few day trips to the Harry Potter studio (a must do for any HP fan), a cute seaside city named Brighton, and the famous university town Cambridge. Hopefully I will also get around to writing those posts soon.
Starting off the London travel series, I will be reviewing our stay at the Resident Soho Hotel!
Location: The main reason we picked this hotel was due to the location, which is located in the busy Soho area. Since it was our first time in London, we wanted to be in the center of the action and for convenience. Originally, we were looking into the Covent Garden area but the prices were a bit too high. There are also other Resident hotels in London.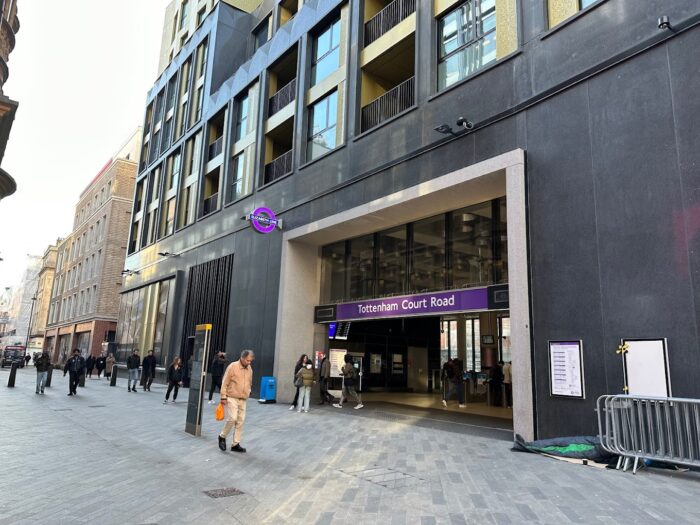 The location was great! We were extremely close to Tottenham Court Road station, which is a big tube station with many lines. The station has many entrances, and we were within half a block from the Elizabeth Line entrance. The Elizabeth Line is a newly opened tube line and has easy access to Heathrow Airport.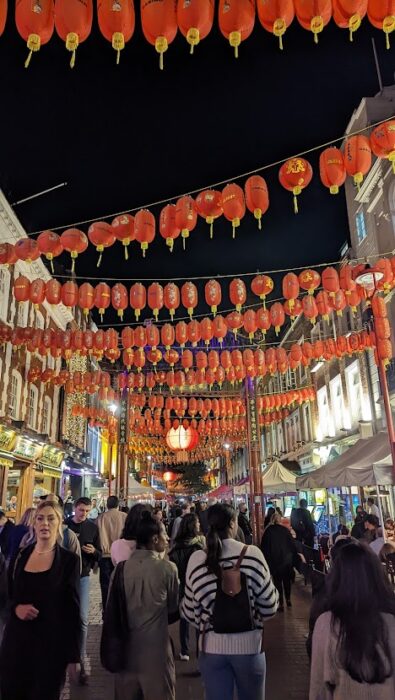 In addition to the tube, we were also within walking distance to Chinatown, Piccadilly Circus, Trafalgar Square, Covent Garden, and Oxford Street! Soho is known for its many bars and pubs. After work and in the evenings, you'll find a lot of people sharing a pint on the streets. Most of the pubs have window ledges where people are standing around and chatting.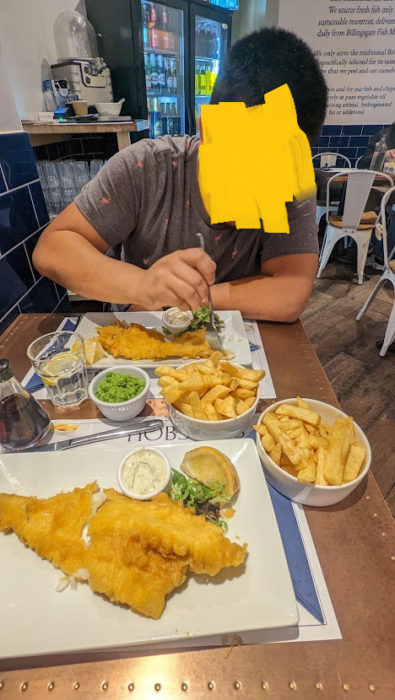 In addition, there are many restaurants even within a 3 minute walk from The Resident! Our favourite was Hobson's Fish and Chips and we went there a few times.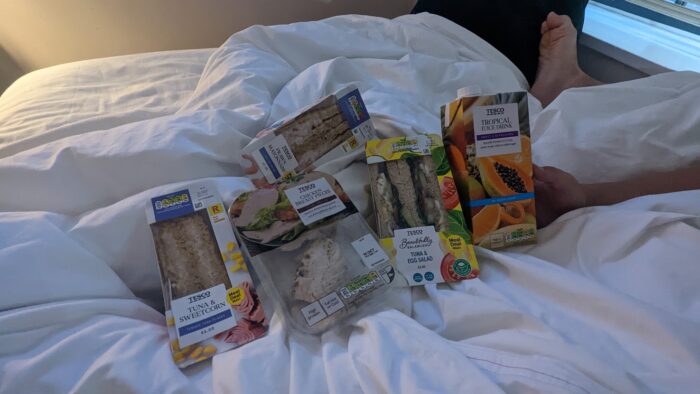 There is also a Tesco Express, which is a small grocery store that was a few steps away from the hotel (Think Shoppers Drug Mart in Canada). This was very convenient as we picked up snacks, fruit, breakfast items, ready to eat sandwiches, etc almost everyday!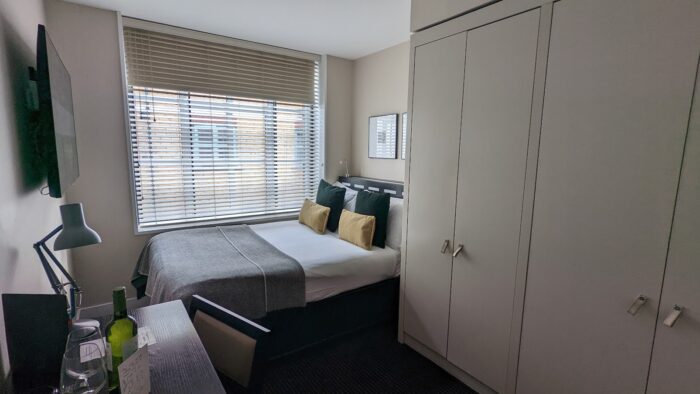 Room: We stayed in the small double room and found it decent enough. As expected being in a big city, the room was quite small and compact – similar to the hotel room sizes in Tokyo for comparison.
The main adjustment was that the double bed was quite small. The husband has wide shoulders and one side of the bed is against the wall and windowsill, so I often felt squished in the corner. However, over the nights I began to like the windowsill. It gave me some extra room to plop my leg on in the cramped bed, and the cold wood was refreshing.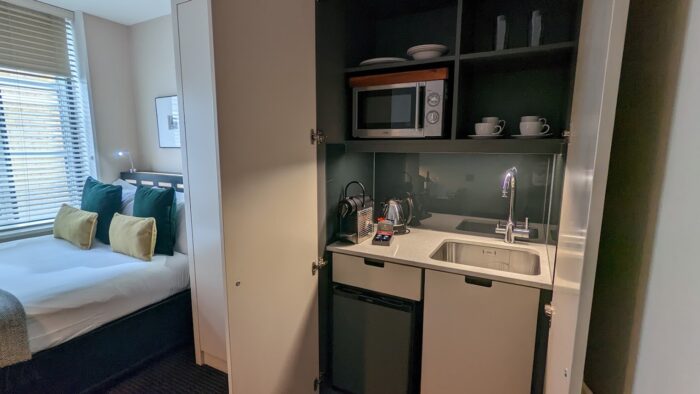 The room also had a small sink, microwave, mini fridge, and coffee maker (more on the coffee maker in the cons list!).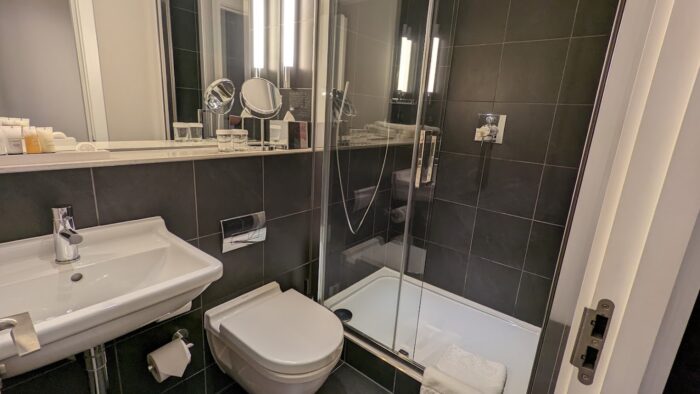 The washroom was an average size. The small double rooms only have a walk-in shower, no bath tub which would have been nice to soak in after walking all day. Overall, the room was cramped but it did the job. We also appreciated that it was sound proof, we didn't hear any people in the hallway, doors closing etc. The Soho area would get pretty loud at night with all the pubs and bars, but this did not impact our sleep.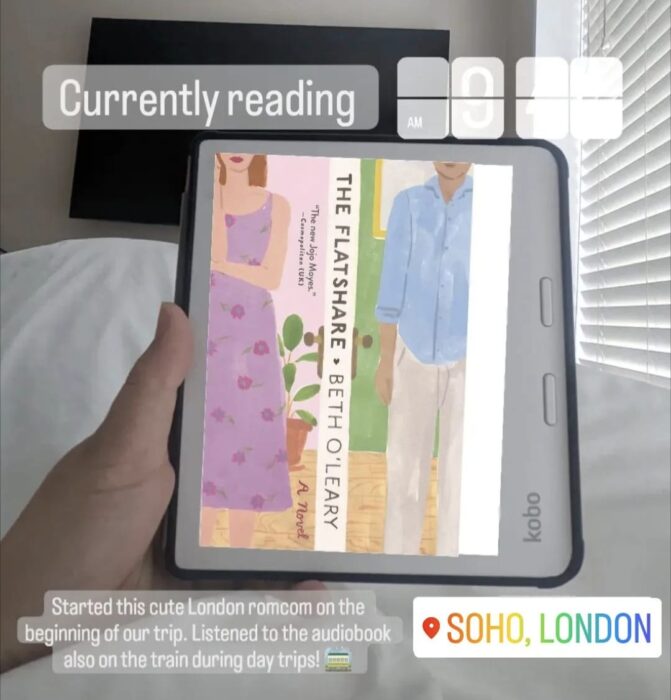 Here is a pros and cons list of this hotel!
Pros:
-Convenient location, as mentioned above
-Sound proof
-Clean, somewhat modern
-Service: The front desk staff were very friendly. After checking out and right before heading to the airport, my time of the month came and I had asked if they had any emergency feminine products. The lady went to the backroom and one of the staff gave me hers from her purse which I really appreciated! I was thinking that they would have some supplied from the hotel instead, so that was really kind of her to help me out.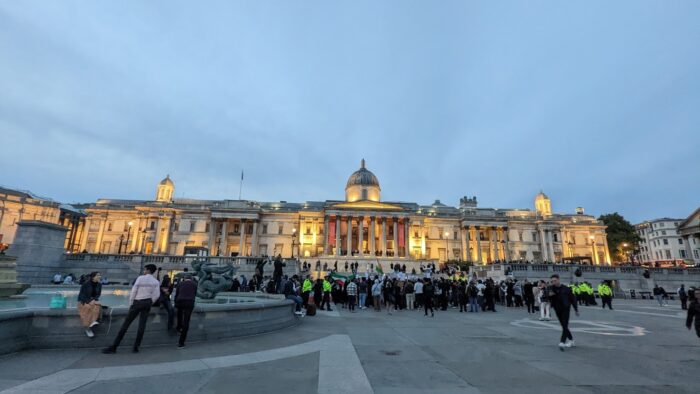 Cons:
-This isn't really part of the hotel, but the main con is that the area smelled like concentrated pee constantly. When we were outside, we would inevitable catch a strong whiff of pee which was unsettling. As mentioned above, this area has a lot of pubs and many people gathered on the streets so it's not surprising. The worst was on the first day when we cut across Soho Square Garden, which is supposedly a nice little garden area. There was a strong urine smell that assaulted our noses and we held our breath until we were gone….

-Amenities: Being in a very central area and a compact hotel, there were no amenities such as a gym, spa, swimming pool, etc. We had already expected this and weren't disappointed since we did not spend much time at the hotel, but something to keep in mind if that is important for you!

-Coffee maker: The Keurig machine was extremely loud! I've used a Keurig many times, but for some reason the one in the room was SO LOUD. I was startled the first time I used it and thought there was loud construction in the other room. This was a con as sometimes I woke up before the husband and wanted to make a coffee, and even though he is a very deep sleeper he would still be woken by how loud it was. Not a huge deal breaker but just something to mention!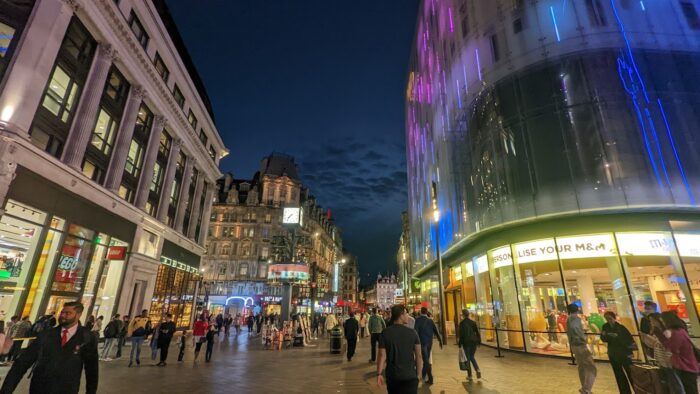 Personally, for us we do not drink much so we think there would be other neighbourhoods that would be a better fit for us next time. Although it was convenient, we would try another neighbourhood that hopefully does not smell like pee constantly.
Overall, our stay at The Resident was pleasant and got the job done. Although the room was pretty tight and cramped, we appreciated that it was sound proof and clean. It was a pretty standard hotel in a convenient location to the tube, restaurants, and other neighbourhoods. The main con, although not a criticism of the hotel, is that the area reeked of urine constantly so there isn't really much bad to say about The Resident.