The theme of this summer was weddings, weddings, weddings! In early August, a week shy of ours, we attended the outdoor ceremony of our friends wedding in New Westminster at a local neighborhood park. After the ceremony, the husband and I decided to see what was in this area and came across Taverna Greka, which looked like a nice spot for date night.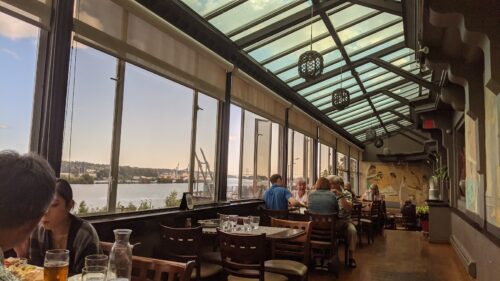 The restaurant had great reviews about their view, and it did not disappoint! We made reservations just incase it was busy, and I'm glad we did.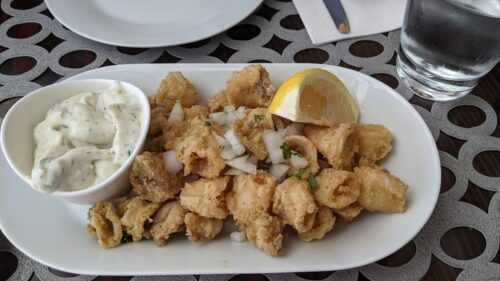 Calamari: We started off with a calamari. The calamari was fresh, hot and crunchy. The tzatziki sauce that it came with did not disappoint either. This was a delicious dish to start our dinner with.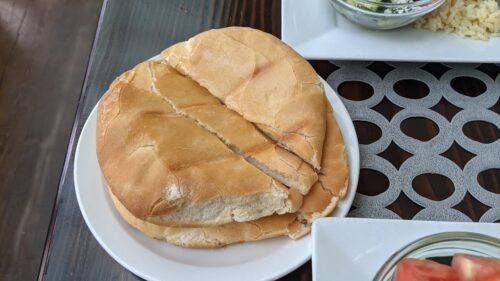 Pita bread: The pita bread was served piping hot and fresh. The bread was fluffy and pillowy.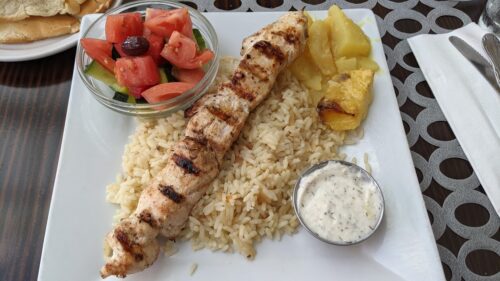 Chicken souvlaki: I was pleasantly surprised to see the cheaper price of chicken souvlaki here. Most chicken souvlaki costs $20+ at other restaurants, but the chicken souvlaki here was just under $20. I love ordering chicken souvlaki because I always have enough for leftovers the next day, so it's akin to prolonging a delicious meal.
The chicken skewer was flavourful and juicy. The Greek potatoes were perfectly lemon-y, although I found it to be wet? It seems like maybe I got the bottom of the bowl of potatoes but I still enjoyed it. I didn't have too much of the rice because it was cooked with dairy. The veggies in the Greek salad were fresh and crunchy, and I also requested for no feta cheese.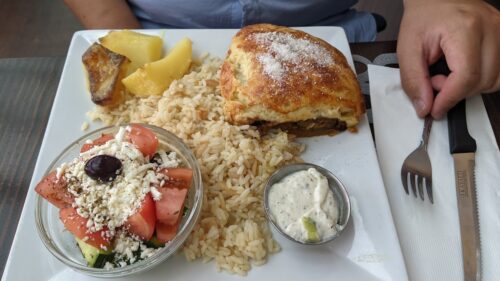 Moussaka: The husband ordered the moussaka, which is a baked dish with ground beef, zucchini, eggplant, tomato, potatoes, and bechamel sauce. He enjoyed it a lot, and couldn't stop raving about it! I had a bite and also agreed that it was really good.
Overall, we enjoyed our dinner at Taverna Greka. We left feeling stuffed, and had leftovers for the next day too. Taverna Greka is a nice gem in New Westminster, and has a great view too. The service was also friendly. We were glad that we tried it, and would come back again even if we weren't in the area.