Happy near year everyone!
Kokoro Tokyo Mazesoba is a popular Japanese restaurant that has since opened a few locations since their first one in downtown in 2018. They specialize in mazesoba bowls, which are dry noodles covered in sauce, and do not have the usual Japanese dishes such as nigiri or sushi rolls.
There is currently a downtown, Brentwood, Lougheed, and Metrotown location, with more to probably come. I had previously wrote two reviews for the downtown location, which you can read here.
This review is for the Metrotown location in Station Square.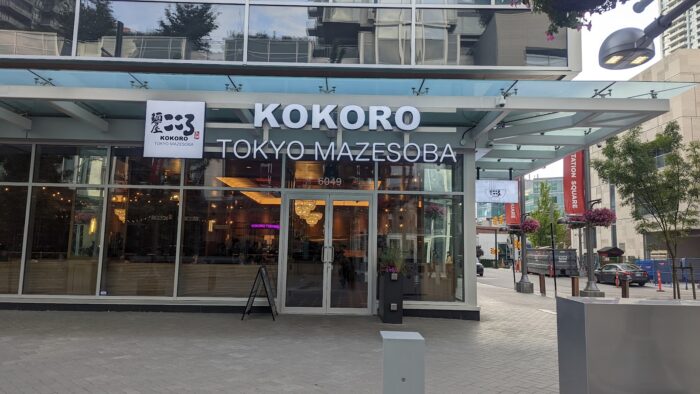 Station Square has really transformed over the few years, with many new restaurants and stores. I still remember the very old Station Square with the Red Robins, Japanese restaurant, and TD bank, anyone else?
The Station Square location was pretty spacious, and there was also plenty of parking available near by.
Usually when we come to Kokoro, I order the vegan ramen as my stomach can't really handle the oily and greasy sauce. This time, we noticed that Kokoro had a couple newer items on the menu that we didn't see during our previous visit.
In particular, the new salmon avocado bowl looked pretty clear for my stomach so we decided to head over one night after shopping at Metrotown.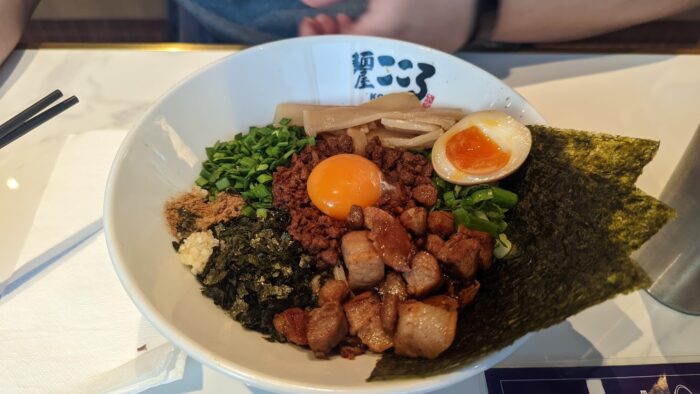 Zenbu mazesoba: The husband loves the pork belly here, so naturally he ordered the zenbu mazesoba! This bowl comes with pork, a slightly boiled egg, runny egg yolk to mix, seaweed, and bamboo shoots.
He found it delicious, with no complaints. If my stomach was able to handle the richness, I would have ordered this as well.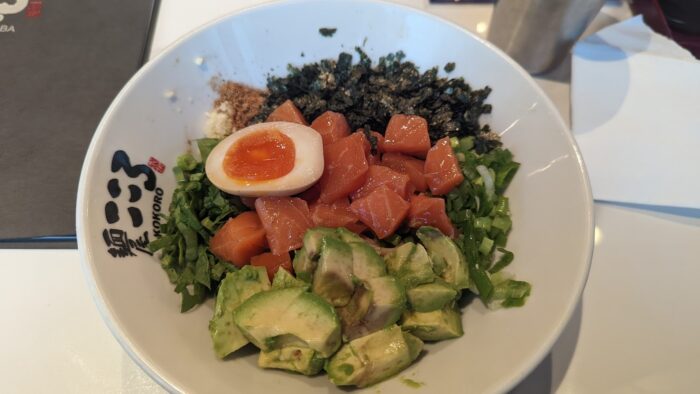 Salmon avocado donburi: Here is where my mistake happened… We had both assumed that this would be a bowl of plain rice. However, I was surprised to see that this was actually a mazesoba as well, meaning they also used the same rich sauce.
As I am writing this review and on the website while typing this, I just noticed now that there is a salmon avocado donburi and a mazesoba. I think they probably gave me the wrong one. At the time, we had assumed that it was our mistake in thinking this comes with plain rice, so I didn't return it. Instead, I just ate the salmon and avocado one top, and gave the rest to the husband.
The salmon and avocado itself was fresh and tasty, but I was disappointed that I misread the menu at that time (although I realize now six months later that the kitchen probably messed up haha).
---
Kokoro is probably the top (and one of the only places in Vancouver?) for mazesoba bowls, and I can see why it's popular. Although I can't have their mazesoba bowls, I don't mind coming for the vegan ramen if someone wanted to eat here.