During our trip to the Kansai region, Kobe was a city that I was really wanting to explore! Kobe is smaller than Tokyo and Osaka, so it doesn't receive much international attention, except for its world-famous, mouthwatering Kobe beef! However, I personally really enjoyed our day trip here! There was a lot less tourists here, and felt like a breath of fresh air from the crowds of Osaka and Kyoto.
We travelled to Kobe from Osaka via a regular train which took roughly a hour. You can also take a Shinkansen which is faster, but it would cost a lot more. Our friend took a plane from Tokyo and met us in Kobe. Since he had limited time, a domestic flight was a lot faster than taking the Shinkansen from Tokyo.
We were in Kobe from the morning until evening! Here was our itinerary for the day: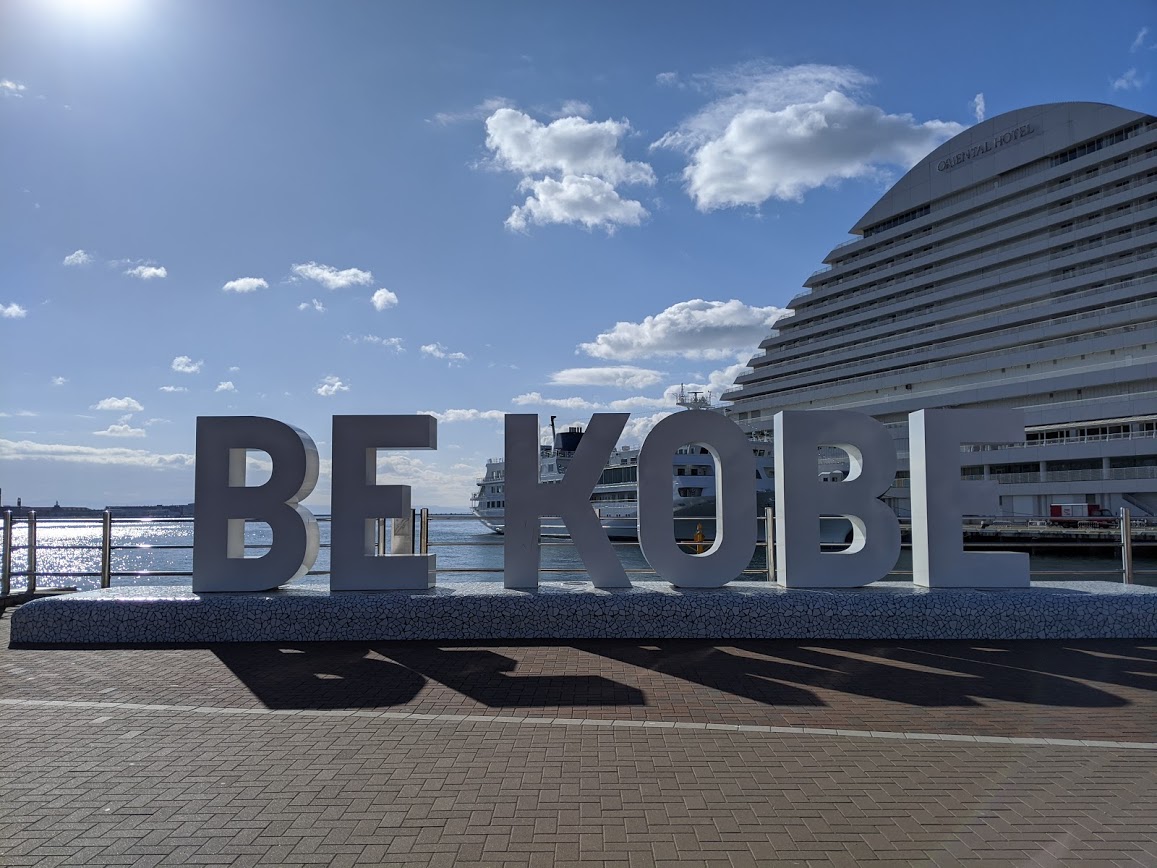 Meriken Park: We started our day by walking around Meriken Park, towards the harbour. The photogenic Kobe Port Tower is located here, as well as a big Kobe sign that would make for a nice souvenir photo. The skies were blue and sunny, so it was a pleasant walk around this small area.
We also saw a small ferry terminal, and a boat offering tours around the harbour!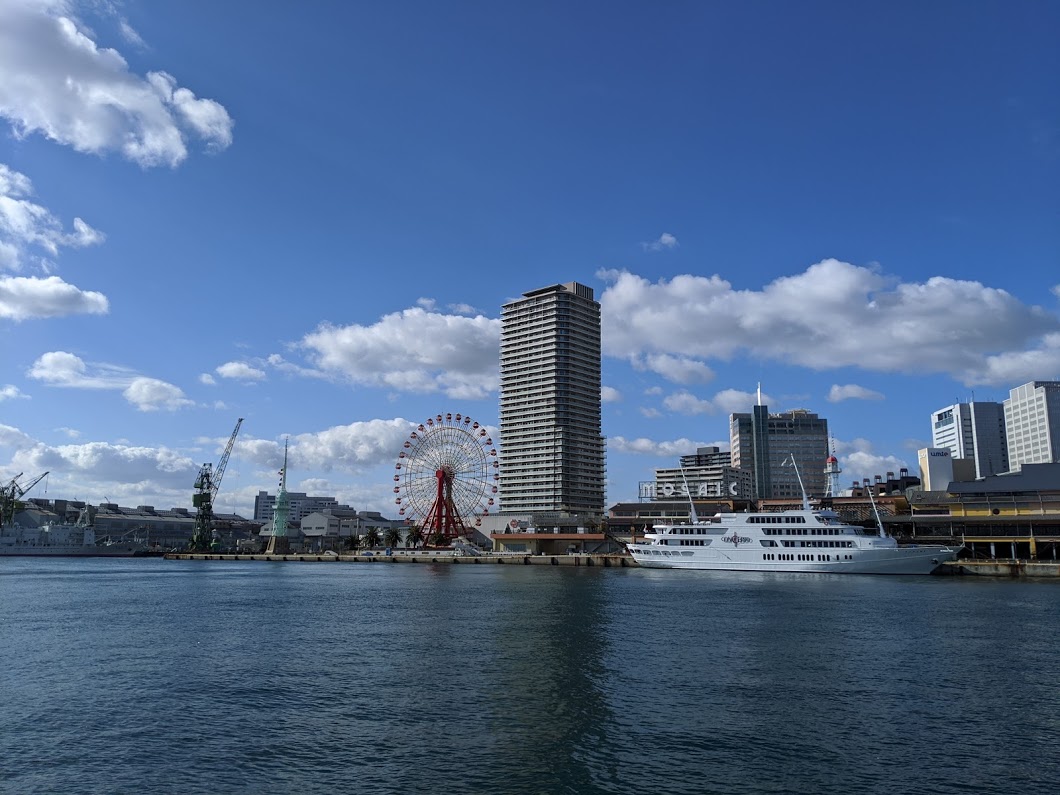 Harbourland: A quick 10 minute walk along the same path as Meriken Park, is Harbourland. There are some malls here to do some shopping as well. We walked around the path outside and took some pretty photos of the ferris wheel.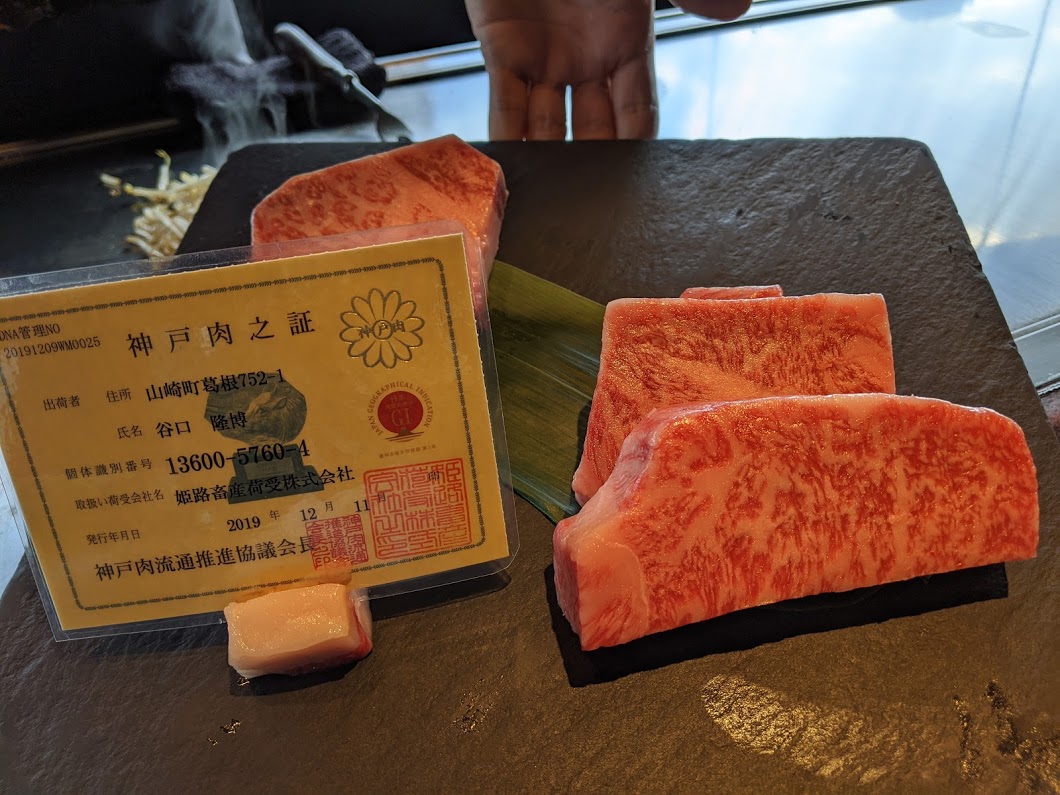 Lunch at Steakhouse Zen: You can't go to Kobe and not try Kobe steak. Our Japanese friend knew a local, who recommended Steakhouse Zen to us. We came during lunch so the prices are a bit cheaper, but I will warn you that Kobe beef is not cheap!
The quality of the beef is unparalleled and unlike any steak you will ever eat. As expected, the beef was mouthwatering, melted in our mouth, and super delicious. We ordered a lunch set, which also came with rice, soup, veggies, and dessert.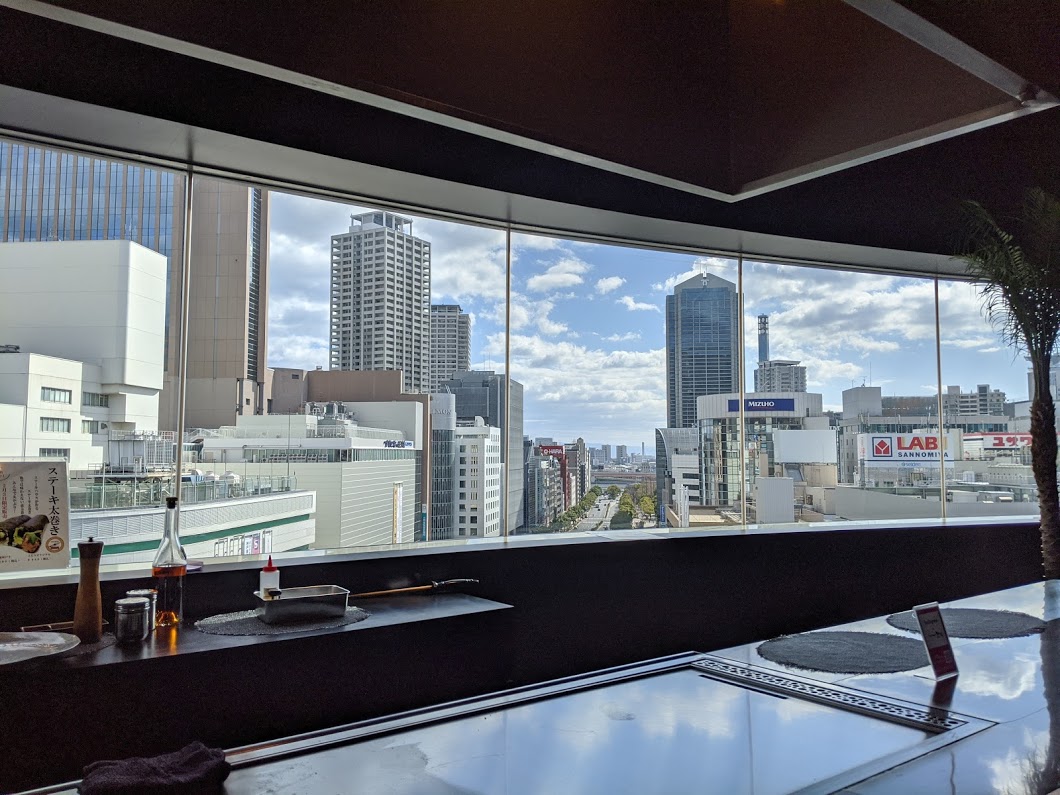 The cherry on top of a perfect lunch was that Steakhouse Zen is located on a higher floor of a building complex above the train station, so you get a beautiful view while eating Kobe steak. To our right, were buildings and the water peeking out. To the left, was greenery and mountains (including Mt. Rokko, our next destination!).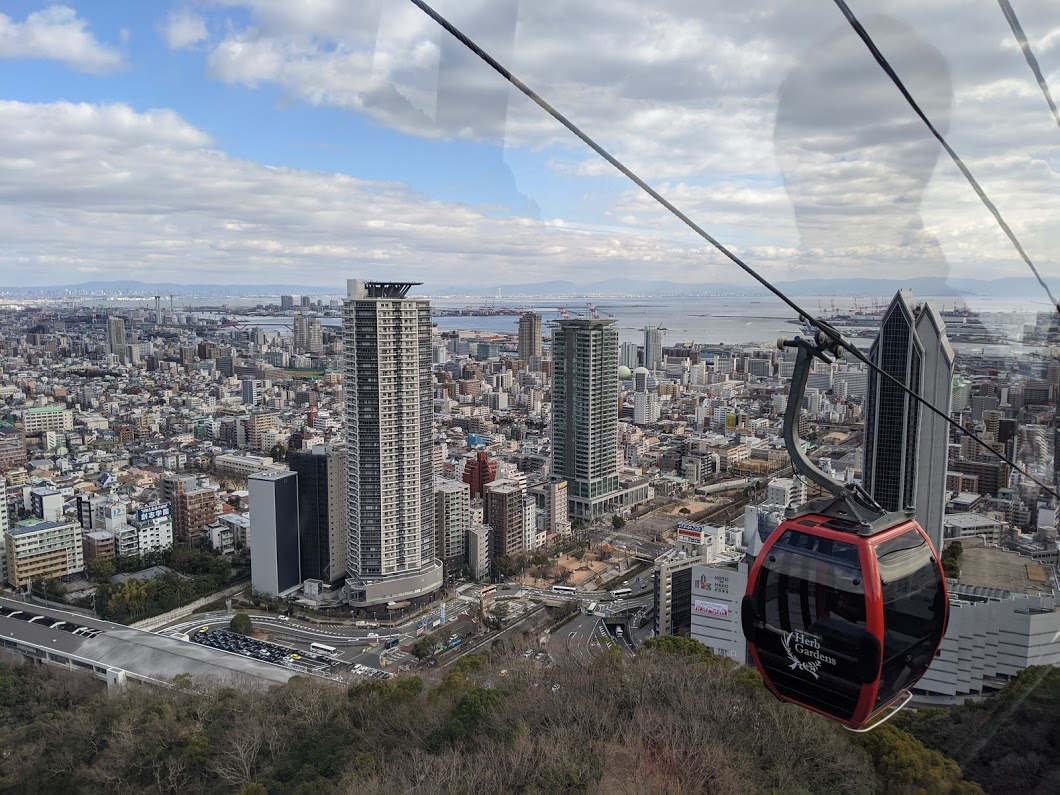 Mount Rokko and the Kobe Nunobiki Herb Gardens: After lunch, we walked to the base of Mount Rokko, next to Shin-Kobe Station. We took the cable car to the peak of the mountain.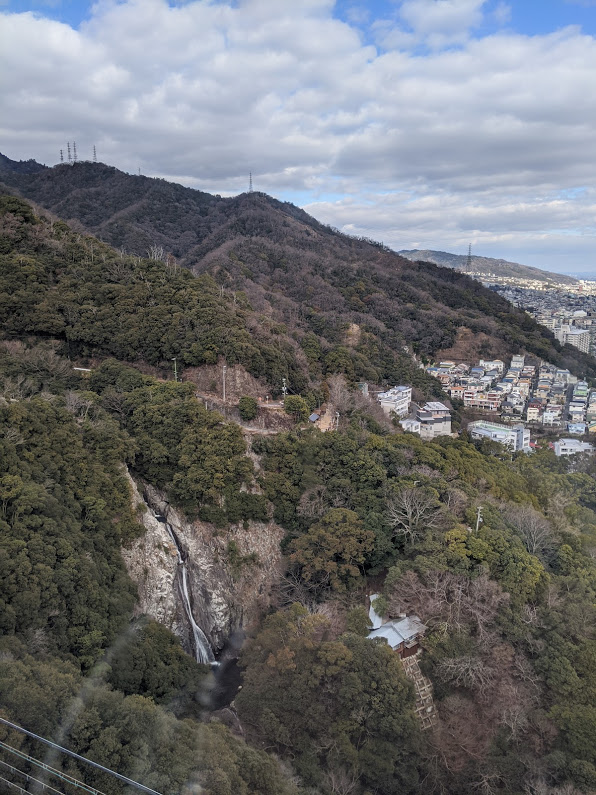 The ride up in the cable car was beautiful and we also saw Nunobiki Waterfall from above. Alternatively, you could also hike up the mountain but we wanted to spare our tired feet when possible.
Atop of Mount Rokko is the Kobe Nunobiki Herb Garden. The Nunobiki Herb Garden is a really pretty, calm area where guests can see many different types of herbs, flowers, and greenery. There is no entrance fee to the garden.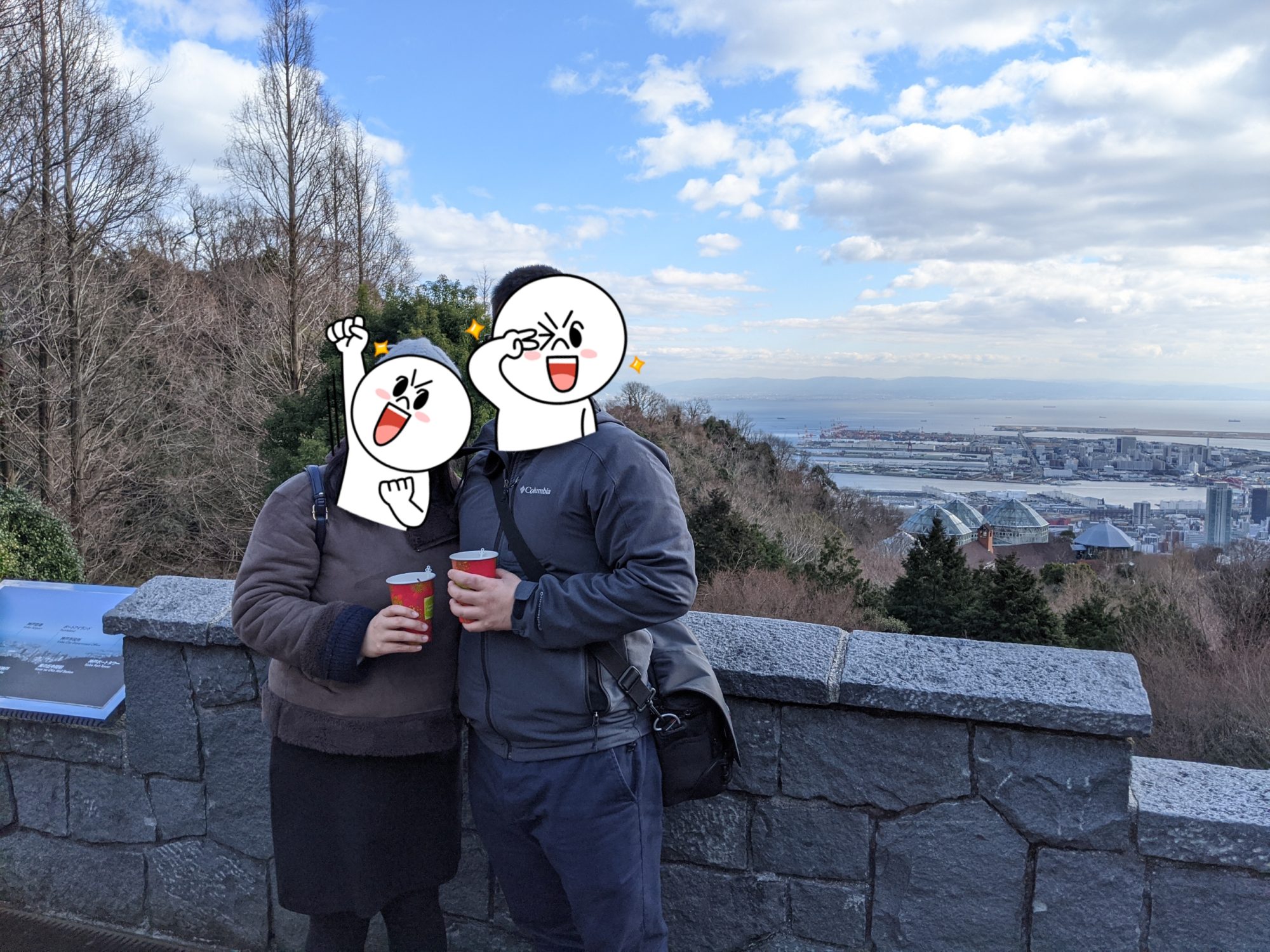 You start at the top of Mount Rokko and can walk down the mountain to see the different types of vegetables and herbs that they grow here. Unfortunately we came during winter so the trees and leaves were bare, but I still found it to be very beautiful and calming here. I can only imagine how breathtaking it would be during sakura season!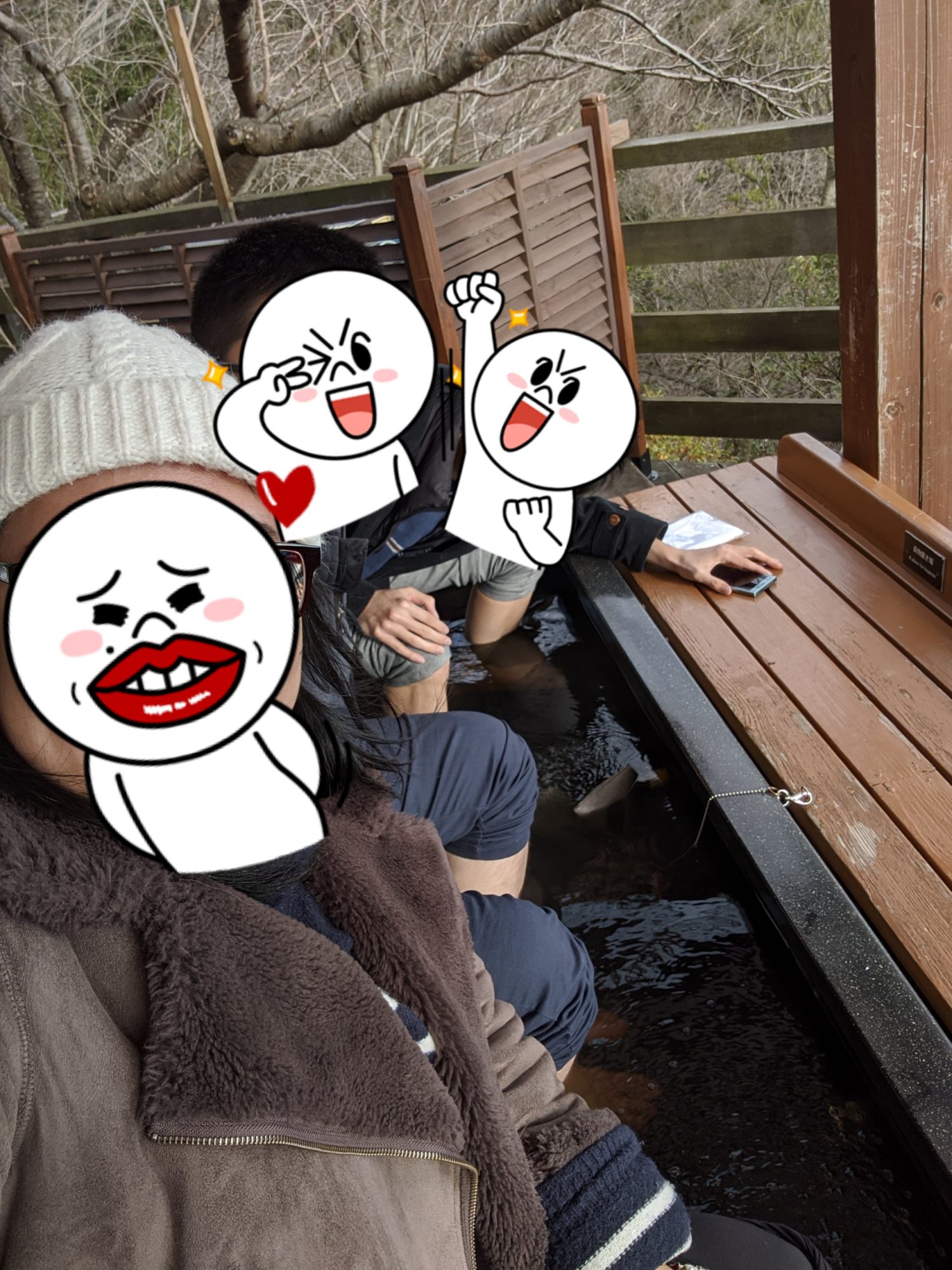 Foot soak atop Mt Rokko: One of our highlights of the day was the herbal foot soak. For 100 yen, guests can soak their feet in a hot, herbal bath made with fresh herbs from the garden. The foot soak has a beautiful view overlooking Kobe. We ended up spending a hour chatting, just enjoying the view, and enjoying the hot water relaxing our feet.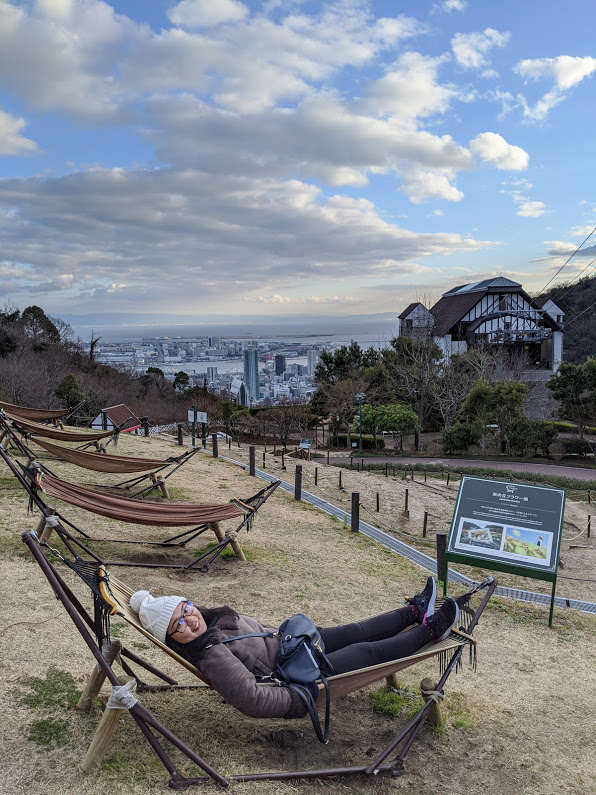 There are also hammocks at the herb garden! It was a bit too chilly to fully enjoy in the winter time though.
City Loop Bus: After our relaxing visit to Mt Rokko and the Kobe Nunobiki Herb Garden, our friend (tour guide/translator hehe) suggested that we take the City Loop bus back to the Harbourland area for dinner.
The City Loop bus stops at all major and recommended Kobe attractions. This was a great suggestion because we were able to see other areas of Kobe instead of being in an underground train!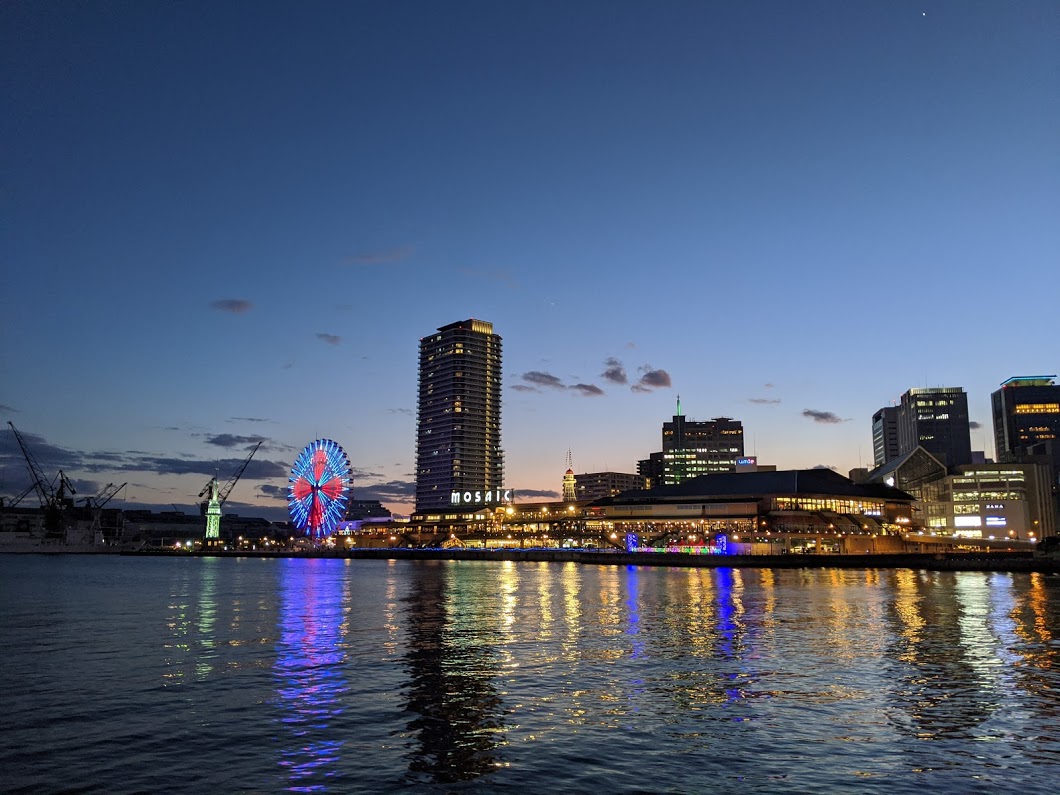 Harbourland at night: We were thinking of going on the sunset cruise, but we spent too long relaxing at the foot soak at Mount Rokko and missed the sailing time. Oops! But no regrets because that foot soak was amazing. Anyways, I would recommend the sunset cruise if you have time.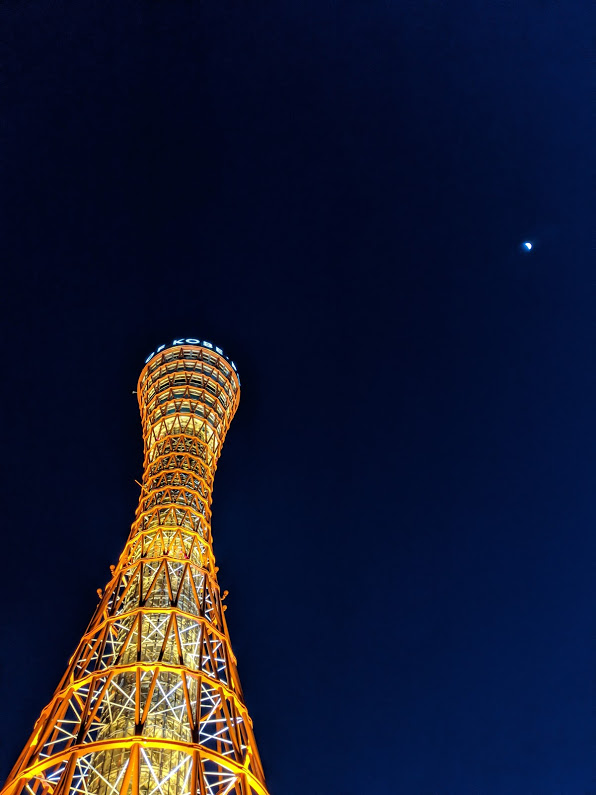 We ended up walking around Harbourland a bit more, and took some pictures of the night landscape. You could also take this time to shop around Habourland.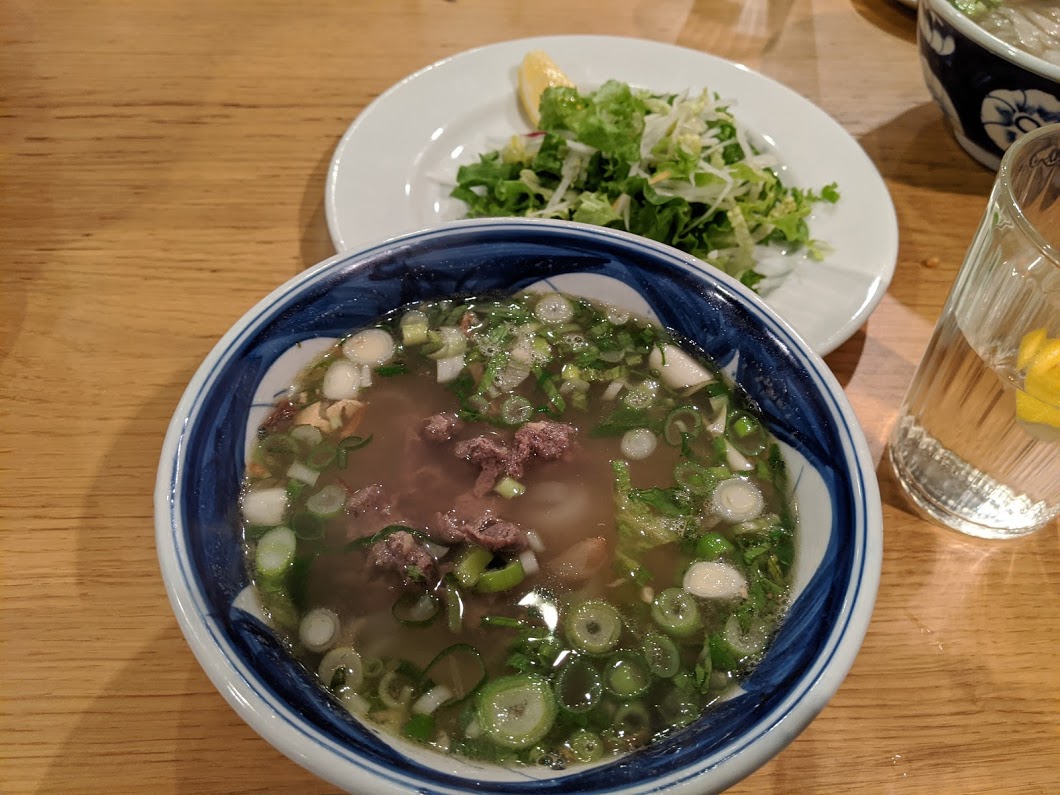 Dinner: Our friend suggested Vietnamese food for dinner! It was my first time having Vietnamese food in Japan. We went to Thang Cafe Motomachi which was a short walk from Harbourland.
Compared to Canadian Vietnamese restaurants, the noodles were thicker and chewier. The main distinction was that the pho broth was very gingery so that may be a good or bad thing depending if you like ginger or not.
---
Overall, it was a very fun day in Kobe. We left very satisfied with the sights that we saw and the city left a great impression on us. The weather was beautiful the whole day as well. Kobe, you were great!