Back in the fall, the husband and I went to London! My first London post was on the Resident Soho hotel, and now this second post will be on the Harry Potter Studio Tour. This was the highlight of our trip and I still can't believe I was able to go to the main filming location and see some original props and set.
It was truly a magical day and one to remember forever!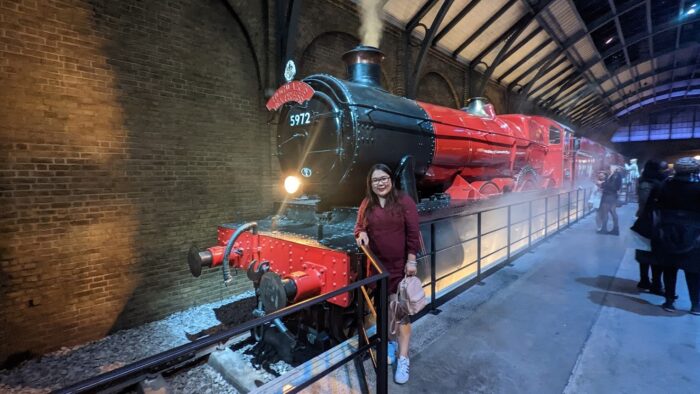 ---
Tickets: The most important tip to mention is that tickets must be bought in advance, at least 3-4 months! We learned the hard way, when about three weeks prior to our trip we decided to buy our tickets. Everything was sold out for our dates. Through our digging, we found out that you can still book through tour companies that generally had poor reviews (late shuttle bus, miscommunication, limited time, etc). The tickets were around 4x more expensive which was so stupid, but we had no choice as this was our top activity here.
We begrudgingly purchased the tickets and were just grateful we still had a way to visit. Before we slept, we decided to check the website again and LO AND BEHOLD, *ONE* time slot showed up the first full day we were there. We jumped on the opportunity and purchased the ticket from the main website, and cancelled the stupid tour bus. This was a pretty annoying situation so my takeaway is to buy tickets months in advance – not just weeks!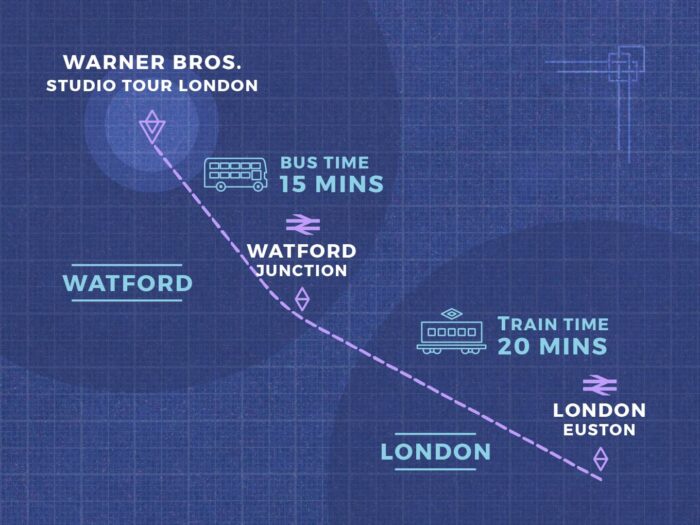 Location: Although the website and everything says "London", the filming studio is actually about 1-1.5 hour train ride outside of London, in a city called Watford. Getting there was quite easy. We took the tube to Euston Station, which is a major transport hub in London to travel to the rest of the UK.
From Euston Station in London, we took one of the commuter trains (which has washrooms, charging outlets, etc) to Watford Junction. The main attraction in Watford is the Harry Potter studio, so you can not miss all the signs at Watford Junction.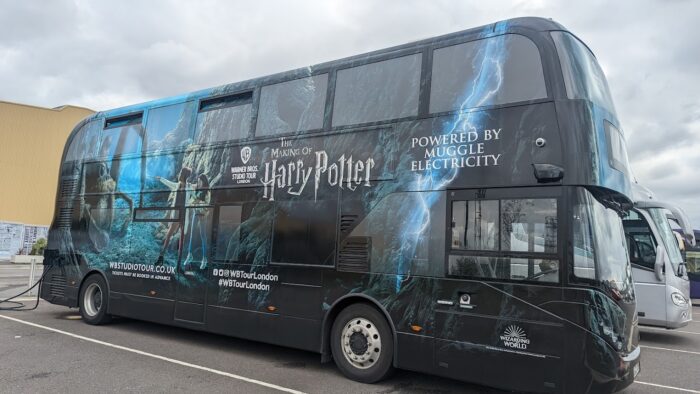 There are free double decker shuttle busses every 5-10 minutes to the studio, which is another 15-20 minute ride. The double decker shuttle busses reminded me of the Knight bus, and are powered by Muggle electricity. Overall, getting there from London was a breeze!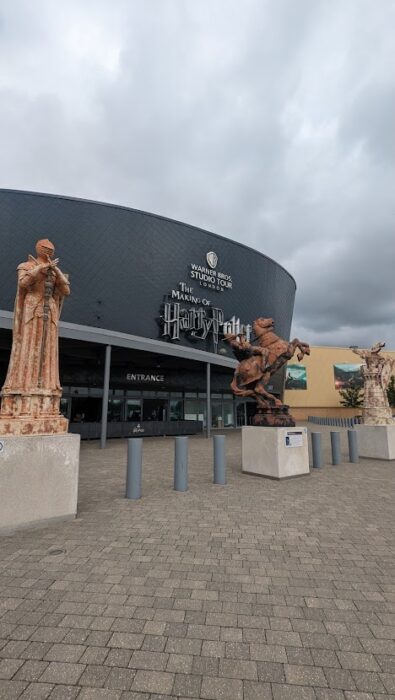 Outside: The magic starts when you are outside! As you walk to the studio, the walls are made up of the Daily Prophet newspaper clippings. The first prop you will see are some of the original Wizard's Chess pieces!
Getting in: There wasn't a line when we arrived at 12pm on a weekday, but as we left around 5pm we started to see a line forming. Tickets were quickly scanned.
There is also a free coat check, although they mentioned that part of the studio is outside so you may want to hold on to your jackets as you can't come back out to the coat check if you change your mind.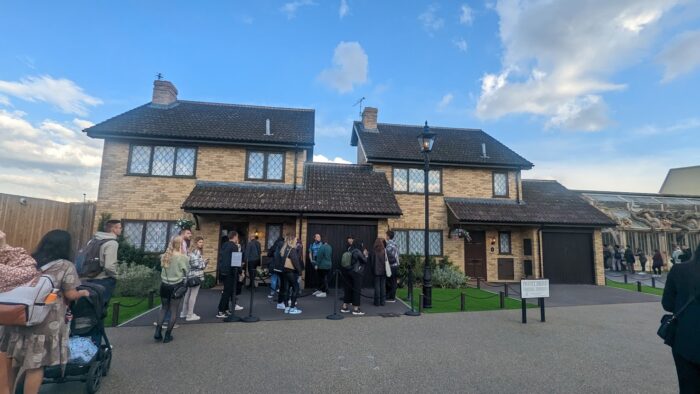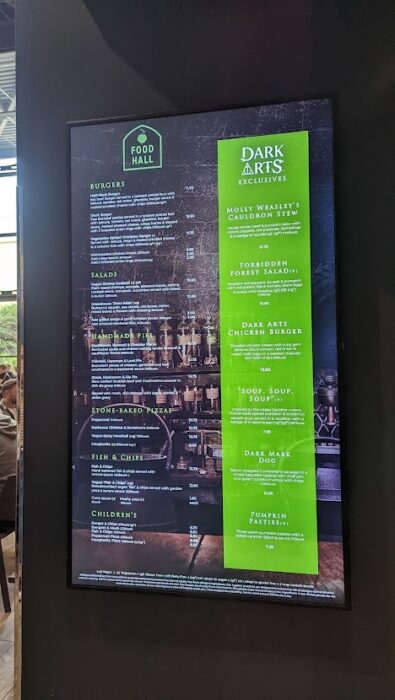 Food: As mentioned in the ticket fiasco above, we only had one time slot which was later in the day at 2pm. This actually worked out for us as it gave us time to slowly make our way to the studio, and we had time to eat beforehand.
Before the tour, there is a food hall and two cafes. We had lunch at the food hall and the food was alright. The takeout boxes were in the shape of the Knight Bus which was a cool touch!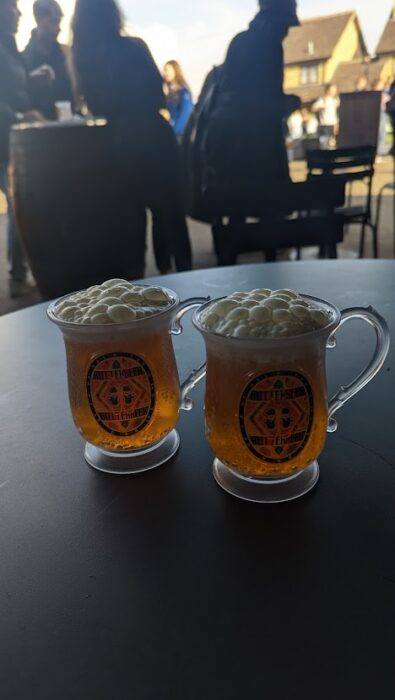 Halfway through the tour, there is also the Backlot Cafe which is another food hall outdoors with Butterbeer. You can enjoy your meal with a view of the Privet Drive, Herbology classroom, and Knight Bus sets!
Beginning of the tour: They allow people in by groups of around 75~. At your ticket time, you begin to line up at the entrance to the studio tours. Everyone is then shuffled into a large dark waiting room for about 5-10 minutes. When the waiting room is at capacity, a guide will inform you of some rules.
Then, you will all be shuffled into a small theater where you watch a video with some of the actors. At this point, I was getting really impatient because I just wanted to be INSIDE, and also I was not sure if we had to be in this large group the entire time (you don't!). After the movie ends, you are FINALLY in the first set (I won't spoil which!) and you are free to walk around at your own pace!
Here is a map of the studio! There is so much to see in every section, and there was no such thing as a boring or bad station to me. I was in awe, soaking in every moment and not believing this was real life.
Here are some photos I took!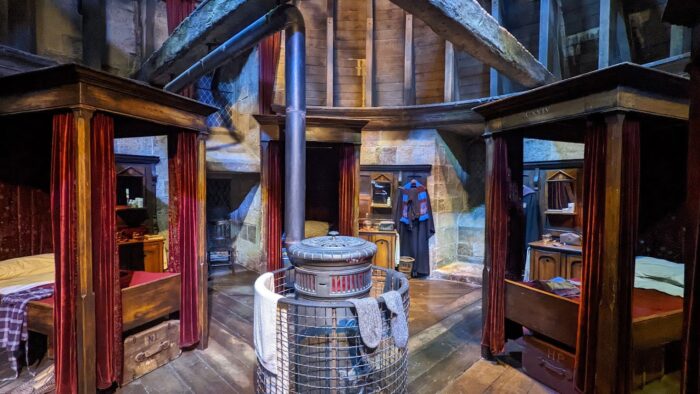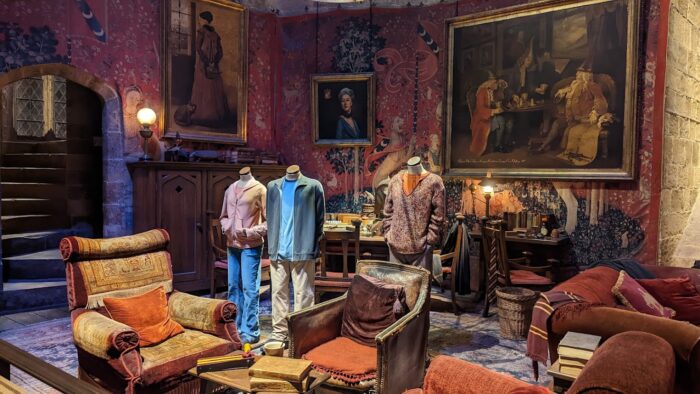 In total, we spent about 5~ hours here which is more on the longer side, but I feel like we could have spent 8 hours here!
Out of everything we saw, my top highlight was getting to go inside the original Hogwarts Express!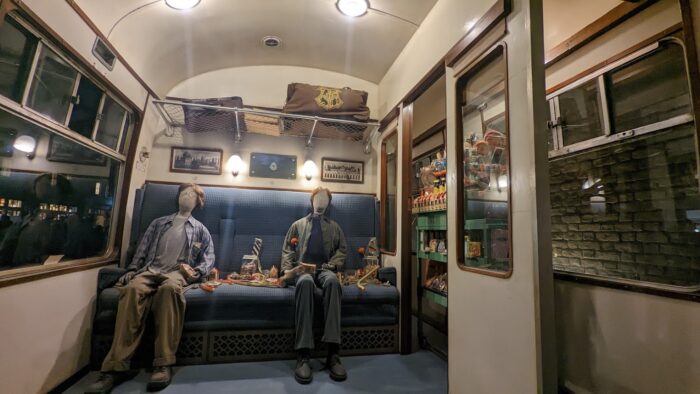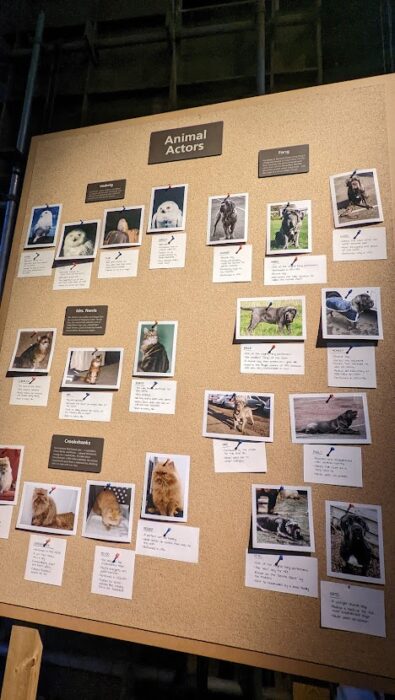 I wish that I lived closer to this studio because I would probably come a handful of times each year. They also have different themes or exhibitions sometimes – for example, when we went it was the Death Eaters exhibit so they had scary looking Death Eaters walking around and doing occasional 5 min shows.
This is an absolute must-do day trip for all Harry Potter fans, and worth the 1-1.5 hour trip from London! I would come back in a heart beat and thinking back to this wonderful day brings a smile to my face.