Happy 2018! My first blog post of the year!
While in Mexico, the boyfriend and I wanted a relaxing vacation but also a couple days of adventure. On Trip Advisor, Xcaret Park was listed as one of the top activities and after doing some research on the park, it seemed like something that we would enjoy!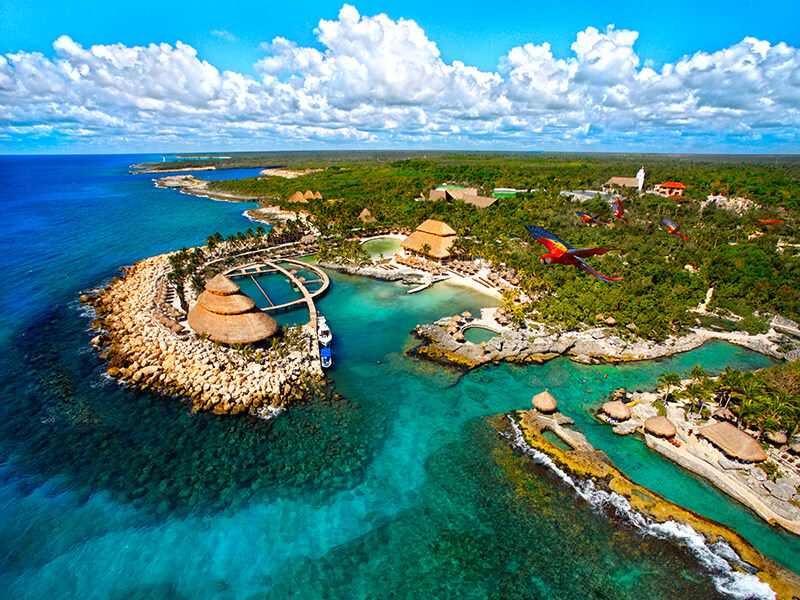 Xcaret Park is an eco-adventure park about 1 hour from Cancun and 15 minutes from Playa Del Carmen. When reading reviews, guests had mentioned the park is huge and I definitely have to agree. 
Luckily, we got the insider scoop on the best way to maximize your time at Xcaret, which I will be sharing with you now! This is the order of activities that we did in the span of 12 hours (9am-9pm), not including a delicious lunch buffet next to their jaguar island. These activities are also all included in your admission price.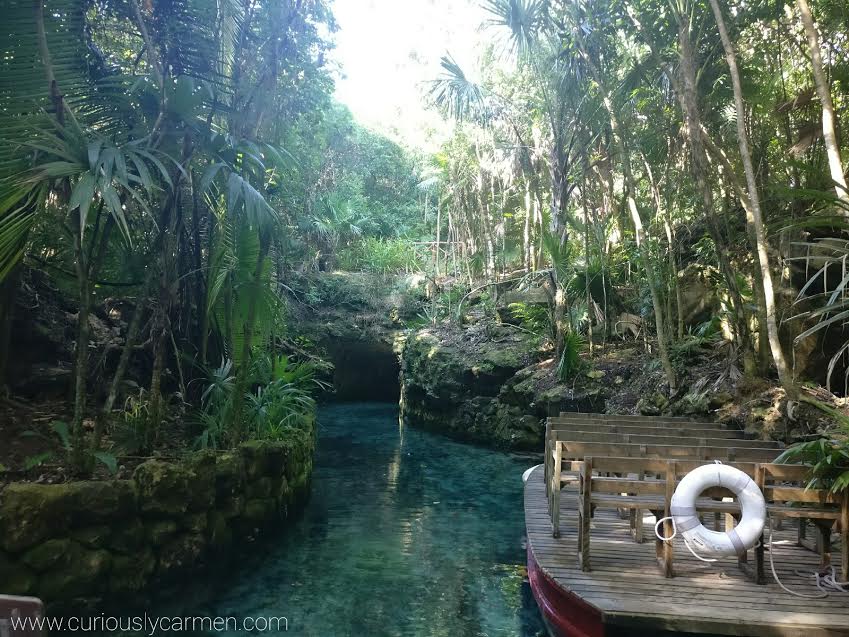 1- Paradise River: We started off with a relaxing boat ride along the river. For those who do not want to get wet or go swimming, this would be a great activity.
2- Shops/walking around: We spent about a hour following one of the paths, which had handmade souvenirs from local vendors, a fresh tortilla shop, woolmaking shop, and lots of art. Xcaret Park is extremely organized. They have different coloured marked paths so that you won't get lost. Following the paths ensure that you reach your desired destination and that you are able to see everything.
3- Coral Reef Aquarium: We also spent some time checking out the marine life at the aquarium.
4- Jaguar Island: The jaguars are the largest cats in North America. We were able to spot 3 jaguars hanging out on the island. There is also the international buffet restaurant next to the Jaguar Island, so we enjoyed a delicious meal trying to spot the jaguars.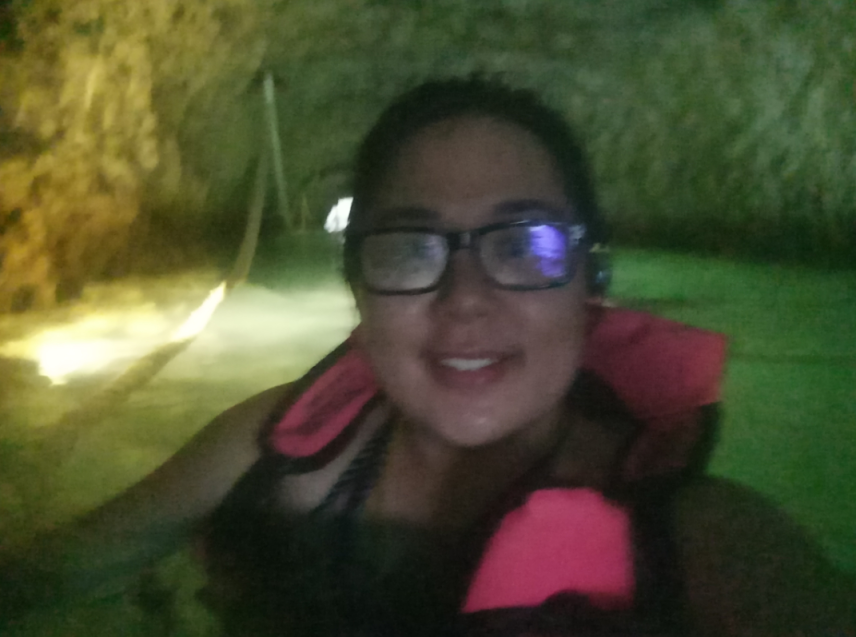 5- Underground river: This was the highlight of the day for me! There are natural underground rivers that run throughout the park. There are three rivers, and each of them end up at the opposite side of the park.
It was relaxing and really cool to float along the river and inside the caves. From one end to the other, it took 1 hour – which gives you an idea of how large the park is.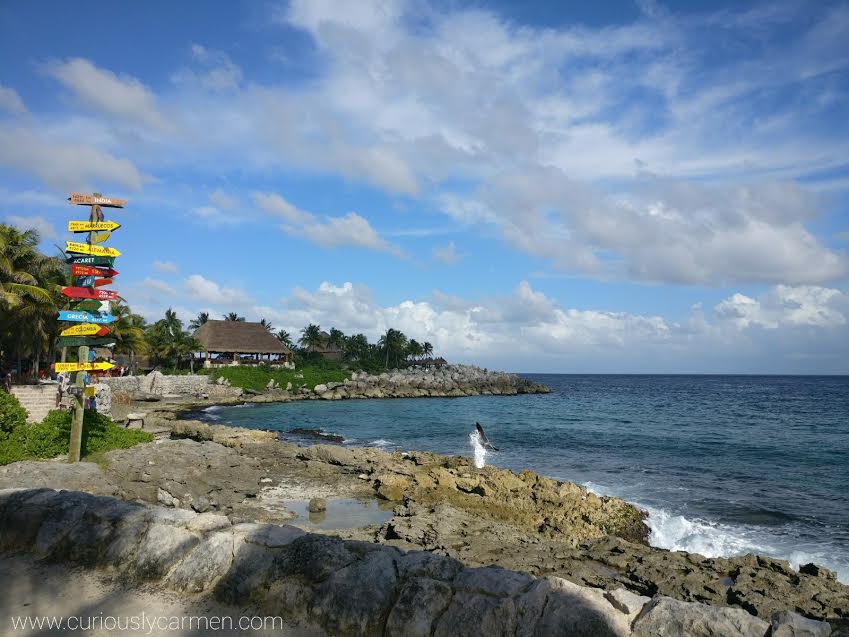 6- Take pictures by the coast: The most scenic part of Xcaret! Once we finished the underground river swim, we ended up by the rugged coast line. There were more restaurants, gift shops, and hammocks in this area. We spent some time taking pictures of the beautiful view here, which is a must.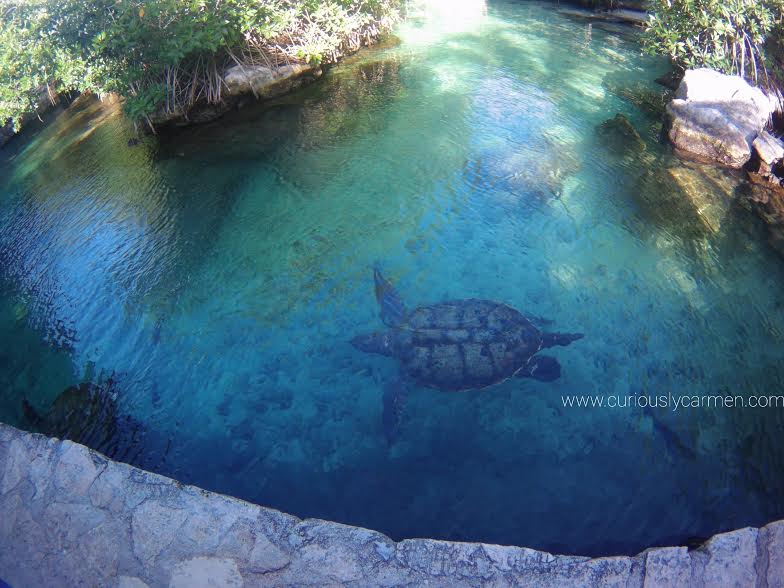 7- Sea turtles & parrots: However, the path back was full of sights to see! We took pictures with parrots on our heads, walked by a beach and snorkelling area. We stumbled upon the sea turtle conservatory area. There were many types of sea turtles and babies here that would eventually be released back into the ocean.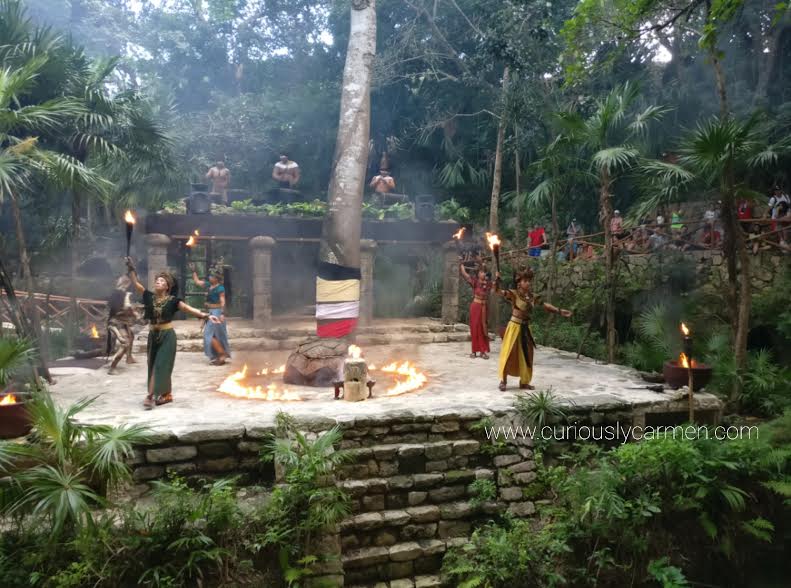 8- Mayan village dance: After about a hour of walking back to the main area, we arrived to the Mayan Village to see the show! I quite enjoyed the cultural show which featured traditional dances and costumes
9- Dinner: At this point, we were just exhausted from all the activities. I would recommend going for a quick dinner. However, we decided to save money and buy some pastries and snacks from the gift shop instead.
10- Night show: The daily night show from 7-9 pm is a must see. The beginning performances had some fire shows, including an activity which looked like hockey except the puck was a flaming ball. Then, they had dance performances and music from different regions of Mexico. It was a great chance to see various cultures within Mexico and we really enjoyed it.
Little things:
– Organization: Xcaret is a very well organized and tidy park. Since it is a huge park, they have specially marked colour paths that you can follow to reach your destination. Following these colour paths will ensure that you make the most of your visit as you won't be getting lost!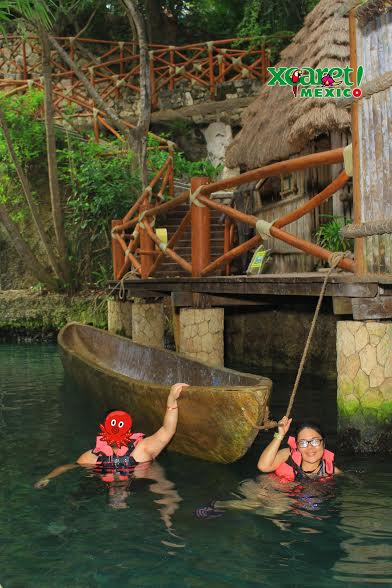 -Photo pass: For an extra fee of $75/group (max 10 people), there are many photo stations around the park which you then download online. When you reach a photo station, you scan your wristband and it will snap a photo for you. This feature came in really handy for us, and we were really happy with how the photos turned out – very high quality and professional looking.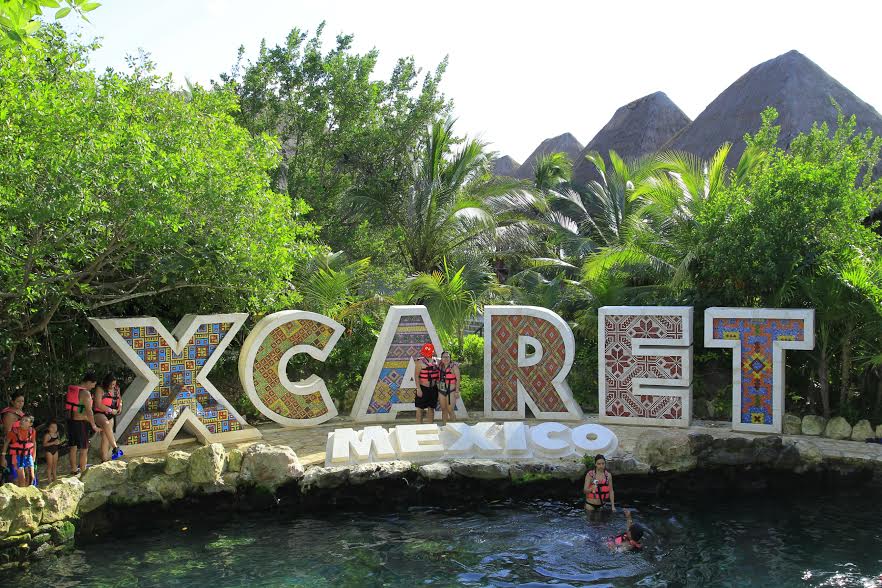 -Convenience: They really have everything thought out here. For the underground river swim, you put your belongings in a large duffle bag (no valuables such as camera, phone, wallet). Your duffle bag with your belongings then get transported to the other end of the park, ready for pickup after you finish your swim. It was so nice to have our towels and shoes ready instantly.
-Transportation: Although I was provided with media passes, they did not come with transportation. We paid $30 each for a roundtrip shuttle bus. At the end of our 12 hour day, I was SO thankful we did because we were so tired. The bus ride was about 2 hours one way, which I used to nap. The buses were also air conditioned and have washrooms. 
We had a really fun and smooth day at Xcaret, thanks to the organization of the park and friendly staff. Not only was it fun, but we learned so much about Mexican culture and history too! It was such a great day and I would recommend spending a day here when you're in the area.
Disclaimer: Media entry passes provided. Opinions are own.