Ricky's Country Restaurant has been around forever. Honestly, I am surprised that they haven't shut down yet and are still running. We came here many years ago and it was meh. There are definitely better brunch restaurants out there!
However, let's stop with my negativity. The fiance and I were looking for a brunch delivery one weekend. We were really hungry and we saw that Ricky's had the fastest delivery time and also free delivery, which were the 2 reasons we picked Ricky's and not elsewhere. We were pretty meh about it. You're probably wondering why we even chose this place then?! Haha!! Good question….
Ricky's Country Restaurant is located inside the motel by Boundary and Lougheed. There is also a newer Ricky's Cafe that opened a few minutes drive away in Brentwood's SOLO district where I went pre-COVID and it was pretty meh.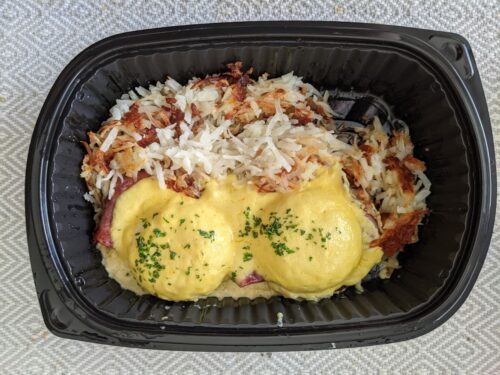 Traditional benny: The fiance was craving an eggs benny, so he decided to try the traditional one. The most important part of an eggs benny is the hollandaise sauce, it's what makes or break the eggs benny.
The hollandaise sauce was very buttery and creamy and the fiance enjoyed it. I had a bite and it was too rich for me, I could probably have only a couple of bites before it would be too much.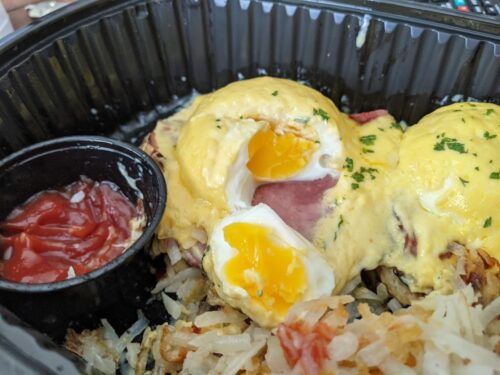 Unfortunately, the egg yolk was a bit overdone as you can see in the photo so that was disappointing. The hash browns were not bad and still a bit crispy despite being delivery.
Chicken strips: I love my chicken strips, and haven't had them here before so I decided to try it. Ricky's makes their chicken strip batter differently, and I didn't like it this way. The batter was flaky, like tempura. The menu described it as "Southern style" chicken strips.
Nonetheless, the chicken strips were juicy and seasoned well. I would have preferred the batter to be made the usual way.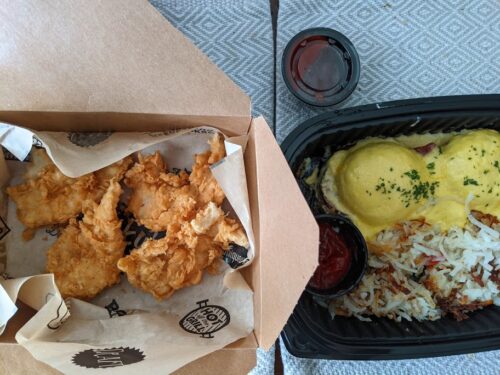 Our brunch from Ricky's was alright. It was okay in a pinch, but it wouldn't be a place to crave or go to often when there are so many other good brunch spots. The food this time was better than I remembered it to be when we came here many years ago at least.